That Japan was going to be different was already obvious a few weeks before we arrived. Already in Hanoi we had booked an apartment on AirBnB for the first two nights in Osaka. After the booking was confirmed we got 5 pdf files:
Directions to the apartment (powerpoint-ready step by step walk-through)
How to unlock the door
Address of the apartment in English and Japanese. Also two emergency numbers with and without international dial code.
A complete powerpoint-ready explanation of how to find and use the washing machine.
How to use the portable wifi router
We arrive at Osaka's Kansai airport at 10 pm. After reassembling our bicycles it is midnight and Kansai airport is still 45 km away from the AirBnB apartment where we want to stay for two nights. We asked our Japanese host, if we can take the bicycles on the train. He replied that this was a very European idea. Indeed it is possible, but usually it has to be a foldable bike or you need to remove the wheels and then put it in a special bag. So we decided to cycle.
Kansai airport is on an artificial island, so first we have to cross a 5 km long bridge to reach the main land. After just a few hundred meters on main land Japan, there is a toll booth. We get stopped. We only hope we don't have to pay, because we don't have any Yen, yet. But it is not about the toll. Safety first. We cannot cycle on the highway. "Very dangerous", they repeat again and again. "Like cycling on Autobahn, also very dangerous", they say after they asked us where we are from. We like the first contact with Japanese people. The officers are funny, especially because they are so much concerned about our safety. It is a three lane highway, with a car passing us every few minutes and a 3 meter wide emergency lane. So if this is considered dangerous in Japan, then people were right when they told us Japan is probably the safest country in the world.
Apparently these officers have never been to Delhi. They continue to warn us about the police car, that will arrive soon.
"They come with alarm on and lights. Don't worry! If you need translation, I can help. We are sorry, that you cannot cycle on the highway. Japan is very safe country."
After a minute two police cars arrive. The second one is big enough to carry our bicycles. They take a picture of our passports, put the bicycles in the car and take us to a safe road, where we are allowed to cycle.
Japan is again left traffic and we now slowly cycle on empty streets through this quiet Japanese night. The weather is good. It is cool, but no clouds. This is very relaxing. We even wear our sweaters.
We soon cycle through residential areas. At almost every corner there is a vending machine for cold drinks and often BOSS coffee.
If you have read my post harder, better, faster, stronger, you know what we have missed for a long time. Japan has all the features of modern European road construction and even more. Some traffic lights talk. The sidewalks have marks for blind people everywhere. There are cycle lanes everywhere. Unfortunately there are also traffic lights everywhere. Even in the residential areas on very small streets there are traffic lights on almost every intersection. It slows us down a lot.
The streets are empty, everybody sleeps. After all it is now around 1:30 am. There are some Lawson and 7/11 supermarkets open 24 hours. They usually also have an "ATM" sign, so we get money and also something to eat in the market. They have a lot of ready made meals and they can heat it up for you in the microwave. That's all we need right now. In Germany we usually only have cooled shelves, here they additionally have heated shelves where you can get hot canned coffee or tea.
Some magazines are laying around. The usual lifestyle and fashion stuff. Then suddenly a cover of a woman wearing a pantie taken from underneath her skirt. Some other magazines show half naked cartoon girls. Unusual preferences. Well, I wasn't really surprised. Japan has some world famous fetishes. Q.e.d.
We arrive at the apartment at around 3 am, open the door_unlock.pdf, enter the code and then the small, but perfectly clean apartment.
We spend the next day in a park in the suburbs of Osaka and cycle around a bit. I also want to visit a place that is very emotional and special for me, even though I imagine not many tourists come here.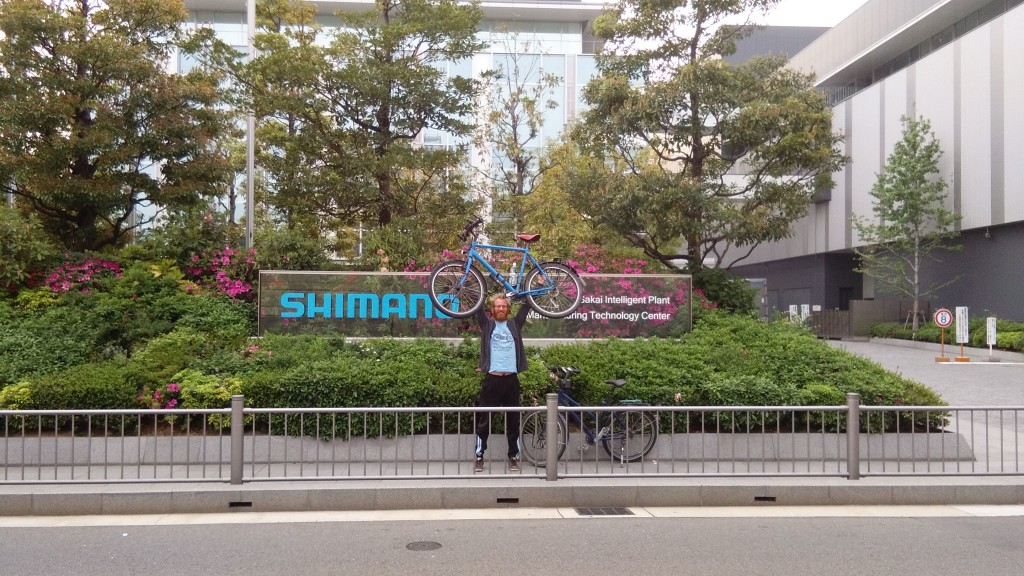 These guys made our journey possible. Hubs, dynamos, cassettes, chain rings, chains, brakes, front and rear derailleurs and many more parts on our bicycles are all manufactured by SHIMANO and didn't break within more than a year of cycling every day. Thanks Shimano, that's just great work!
The next day we cycle through Osaka and towards Kyoto. Everything is clean and organized. Osaka looks like a city model that got magnified, so we can cycle through it. All clean and well designed. Maybe a bit square, but in a good way. Cora says it is the first big city, where it is relaxing to cycle. And not only does everybody strictly abide to traffic rules, but it is also very quiet. I feel like standing somewhere in Kyrgyzstan. You can hear every bird and even smell the trees and flowers. And we are in the middle of a 2.6 million people city.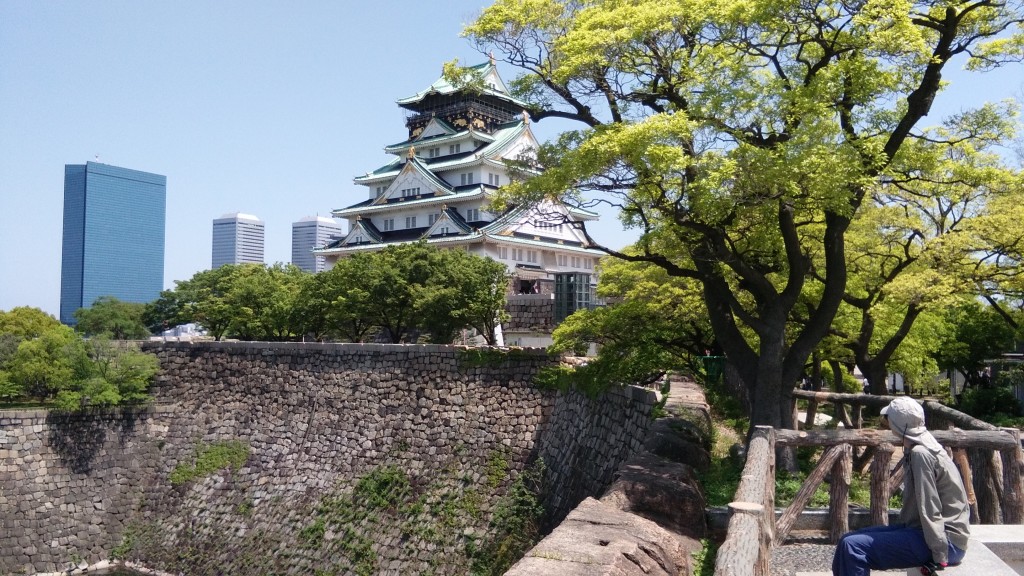 As soon as we reach the Yodo, we cycle on a cycle lane along the river. A lot of people exercise. They are golfing or cycling, some old people go stairs up and down. There are toilets and drinking water fountains every few hundred meters. A few kilometers before Kyoto we pitch the tent on the edge of a golf course in a small piece of grass between the river and the houses. You need to know, that Osaka and Kyoto are more or less one city. There is not really a gap in between.
We eat in a franchise restaurant, which is just nearby. Everybody tells you Japan is expensive. Compared to South East Asia or India that's true. But compared to Germany it is actually not. Munich is more expensive. A beer in a restaurant is around 2.40 – 3.20 Euro. Some pasta is 6 – 8 Euro. Some fast food on the street (we don't know the name of it yet) was around 3 Euro. That's all pretty reasonable.
Usually I don't write about toilets and in fact it would have been very ugly to talk about them the last 10 months of our journey. But when the toilet seat is heated to body temperature and the toilet itself is made by Panasonic, s*** gets serious. There was no manual laying around so I didn't know what to do with all the buttons, but flushing wasn't too difficult. I felt like John Spartan in Demolition Man:
The next morning we enter Kyoto and visit several famous temples and palaces. Compared to the South East Asian temples, they are very simple in many ways, but elegant, with often only some elaborated details. Altogether this looks less playful, rather big, majestic, imperial. The roofs in particular are special and feel heavy. The inside is again simple. Large rooms, often almost empty. Space is probably not only today a luxury in Japan. Thin white paper walls provide a pleasant stray light. There are also many tourists here, but it feels different than in South East Asia. The main reason for that is you not only see western tourists, but much more locals. It feels like visiting their Japanese heritage, not UNESCO world heritage in some foreign country.
After we are done with sightseeing, it starts to rain. We cycle out of Kyoto and into the mountains. Dense forest, big birds, wild rivers, waterfalls, I can even spot a deer. At dusk we pitch the tent directly next to the road. Not much traffic though. It rains the whole night. Even the next morning it hasn't stopped. We continue uphill. The road gets very narrow and steep up to 25%. No more cars here. The environment is just amazing. The rivers, the trees, fresh air. It is truly beautiful and if Japan stays that way it is a perfect destination for cycling. We soon reach the pass at 680 m. Not much, but we aren't used to mountains any more. 25% were a hard lesson. Downhill is smooth, take a look:
Anyway, the rain and the wind are cold. We reach the main road, but agree we need to warm up. The next village is 6 km away, but there is a little house and the light is on. We knock and ask if we can come in.
In the house lives Masataka, who is an artist. Within seconds we get towels and a heating. Then he offers brand new sweaters because our clothes are wet. He offers tea and a soup and starts to cook. He likes cooking. His dream is to have many international tourists here in this house. The house belongs to a monk who is the master of a nearby temple. In June it will open as a restaurant.
Yeah, and up to this point I write this post sitting at the "bar" of this soon-to-be restaurant. We could even use the washing machine and now everything is clean and dry again.
Masataka usually sits in front of the nearby temple and paints cats on sweaters and t-shirts for the tourists. So Cora gets a t-shirt and I ask him to paint one of his cats on my front pannier.
Thanks Masataka, that was all just great!
We spend the night at Masataka's place and continue the next morning. It is still cloudy and cold, but it doesn't rain any more.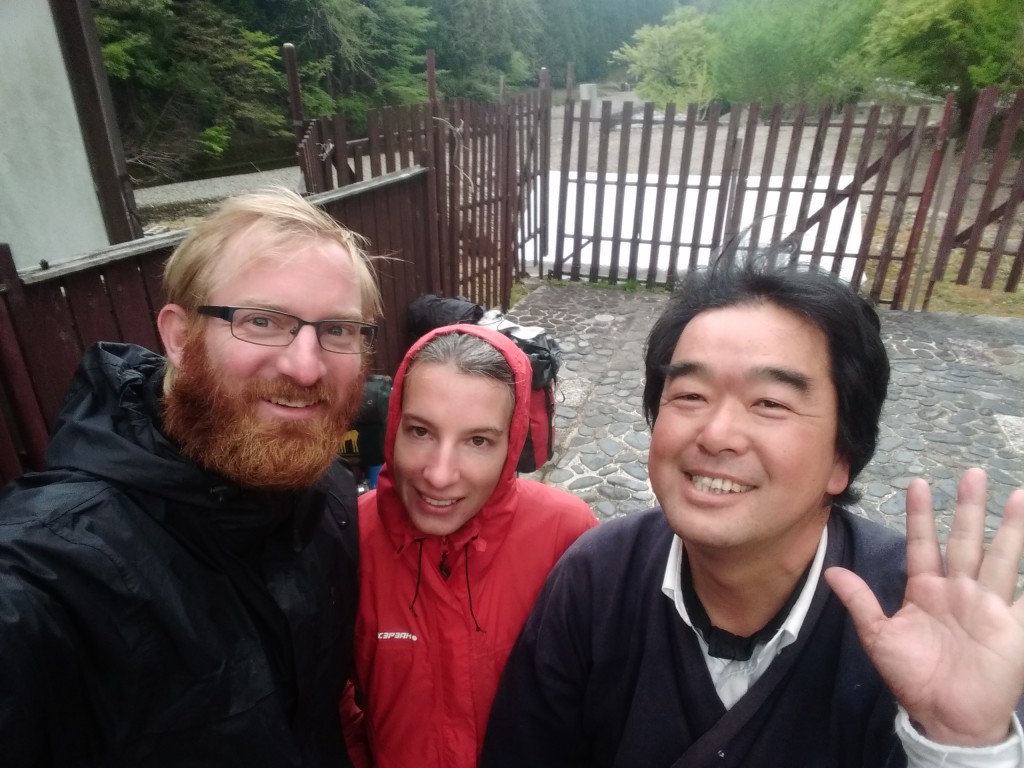 We cycle on very small roads through very small villages. Anyway, the roads are always well paved. Every few kilometers there is a digital display showing the current temperature: 9°C. Alright, so that's just 30°C less than in Bangkok. Anyway it is easier to adapt. The inner body gets warm when we cycle uphill, but the skin is ice cold. I love it! My latitude, my climate.
We cycle towards Tsuruga on the west coast of Japan. 10 km outside we find a nice place to pitch the tent. We have a little creek meters away from the tent. There are some hiking tracks. A Lawson supermarket is 2 km away, which is especially worth mentioning, because they have a free wifi. Altogether we have access to a lot, while still our own space close to the forest. We stay two nights.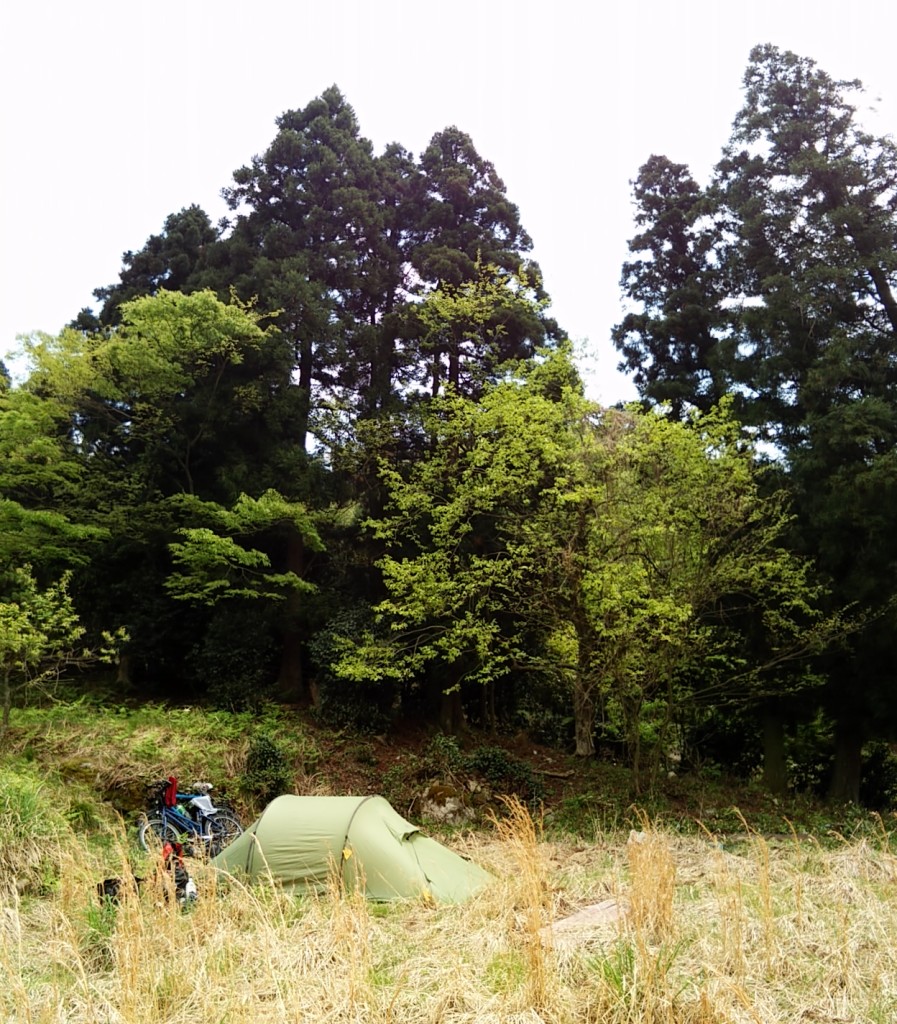 We continue to Tsuruga and cycle along the coast for around 20 km before we enter the mountains again. Our goal for today is Sabae, a small city where we got another apartment on AirBnB. We need a washing machine and a hot shower once in a while isn't too bad. The offer on AirBnB was all in Japanese. We just got a confirmation before the battery of my smartphone died. Charging doesn't work, because the cable is apparently broken. When we realize this, we are already close to Sabae. We have 20% battery and there is a seven eleven which has free wifi. The registration process takes 10% battery life and I am getting nervous. Suddenly a guy on a bicycle stops in front of us. But we can't even tell the address without an internet connection. I hit a last time "register" and the connection is established. Then the guy shows his smartphone with the AirBnB app open and asks: "Is this you?".
"When Wolfgang and Cora do AirBnB, they don't have to find their host. Their host finds them."

Chuck Norris
Aki is a great host. The room is nice, but he also wants to cook dinner with us. He already prepared a bamboo curry. We ask if he wants to try Spätzle. Of course. So we have a German-Japanese-Spätzle-Bamboo-Curry. Delicious.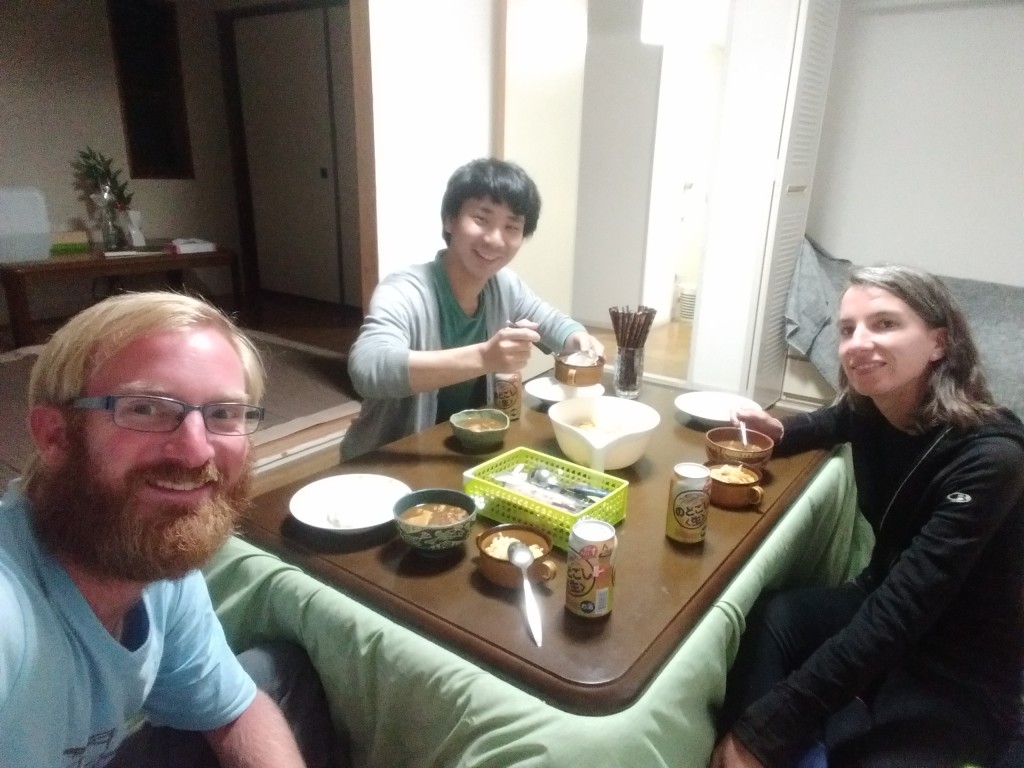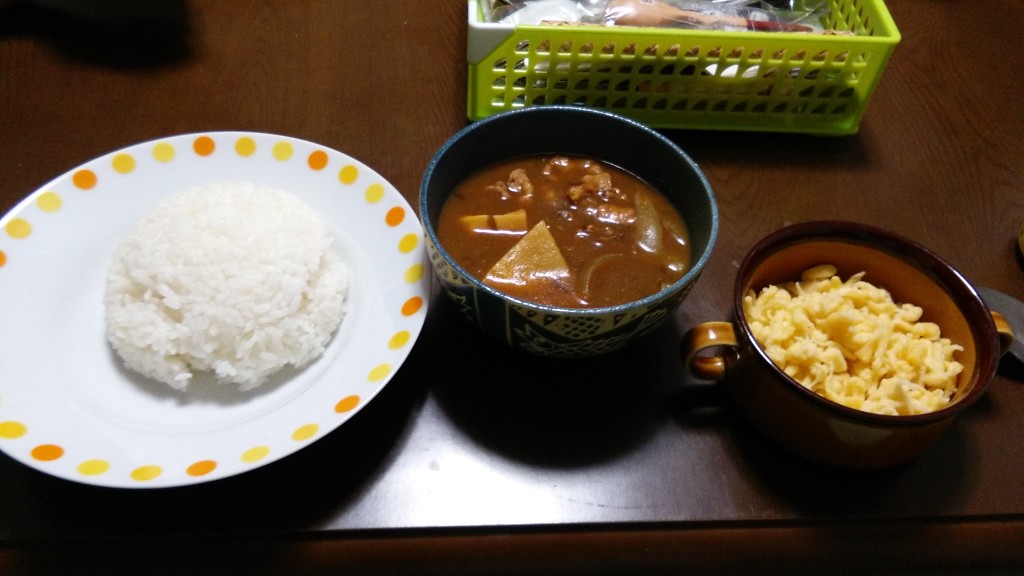 He also prepared breakfast the next morning. This is always great for us. AirBnB already gives you more insight into a country than motels or hostels usually do, but when the host adds local dishes it is a perfect experience. He had even cut the bamboo and the wasabi himself in the forest, where he works. Thanks Aki, that was great!
Unfortunately Aki has no wifi, so the first thing we do the next morning is finding the next Lawson supermarket. We can now connect to 7/11 and Lawson. Family Mart was to complicated and Circle-K, too.
So right now I am sitting in front of the Lawson supermarket and I am about to finish this blog post. I just need to add one more picture: