After leaving the harbor on Hokkaido the sea is rough, so I decide to take a bath in the onsen. Yep, they have an onsen on board. What's better then laying in water when the ship is moving? It is great. You can sit at the window and have a perfect view on the ocean. The hot water basins overflow when the ship moves from one side to the other. It is funny, people walk around like they are drunk and the whole floor gets flooded.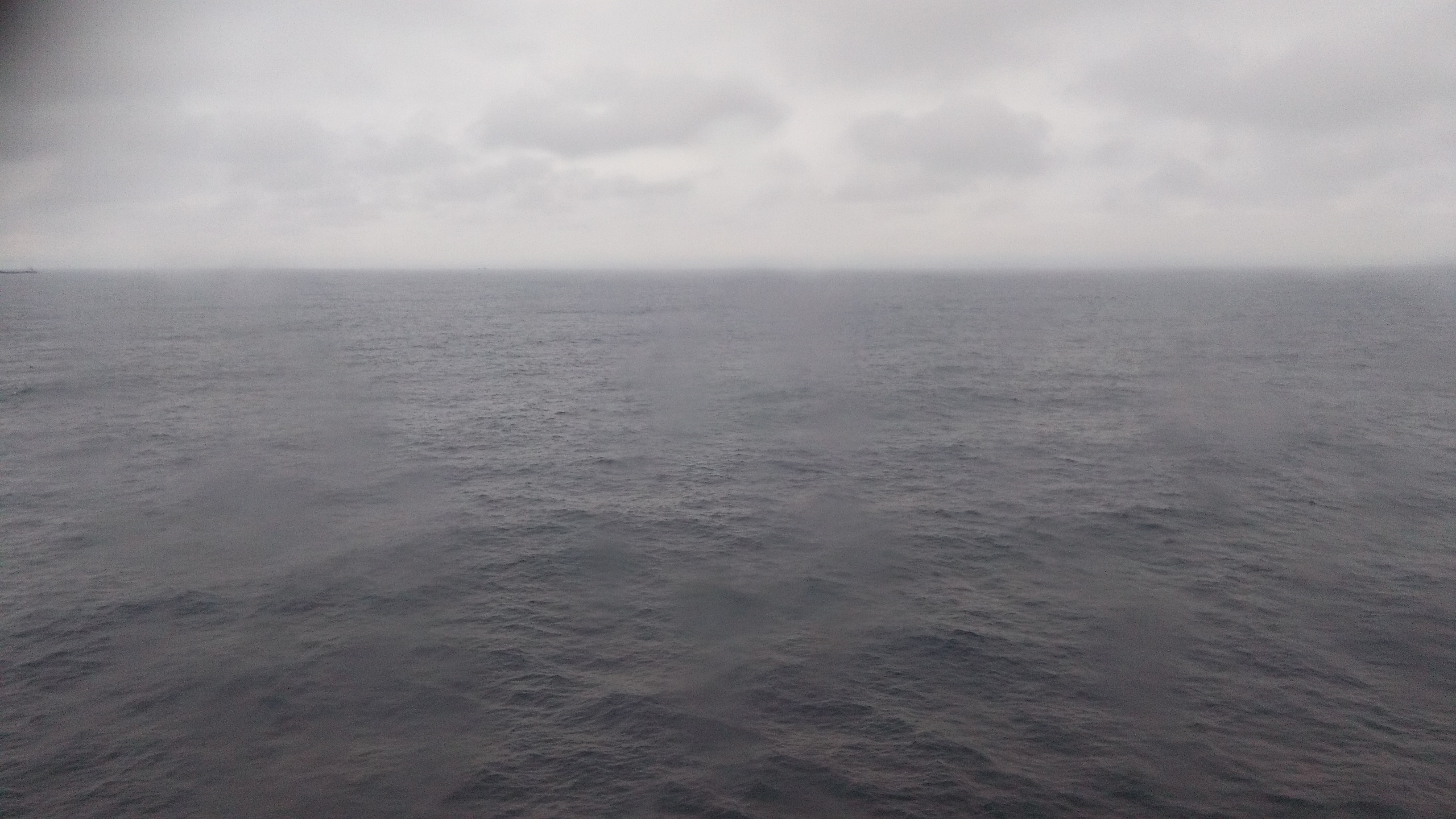 Boom, shake shake shake the room. Some big waves hit again and again. I've never experienced something like that before. It feels like a huge hammer is hitting the ferry.
It stays the same all night long, but I sleep rather well. The economy class is quite empty, which I appreciate. When I say I like to get in touch with the locals I don't mean it literally.
In the early afternoon the next day we arrive in Oarai. I was told there will be rain, but there is none. It is a bit cloudy and pleasantly warm. I cycle to Mito, where I booked a hotel. There is an Irish pub just around the corner. I order a Guinness and enjoy it. Bam! 8 Euro. Worth it!
I found an Exped dealer in Mito, so the next morning I give it a try. I show them the broken tent pole. They don't sell Exped tents any more, but the guy rushes in the shop, then comes back with a tent of another brand. After removing one segment of the tent pole it has the exact same length as mine. Perfect and they give it to me for free.
Next on the to-do-list is a barber. The first one rejects me: For women only. Oh com'on! I have long hair, it's just not on top of my head. I try a pet barber, they have that a lot here. I bet on a discount for Golden Retrievers. No chance and a long queue. There are already three poodles waiting. Just kidding, I find a real barber and get rid of my winter fur.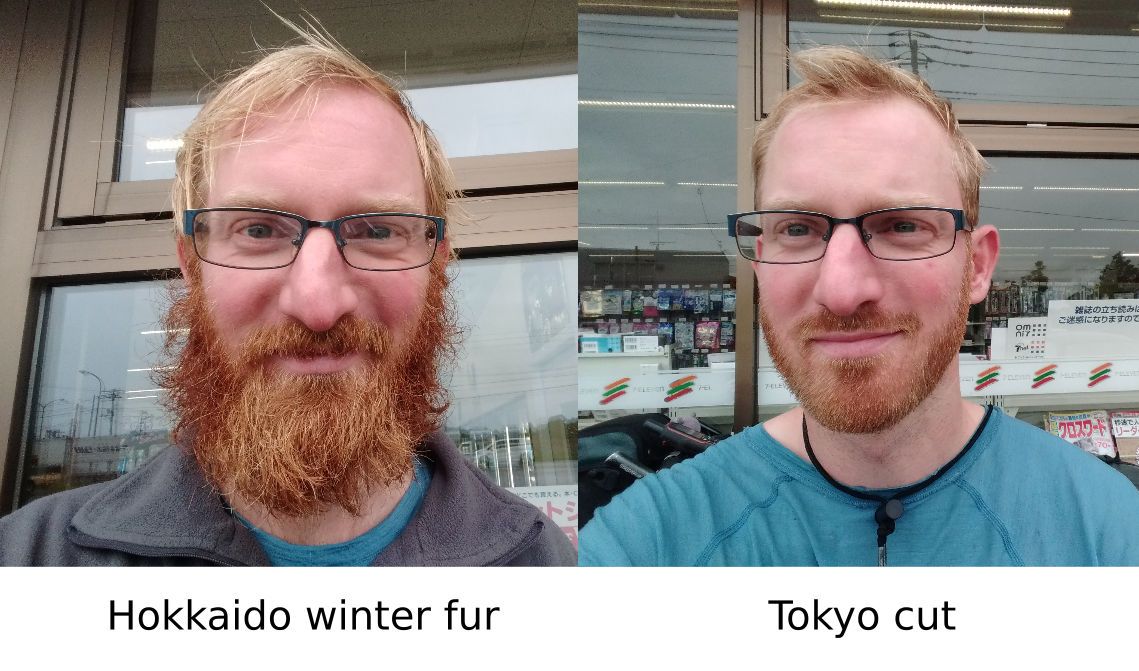 I pitch the tent around 60 km outside of Tokyo in a little park. The next day is cycling through the Tokyo metropolitan area. No more forest. Traffic lights, restaurant, cars. However, it takes a long time before the skyline of Tokyo gets visible.
Most of the way is residential area and some fisher boats. I don't cycle downtown that day, but aim for the camp ground a bit outside the harbor. It is nice and quiet and only locals camp here.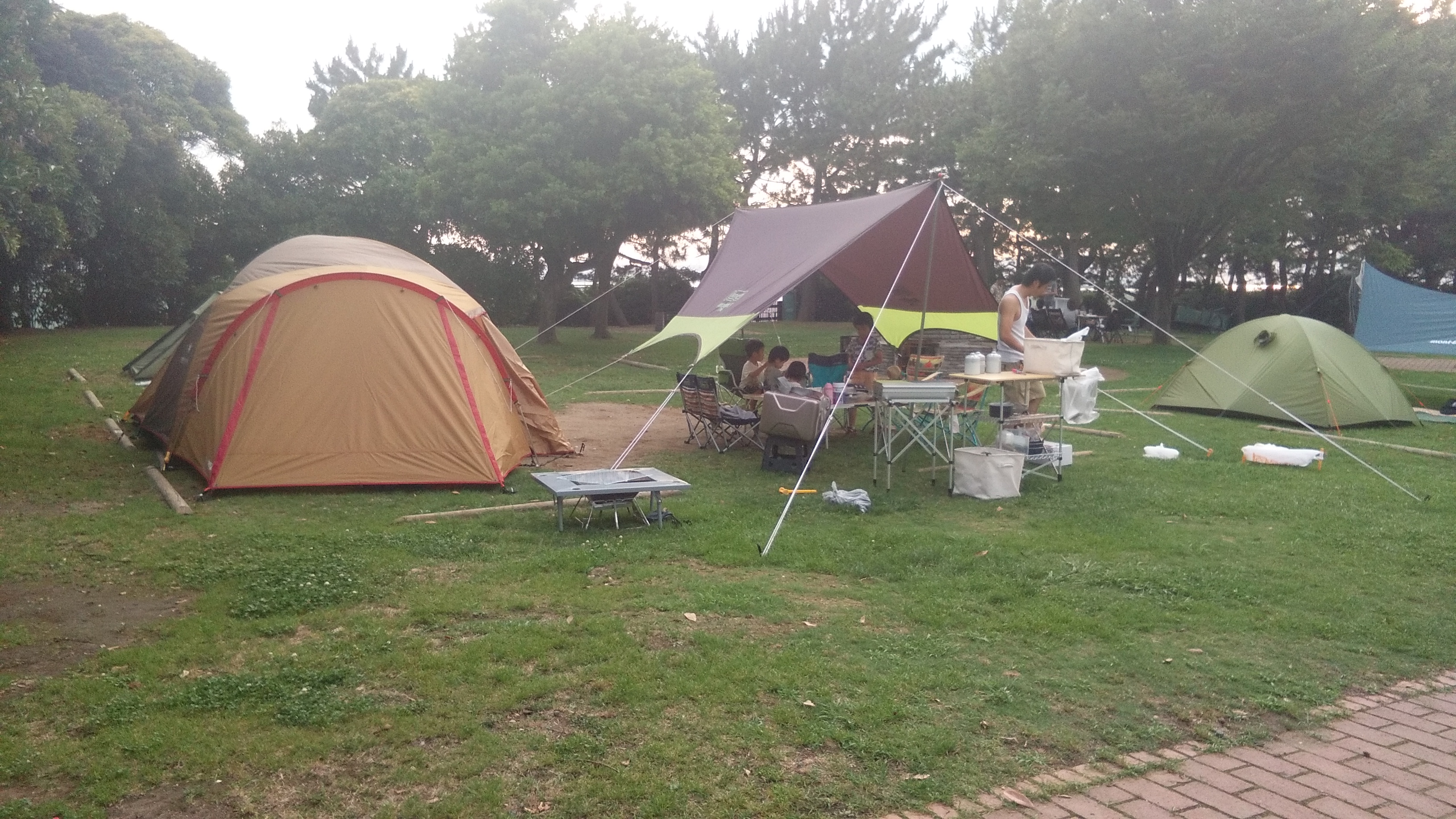 The next morning I first visit the fish market. A lot of tourists, too. I feel a bit like playing Pac Man, because apparently I am not allowed to enter the fish market with the bicycle. When the police officers react, I am already out of reach. The fish market itself is like a maze. But more and more police officers try to stop me. Finally they corner me and I have to leave.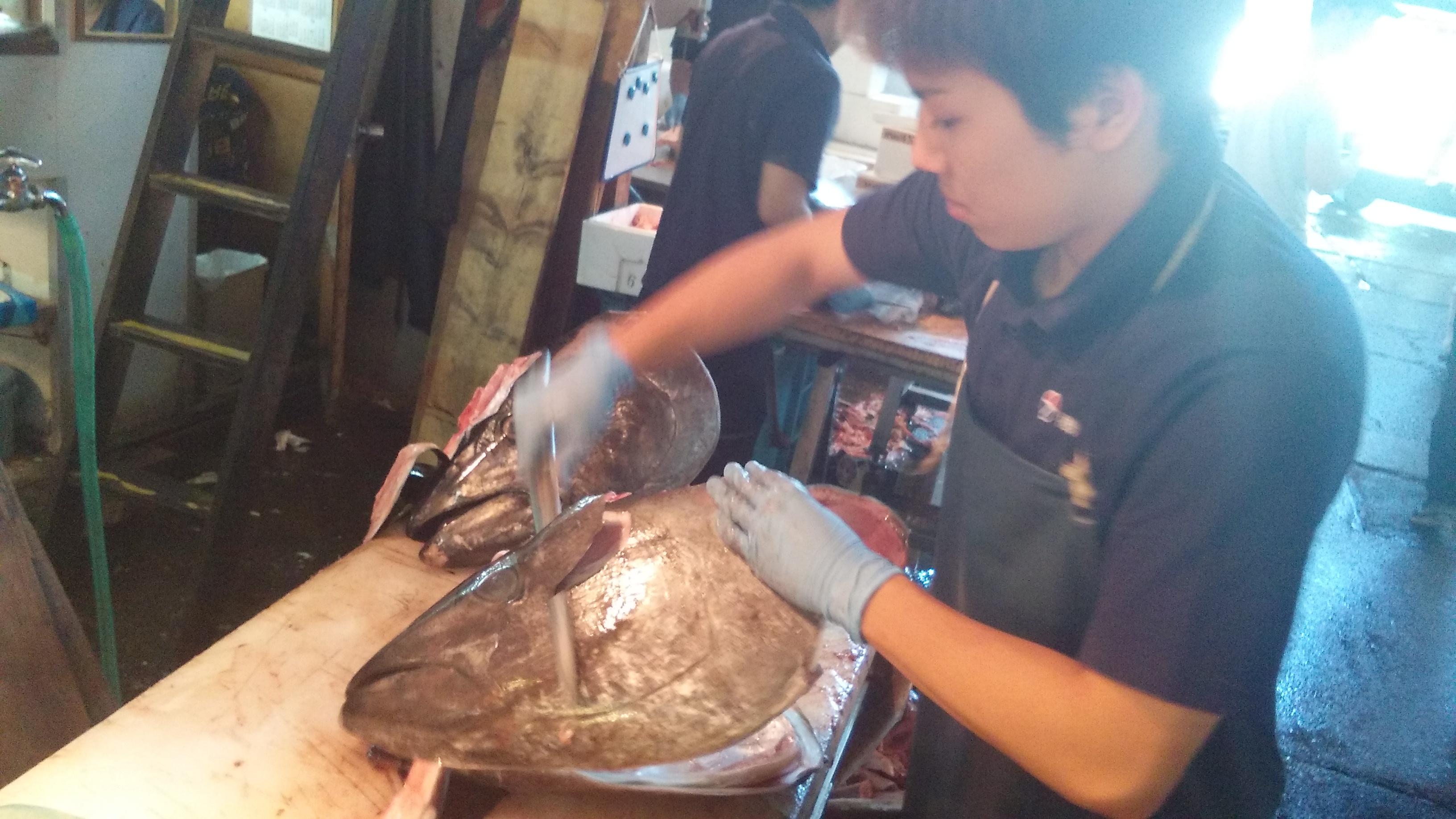 Time to enter the biggest city of the world. Again like so many Japanese cities, everything is clean and in bright colors. They don't have many extravagant buildings and – probably due to earthquakes – don't have big windows or entire glass facades. Traffic is acceptable and I can easily move around with the bicycle. I first visit the sky tree. Then I head to the Imperial Palace. Actually you cannot visit the palace itself, but the gardens around it. Altogether it is a very nice experience. The skyscrapers, the temples, the Japanese gardens. Beautiful. I like it a lot.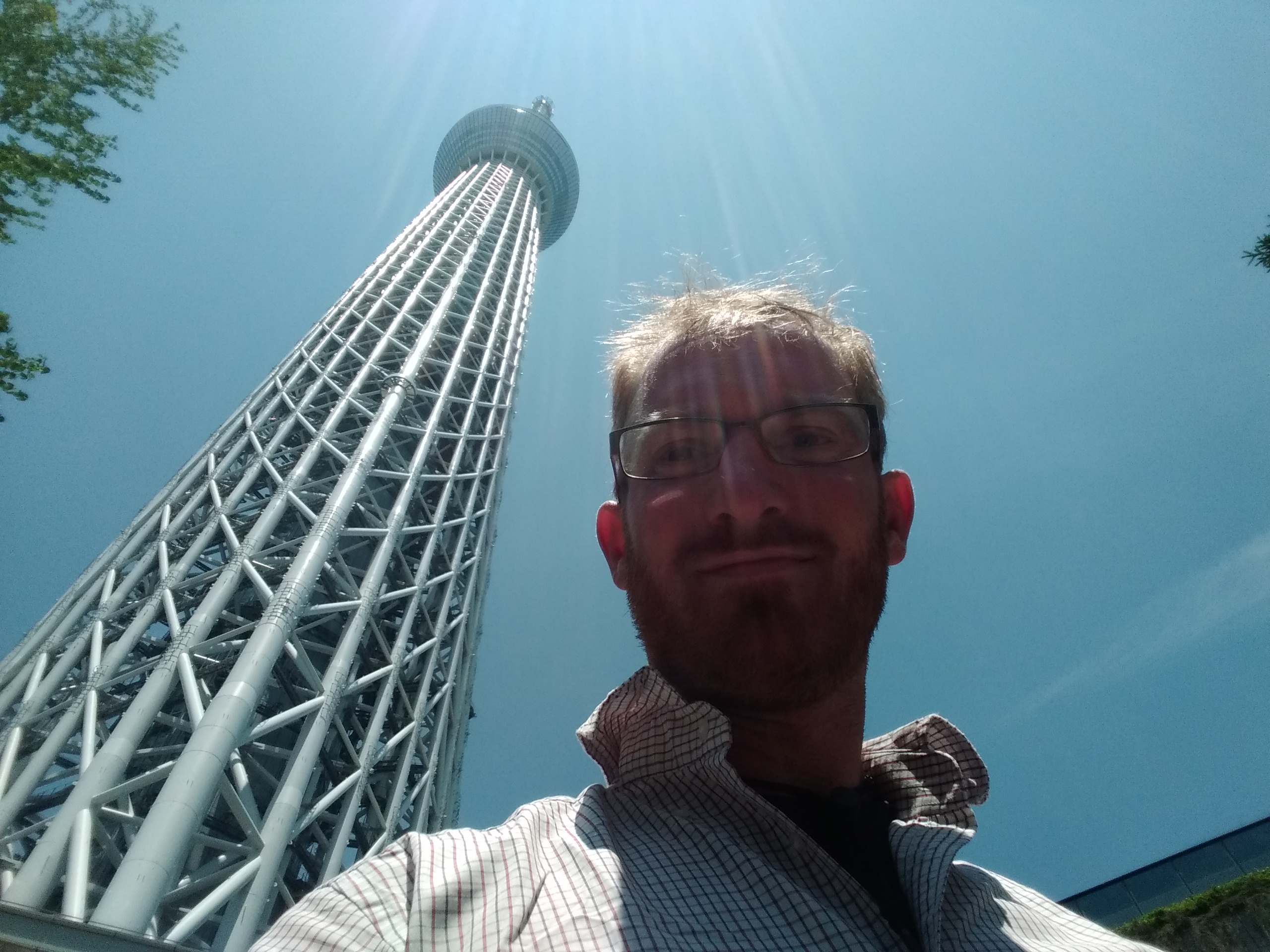 Later I meet Julien, a French sociologist, who gave a talk in Fukuoka and now has some free days. He carries a travel guide, so he knows all the sights. We visit Ginza, which is comparable to the times square. Usually Japanese cities feel uninhabited. Not in Tokyo. Masses of people everywhere. Still Tokyo doesn't feel big. It has a very unique style. A lot of understatement in my opinion. And I can't believe it: It is absolutely quiet.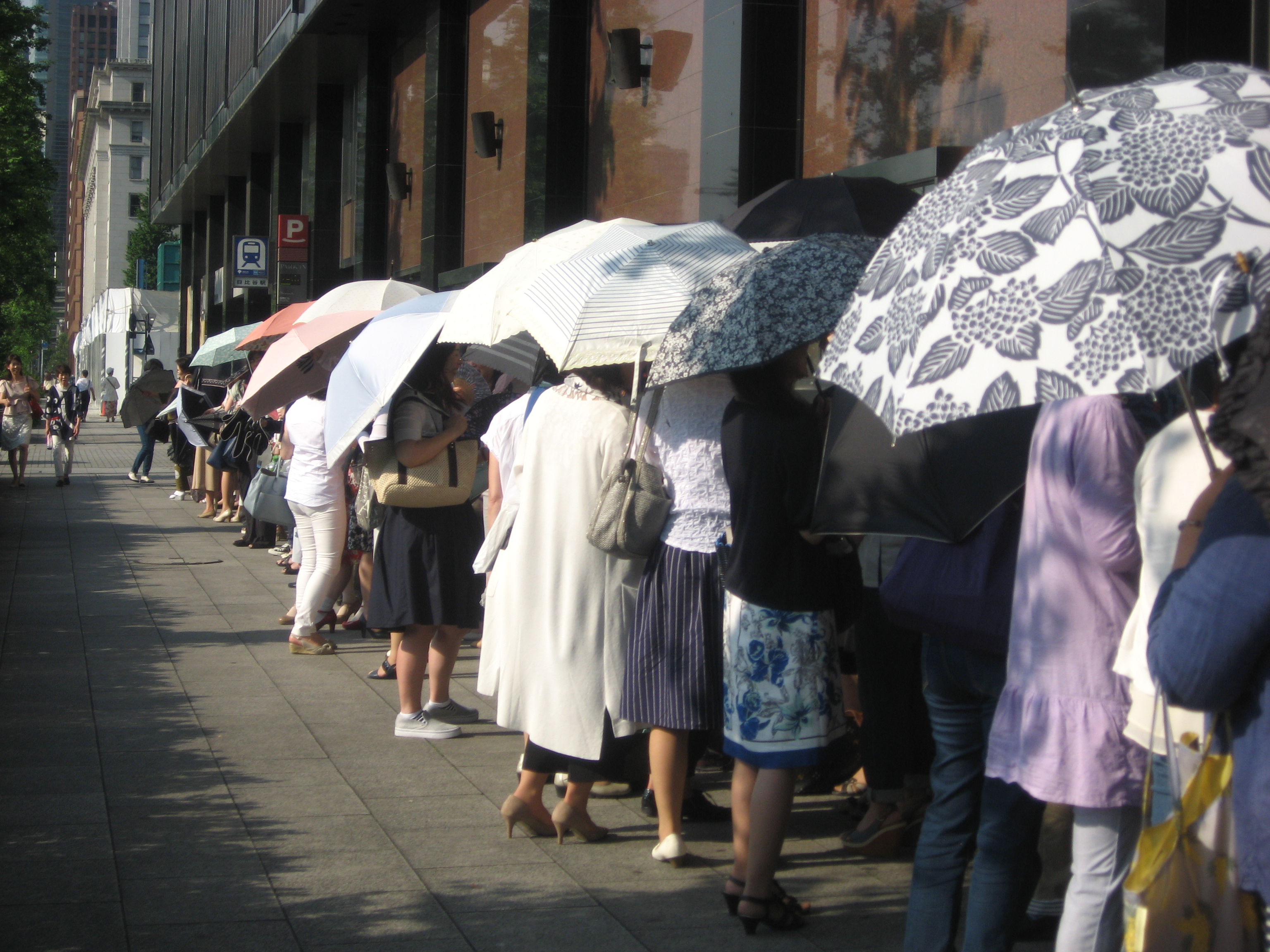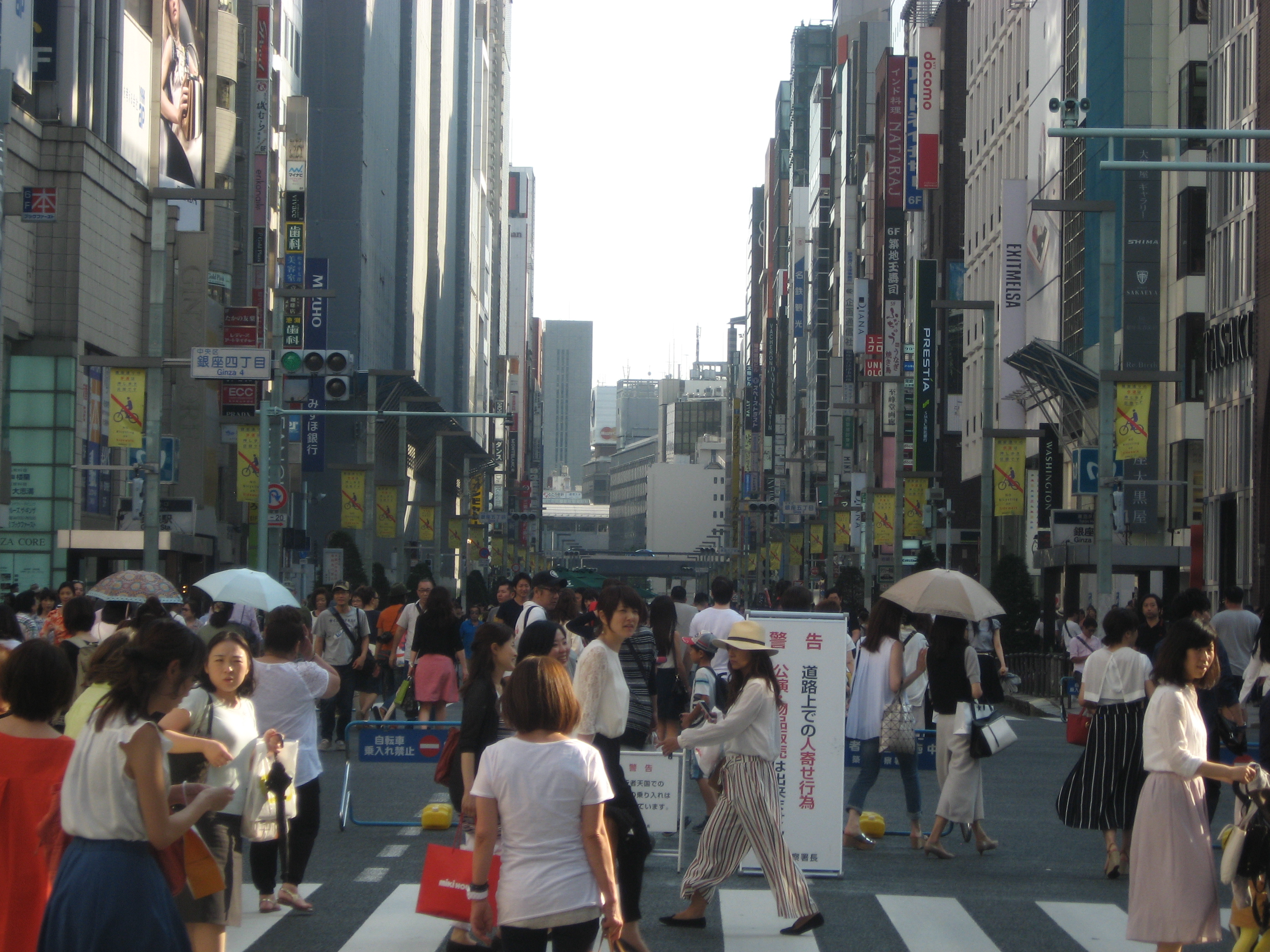 In the evening we visit Akihabara. That's like the red light district, but not really. A lot of "school girls" walk around in their "school uniforms" on the streets and you can go to "school girl" shows. They look like prostitutes, but prostitution is officially not allowed. Since sexual imagery is very much censored in Japan, comic and video games mix with sexual fantasies. Stores full of uncensored comic porn. I enter one, which is several stories high with a narrow staircase. Every square centimeter is covered with porn. Loudspeakers play the sound of moaning and screaming women. Above the 4th floor was a jam on the staircase. I guess, that's where hardcore starts. In the streets huge posters of comic school girls in their uniforms. In between very very very strange people. Sometimes a bit disturbing.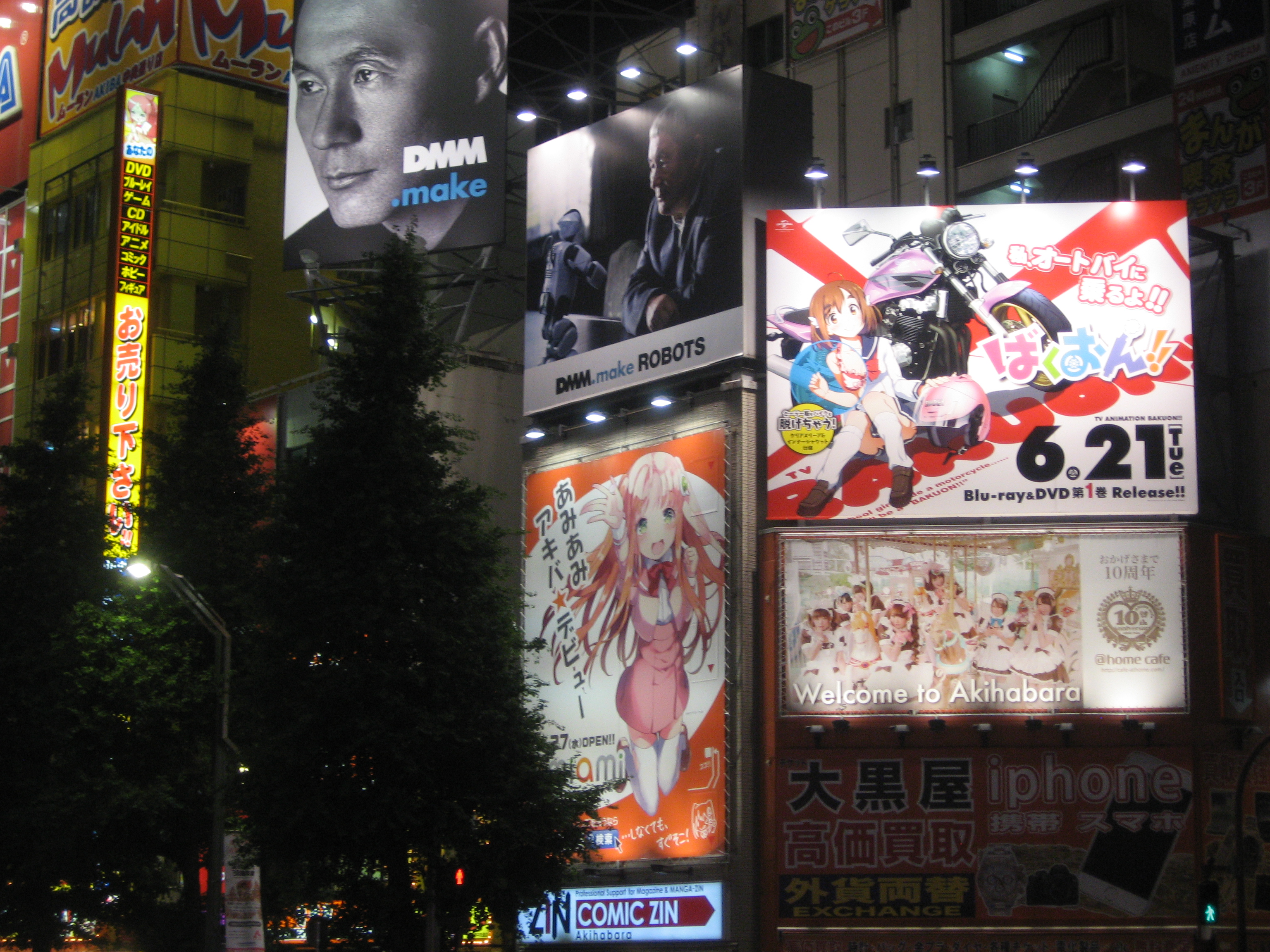 But as I said, this is not the red light district. It is rather a fun district. Because in between all this sexual content, there are Luigi and Mario driving carts.
On a little stage some e-sport professionals get interviewed. A TV station seems to broadcast live. Many people stand around listening to the event sponsored by Nvidia. Left of it you can buy porn, right of it is a Sega store, where you can play video games.
We find a nice little restaurant and have dinner. Then I leave Julien and cycle towards the airport, where another camp ground is my goal for today. At around 5 o'clock the next morning the first planes depart. You need to know that the camp ground is only a few hundred meters from the runway. A lot of fathers with their sons camp here. I admit, it is impressive. The planes fly directly over the camp ground, maybe 150m above. An airplane every 90 seconds. It is not getting boring. I have breakfast watching the planes.
Leaving Tokyo is quite different from entering it. First the airport and now ships and harbors actually all the way to Yokohama. Big bridges, roads, railways. Rather industrial until I enter Yokohama.
Since the ferry arrived a few days ago I had perfect weather. But it is getting cloudy now, while I am heading for Yokosuka. You remember Hitoshi, who I met on Hokkaido? I call him and an hour later I am sitting in his living room. Man, we have a very good time together with his son.
I stay two nights. The second evening we make Spätzle, because we got invited for dinner by friends of them and I want to bring a present. It is funny watching Japanese trying to eat Spätzle with chopsticks. Anyway, they enjoy it, just slowly.
They have prepared sushi and some very delicious deep fried shrimps, pork and something else with molten cheese in it. I love it.
An absolutely amazing evening. We have a lot of fun.

The next morning is rainy. I would like to stay forever at Hitoshi's place, but I have to leave. While we have breakfast the TV is on. The governor of Tokyo prefecture is in the news. Apparently he stole money from the government and now had to resign from office. I ask Hitoshi, why this guy is not committing suicide by Harakiri, now that his reputation is destroyed. He says people don't do that any more. It was popular before the World Wars. The US have transformed Japan's society afterwards. People are more relaxed and open now. So no more Harakiri, but Kyo, Hitoshi's son says that lots of students commit suicide. A big problem. I guess the strict culture may play a role. But of course that's a complex issue.
When I leave it is still raining a bit and I head now towards Mt. Fuji. However, he doesn't show up within three days. One day I am only 10km away from this 3700m high giant. I am cycling along his foot, but can only see around 100m due to dense fog. As soon as I am back at the coast, I again enter metropolitan area.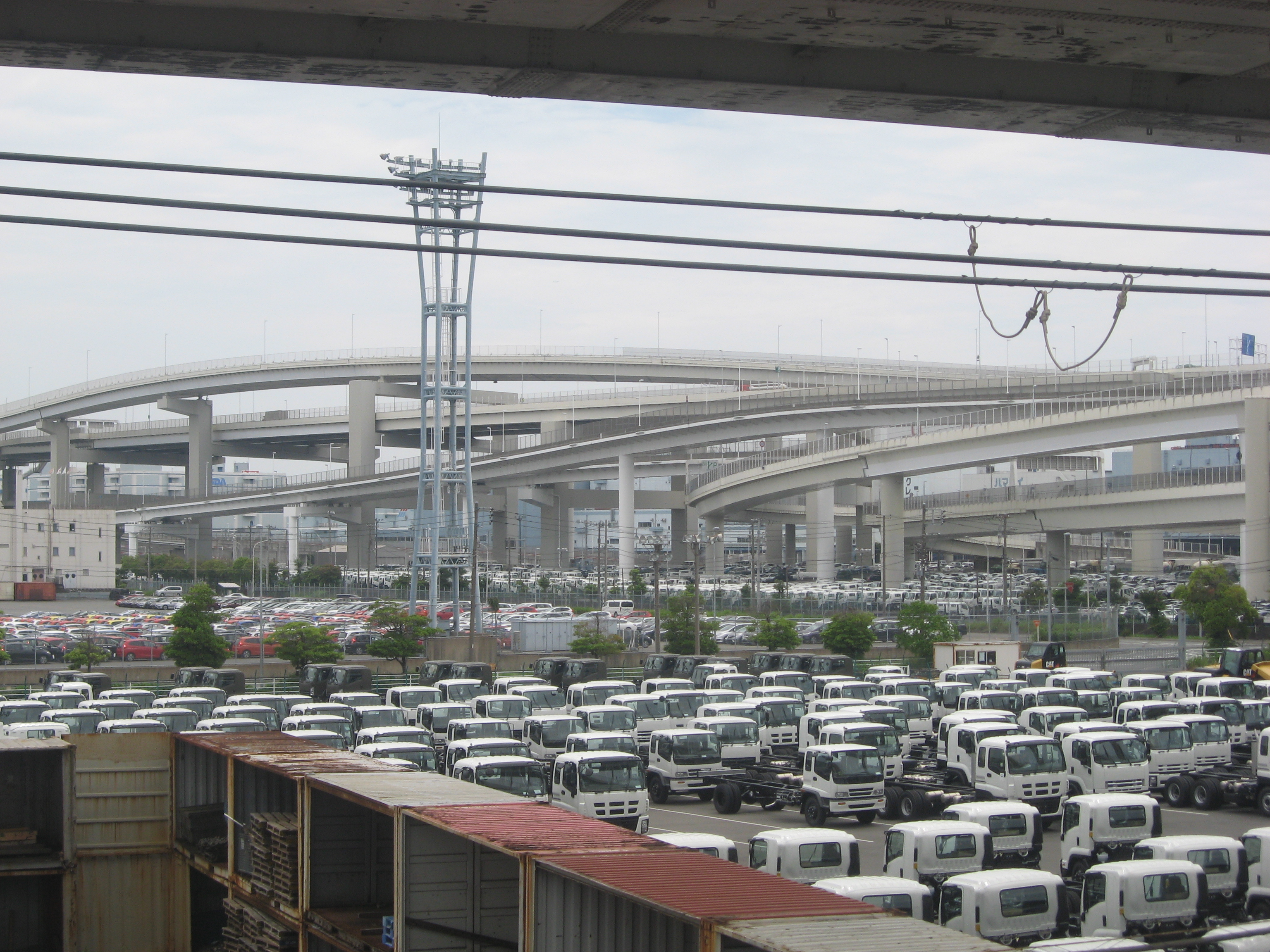 Metropolis

Actually you can say the east coast of Japan is more or less one metropolitan area at least south of Tokyo. Japan is mountainous, still it has 125 million inhabitants. They all have to live somewhere. Cycling through an endless metropolitan area is annoying. I tell you why:
border stone down, border stone up, traffic light, driveway, lawson, traffic light, cycle lane ends, continue on road
A BMW overtakes….oh no, it's a Mazda.
border stone up, traffic light, seven eleven, Eneos gas station
An Audi overtakes…..wait a second, it's a Nissan
traffic light, family mart, border stone down, traffic light, border stone up, people walking on the cycle lane, continue on road
A Peugeot passes….my mistake, it's a Mitsubishi
Traffic light, border stone up, almost get run over by a car coming out of driveway. Of course it's a reckless Mercedes driver…..Damn! It's a Lexus. Back on the road.
A pack of motorcyclists on their Harley Davidsons passes…….aaargh! Honda.
Border stone up, traffic light, border stone down, CircleK.

Long story short: You make hardly 10 km an hour.
It starts to rain more frequently. They call it rainy season, we call it autumn. No big deal, but I have difficulties to get the tent dry during the day. Things start to smell. Getting the shoes dry, however, is a child's play. Just use the shoe dryer available for 100 Yen in every laundromat. But things get worse. The USB-werk stops working. I can't fix it technically, so I decide to fix it emotionally by writing an angry email to Busch&Müller telling them this is the third USB-werk failing within 15 month. Com'on guys it is a 80 Euro battery charger, not a space rocket!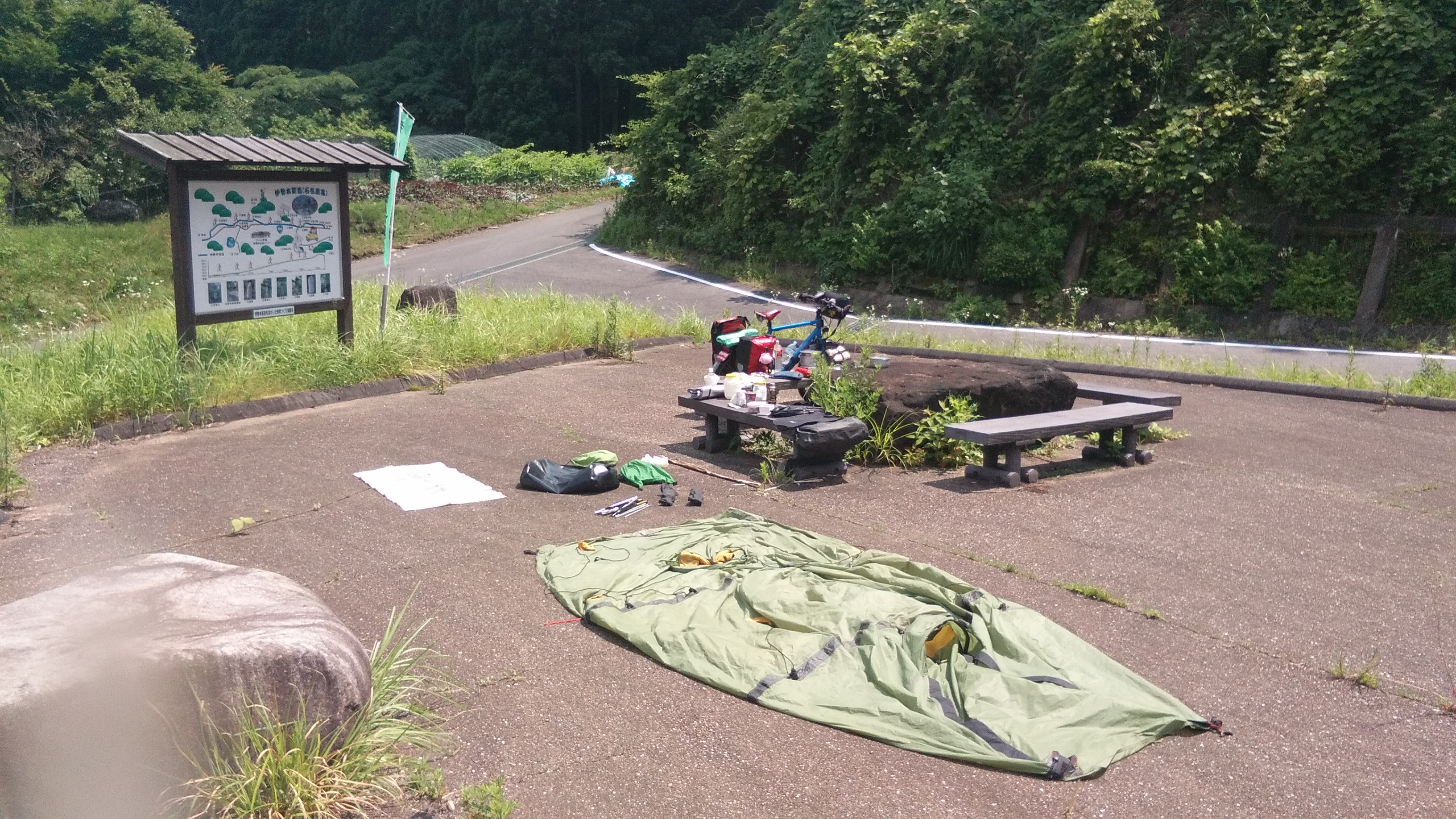 One evening I want to cycle through a tunnel, when a loudspeaker tells me: "Stop! Stop! No bicycle in the tunnel". That really happened! They sit somewhere in the headquater and see you on their monitor and then they activate the loudspeaker at the tunnel entrance and actually remote control you. Absolutely insane! Really, they even could see that I am not Japanese and talked to me in English.
I want to take another route, but get stopped by a construction worker: Landslide. Alright, that means a 15 km detour now. I decide to eat something first. Sitting in front of the supermarket the construction worker shows up again. Takahashi invites me home, prepares some delicious Sashimi and serves high quality Sake. He is unbelievably interested in many things. That's why he teaches me how to write my name in Chinese calligraphy. He also shows me how to fold the Origami paper crane. He just knows how to do that, he doesn't hesitate a second. Recently he started teaching himself how to play the piano, trumpet and guitar. We have a jam session.
A few days later the tent pole breaks. The new one. Then Great Britain leaves the EU. But the worst thing is a noise coming from my rear hub. It is getting louder. The bearing seems to be damaged. I decide to make it to Shikoku. In Tokushima I find a bicycle shop. They clean the bearing and put new grease in it. But suddenly I realize, that the screw that holds the pannier rack broke. That probably also caused the noise. The rack was just scratching on the axis all the time. Now the remains of the screw are stuck in the frame and we can't manage to get them out.
While I check for a hotel, the bicycle mechanics improvise. It's something.
It is raining the whole evening. I am wet, when I arrive at the hotel. My shoes are agricultural land. I consider growing some paddy.
Ich muss durch den Monsun
Hinter die Welt
Ans Ende der Zeit
Bis kein Regen mehr fällt
So now I am on Shikoku, the third of the four big Japanese islands. It wasn't all bad the last days, I admit. The sun came out more often than I want to remember and I decided to avoid the Nagoya and the Osaka/Kobe metropolitan areas by taking two small ferries. That was a very good idea.
The next morning is rainy. I start cycling into a long valley that crosses more or less all of Shikoku. I make 20 km then I hear a crack and it is no longer possible to shift the rear gears. The wire broke. I can easily replace that, but the head is stuck in the handle. I have difficulties to get it out.
I want to continue and put the panniers back on the bicycle. The belt lock breaks. If my equipment could stop breaking, that would be great. Again I am lucky, because I almost gave the spare belts to Cora. I carried them half around the world and never needed them. Well, now I do need them. Perfect. Fixed. I continue.
Already the last few hundred kilometers on Honshu the houses were built more traditionally and now on Shikoku it stays that way. Also several beautiful temples are along the way.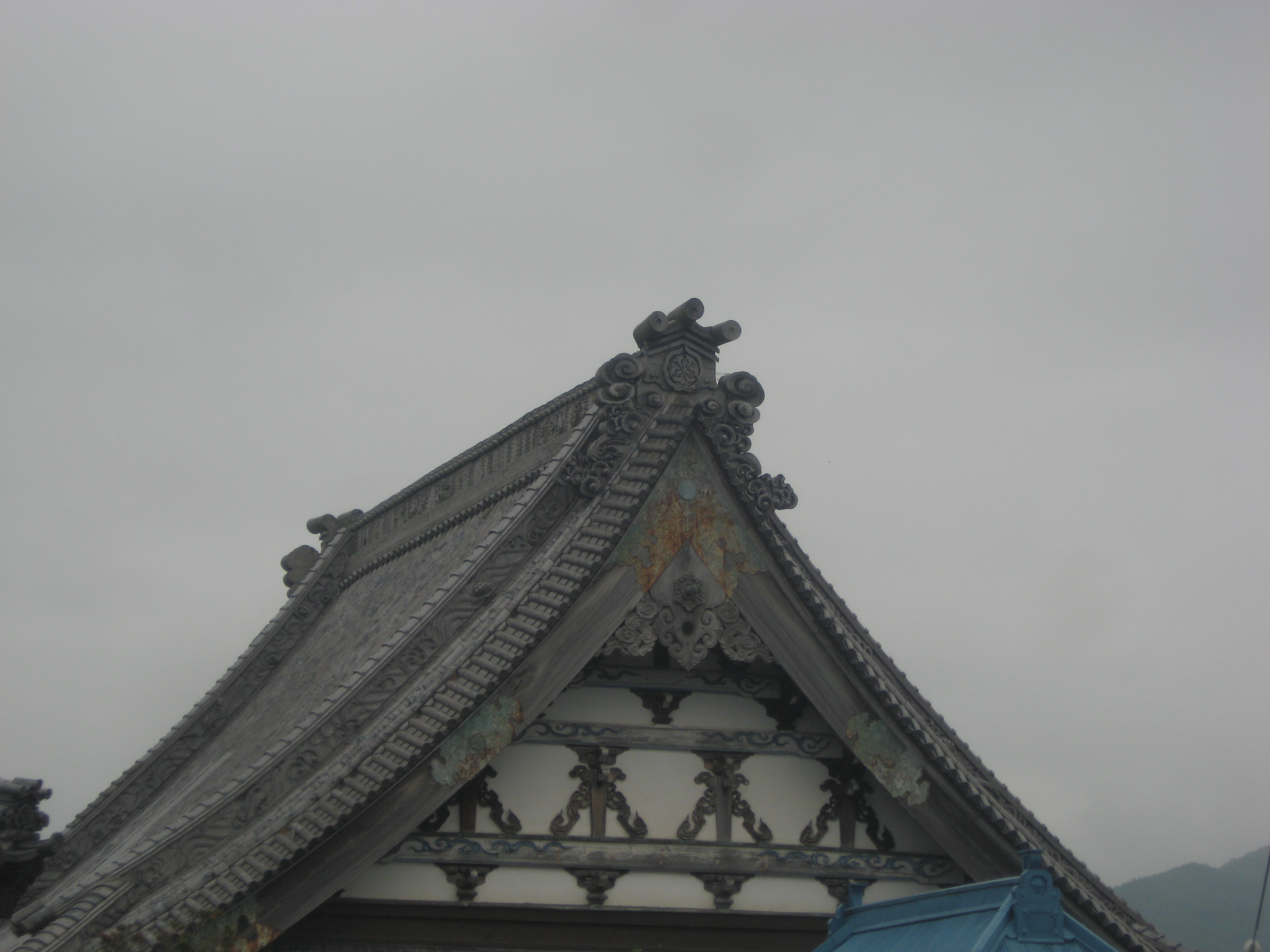 Anyway, already in the afternoon it starts to rain heavily. I don't see much of the landscape, just concentrate on the road so I don't slip on one of the manhole covers or disappear in one of the deep puddles. I pitch the tent. Everything is wet, but inside I soon get dry and feel good again. The next day the same. Actually worse. If water wasn't wet I would actually enjoy all this. Because the temperature is very pleasant. Without the rain it would be unbelievably hot. But I feel like a surfer in a wet suit.
Small scratches get quickly infected, because the skin is never dry. Cortison is my best friend. On the other hand I got four new towels within three days. People step out of their cars and give me towels. Japan! Just unbelievable.
I make it to Imabari and go to the onsen. Then I check when the ferry to Okamura will leave tomorrow. A guy helps me. He is a radio host and invites me into the studio. I prepare for a "Lost in Translation"-like radio interview, but we are not going on air. They just invite me for dinner and then I sleep at one of his colleagues' house.
The next morning I want to take the ferry, but due to dense fog it is not running. A few minutes later I am very happy about that, because cycling across the huge bridge is nice. The little islands are half covered in fog. Also the bridge itself.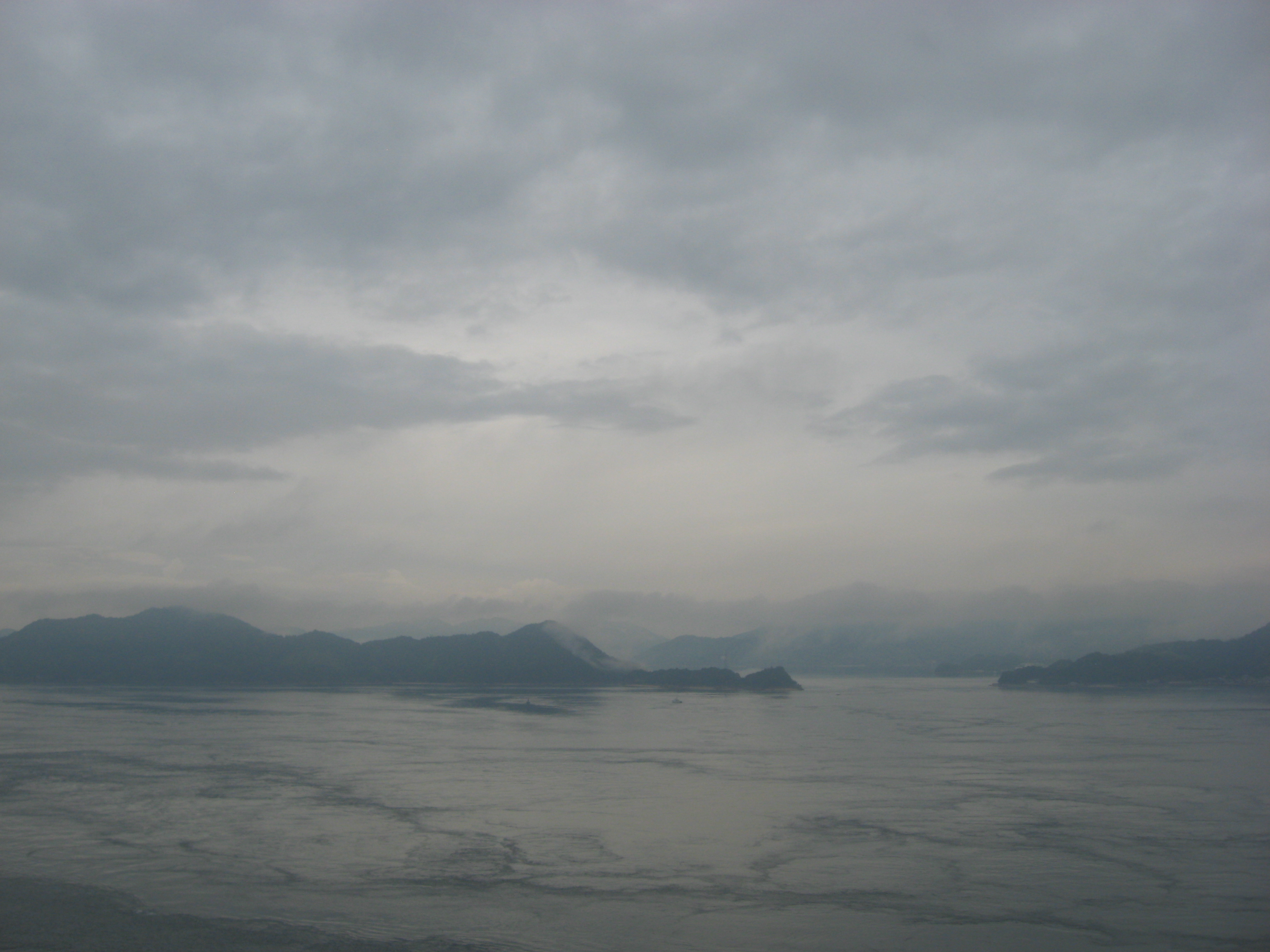 Around noon I arrive at the port of Omishima island, where another ferry is going to Okamura at 2:35 pm. The fog is gone, so it should run. But I have to wait two hours. I decide to check another bicycle issue that haunts me already for weeks. Since we landed in Osaka two months ago there is something wrong with my rear rim. I thought it is just a bent wheel, but the rim is widened on both sides. Apparently a damage from the flight to Osaka. I didn't bother too much, but braking became more and more a problem the last days. So while waiting for the ferry I am looking for a bench vise to bend the rim back into shape. An old fisherman helps me out.

I am very happy. The rim is perfectly aligned now. But when I want to put the wheel back in the frame I realize something is wrong with the rim tape. I lift it and find a big crack in the rim.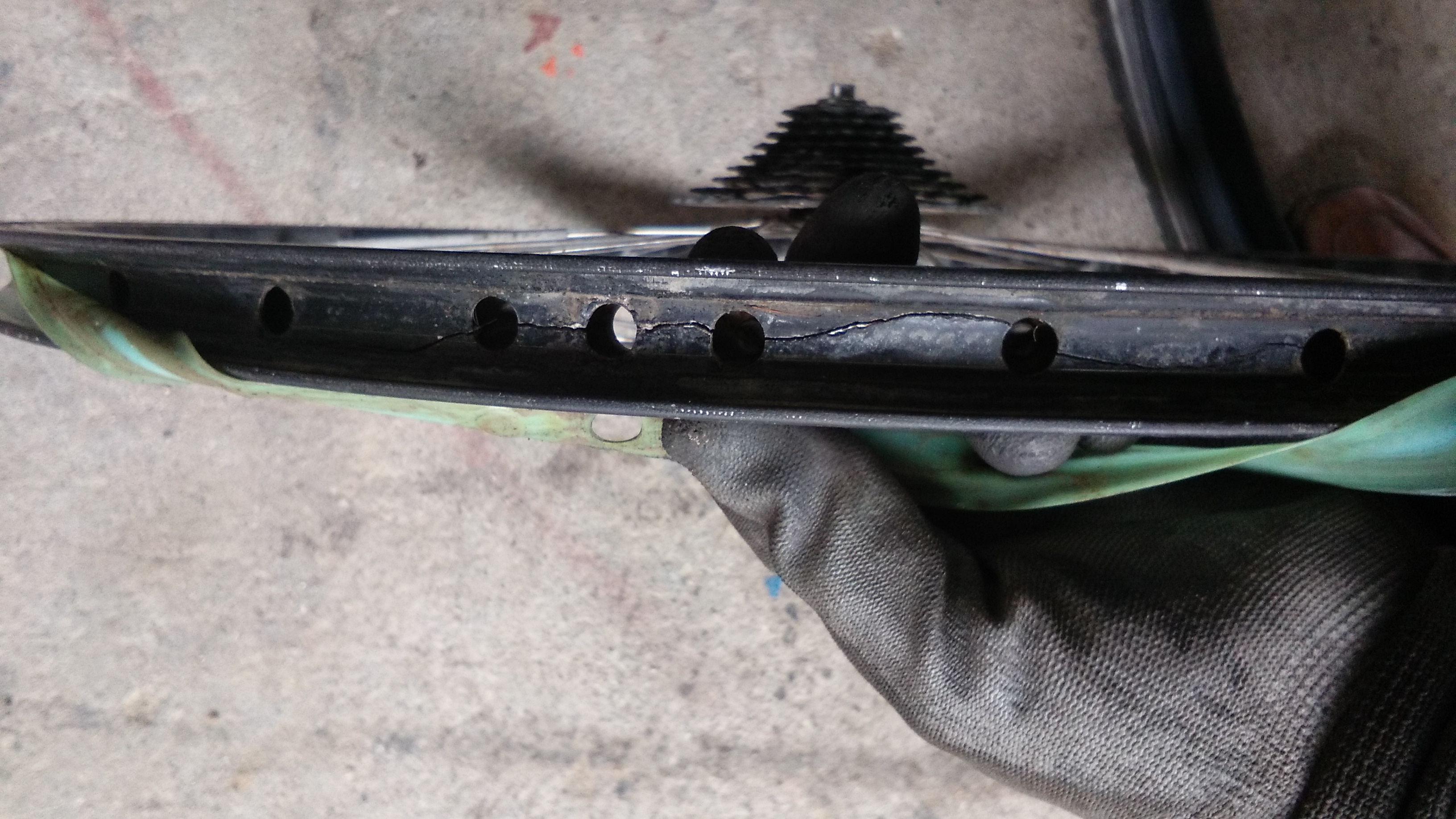 Why does it always rain on me?
Even when the sun is shining
I can't avoid the lightning
The islands between Shikoku and Honshu are unbelievably beautiful. I am off season and have whole beaches all to myself. Well, almost. Some crabs and frogs join me. Finally I can swim a bit. The water is cold, it's great.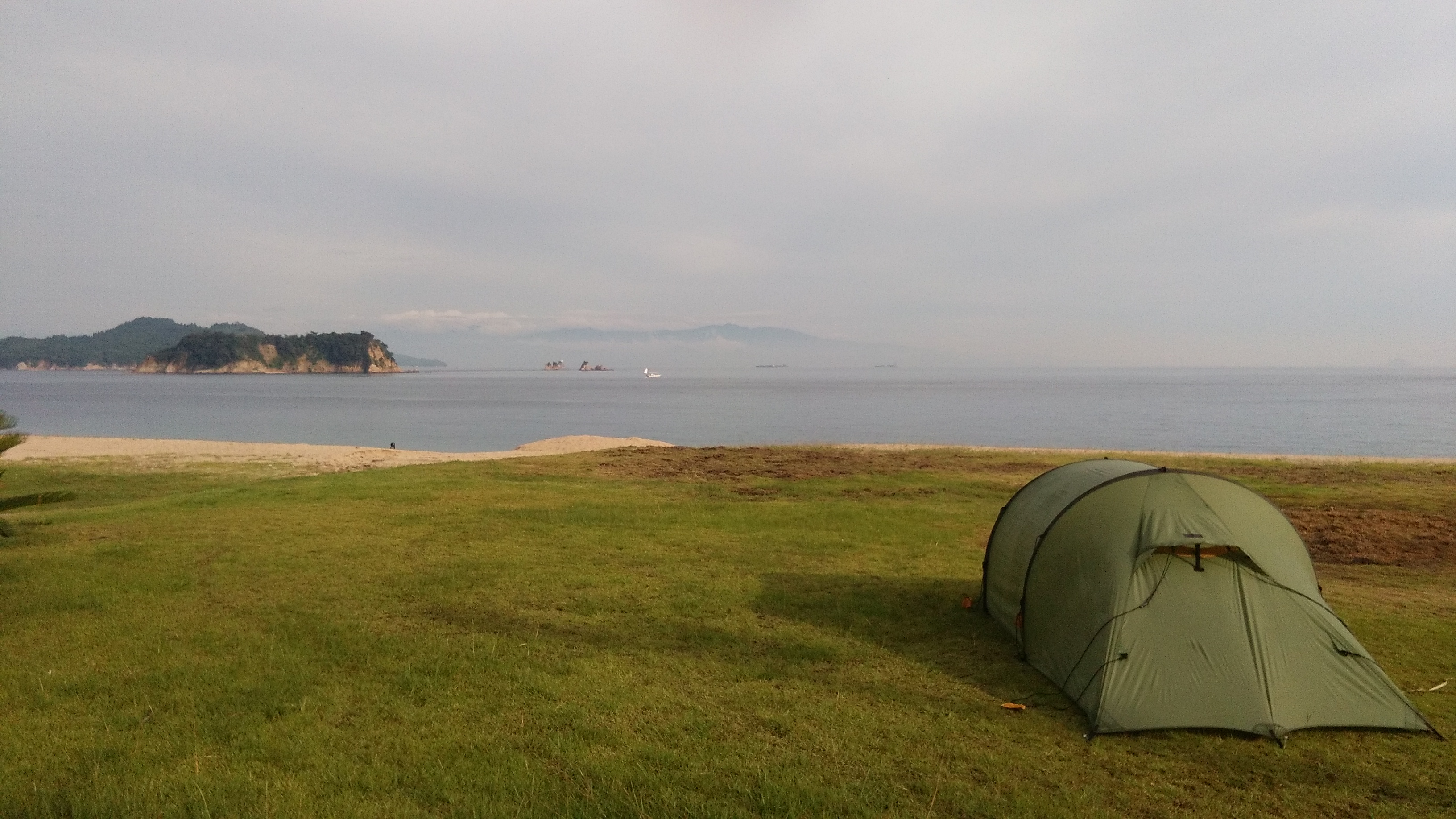 When I arrive on Etajima island I take another ferry. The bay is beautiful. Surrounded by islands. Some clouds in the sky. It is a lovely and peaceful place. Unfortunately also the place, where the first atomic bomb has been dropped. I arrive in Hiroshima.
It is a nice little city. I found an AirBNB apartment close to the Peace Memorial Park. In a little street next to the park I find the most moving spot on this journey: The Hypocenter.
On August 6th, 1945, 600 m above this spot the first atomic bomb used against people detonated. It formed a fireball more than 1,000,000 °C hot. The temperature on the ground was up to 4000°C. Steel constructions and roof tiles melted. The power was equal to 16000 tons of TNT. 90000 people got burned to death and torn apart by the massive blast. Within Seconds. Many more died within a few days from severe burns or radiation. Altogether around 210,000 people died. The name of the bomb: Little Boy.
When President Obama visited Hiroshima end of May 2016 he left a hand written message and two paper cranes. A girl, who suffered from leukemia used to make paper cranes to distract herself from therapy. When she eventually died in 1958 her class mates collected money to build the Children's Peace Memorial.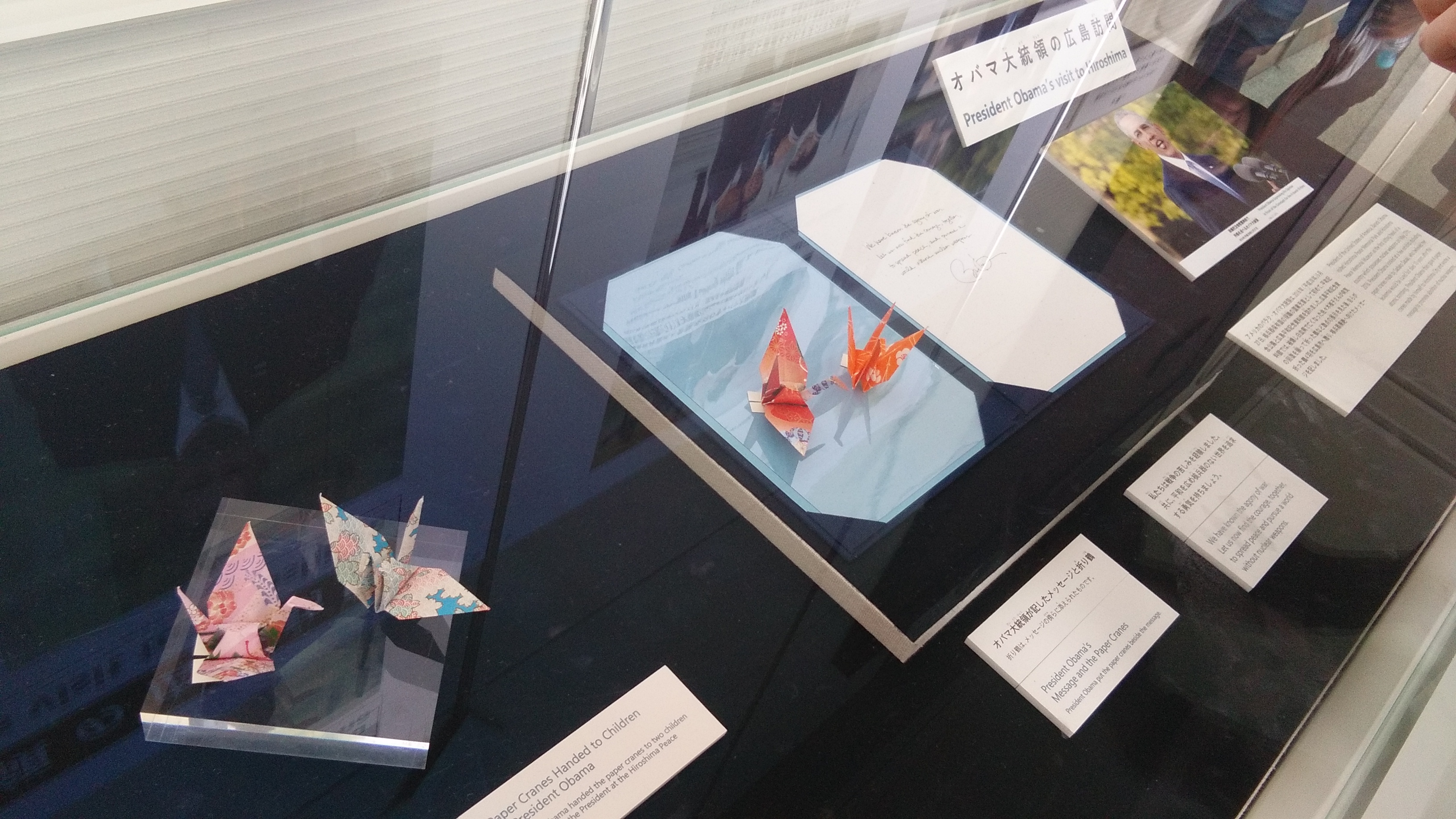 South of Hiroshima I follow the coast line most of the time. It is raining a lot, I just push the pedals to Shimonoseki. The next day I cycle through a tunnel under the sea from Honshu to Kyushu, the last of the four big Japanese islands.
Finally I arrive in Fukuoka with a bad noise coming from the rear hub again. I'm not sure if there is a festival right now, because everybody is on the streets. A lot of bars, people, noise. Very unusual for Japan, but I like it a lot. People are dressed very classy. The women look like they just escaped from an episode of "sex and the city". The men all wear suits. Still it's an easy atmosphere. I wander around, find some stalls along the river, where they deep fry fish and shrimps. I sit down at one stall, where already two young Japanese, a business man and two women from Hong Kong are eating. Like so often when I am out of words I move my fingers to my mouth and smile.
I get something to eat. We have a lot of fun trying to communicate. It is my last evening in Japan.
Nothing got lost in translation.