I enter Seoul on a Sunday in the early afternoon. I am happy my bicycle made it up to Seoul, because the sound of the rear wheel implies it falls apart any second. Two days ago my chain also broke a second time.
Apartment complexes all the way to the center. Then business buildings. I cross the Han River and find my guesthouse. It seems a bit chaotic and the beds are way too short, but I already booked for 4 nights. In the end I only need a bed, because I have to do a lot in Seoul and will rarely be in the guesthouse.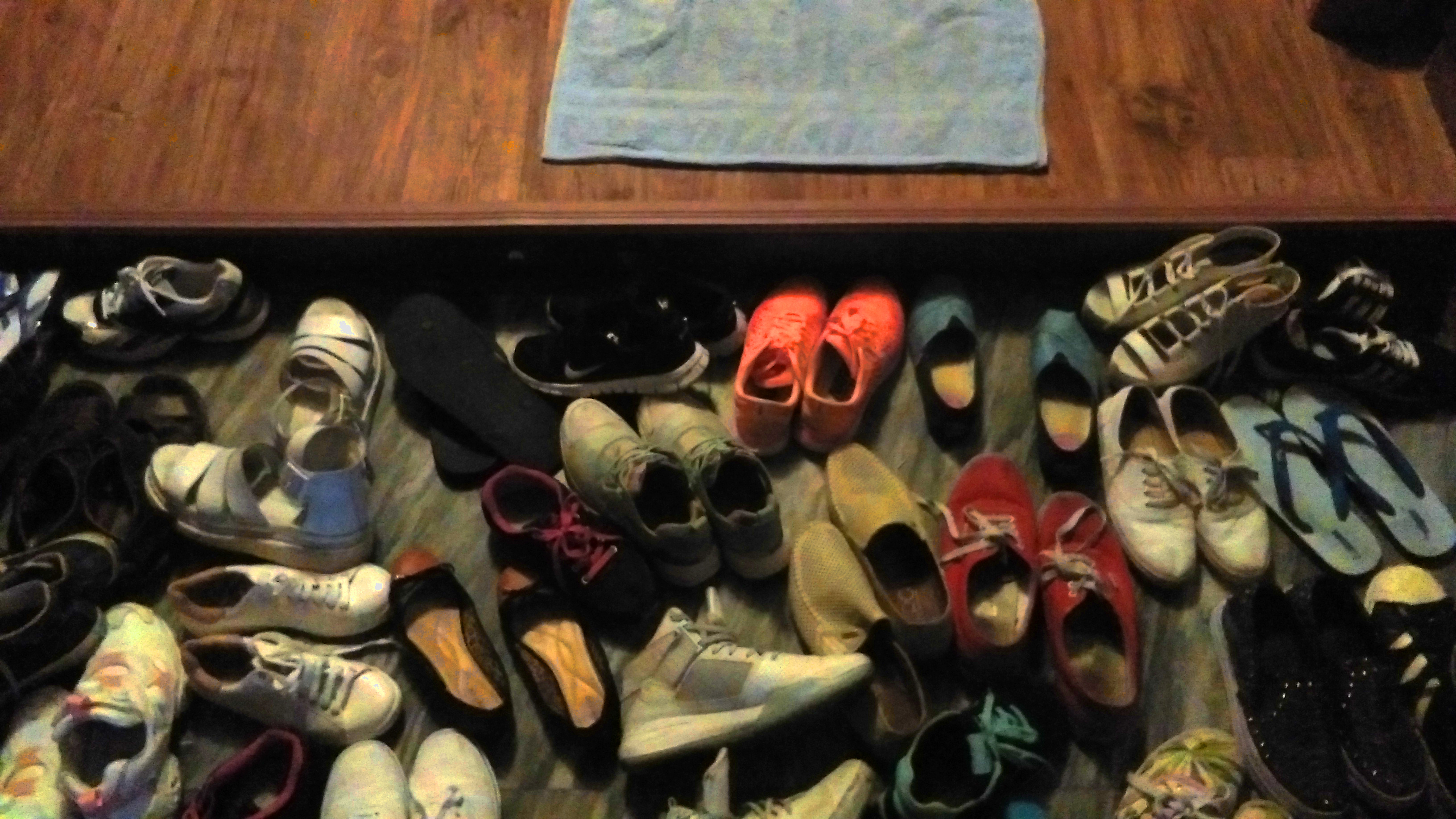 On Monday I go to the Chinese Visa Application Center. I have all the documents ready. At least all they mention on their website.
Lady at desk: Where is your flight ticket
Me: I don't have one, I am not flying to China
Lady: But you need a flight ticket
Me: That makes no sense, because I will not fly. I will enter from Russia over land.
Lady: We need a flight ticket.
Me: But I don't need one.
Lady (stares at me out of ideas): Do you have a flight ticket to leave China
Me: No, because I don't take the plane to leave China
Lady: But you need an entry and exit flight ticket to get a visa
Me: That makes no sense, because I neither fly into nor out of China.
Lady smiles until the next customer enters and then ignores me for another few minutes
Me: OK, so if I bring the flight tickets, than I will get the visa?
Lady: Where is your hotel booking?
Me: I don't have any bookings. That wasn't mentioned on your website
Lady (pulls out a sheet of paper): You have to write down your whole itinerary and need hotel bookings for every day.
Me:(screaming internally)
I go outside and think about how I now have to get two flight tickets and 4 weeks of hotel bookings, just so I can get the visa. Then immediately afterwards I have to cancel all hotel bookings and the flight tickets and hope I don't overlooked any hidden cancellation fees. That seems so absolutely reasonable.
Since I am still downtown I decide to go to the Chinese embassy and ask there. At least I want to talk to someone who understands China has land border crossings and therefore it must be possible to get a visa to enter China over land without booking flights. The Chinese embassy has a big metal gate. I ring the bell. It opens, but the gate keeper of the embassy of the biggest nation in the world doesn't speak a word English, whereas every convenience store clerk does. He only seems to understand "visa" and gives me a small map which shows the location of the Visa Application Center I just came from. Well then.
So I head back to the guesthouse and google a bit. I find a Chinese travel agency (soho travel) right around the corner of the guesthouse. They all speak English, I have to pay a bit more and leave my passport. They will take care of all the fake bookings and fake flight tickets and I will get my passport back on Friday with the visa sticking in it. Done!
In the afternoon I go to the "Giant" bicycle shop. It is the official Seoul branch of the biggest bicycle manufacturer in the world. I want to get a high quality rear wheel. The staff is able to use a computer and offers to order a "high quality" Chinese no name rear wheel for 45 $. Oh, that sounds like I have to carry two more of these wheels to make it to Beijing. I decline.
Next day: Russian Visa Application Center. I just want to check if I have all the documents ready while I am waiting for the Chinese visa. They tell me they can only issue a visa, if I have an Alien Registration Card and then tell me to go to the Russian embassy. It is closed today, but since I'm already downtown I check another bicycle shop. Another guy able to use a computer surfing the web to order a wheel for me. He says he can only order 28″ wheels. That's like imposs…..never mind.
So I check another shop. Feels better. I also show them the broken bolt of the pannier rack. They have a good quality wheel ready and say they can drill a new hole for the bolt. They can't do it today, so I cycle to Gangnam just because it is rather close and I want to do something else then spending time in offices and shops.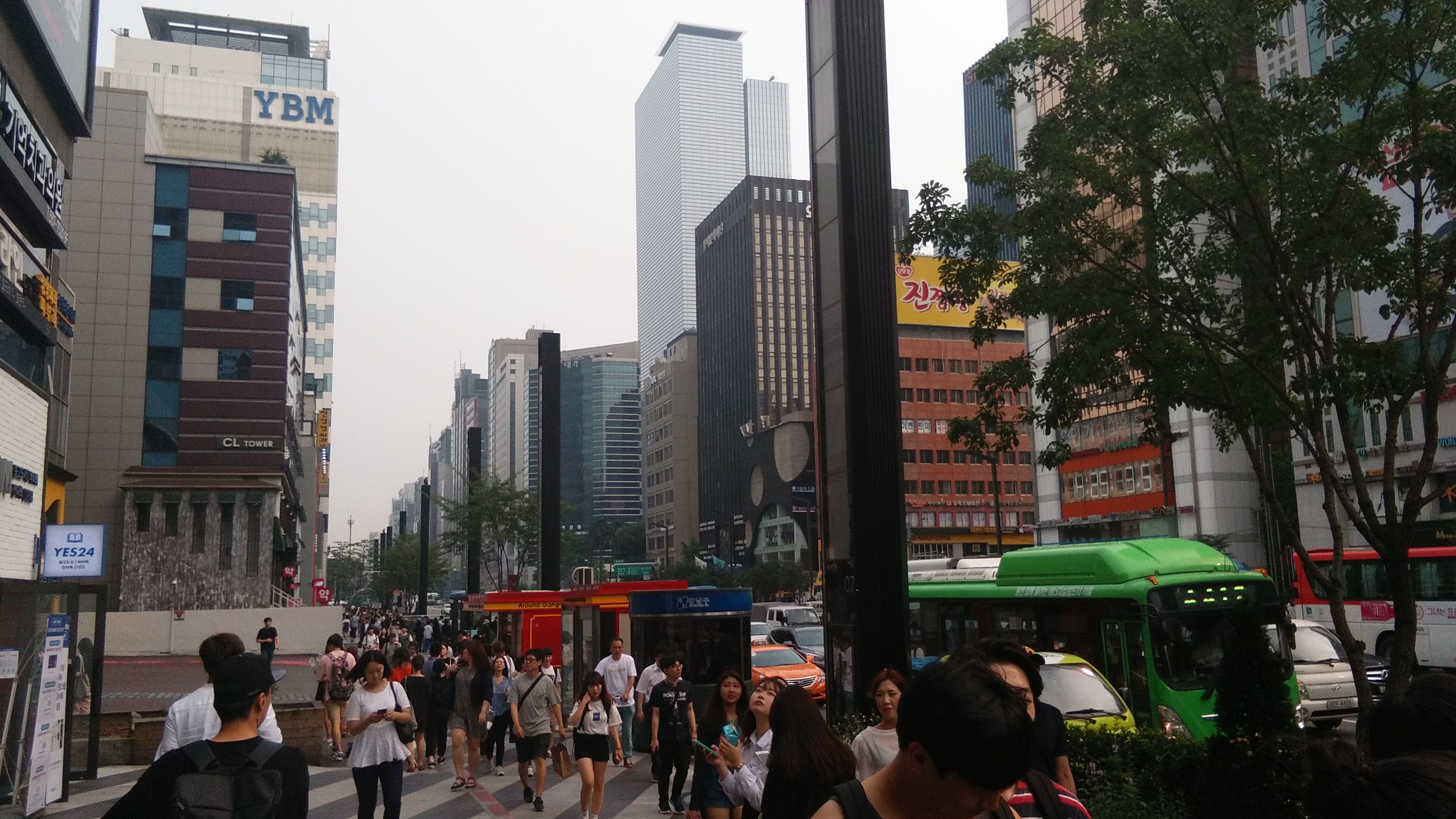 On the way back I ask a cyclist for directions. Eric is US citizen and works in Seoul. We cycle for a few kilometers and decide to have dinner together tomorrow.
The next day I rush to the Russian Embassy early and wait there for hours. Finally I make it to the counter. I show him all the documents and ask whether I need the Alien Registration Card. He says "no", hands me a sheet with an account number and tells me to transfer 91.000 Won to that account. I can then get my Russian visa on friday. Sounds good. I do as told.
I cycle to the bicycle shop and leave my bicycle there. They even give me another bicycle so I can still move around. I cycle back to the guesthouse and take a shower, then cycle downtown again to meet with Eric and his wife Claudia at a very good Italian restaurant. Humidity sucks, the shower was useless.
Me, Claudia and Eric
Claudia grew up in Leipzig, which I think is nice: Here we are, an East German and a West German sitting in South Korea, only 80km away from a border similar to the one that once divided Germany.
A day later I get my bicycle back. They have replaced the rear wheel and even drilled a new hole for the pannier rack. Great! The rest of the day I spend planning the next weeks. On Friday the Russian embassy is open again. I go there with the receipt of the payment. This time they tell me I need a booking for the ferry, otherwise I cannot get a transit visa. Alright. They offer to book the ticket online on their computer (which is nice), but it is not possible to book online. I ask if I need any other document, since I have been here already twice. "No, bring the ferry ticket, then we stick the visa in your passport on Monday".So I cycle to the office of the ferry company in Gangnam and make it just before they close. Alright. Now I have all the documents and have some free time on the weekend.  I decide to cycle to the DMZ (Demilitarized Zone), the border between South and North Korea.
The last 30km to the DMZ I see a lot of barb wire fences, especially along the river.
Close to the DMZ
I can take a look across the river into North Korea, but there is not much to see. I try to cross a bridge to get a bit closer, but a military checkpoint stops me. I tell the soldier "Die Mauer muss weg!" ("Tear down this wall!"), before I turn around and leave. I try another bridge, but no chance.
I want to pitch the tent in the evening, but on the last kilometers my bicycle behaves strangely. It is wobbling. Turns out they sold me a rear wheel that hasn't been completely assembled. The spokes have not been tightened. They are all loose. I have to take the train back to Seoul, otherwise I risk breaking the rim. I decide to go back to the same guesthouse. Within the last four days I got to know Tony a guy from the US teaching English in Seoul. And Destiny is from Nigeria and wants to learn Korean. He is very hard working and makes progress quickly. I also enjoy listening to his views on some topics. You rarely meet African tourists. Also the host is easy. Altogether I like it here, even though the beds are too short.
Mr. Kim – the owner – smiles, when I am already back the same day I left. On Monday morning I am at the Russian embassy again. All documents ready. Now they tell me I need the Alien Registration Card. "But you told me I don't need one!". He double checks. No chance. No Russian transit visa. Блять! I'm very disappointed.
A dream come false

Since Cora left I got reminded on a dream I had for a very long time. I always wanted to hitchhike to China and enter it via land border in a very remote area.

And already in Japan I found out, that Vladivostok in Russia became a free port just in January 2016, granting an eight day visa free stay to almost everybody. Unfortunately the law is not completely through, so I tried to get a transit visa instead. Visiting the far east city of Vladivostok, then cycling into China and following the Chinese/North Korean border for several hundred kilometers through beautiful mountains was supposed to be one highlight on my way back home. I even tried to get a one day cycling trip into North Korea, which gets offered by an agency in Hunchun.

Seoul is also getting hotter and I was looking forward to be in rather northern parts of China. Now all hope is lost and I am very sad. It is probably the biggest disappointment on this journey. In a last attempt I even try to get an Alien Registration Card, but it is not possible for many reasons.

The EU has made it difficult for Russians to get a Schengen-Visa, so in turn they make it hard for EU citizens to get into Russia. Sad but true. A useless piece of paper that grants me 6 month of stay in Korea instead of 3 month is all that was missing. It makes no sense, because I wanted to leave South Korea just in a few days anyway.
In the evening I meet again with Eric and Claudia. They make my stay so much better. With all the disappointments it is nice to have people around that distract me. I don't want to sit in a hotel room and stare at a wall after having another bad day.
Tuesday I try to get the ferry ticket refunded. 20% cancellation fee. The Russian embassy also keeps 20% of the visa fee I already paid. It's a bit bold. After all they misinformed me.
I also try to get a ferry ticket to China from Incheon, which is the neighbouring harbour city of Seoul. On the phone they tell me, that I cannot take a bicycle into China. Chinese officials don't want that. I'm done. Everything collapses. Do I have to take a plane into China now? Will I be allowed to take the bicycle in the plane? Will I be able to enter China at all?
I take one day off and then cycle to the ferry complex in Incheon on Wednesday. I want to try in person. Let's see what's possible. A few kilometers before I arrive at the ferry, the chain gets stuck in the rear wheel. I put it back in place and continue. A few hundred meters in front of the ferry complex I can no longer shift the rear gears. While checking for the cause I find out, that the chain has cut one spoke and damaged all other spokes. Doesn't look like high quality to me. But that's not the reason for the gear-shift issue. The cable broke, but additionally the shift handle also stopped working. So within a few kilometers I got three more issues with the bicycle that have nothing to do with each other. I take the train back to Seoul and go to the bicycle shop. I leave the bicycle there and go back to the guesthouse. Mr. Kim is laughing, he didn't expect me back one more time.
On Thursday I want to pick up the bicycle. They replaced the spokes, the shift handle, the cable and also put on a new cassette and chain, but kept the old chain rings. I leave for the ferry complex. Just around the corner the chain jumps wildly. I cannot put any force on the pedals. I cycle back to the shop. We put on the old cassette and old chain. They don't take back the new parts, so I will carry them to China.
Now I ask the bicycle shop owner to help me book a ticket for the ferry. So at least my departure date is fixed . This time we try another ferry company and they say it is ok to take the bicycle. So chances are, that I will be in China on Sunday. My bicycle is making a loud noise even though I spend two weeks and lots of money in the capital of South Korea in order to get it fixed. I feel like riding an evaluation copy. A last time I cycle back to the guesthouse to stay another night. Mr. Kim can't stop laughing.
So I've spent two weeks in Seoul and cycled through this city more than 300 km, still I didn't do any sightseeing. Anyway, I liked it a lot. After all it was one more Dashoguz-ish experience. But also the city itself is vivid and feels good. I liked the food in South Korea in general, but also the Italian restaurants here in Seoul, I admit. Staying in the guesthouse was the right decision. I got quickly used to the short bed and with Tony and Destiny I always had some familiar faces who listened to my everyday struggles to get the visa and the bicycle fixed. Eric and Claudia added a none-touristic experience and knew the best places to eat.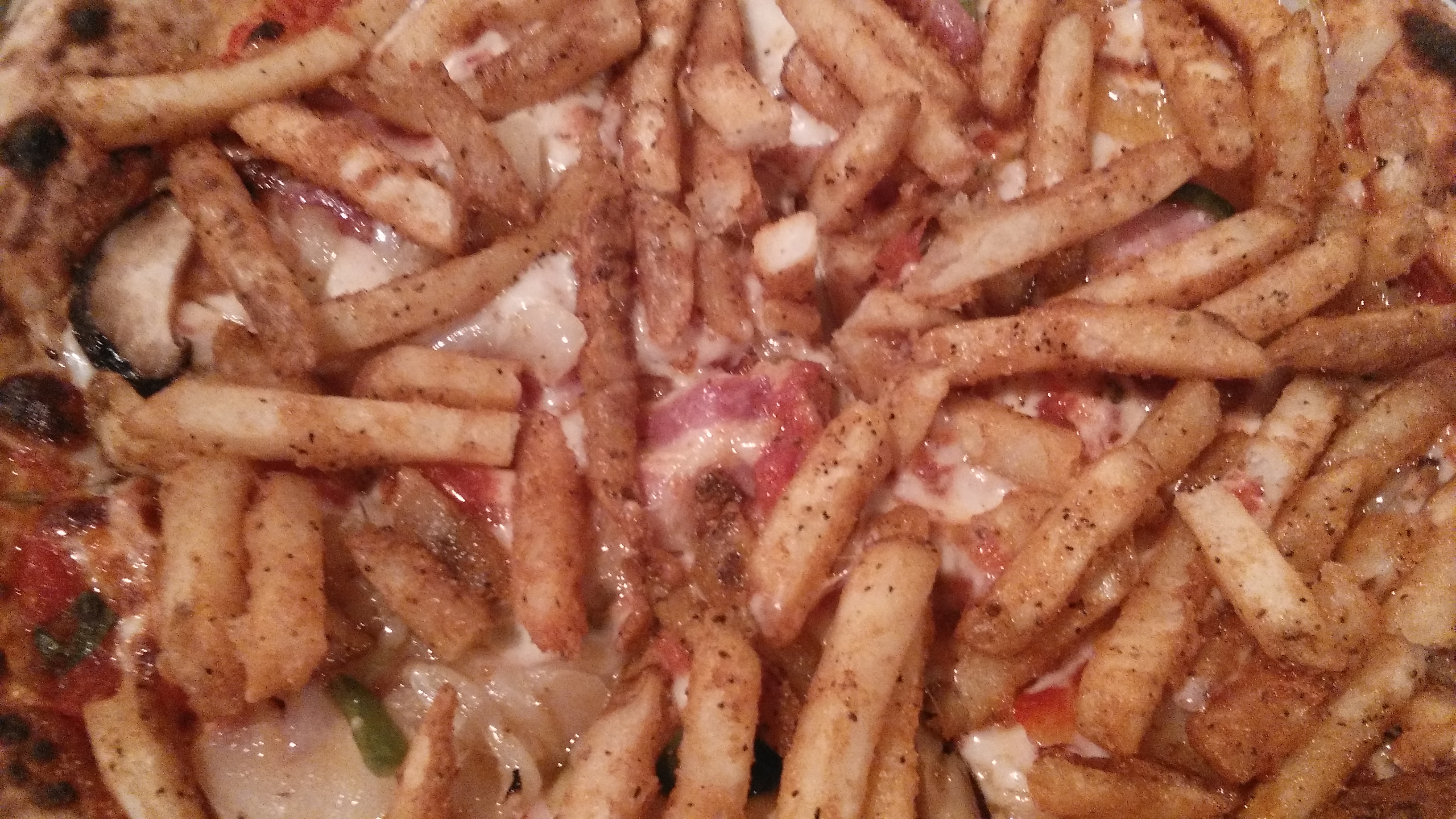 I almost felt a bit too much at home here in Seoul. It will take some nice roads through beautiful landscape to get back to being a cyclist. I hope China delivers.
However, if I will be in China on Sunday is not sure. The last days have proven Heisenberg's uncertainty principle, that states that if you know my momentum, you cannot know my exact position. And if you know my exact position, you cannot know my momentum.
So I stay in this state of uncertainty. The only one who can relate is the cat living in the guesthouse. Legends tell she was once a lab cat at Mr. Schrödinger's labratory.