This post is dedicated to my former coworker Jibin. During my last weeks at the company I was working for, I introduced him to my work. Because Jibin was actually my successor. We had discussed an issue and he came to me and said: "Problem gelöscht!" (Problem deleted). He probably wanted to say "Problem gelöst" (problem solved). I liked that, though. Especially in an IT environment. I told Cora about it and from that point on, whenever we solved a problem during our travel preparations, we always said: Problem gelöscht! Even now it is a common term we use.
We had found a friend in Ashgabat, witnessed an exploding car engine in the Karakum desert, cycled through the desert for almost 30km and visited the gas crater. Enough for a country we wanted to stay in for only five days. Путешествовать  это не отпуск. Traveling is not being on holidays.
We get up in the Chaikhana and have plenty of time today. Only between 10 and 11am three buses will pass the Chaikhana. We are told that we just have to wait. As soon as they appear on the horizon, we have to move to the road and wave our hand.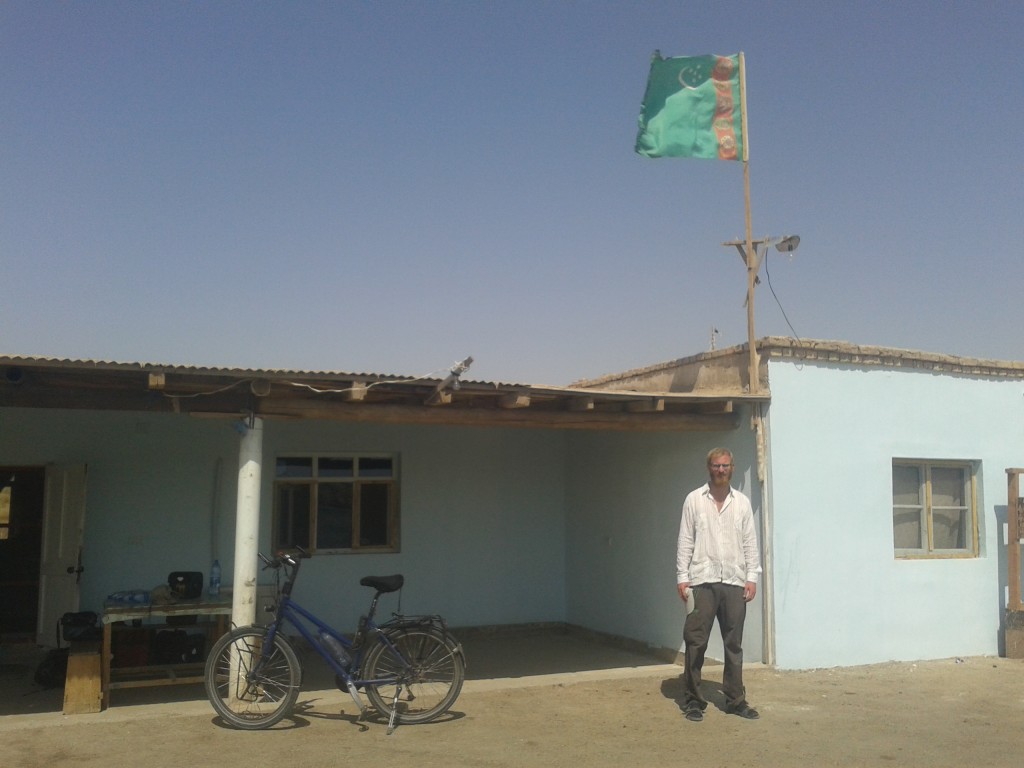 Unfortunately the first two buses just pass by. Apparently they are already full. So we have to take the last bus, which is going to Dashoguz. There is a border crossing in Dashoguz, but we cannot cross the border there, because in our visa is written Konye Urgenc as the border crossing and this is mandatory.
The journey with the bus is long and hot. We arrive in Dashoguz at around 4pm.
Dashogus

A creation of the Soviet Union, Dashogus is a sprawling industrial city with a neat, soulless centre and nothing to attract visitors. Even this one semi-sight, some idiosyncratic dinosaur statues, has been removed by the authorities for reasons best known to them.

The Lonely Planet – Central Asia
After the Karakum Taxi we don't have much money left. Actually enough, if we were now in Konye Urgenc instead of Dashoguz. Anyway, we only need to pitch the tent another night and that's it. But after dinner, Cora starts to feel really bad. We can stay a night in a hotel, but then it gets difficult to make it to Konye Urgenc with the remaining money and on top of that we don't know where the next ATM is in Uzbekistan.
I ask at a bank in the evening and there are still some security guards working. Also the bank manager, who is very supportive and understands the situation. After an hour he returns from his office. We are told to show up the next day and then maybe get money with our credit card. He also found a hotel for us and says: "Hotel maybe no money". Sounds good.
We cycle to the Uzboy hotel a little outside the center. The staff is already informed about our arrival and helps us carry our bags to the room. We have a perfect room with air condition. Cora has 39°C fever, though. She feels weak and has a lot of pain. It is not sure if she is able to take the bus to Konye Urgenc tomorrow. Well, we still have one more day. However, she needs to recover quickly, no matter what. This is Turkmenistan, they don't fool around.
The next morning Cora's fever is not much better. It is Saturday and I am at the bank at 9am. Nobody there. The security guard doesn't know anything about me. I find another bank where I can change some dollars to Manat, so we can buy some stuff to eat and drink at least.
Cora feels a little bit better already. She went to the reception and called the German embassy to clarify if we can cross the border at Dashoguz instead of going to Konye Urgenc, which is a two hour bus ride away. The embassy told her, that the border crossing on the visa is mandatory. Only the immigration office can change that. There is actually an immigration office in Dashoguz, but it is closed on Saturdays. The embassy also tells us, that we have to pay the hotel for the last night. Otherwise they will put us into jail.
The receptionist in the hotel seems not to know anything about "Maybe no money", which is bad, since one night in the hotel is 60$. Cora asks if she can use online banking to pay the hotel. They agree, but have no internet. So she calls Tim, who has a friend in Dashoguz, who will come to the hotel and has internet. Also the hotel supports us and offers to take us to the border for free, so we can leave Turkmenistan in time. But as the embassy said, we unfortunately have to cross at Konye Urgenc.
Meanwhile I head back to the bank. There was a Western Union counter. My idea is to transfer money to myself via the internet cafe and then get it there. The bank is closed for lunch though. I have to wait.
Soon a guy enters the bank. His name is Nuri. He asks if I wanted some coffee. Well, why not? I have to wait till 2pm anyway. Turns out this guy is the only one in the bank working today. We go to his office. I explain the situation. He is only concerned about the coffee. I'm not sure if he just wants some amusement during his Saturday shift or actually wants to help me. I get some candy and coffee. I point out, that I actually have a problem and Cora is sick in the hotel. After we pay the hotel we have 25$ left. That's critical.
Where should we stay tonight? Cora is not able to take the bus to Konye Urgenc, she has still fever. We have to stay another night in Dashoguz. And sleeping in the tent is still not an option.
We are discussing several options. The Western Union counter is closed today and we already have to be out of Turkmenistan on Monday. We have still a lot of Rials, but cannot change them in Turkmenistan.
After we checked every normal way of getting money, he starts to get creative. There are regular flights from Dashoguz to Ashgabat. Five flights daily. His plan is to send my credit card to Ashgabat. The I tell my PIN, his brother withdraws money and sends money and card back. Everything should be back in the evening.
He notices that I don't like the idea of giving my PIN to a stranger who then can actually withdraw as much money as he wants. Also, if anything goes wrong I don't get my credit card back in time. Usually I can wait, but not in Turkmenistan.
After a while he offers to give me the money personally. He just wants to take a copy of my passport and I have to promise to transfer the money back as soon as I am in Uzbekistan. He tries to convince his boss to get the 200$. His boss declines.
We get back to the Iranian Rials and Nuri tries to find someone at the black market, who exchanges Rials. We drive around, visit some friends. Finally we go to his home.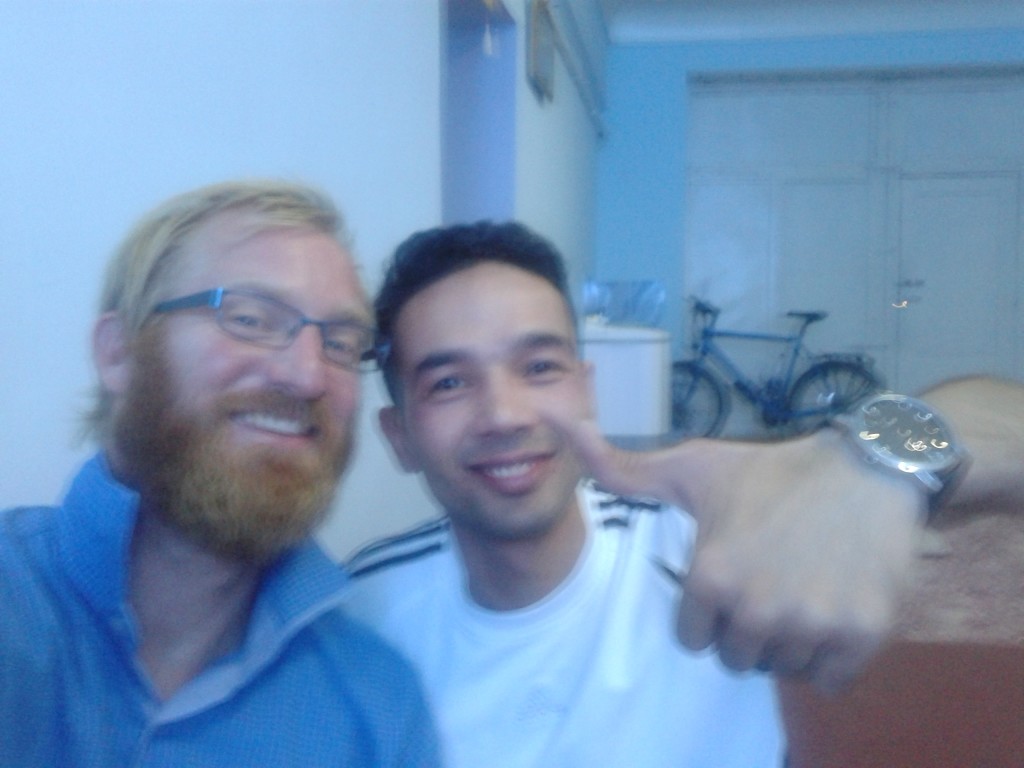 Nuri still makes some calls. We then move to the bazaar. Several minutes later I find myself surrounded by strange dudes. They know my situation and want to give me half the amount of dollars the Rials are actually worth. But even Nuri says: "This is your only option".
If I don't take the dollars now, we have to make it to Uzbekistan with 25$. I try to push the exchange rate a last time. They decline. I already have the dollars in my hand, but return them and take our Rials back and turn around. Nuri is confused, the exchange dudes are confused. To be honest, I am confused. Now they try to give me more dollars. Only a few more. That's not enough. I hate it, when they try to get the most out of your bad situation.
Nuri already had offered that we can stay at his place no matter how this turns out. He now invites us again. A big relief for us. I head back to the hotel.
We carry all bags down to the lobby and tell the receptionist that we leave. The receptionist had seen me running around the whole day to get money. Cora had called the embassy and Tim from the reception phone and explained again and again, that we need money to pay the hotel. I had asked for the price for one night and she said 60$. Now she asks where we are going. We explain: To a friend, because we cannot afford another night. Then she says: "No, no, you don't have to pay. You can also stay another night. It's free. No money."
Are you kidding me?
Problem gelöscht! (problem deleted!)
I have been running around the whole day and Cora called the embassy and Tim and everybody was trying to help and now this? The problem just ceased to exist? We still have 85$. Everything is fine. No money for the hotel. We call Tim, his friend doesn't need to come any more.
We decide to leave anyway, because Nuri's sister is waiting for us. And we had some bad experience with the last guy who told us something was for free. Remember the Opel driver?
We arrive at Nuri's place. His sister is concerned about Cora's health. Cora is just lying around and doesn't move or talk much. Nuri is also pretty concerned. Nuri's sister offers to give Cora an infusion. We don't really get how she wants to manage that until she leads us to the next room. A fully equipped dentist's clinic. Minutes later Cora gets her first infusion. Three more infusions will follow that evening. In the end Cora gets 4 liters of infusion. Only when Cora starts to sweat, Nuri's sister is happy.
While Cora is recovering, Nuri wants to show me the nightlife of Dashoguz. I can also use some distraction. The day was exhausting. We go to a club, which is pretty nice.
I end up having several vodkas and beers with some strange guys. One of them just turned 41 that day, so I actually have to drink. But Nuri's sister has fed us so well, the vodka just helps to digest.
Image missing: Nuri (Turkmenistan), Jura (Ukraine), Asis (Uzbekistan), Sasha (Russia), Slava (North Korea) and Me (Germany) in the club.
Another day is over and everything should be fine now. Cora feels better, We still have 85$. That should be enough to get to Konye Urgenc and to the next ATM in Uzbekistan.
We get up at 7am. Cora feels alright. Nuri's sister has prepared breakfast. Nuri wants to take us to the bus terminal. Great. As if this wasn't enough, his sister now brings 100$ and another 100 Manat. She says she wants to make sure we make it to Uzbekistan. She trusts us and we promise to transfer it back as soon as we find an ATM.
We move to the bus terminal. It is 7:45am. The bus leaves at 8am but is totally empty. Good for us, enough room for the bikes. But the driver doesn't want to take the bikes. We offer more money. No chance. Alright, this is ridiculous. He knows our situation. We showed him our visa and told him Cora is sick. No bikes, he repeats and continues to clean the windows. What an idiot!
OK, no time to discuss, we have to get out of this country, so we take the taxi. The taxi is ten times as much as the bus. We don't care. Imagine we didn't get the extra money from Nuri's sister, we were stuck now. Let's just leave this country as soon as possible. We have to leave Turkmenistan today. That's written on our visa.
After a one hour drive we arrive in Konye Urgenc. It is only 10am, so we have plenty of time. We visit some Mausoleums and finally the Qutlugh-Timur-Minarett, which is the highest in Central Asia.
The guy at the ticket counter for the Minarett asks where we are going. I tell him we are on the way to the border and cross over to Uzbekistan today. He replies:
But the border is closed. You have to cross at Dashoguz.
Are you kidding me?
You remember, from the gas crater we had to take the bus to Dashoguz, even though we actually wanted to go to Konye Urgenc. The embassy told us, that we cannot change the border crossing and have to stick to Konye Urgenc. That's mandatory, they said. The hotel offered to take us to the border crossing in Dashoguz already yesterday, but we declined, because according to the visa and according to the embassy we had to take the border crossing at Konye Urgenc. Now we are in Konye Urgenc and we are told that we actually have to cross at Dashoguz? And the German embassy didn't even know that the border crossing in Konye Urgenc has been closed a month ago already?
Problem gelöscht! (Problem deleted!)
In fact we could have just stayed in the hotel room the last two days, then take the hotel limousine to the border and cross it. All the hassle was in vain. We have spend a lot of money and a lot of time for nothing. We are now in Konye Urgenc and even have to spend more money on a taxi back to Dashoguz.
And that's exactly what we do without any further delay. Because we want to make sure we actually can cross the border in Dashoguz. It is Sunday, who knows when they will close.
After another 2 hours we finally arrive at the border crossing in Dashoguz. Closed during lunch break. Com'on dudes, you can open the barrier gate while eating Plov.
Finally they open again the gate at 2pm and we leave Turkmenistan.
Wait a second!
The last days were nothing but running around. But despite the hassle we have also seen a lot of beauty in this country. And one thing is for sure: The women of Turkmenistan are the best dressed women so far. They all look like they are going to the academy awards. Long robes, bright colors with traditional ornaments. Just amazing. Even the people who clean the buildings are better dressed than most of the Oscar winning celebrities.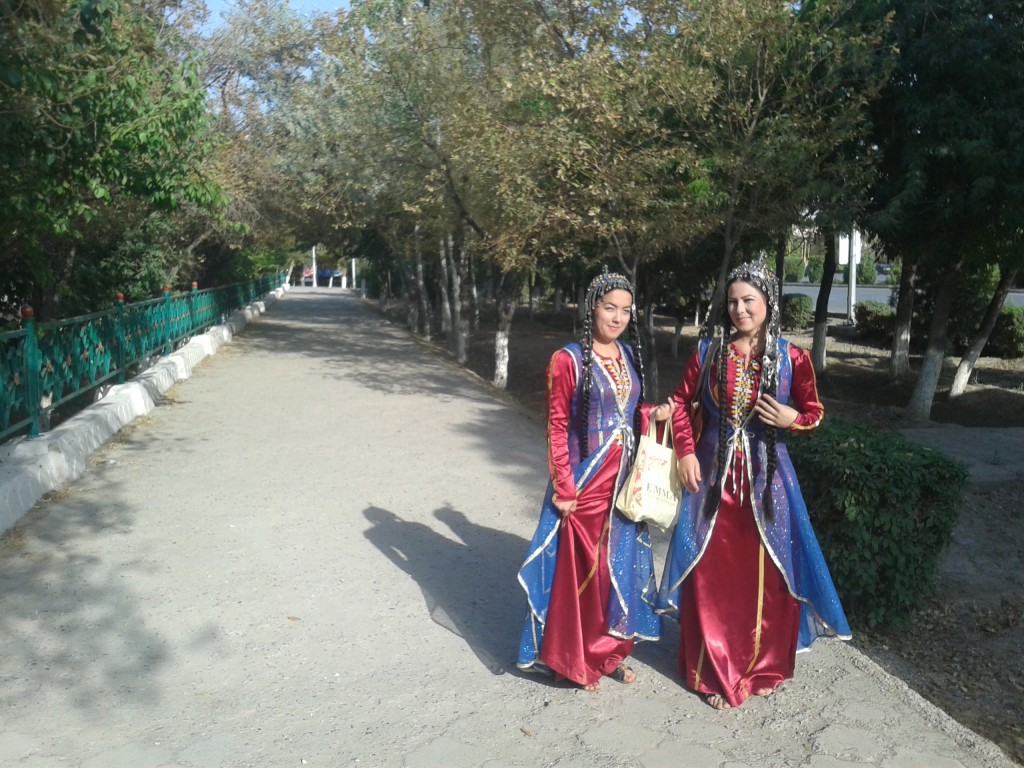 And that's it. We got a quick impression of this country, but also a rather deep one for a 5 day transit. I know Dashoguz better than any other city we have visited so far and I cannot agree with the Lonely Planet. There is a lot of soul in this little town, you just have to find the right entrance.
Let me just call it the "Door to Heaven".
Thanks Tim, Thanks Marina, Thanks Nuri and his sister. Thanks unknown guy who payed for the hotel room.
You were all just great!