The border crossing to Thailand is easy. We just get a stamp and a departure card and can now stay for 30 days. After a very long time we enter a modern country again with true western standards. We are both surprised by this fact.
Indeed it feels like we are in the USA. A lot of big pickup trucks on very wide roads. Starbucks, McDonald's, KFC and big shopping malls. However, that also sometimes feels a bit soulless. The bamboo huts in Myanmar felt more authentic. Here everything is clean and usually you don't see animals on the streets. No cows, yaks, pigs, dogs, cats, ducks, chicken, goose, sheep, goats, horses, donkeys or monkeys. So far also no elephants.
Most people dress similar to the US or Europe with only minor difference for instance regarding their make-up. After all, Thailand has been influenced a lot by the US. During the Korean and Vietnam wars many US soldiers were stationed here.
So you can say, the most obvious cultural remains so far are the food and also the architecture of some houses that are still build in a more traditional way. Of course also Buddhism is everywhere.
We exchange the last Myanmar Kyats to Thai Bhat and then cycle to Mae Sot, the first town after the border. We want to stay there and see how my knee develops. It is constantly getting better but I cannot cycle much right now. After three days in Mae Sot we decide to slowly continue cycling, but just the evening before we leave, I feel again a lot of pain at the inner side of the knee. So we decide to take the bus to Phitsanulok. Phitsanulok is the next city with an MRI, only 200 km away and on our route anyway.
Body check
We arrive in the evening and go to the hospital. I feel already better the moment I see the medical standards. An absolutely modern hospital, friendly staff and within 15 minutes I can talk to a doctor. He examines my knee and performs some tests like the doctor in Loikaw already. Then he only recommends some weeks rest. But I want to make sure everything is alright. I'm still a bit concerned, because my knee really hurts a lot and it feels like there is something wrong inside the joint. There is a cracking sound and on the inner side of my knee something moves in and out of the joint cavity. And after all my knees are of special importance on this journey and we only stay a few days in Thailand. Laos and Vietnam are much less developed. If my knee doesn't get better and I need surgery, I want it to be performed in Thailand, not in Laos or Vietnam. So I ask for an MRI. I get an appointment the next day 8:30 am.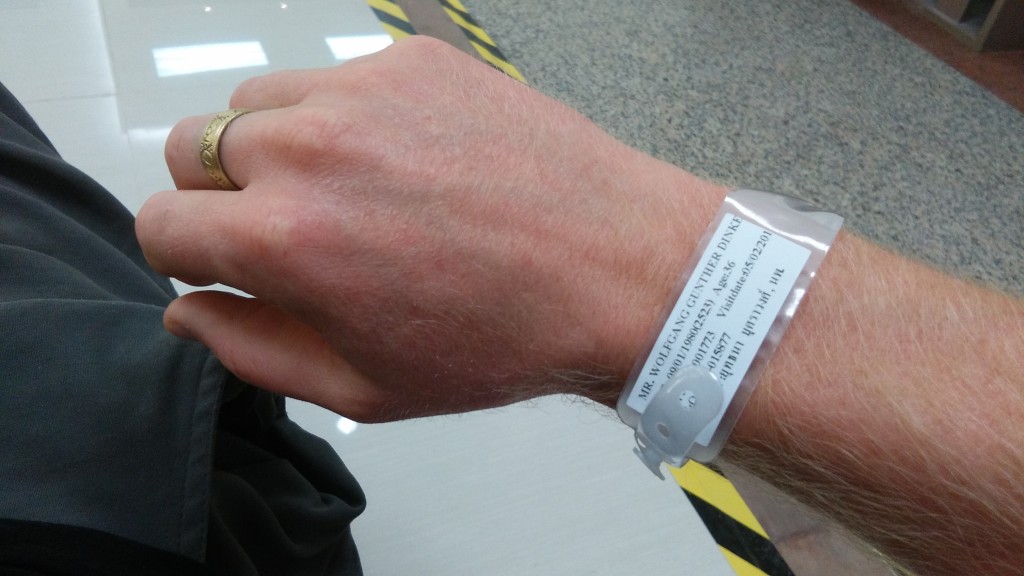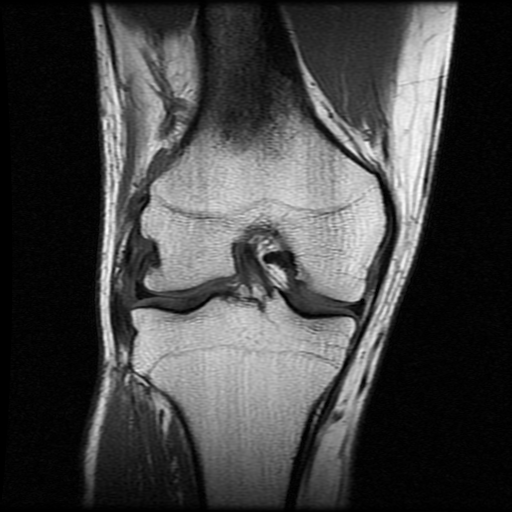 Here is the result: A sprain of the cruciate ligament. But nothing is torn, nor did they find any injury of the menisci. Anyway the hit was harder than I had expected. It is now 10 days since the incident and the knee is still swollen and I cannot walk without pain. Stretching the knee is sometimes not possible. But I am happy with the result. Everything will heal. No surgery needed. It only takes time. And actually I am lucky, because on a world trip you cannot take an MRI for granted. Thailand has several of them and very experienced doctors. By the way, the MRI was 9700 Bhat, that's around 250 Euro. The medical examination was 10 Euro – I first thought that's only the "Praxisgebühr" like we used to have in Germany. Our insurance company will be very happy.
Luckily this first time in Thailand is more or less only a transit phase for us. We are just on our way to Laos. Our second stay in Thailand will be in a few weeks when we enter again from Cambodia. So we are both not too disappointed. Imagine an accident like that on the way to the Pamirs or Annapurna. However, I still have to rest a few more days.
We leave Phitsanulok and take another bus to Udon Thani a city with around 160,000 inhabitants and only 60 km away from the border to Laos. We find our host Rirk on warmshowers. He runs a travel agency for cyclists in Bangkok, but also owns a little guesthouse in Udon Thani. Cyclists can stay one night for free. He also shows us a lot of the city, the Chinese temple and some good places to eat. You get everything here in Thailand and the food is delicious. But sometimes you better don't take a closer look.
So after 7 days in Thailand I still cannot say much about the country. We haven't cycled and obviously I was pretty consumed by thinking about a treatment for my knee. We only saw cities, bus terminals, hospitals, cafes and also a lot of other tourists. Standards are back to normal again, even the internet is fast. Since we left Almaty (Kazachstan) I couldn't do any backup of our photos. So things like that are now on the schedule. Also writing blog posts and emails, reading online newspapers and watching a movie once in a while is highly appreciated.
During our time in Udon Thani there is also Chinese New Year. One evening the streets are crowded and a dragon dances through the masses. A lot of stalls offer nearly every food you can think of.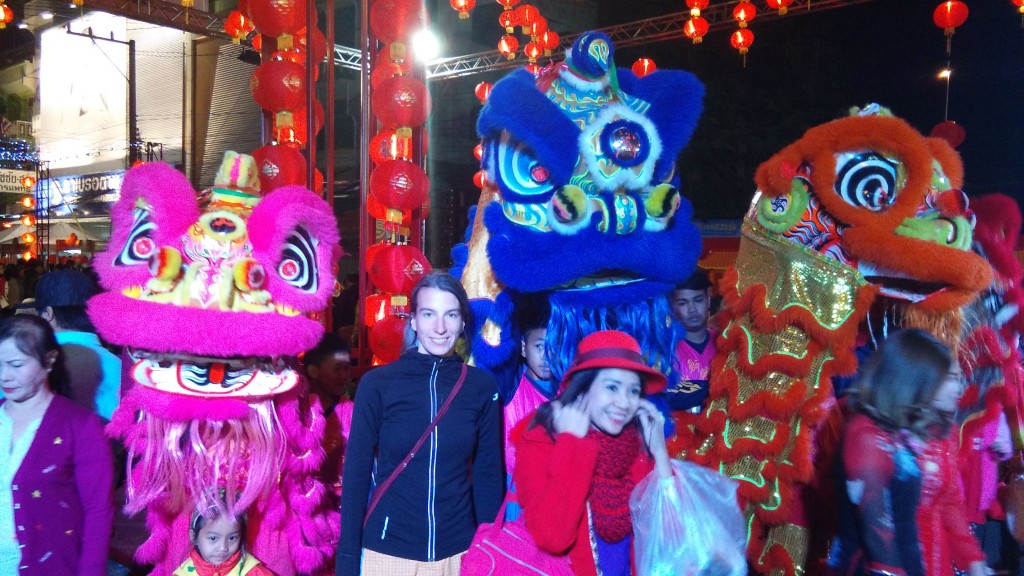 Bike check
The Chinese New Year was a great celebration with huge fireworks, but due to the holidays all shops have been closed the last couple of days. So only now we can go to the bicycle shop and hope they have all the parts we need – and we need a lot. After 11 months of cycling the chain rings are very much gone. The chain itself is probably twice as long as it was, when we started. Since our last two weeks in India I could only use two of the three chain rings and only a few of the theoretical 27 gears. So everything has to be replaced now. And Cora doesn't want to wait until her bicycle gets as bad as mine already is. So we need everything twice.
The bicycle shop luckily is a wholesaler and has a lot in stock. Indeed we both get new chain rings, new chains and new cassettes. The bicycles are more or less brand new again. We didn't expect to find a shop like this in Udon Thani.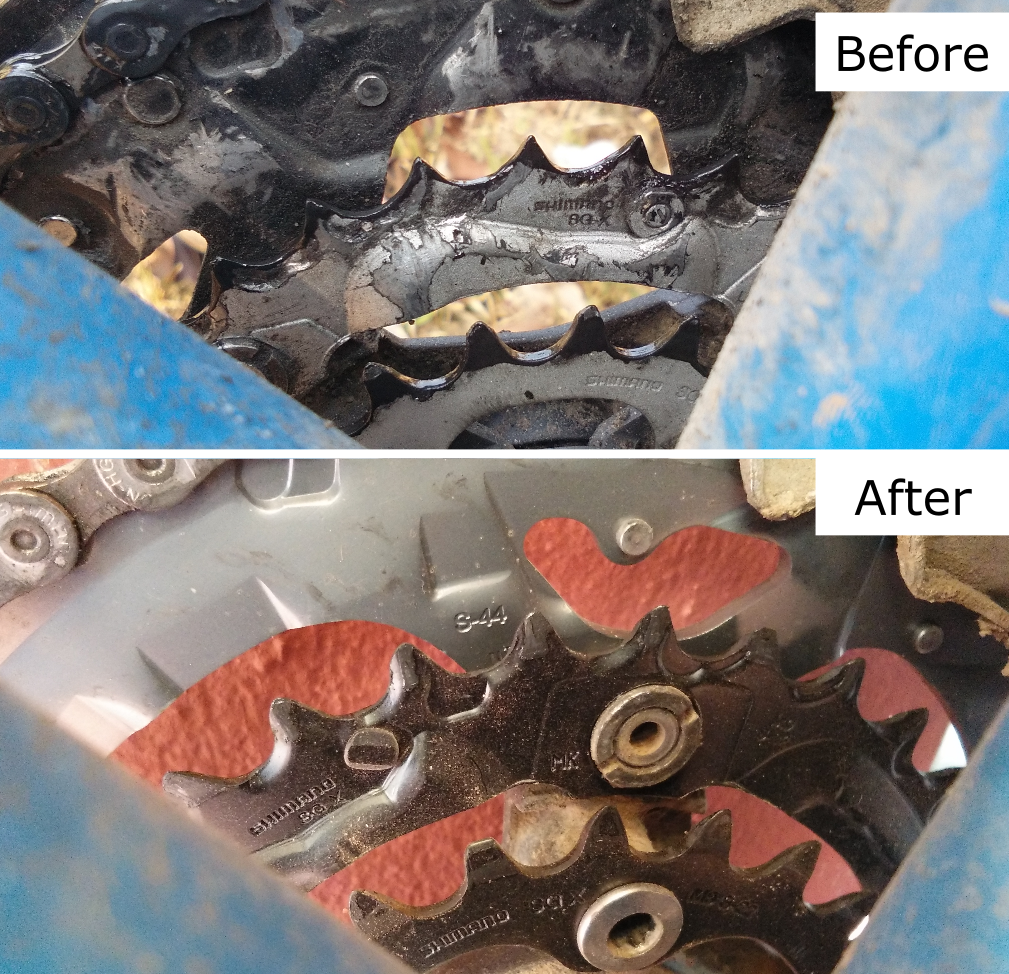 Since the knee makes constant progress, we now want to cycle the last kilometers to Laos. It seems to recover faster when I have some exercise as long as it is not too much. To Laos it is only 60 km on plain paved road. We cycle slowly and easily make it to Nong Khai. My knee felt a bit strange still, but it doesn't hurt after these 5 hours.
Nong Khai is another pensioner's paradise. While Udon Thani focused more on "massages", Nong Khai focuses on German Beer, Bratwurst, Wiener Schnitzel and "Dienstag geschlossen" signs. The touristic experience in Thailand is something we have never seen before. The European senior citizens are just everywhere. Anyway, I didn't miss my chance to get a Wiener Schnitzel.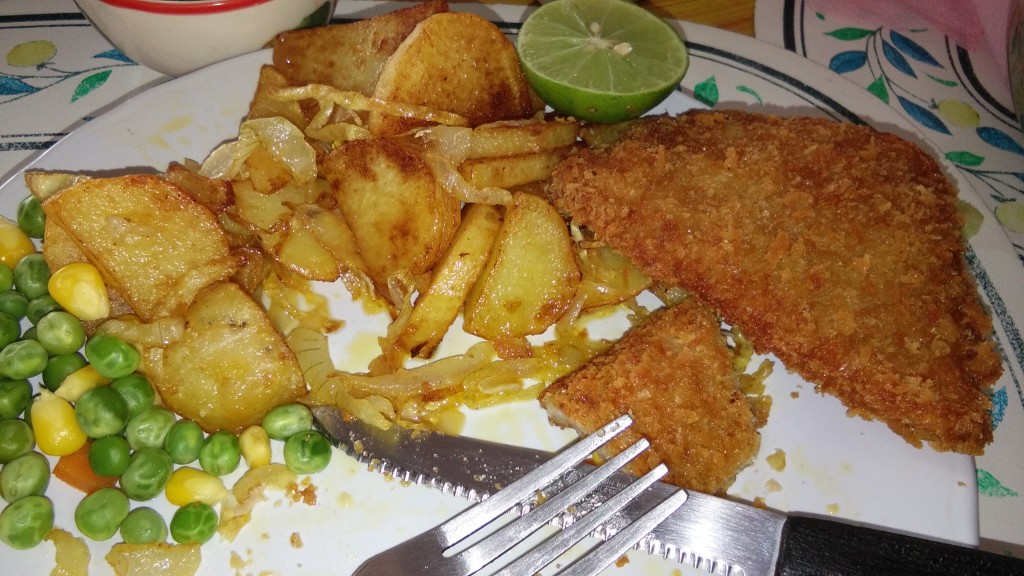 And I already feel like a medical tourist, when I also visit the dentist in Nong Khai, because another piece of tooth just broke off. The dentist clinic again is modern with western standards. Fixing the tooth takes only 30 minutes and is around 25 Euro. Great.
So in our time in Thailand my knee and tooth already got checked and treated and also our bicycles got fixed. Now only one thing is missing: We are waiting for a parcel from Germany with several replacement parts. The parcel has been sent to Vientiane, the capital of Laos which is just on the other side of the Mekong river, 30 km away from Nong Khai. It left Germany already on January 16th, so almost 4 weeks ago. On January 28th DHL confirmed a failed delivery in Vientiane. That was 13 days ago. Since then no more status update. The Lao Post isn't famous for its reliability.
We leave Thailand and cross over to Laos via the friendship bridge at Nong Khai.
Go left,
go right
go pick up the step
go left
go right
go left
India was left traffic, Myanmar was right traffic, Thailand was left traffic, Laos is right traffic again. It starts to confuse me..
Follow-up check
We arrive in Vientiane at noon. With only 210,000 inhabitants, Vientiane is the smallest capital since we have left Germany. The first thing we do is cycle to the DHL center a little outside town. They have never heard about our parcel, but tell us to ask at the Lao Post office. So we cycle back to the Lao Post, which at least is still open. Staff here laughs at us, because I guess they have this every day: The desperate European tourist waiting for a parcel that will never arrive. We try to tell them that it must be here, because we already got a status update of a failed delivery attempt. Still they laugh. After a while we are allowed to go to their storage room and have a look at all parcels. Also we can browser their "notebook":
Anyway, we can't find any trace of the parcel. They say the parcel is probably still at the airport. We ask them to call the post office at the airport then. They laugh. We should return tomorrow: "I think tomorrow it will we here", they say. Then they laugh.
Indeed, the next day we get another status update after 14 days and finally can pick up the parcel at Hugues, a warmshower host, who kindly offered to act as the recipient of our parcel.
We had to wait a long time, but we finally hold the replacement parts in hands. I want to mention three of them, because the companies provided them for free and that's great.
Exped: provided four segments for our tent pole, that got broken in Kyrgyzstan.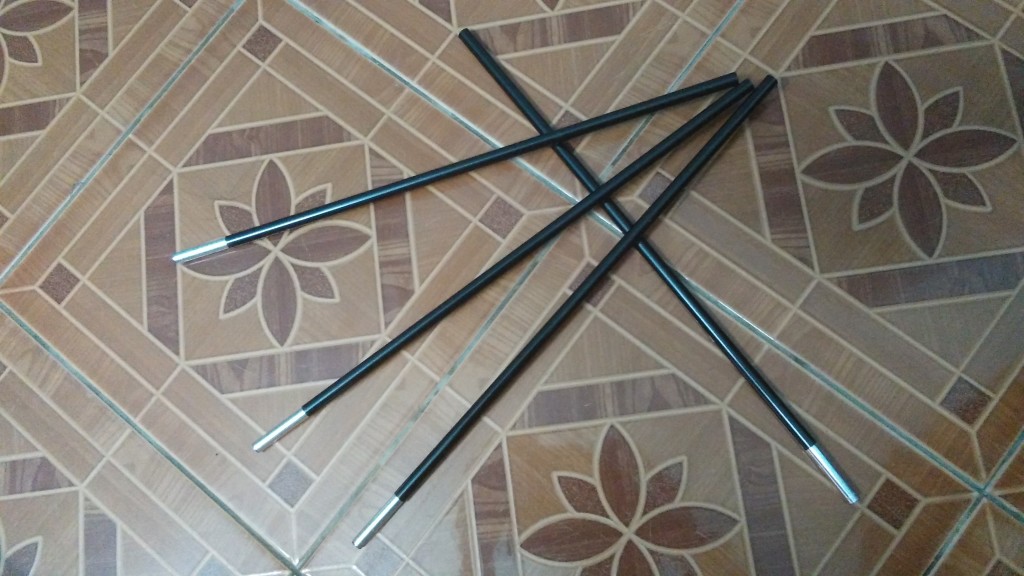 Busch&Müller: provided a brand new front light for Cora. The front light got damaged when Cora's bike fell into the water filled road side ditch in Iran.
CustTec: Either Custtec itself or the velogarage in Mannheim provided two new derailleur hangers, after mine got bend probably at Annapurna Circuit.
So our time in Thailand is already over. Doctors, bike shops and generous companies helped putting us back together. We feel ready to cross the mountainous northern part of Laos and I hope the roads are good enough so my knee doesn't have to suffer. The capital of Laos is one touristic Disneyland with bars and restaurants everywhere. Whenever we look around we usually see more tourists than locals. We have to spend some more days here, because the embassy of Vietnam only opens again on Monday after it was closed during Chinese New Year. As soon as we get our Vietnam visa we will start to cycle.
Thailand was a different and unexpected experience. We switched to the life of backpackers, since we couldn't cycle due to my knee. We got a short impression and already got confronted with some typical Thai cliches. The food took some getting used to, but actually we became big fans of grasshoppers.
Anyway. We will be back!