Episode II of our time in India starts when we enter the Indian state of West Bengal. We stay two nights in Siliguri, where we get our permit for Sikkim.
We then set off for Darjeeling. There is no traffic on the beautiful road, only the rail tracks, that follow us all the way up the hill. Everybody is on strike today. Not even the train is running. People are friendly, smiling and supportive. A new hope after the Honky Kongs and Staredevils lately. We enjoy this a lot.
We set another record when we arrive in Sonada after climbing 2075m that day. It is already dark and the only hotel is ugly and expensive. We end up staying in a Buddhist Tempel. We even get dinner. But the night is very cold. After all it is December and we are above 2000m.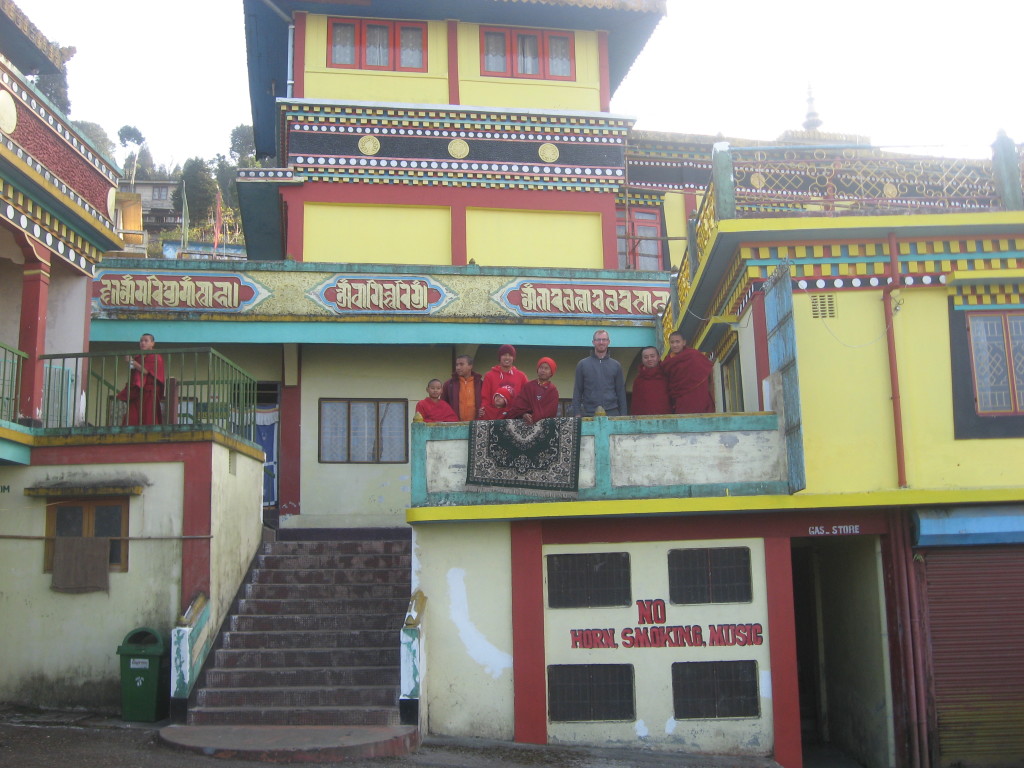 The next day we make it to Darjeeling. Darjeeling is a very western city, modern with lots of shops and restaurants. No Staredevils and even the honking rate is acceptable. It has still an old British tea house where we get delicious cakes and pastry.
The next morning is cold. Darjeeling is on 2200m. But as soon as we cycle downhill it is quickly getting warmer. The road is steep so we descend rapidly.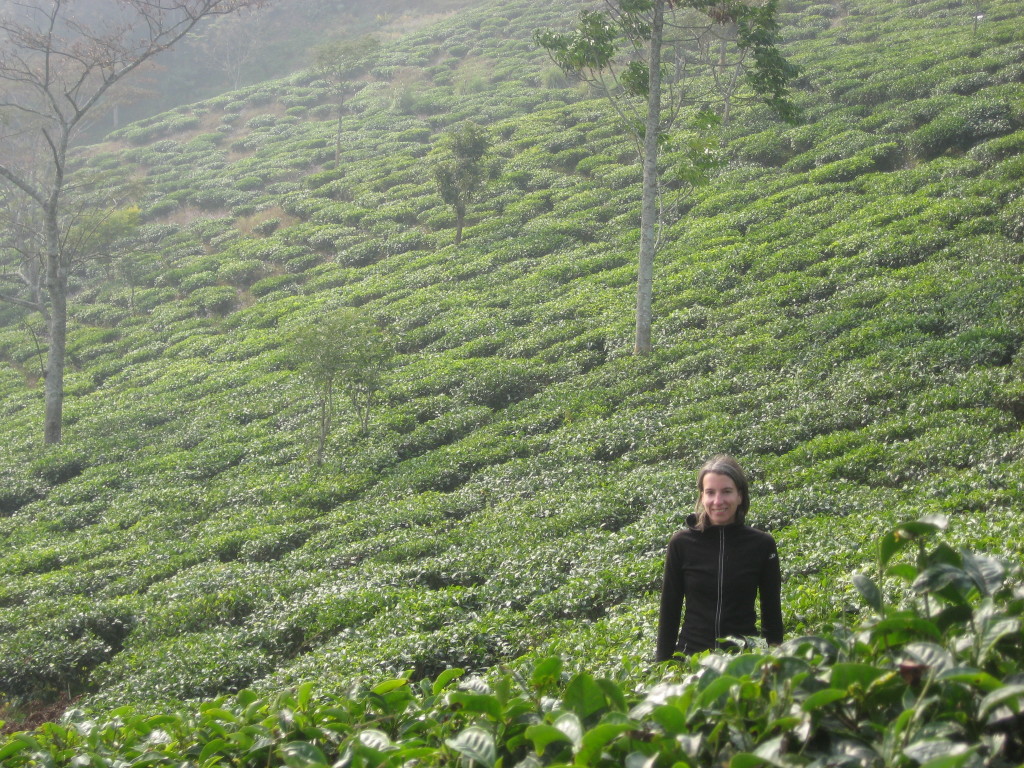 We finally reach Jorethang on around 300m and stand in front of the check post to Sikkim. Now lets just show our permit and enter Sikkim. Unfortunately not. While hundreds of people on bicycles, motorcycles and in cars pass, the dude at the check post tells us, that this border crossing is closed for western tourists. We can only cross in Melli. While Melli is only 30km away, we have to go all the way back to Darjeeling, which will take us at least two days. Of course there is a direct road to Melli, but it is on Sickimese territory, so we cannot use it.
I see a sign with some information by the police department of Jorethang. So I call the number and ask them what we can do. They want to talk to the dude at the check post. I hand over the phone. The dude goes like this: "Sir, yes Sir….Sir!…..Sir!….Sir!….yes Sir!". I think this is it. He hands back the phone to me. The police officer on the phone tells me, that they will let me enter and take a taxi to Melli to get the stamps in Cora and my passport. Then I should return and we can both enter Sikkim. I hang up and ask the dude to let me in, so I can get a taxi. He refuses. I tell him, that the police officer just told him to let me in. He says no. So I call the police officer again. Same as before. He talks to the dude, I hear a lot of "Sir!". He hangs up. Still they don't let us in. Seems like the empire strikes back. After a few more calls I end up talking to the secretary of the governor of Sikkim, trying to point out, that we have passed every border within the last 9 months on more than 16.000km, but are now stopped at an Indian state border crossing that is actually open for everybody except us. He tells me the governor is in Mumbai right now and he has no idea, what to do. So we give up and take a Taxi back to Darjeeling.
The next day we roll down to Melli, get two stamps, cycle 30km to Jorethang on a dust road and after 3100m altitude and 75km we stand on the other side of the exact same border crossing we stood the day before. Hundreds of cars are crossing here everyday. Only western tourists are not allowed to cross. Dudiocracy at its finest.
After that we start to enjoy Sikkim. The cool climate, the friendly, modern people and the little traffic. We cycle towards Pelling, where we visit the Pemyangtse monastery. It is beautiful. Unfortunately we are not allowed to take pictures. There are several impressive statues of manifestations of gurus in the small but very beautiful praying hall. In the first floor there is a huge hand carved shrine and colorful pictures are on all walls.
The next morning the sky is clear for the first time after lots of cloudy days. Another giant of the Himalaya gets visible: Mount Kanchenjunga. With 8586m third highest mountain in the world.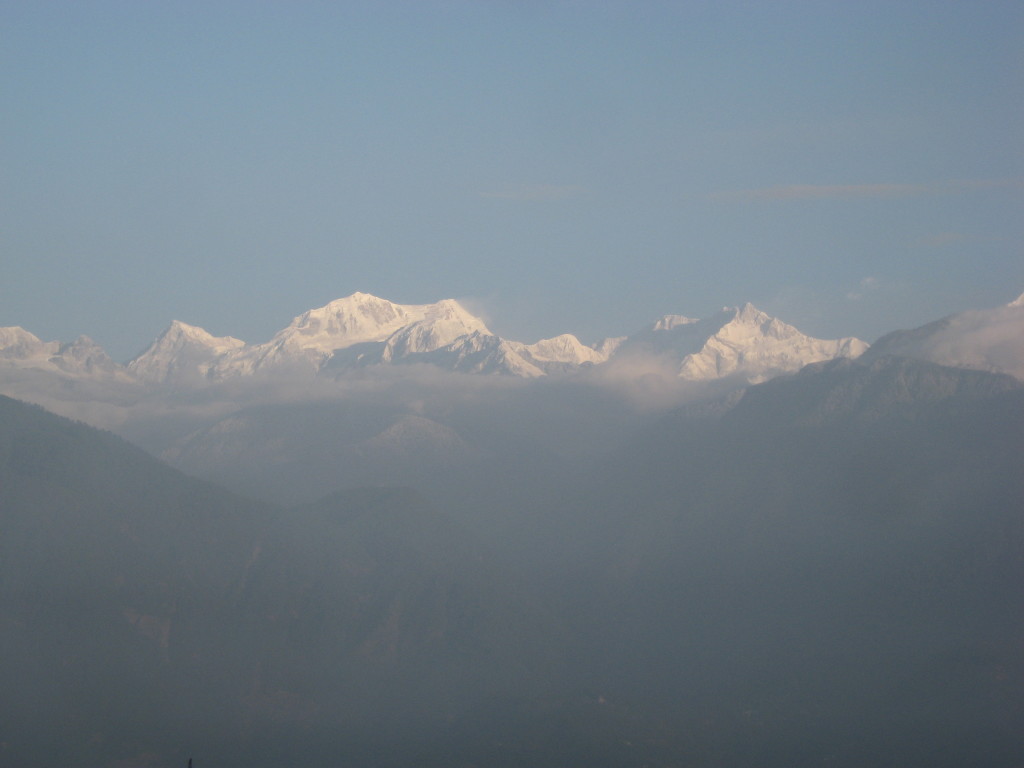 We continue and pass several big waterfalls on our way to Tashiding, where another monastery is waiting for us.
Tashiding is another beautiful monastery and we are allowed to take some pictures outside.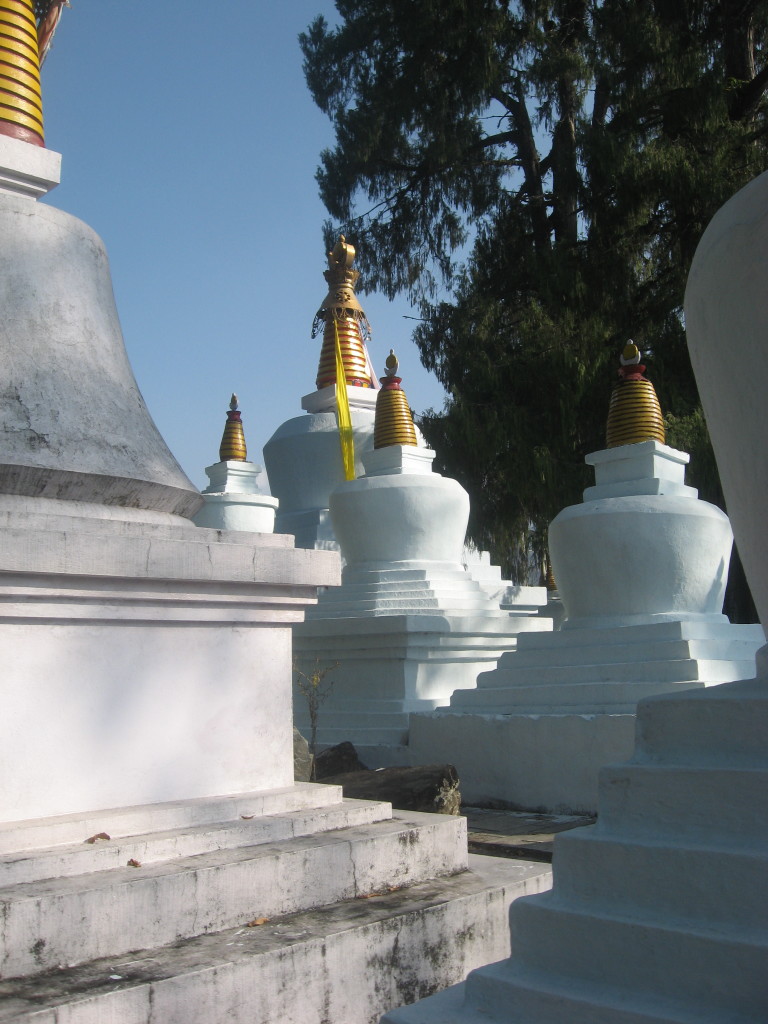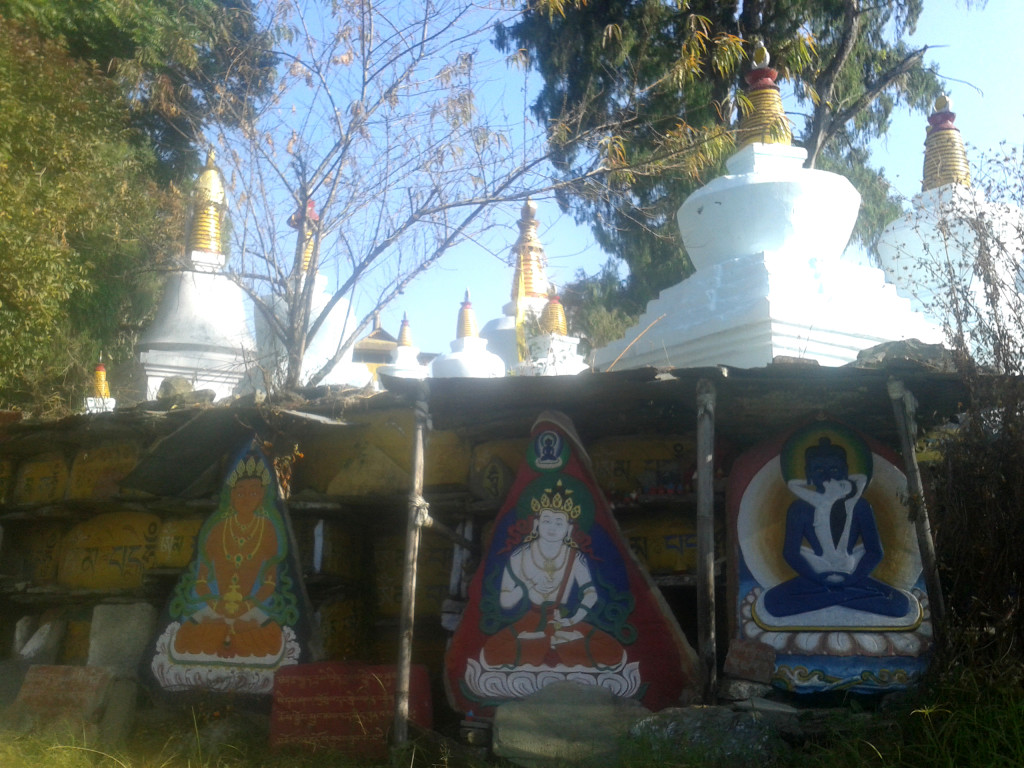 We spend several days in the lower mountains of Sikkim. Unfortunately it is often cloudy, so we don't get much chances to see Mount Kanchenjunga again, even though we come pretty close to it.  But the forests, waterfalls and steep valleys are also beautiful and Sikkim has a lot of huge statues to offer. The first we visit is a statue of Buddha in Ravangla.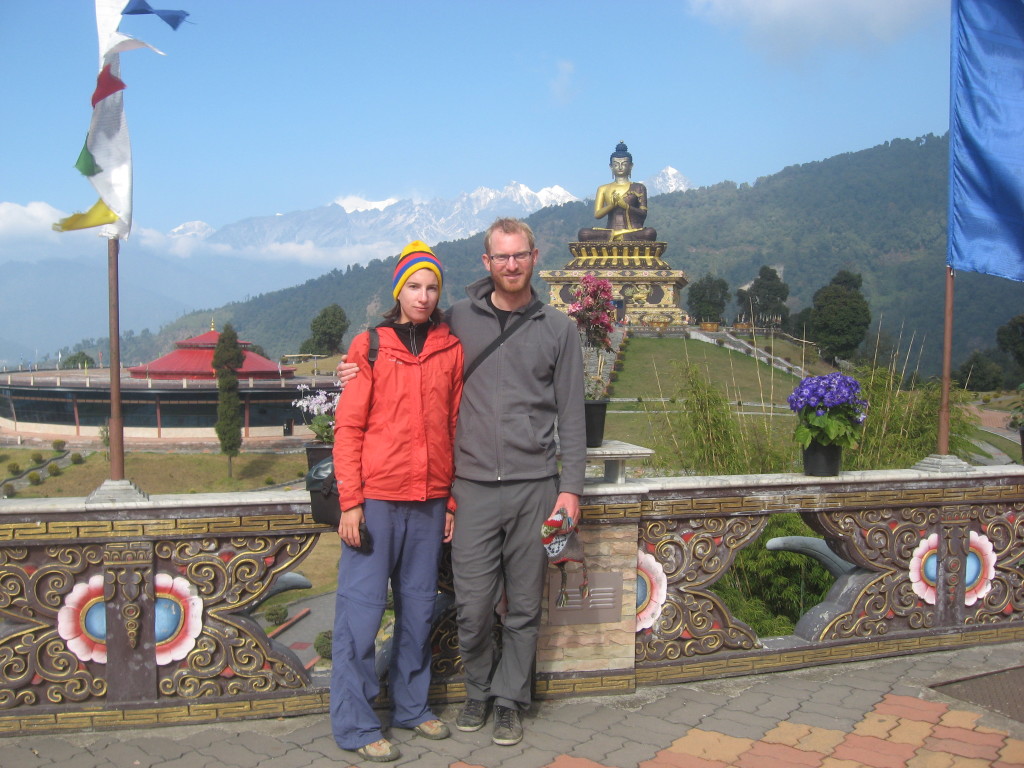 Because of the amazing Buddha statue we also decide to visit some other statues. We end up in Namchi in the evening and are surprised what a modern city it is. But while Cora is checking a hotel room I wait outside with the two bicycles. Approximately two dozen Staredevils surround me. Then a Dudess shows up:
Dudess says something in Nepali
Me: I only speak English
Dudess says something in Nepali and makes clear that I have to move the bicycles
Me: My girlfriend is inside the hotel and I cannot move two bicycles at once
Dudess says something in Nepali
Random Staredevil (translates): You need to move the bikes, they are blocking the road
Me: The only thing blocking the road are 20 people staring at me and we want to check the hotel, that must be possible.

Dudess is out of ideas but needs to do something. She starts to repeat the conversation. I smile at her brainlessly until Cora returns.
We check into the hotel. The Dudess and another Dude are standing beside us the whole time. 20 more people are blocking the entrance to the hotel. The Dude finally says: "Yes, Nepali!" after discussing the meaning of our "licence plates".
From Namchi on people get more and more annoying. For me to an extend that I actually don't really enjoy most of the time outside hotel rooms. We need to take a taxi out of Namchi. The guy at the taxi stand is cheating us like actually everybody here. You have to fight for every price. People invite you friendly, then they charge you unreasonably. The taxi driver even takes Cora's bicycle and starts cycling around with it. It is just bold. He already charged us another expensive extra fee for the bicycles. Large groups start fooling around with us and so on. Everybody asks the exact same questions over and over again, even though another guy standing next to him has asked already. If you ignore it, they start the monkey-in-the-cage game and annoy you until you show some response. It just makes you tired. In a village with three houses there is one police check post. I slowly move uphill. Another dude encounter unfolds:
Dude: stop!
I stop
Dude: You are riding bicycle
I look down and he is right: In fact I am riding a bicycle
Me: Apparently!
He: You can pass!
Oh, thanks Gandalf…Sir….whatever. This is getting ridiculous. I thought we left these kind of guys behind us.
Only when we approach Gangtok, the capital of Sikkim, people are getting normal again. We decide to spend Christmas Eve here, since we don't want to risk spending it in an ugly, expensive guesthouse on the main road.
We find a great restaurant and enjoy a delicious Christmas dinner. Tomorrow we will go downhill, where it will finally be warmer again. Then we have to hurry. We have to cross the border to Myanmar on January 8th.
We liked Sikkim a lot. The forests, the cold, the monasteries, the mountains and the western, modern towns. We cycled several times in the evening after sunset. Once it started to rain and we even enjoyed that. The mist above the trees, the fresh air. We wanted to take time to see another part of the Himalaya and are happy we did. The last days I had difficulties to cope with the people, though, but finally calmed down after some good coffee, a chilled beer and a proper rump steak.