The monster's halo had already affected us shortly before we had entered Tadjikistan. Back then Cora was still sick, but I was determined to cycle the Pamir highway from Dushanbe to Osh. Cora also wanted to, but wasn't sure if she was physically able to do it. After all she was still taking antibiotics at that time.
So we had some discussions. Cora of course didn't want to miss that once-in-a-lifetime chance to cycle the Pamirs. I wanted to encourage her, but also had some doubts myself if we can manage the altitude and the weather conditions up there. So I didn't want to persuade her to do it.
In our minds the monster had become a fellow traveler. Every day was not only a challenge in itself but also every evening we checked if we were strong enough to do the Pamirs.
In Dushanbe we heard about several major mud slides and weren't even sure if any road in the Pamirs was open for traffic. In Khorogh we heard that it is actually possible to cross the mud slide by pushing the bicycles for several kilometers over rocks and mud and then taking a boat across a lake, that was created by the mud slide.
Only after talking to the lady in the tourist office we decide to take the route via the Wakhan Valley further along the Afghan border. The previous day Cora had finally decided to join me on the way through the Pamirs to Kyrgyzstan.
The monster's tail
The M41 section between Dushanbe and Osh is usually called the Pamir Highway. So when we arrived in Khorogh we had already been on it for 9 days. The monster's tail so far had been a dirt road and bone crusher and was physically challenging. We barely made 50km a day, while often cycling more than 10 hours. Also the equipment suffered. The hooks on one of Cora's rear panniers both broke and we now had to attach the bag with two small tension belts.
After a day of rest we already leave Khorogh. We now officially leave the M41 Pamir Highway and head towards the Wakhan Valley further along the Afghan border. The road is good up to Ishkashim. After that it starts to get worse and worse. We pass lots of small villages now always accompanied by the muddy Pamir river. The landscape becomes more desert-like with dunes alongside the road. From time to time we can take a look down a valley on the Afghan side of the border and see the 7000m high, snow covered mountains of the Hindukush. Impressive!
Several hot springs allow us to take a bath even in the cold evening or morning. That's a luxury. Several mineral springs with natural gas and high amounts of iron in them provide us with clean and tasty water. We finally have the feeling to get some minerals back.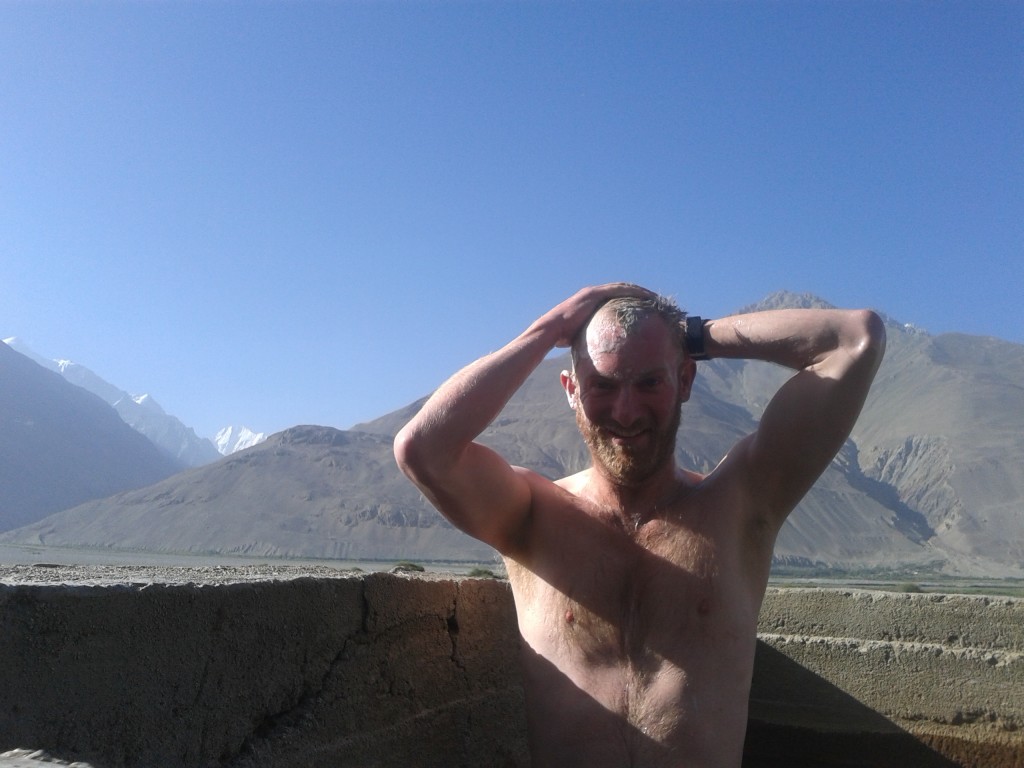 Apart from that, the supply situation is bad. Already shortly after Dushanbe it was hard to find a (super)market. Usually in villages there is a little stall where someone sells basic groceries. Often a lot of insects live there as well and some shops just smell awfully. If you are lucky, you get a Snickers with a still valid best-before date. We also often try to find eggs and noodles or canned food like beans, peas, corn, tuna or beef. In the end we rely mostly on canned food, since we get diarrhea again and again and develop a sort of paranoia against non-canned food. We even put a Chlor tablet in the water bottle whenever we fill it from springs (except mineral springs). But almost every cyclist we meet is sick. A lot of them even worse than us.
After a few days we reach Langar, the last village in the Wakhan valley. From here it is roughly 120km to Ali Chor, the next village. In between there is nothing else than Kargush Pass at 4344m and a military checkpoint close to it.
We have lunch in Langar. Lucky are those who don`t know what lays ahead of them. After lunch the monster`s tail starts to rise. The road is a steep track of rock and dirt and sand. We can barely cycle on it. Some clever children make a business out of it and push Cora's bicycle. After a few hundred meters, they charge 3 Somoni for the service. Money well spent!
We only make 7km that afternoon. The next day is even worse and probably the hardest day on our journey so far. We spend 12 hours on the road. Even after dinner we continue to cycle until it is dark. We want to reach the military checkpoint at 3900m. Only 8km to the checkpoint we give up. It is getting dark and we decide to get up early the next day instead.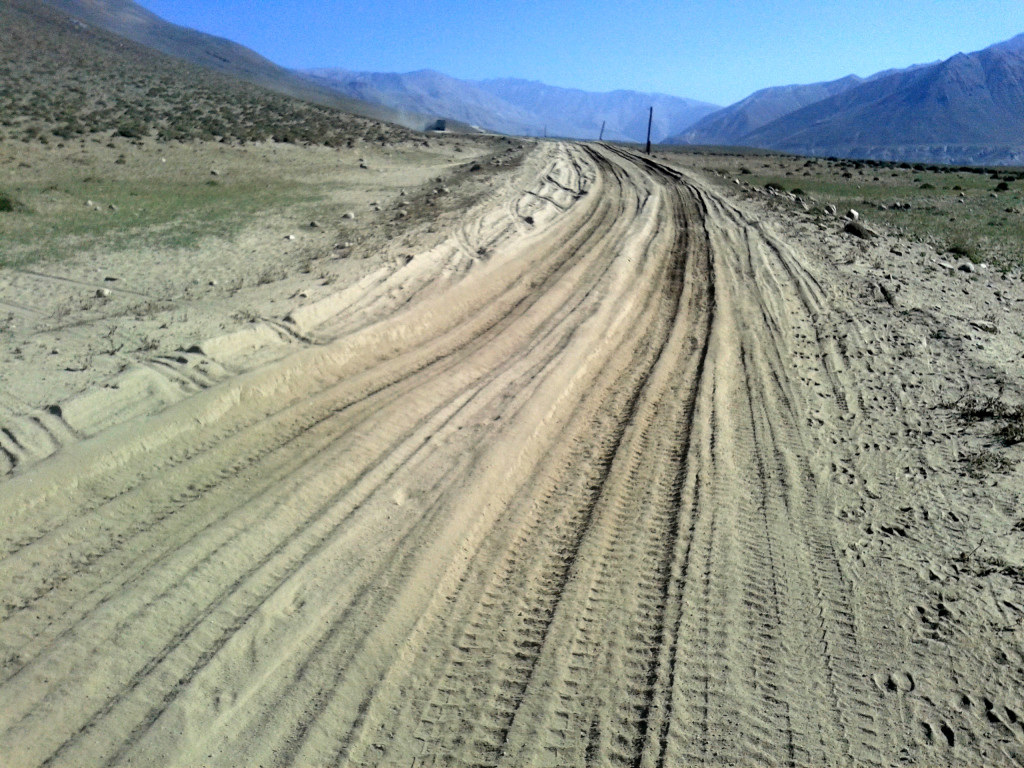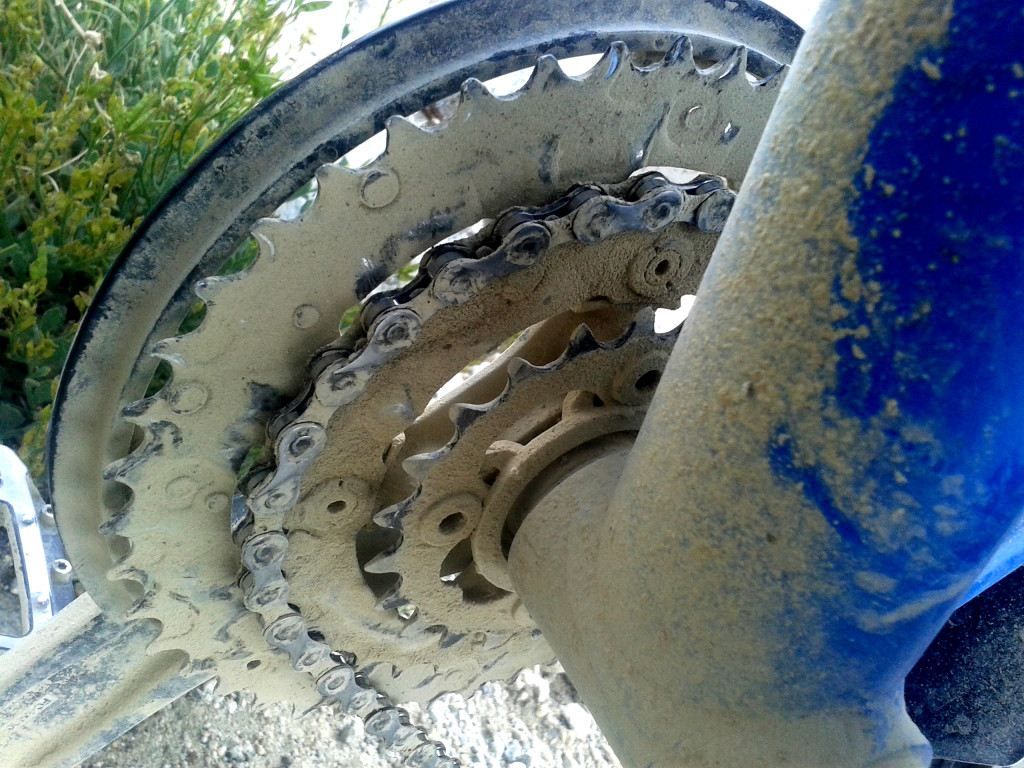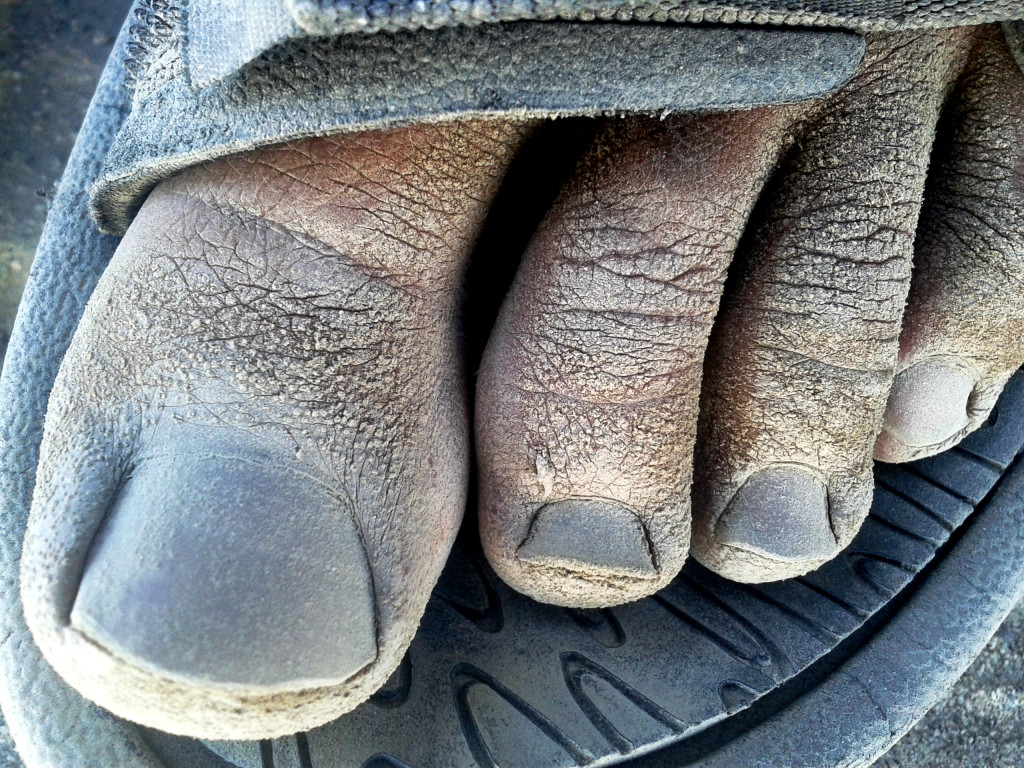 At night several cars of the Mongol Rally get stuck in the sand and they pitch their tent next to us. The Mongol Rally is a car rally going from London to somewhere in Mongolia. During our time in Tadjikistan participants of this rally overtake us several times a day. In the other direction participants of the Tadjik Rally pass us also several times a day. The Tadjik Rally starts in Munich and ends somewhere in Tadjikistan. Both rallys are for charity. For cyclists these cars are an easy way to hitch a ride for free in case they get sick or are too exhausted to continue cycling.
For us our Mongol Rally camping neighbors are a source for some Chinese instant noodles.
Did you know?

A lot of people seem to travel in order to raise money for charity, so I just want to mention, that you can of course donate any amount of money to any charity organization whenever you want. This is even possible after we have finished travelling or in case you do not like this blog, me or Cora.

For example donate to the UNHCR – The UN Refugee Agency, because unlike us, those people didn't choose to leave their country and everything behind.
The next day we reach the foot of the Kargush Pass in the early morning. Cora's stomach is going crazy again. Like a miracle the only truck within hours passes us in exactly this moment and without us giving him a sign the driver stops. He takes Cora and her bicycle to the top of the pass, while I continue to cycle. We meet shortly afterwards at a lake close to the pass. Even though we are above 4300m altitude it is possible to take a short bath in the lake. After all the dust and sand and two nights in the tent we are happy to have this opportunity.
We soon cycle downhill. Our only goal for this day is to reach the M41 again, because we heard it is well paved. After endless and painful kilometers on rock, sand and dirt we finally reach the intersection and stand on the M41 Pamir Highway again. A sign says it is still closed towards Khorogh. But we are now heading towards Ali Chor, the other direction. And most important: We are in fact standing on a paved road.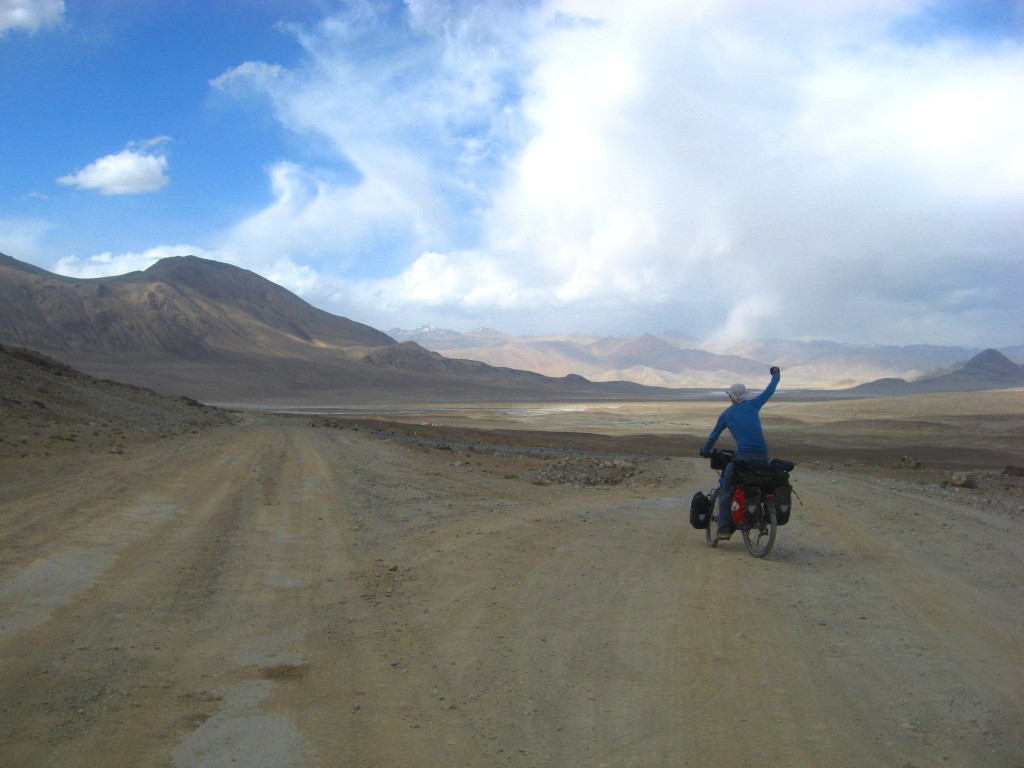 The monster's belly
Not only is the M41 Pamir Highway well paved, we also have a strong tail wind and we've reached the rather flat high altitude plateau of the Pamir Highway's central section. The monster's belly is soft and smooth and we are rolling uphill with more than 20km/h, because the tail wind is just so strong. We are sure to make it to Ali Chor easily and take a short break.
Within minutes, the weather changes. A huge cumulus nimbus cloud is forming in front of us but still very far away. Just behind us dark rainy clouds are coming closer. We expect it to rain every second. So we decide to continue only to realize that the wind has changed. What has been a supportive tail wind, has become an invisible enemy. We reach Ali Chor anyway. But the moment we cross the bridge to this little town in the middle of nowhere, we are surrounded by bad weather. Actually 300° around us rain is falling down. Only a little gap is almost clear sky. It is literally a meteorologist's wet dream. I have never seen such a variety of different clouds.
We quickly look for a place to stay and find a homestay – a private guesthouse where we also get dinner and breakfast. Soon afterwards it is getting dark.
There is only one other guest in the homestay that night: Tural from Azerbaijan. He is also a cyclist.

The next day we have blue sky and together with Tural we cycle through the Pamir Plateau towards Murgab. Since a lot of hard days lay behind us and we have still plenty of time on our visas, we want to take it easy. In the early afternoon we arrive at Mamazair. It is one Yurt and one house. And there lives exactly one family.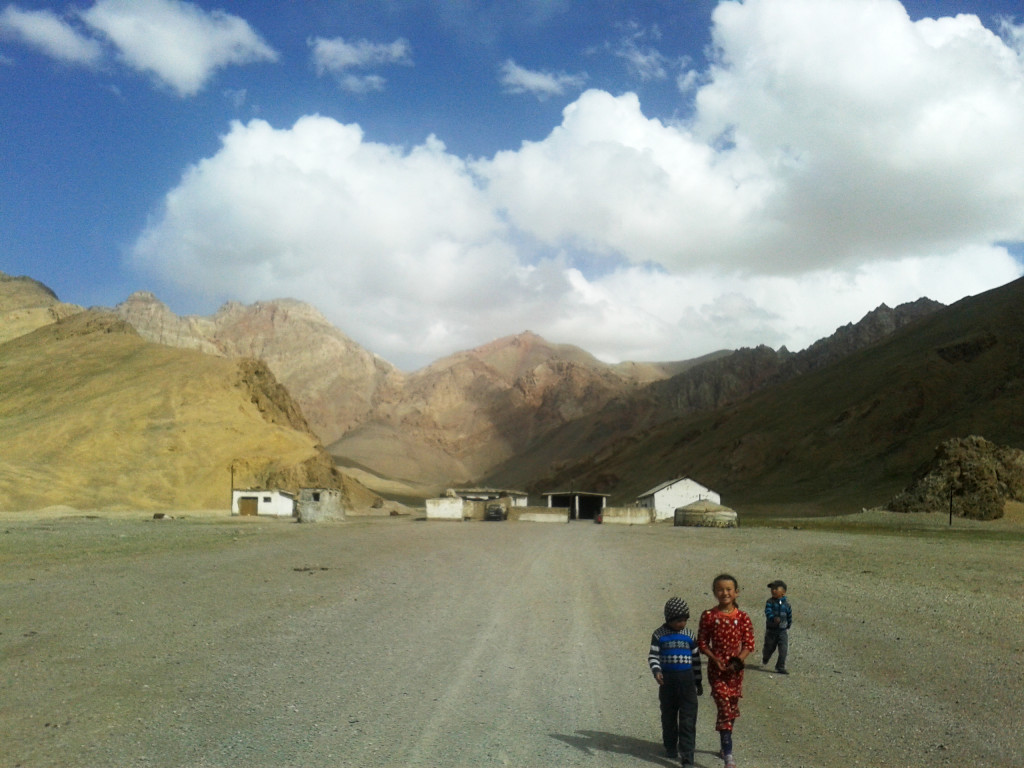 However, we love it. It is our first time in a Yurt. We get chai with bread and Yak butter and Yak yoghurt. All home made. After all the canned food, finally something good and fresh and tasty.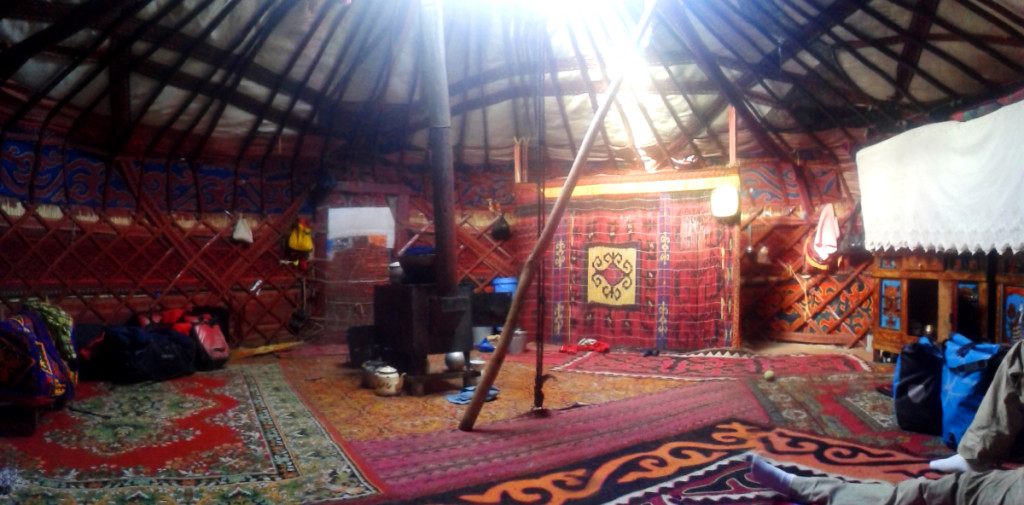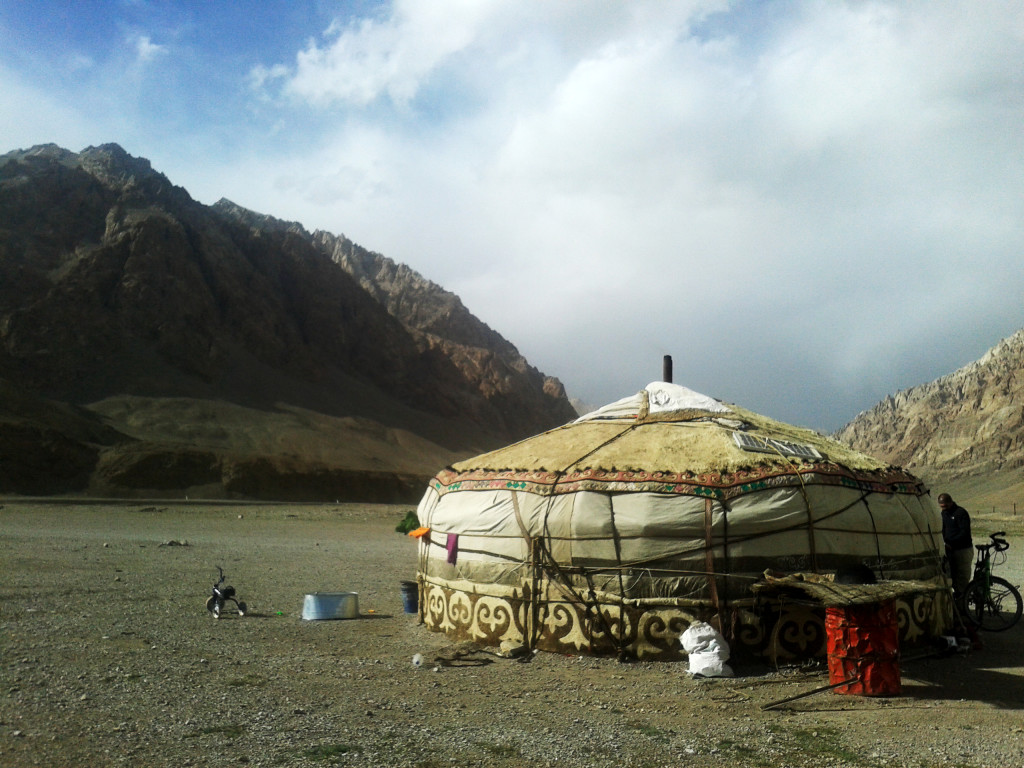 The next day is also rather easy. We cycle mostly downhill to Murgab. Murgab is pretty big and we stay at the Pamir Hotel, which even has a diesel generator, that comes in handy, because power failures last for hours. We also have a shower and stay there for two nights. Only here we actually realize how exhausted we are. After checking in, I sleep for 16 hours. We don't do much more than eating and sleeping.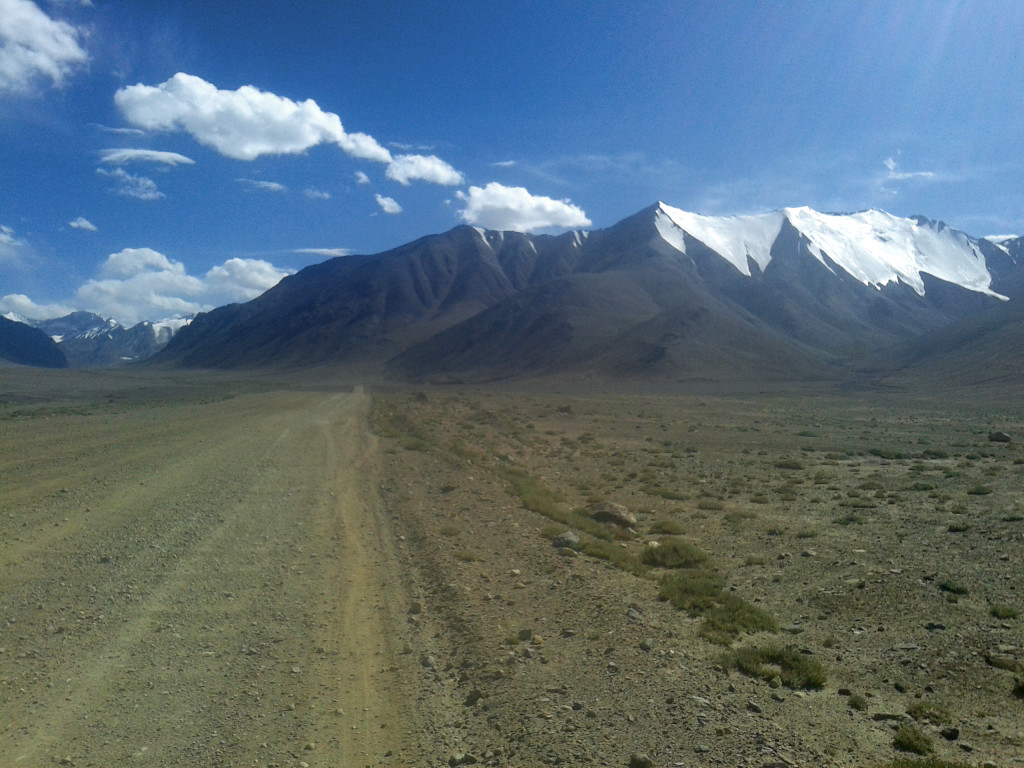 Tural needs to wait for a money transfer, so we leave Murgab without him. The little town soon disappears behind a mountain. The monster's belly is still flat. But we are now approaching the last section of the Pamir Highway…
The monster's head
Our goal is to reach 4200m altitude that day. In front of us lays the highest elevation of the Pamir Highway – the Akbaital Pass at 4655m. We meet others that report snow, wind and very low temperatures. So we want to pitch the tent at an already high altitude to make it to the top early the next day.
The road is slowly going uphill and we reach 4200m in time. It is getting very windy as usual in the evening. So we pitch the tent next to the road which is on some sort of a dike and therefore provides shelter from the wind.
The night is cold and the water in the bottles is frozen the next morning. However, we remember our test night at the Kalmit Mountain in Germany and are happy we improved our equipment. So far the Kalmit night was still the coldest, even though we are now 3500m higher.
The monster seems still to sleep when we start to cycle in the morning. No wind and absolute clear sky. Not a single cloud. We can purely concentrate on the exhausting last 455m to the top. At around 4300m the road gets very steep and is in bad conditions. And while we are pretty used to the high altitude, the lack of oxygen is now noticeably slowing us down. We reach the top of the pass at around 10:30am. The last 100m (of road, not of altitude) I had to take three breaks.
We beat the monster. We are standing on the highest point we have ever been: 4655m. That's almost as high as Mont Blanc. We have a beautiful view on way higher mountains more than 6000m high.
Escaping the monster
After the top of the pass, the road is getting worse. We have reached the monster's mouth and its bone crushing teeth. We cycle along a washboard road for almost 20km. After we managed to escape the monster's bite and are again on paved road, the monster seems to wake up. Realizing, that we are about to escape it tries to suck us back in. We experience a frustratingly strong head wind. I assume if we had a wind like this in Germany people would run into their homes afraid of being hit by branches or roof tiles. Luckily there are neither trees nor roofs up there in the Pamirs. So we continue cycling, but eventually take a break, because it is even exhausting to cycle downhill.
After the break we move around another curve. Suddenly the wind stops. We didn't expect to reach Lake Karakol that day. But soon we even have a strong tail wind. The monster had to exhale sooner or later. We roll down a straight and endless road with an impressive view on the giants of the central Pamir region and Peak Lenin, 7134m.
Die Reise durchs Zentralmassiv
Das ist die Reise durchs Zentralmassiv
Immer viel zu hoch
Immer viel zu tief
We stay in a little homestay in the village Karakol. Lake Karakol by the way wants to become the highest navigable lake in the world, a title so far given to Lake Titicaca. Lake Karakol is at around 3900m and crystal clear.
We love it up here. The landscape is beautiful and equally impressive. No matter how many pictures we take, we cannot capture this. The feeling of being here, after passing Akbaital Pass at 4655m and surrounded by huge mountain peaks, with the Chinese border actually meters away from the road we are cycling on. And only now we actually realize where we are and how far we have come.
We continue along the coast of Lake Karakol. North of it, the road gets steep and leads into the mountains towards the Kyrgyz border. We turn around and cannot believe what extraordinary panoramas get visible. The air is crystal clear. I am not absolutely sure, but what we see in the far distance are probably Peak Kangur (China), 7719m and Peak Muztag Ata (China), 7546m in the Kangurmuztag Range. To the west still the giants of the central Pamirs are spread along the horizon. Somewhere on the back of our map I read, that the term ¨roof of the world¨ actually origins from the place we are standing right now. It is amazing!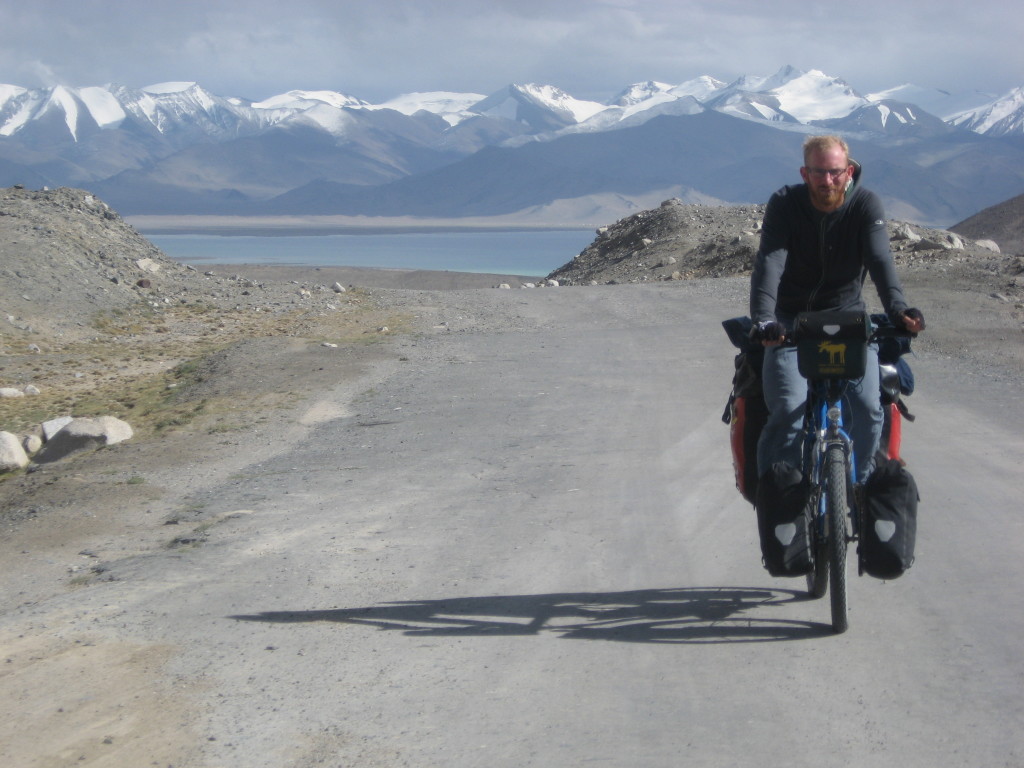 And we look down and there are only these two bicycles we bought in a shop in Mannheim. I guess weeee`ve come too faaaar to give uuuup who we aaaare.
Get lucky!
We are still above 4000m and in the monster's reach. The road is still steep while we are approaching Uy Bulak Pass (4332), the first of two passes on the way to Kyrgyzstan. The monster starts to inhale again trying to suck us back into his mouth. We reach the pass around 3pm. The wind is so strong we can only move with around 10km/h even though it is going downhill. It makes no sense to continue. The border crossing to Kyrgyzstan is only 15km away, but we have no idea if we can pitch the tent up there (it is on top of Kizil Art Pass, 4336m). So we pitch the tent a last time in Tadjikistan on around 4000m.
Probably the coldest night on our journey so far. The water bottles are completely frozen the next morning. However, the head wind is gone, the weather is good. We finally reach the Tadjik border post. Passport, visa, GBAO permit and immigration card – we have everything they need.
Good bye Tadjikistan! We have spend 27 days in this country, most of it in the mountains far away from villages, proper food and showers. It was probably the most challenging part so far.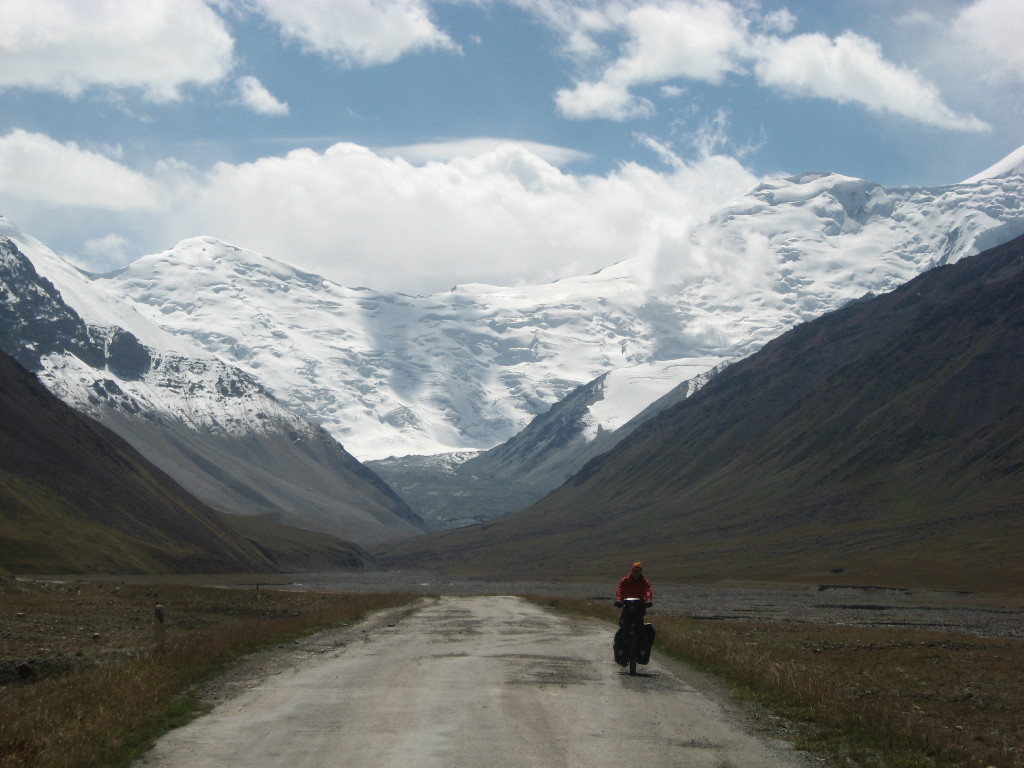 We climb up the last meters to the pass and finally roll down. Whenever we look back we see great panoramas and other peaks get visible. It is an amazing downhill through an endless and impressive valley. The only downside is that this is no man's land. The Kyrgyz border is 15km away. Now what's so bad about no man's land? Nothing, unless you want to cycle on a road. Because as ¨no man's land¨ already implies, no man feels responsible for this land and unfortunately also for its roads. So only after 15km of bone crushing washboard road we arrive at the Kyrgyz border post. We show our passport, get a stamp and that's it.
No more visa. Kyrgyzstan and Kazakhstan don't require a visa. We can now stay in Kyrgyzstan for 60 days. No more hurry, no more embassies. We are lucky!
We make it to Sary Tash the same day. The next morning the weather is bad. Already the last days since we have left Lake Karakol, bad weather was chasing us. We hope Tural, who left Murgab a day later didn't get in too much trouble while trying to cross the passes.
We are now only at around 3000m altitude. All we experience is rain. We cross another pass and roll down towards Gulcha. We have to take a break because of the heavy rain. With still 55km to go we continue to cycle at 5:15pm. Still we make it to Gulcha before sunset. The road is just going downhill all the time.
After Gulcha only a last pass at around 2400m seperates us from Osh. Paved road, plenty of oxygen and some more red blood cells. Easy!
And now we are in Osh. There are supermarkets and shops. Even restaurants and hotels. We take a shower twice a day – just because it is possible. We got a whole flat via AirBNB and will stay here for a week.
Because after the Pamir and after more than 10.000km of traveling we are on holidays. We will now concentrate on sleeping, eating and digesting.
That's all, folks!
We crossed some kind of monster. And if you've read this far, you have probably too.