We roll down from Meghri pass and it is getting hotter from minute to minute. When we arrive in Meghri it feels like in a dessert.
Soon the road leads along the Armenian-Iranian border and we have a first view of Iran from Armenian side.
The heat is drying us out. It is exhausting to just move. But we know there is another mountain waiting for us on Iranian side. We reach Agarak, the last town before the border crossing. We agree to take a break here, drink some ice cold coke in a cafe and continue to cycle in the later afternoon.
The cafe even has Wifi, so I post a short "message in a bottle" telling you, that we are about to enter Iran.
We don't want to, because the heat is enormous, but we have to move on. This valley between Armenia and Iran is hot like an oven and dry like a spoon full of flour. It seems like each valley in the last days had its own climate. We roll to the border crossing and see a big Iranian flag waving in the wind.
Water: check!
Visa:check!
Hijab: check!
Dollars: check!
We are ready to enter Iran. A bit nervous we approach the border. We show our passports several times, our whole equipment gets X-rayed, we move over a bridge, then show our passports again. Get asked about our father's name and about what we have in our bags. Show the visa, get a stamp. Voila, we are in Iran.
Everything seems normal. People are friendly, nothing special. Just this feeling, that we are now in a country that complies to Sharia Law and that we are not Muslims unlike almost anybody else here. No more churches, no more bells. But actually we are only concerned about the next mountain.
At the first intersection we take the road towards Kharvana. Cora's hijab is constantly moving due to the strong wind. Luckily I have a silk stocking mask I usually use for snowboarding. It covers Cora's hair and fits tight even when the wind is blowing.
We move just a few kilometers. A group of young people in a car stops to take a picture with us. Several people stop to ask if they can help us and everybody is absolutely excited.
The Russian cars are gone. No more Ladas. Iranians apparently prefer Peugeots and really old-school Honda mopeds. And there seems to be no need to wear a helmet.
There are two small villages marked in the map. At the second one we take a break in the shadow of some rocks and agree to move on only after the sun has set behind the mountain tops. So after around an hour we continue and want to reach Kharvana that day. The guys who took pictures of us earlier come back again with some other guys to take more pictures with us and offer us a bottle of cold water, which is nice, since our water just needs some peppermint leafs in order to have tea time. We tell them we want to go to Kharvana and need approximately three more hours for that. They say we are invited to stay at their place once we arrive, since they live in Kharvana. Sounds like a good backup plan.
Then we slowly move up a hill and soon realize, that it will take us very long to reach Kharvana.
But you need to know something about our current mind-set. In German I would write "Die Ereignisse überschlagen sich" meaning that extraordinary things are happening in an unusual pace. The last days we've set a new personal record with 1804m in one day. We've spend three days in a row climbing uphill more than 1500m each day, which is just a lot. Then the enormous heat, the thunderstorm, the Armenian soldiers, several Armenians and Iranians inviting us. I didn't mention all of them. Arriving late at night in Kapan. Starting early in the morning with hardly more than 5 hours sleep.
Conclusion: We have a pretty bad-ass attitude and are convinced that everything will eventually work out fine.
So we concentrate on the road, take meter by meter slowly moving upwards. Soon it is getting dark and I mean completely dark. Only our bicycles light the way and from time to time some moped or car is passing us. Some even stop to ask if we need anything. Two guys constantly move to Kharvana, then back to us, then back to Kharvana and back to us and so on. They always say something in Farsi and move their hand towards their mouth. Maybe they want to tell us that they have something to eat for us in Kharvana. We move 20km through the night without passing any village.
Somewhere in the mountains between the border and Kharvana, in the middle of the night, with our lights moving from left to right as we go slalom because the road is just too steep, Cora turns to me and says:
And they really stone people to death here?
It just seems unreal, because right now we are cycling through Iran in the middle of the night, totally exhausted and feel absolutely safe.
With our last power we arrive in Kharvana around midnight and have no idea where to stay. Some people are still on the streets yelling "I love you" at us. Probably the only English sentence they know. It could be worse.
Unfortunately we can't find the young people who took pictures of us.
I look down one street, but no chance to pitch the tent there. We can't move much further and would take any place to just lay down and sleep. A children's playground is illuminated by some street lights. We go there and see a guy sitting on a blanket. We assume he is an alcoholic. But wait, that's Iran, there shouldn't be any public alcohol consumption. We move around a bit and there is a park bordering the playground. Suddenly the door of a car opens and a guy steps out. He takes us inside the park and shows us where we can pitch the tent. Two other tents are already standing there and in one of them two guys are drinking tea. Seems like a good place to stay the night. Now while we are pitching the tent, the guy from the car brings bread and tomatoes and tea and a whole chicken. Imagine it is now after midnight and we are having a picnic with total strangers in a small town somewhere in the mountains of northern Iran. Alright?
An alle Nixblicker ich bin der Picknicker
Werd's dir erzählen doch dann mach erst den Beat, Dicker!
So we take our camping burner and heat it up. He is pretty impressed. We prepare a deep fried chicken, because he also brought frying fat. He shows us the toilets and the drinking water fountain. And he brings more tea and water and apple juice because he is actually a delivery guy who delivers beverages together with this other guy who is not an alcoholic but probably his father. And whenever he offers something new I get a little bit embarrassed. Because on one hand we are really hungry and thirsty and really appreciate all of this. But on the other hand I am hardly able to handle so much hospitality without feeling bad. We try to offer some sugar coated almonds we got in Armenia. They just pick one and smile, making us feel just a little more awkward. We go to bed and sleep well. The next morning they give us eggs and tea. Then they leave. I don't even know their names. But thanks a lot.
We continue our trip. People honk at us like before. Several times cars packed with whole families stop, then everybody wants to take a picture with us. Before they move on they give us something to eat or drink. And we are in a rural area. I mean really rural. The guys are dressed modern. Also the women, but due to the hijab they always appear less modern. At least to me. Anyway, business as usual. No special treatment for Cora, because she is a woman. Everybody just behaves totally normal.
Once we stop at a little stall where a boy is selling strawberries. His prices are so little, we can't believe it. I won't tell you how much. He is running a business. His price should be kept between him and his customers only.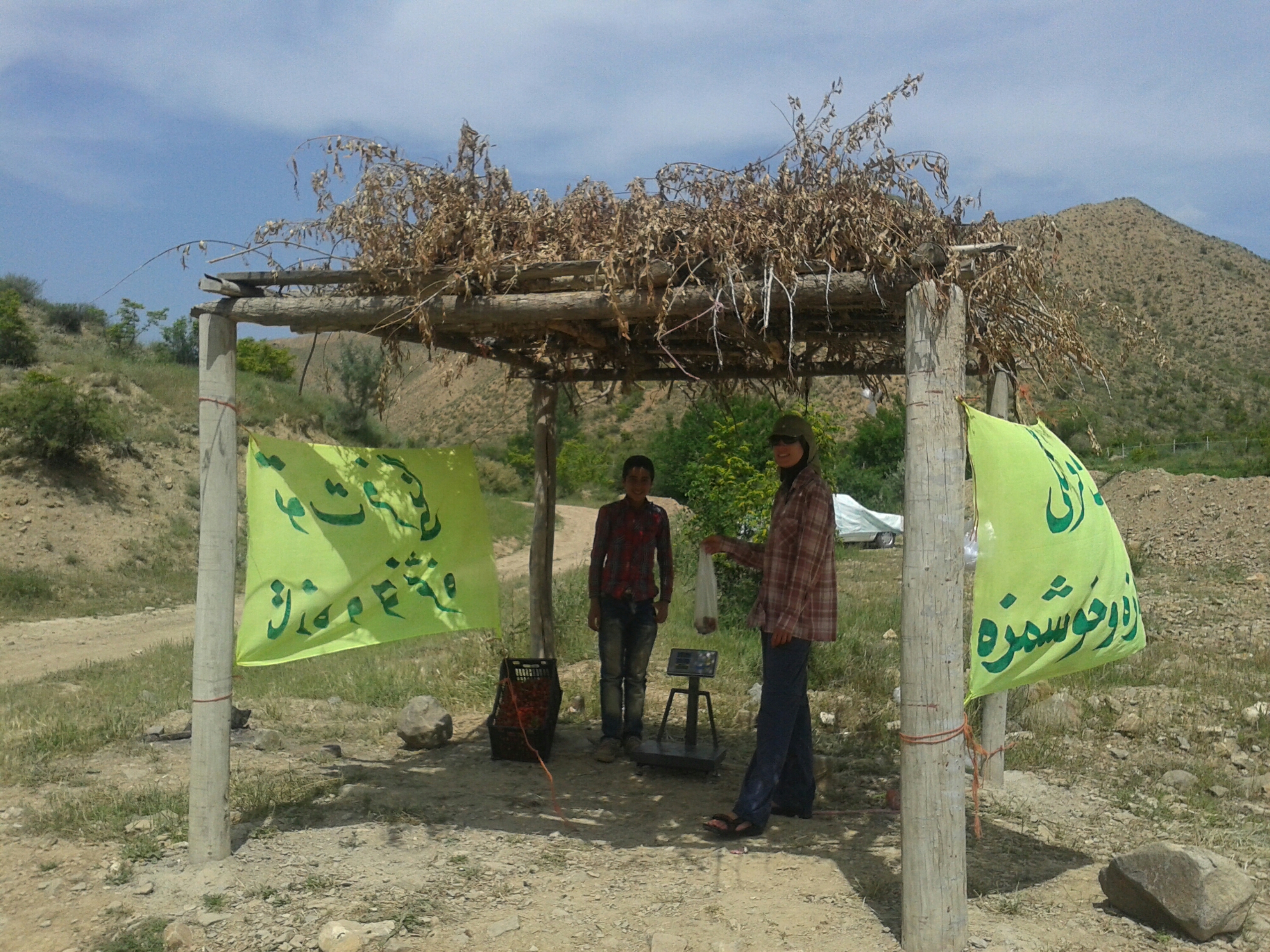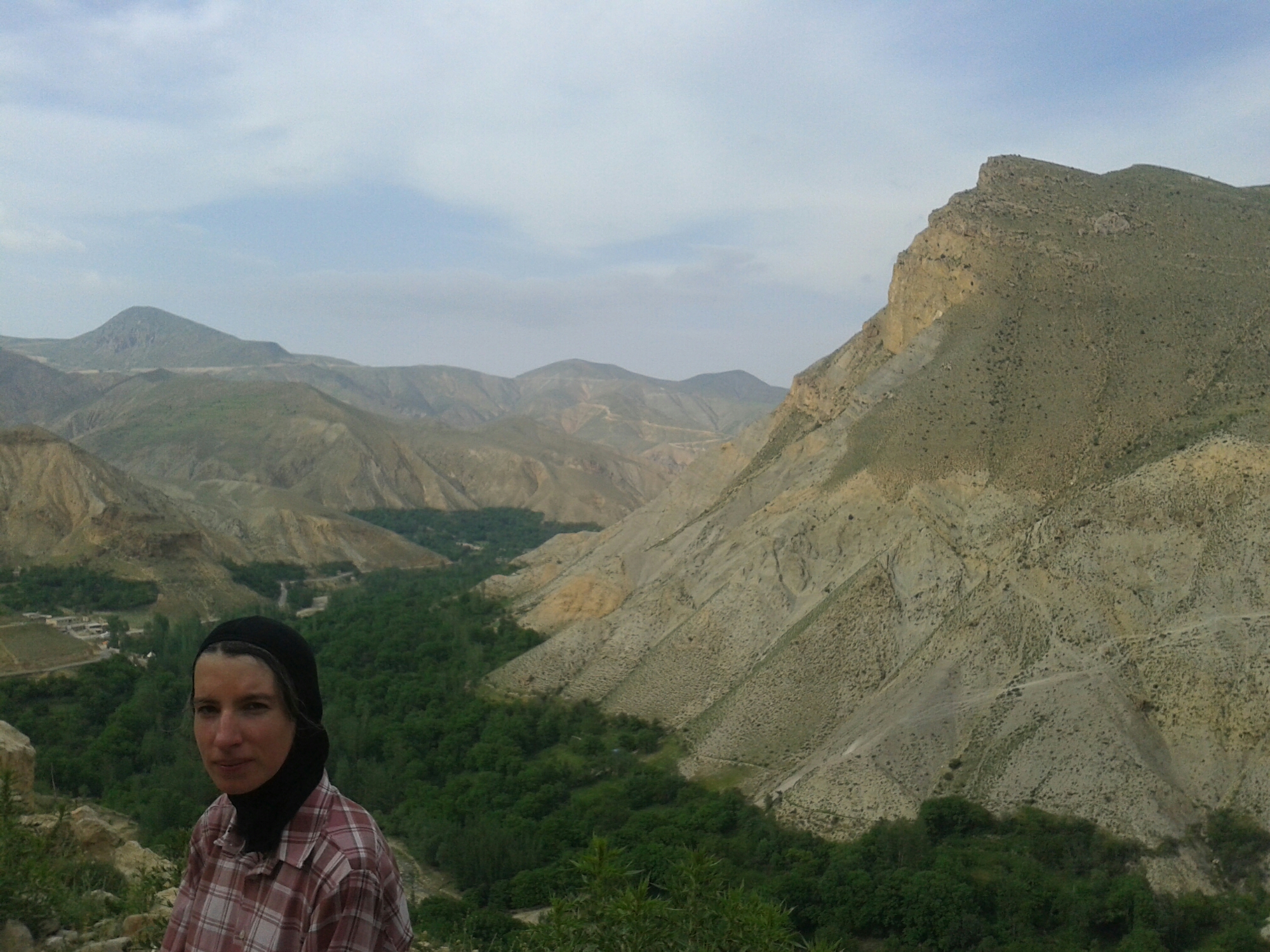 We pitch the tent in another village with lots of children running around.
Apparently every village has some sort of a place where you can pitch the tent. As in the park in Kharvana it seems that salesmen just stay in the parks with a tent. Either because they cannot afford a hotel or there is just no hotel around. But that is just my impression so far. Maybe I'm totally wrong.
We are lucky that the weather isn't that hot any more. Actually a pretty cool wind is constantly blowing. Otherwise we couldn't make it to Tabriz in only three days.
And that's where we are right now. After another pass at 2400m with freezing wind and a long downhill through the colorful mountains around Tabriz we finally enter Tabriz on the highway.
At a major intersection we see a huge poster:
An Iranian soldier moving out of the breaking waves onto the beach. In the background a US aircraft carrier is burning while sinking like the Titanic. Seems like Rambo switched sides.
Tabriz is an absolutely crowded city. Similar to Istanbul, there is a huge bazaar and several thousand shops selling everything. Then there are streets that only sell shoes. In other streets they only sell kitchen equipment. And then there is one alley in the bazaar where they only sell jewelry. According to the tourist info guy they store 9800 kg of gold in all the shops in this alley together. But no unbreakable glass, no security, no police guarding it. Everybody says Iran is a really safe country. If you are still not convinced take a look at this: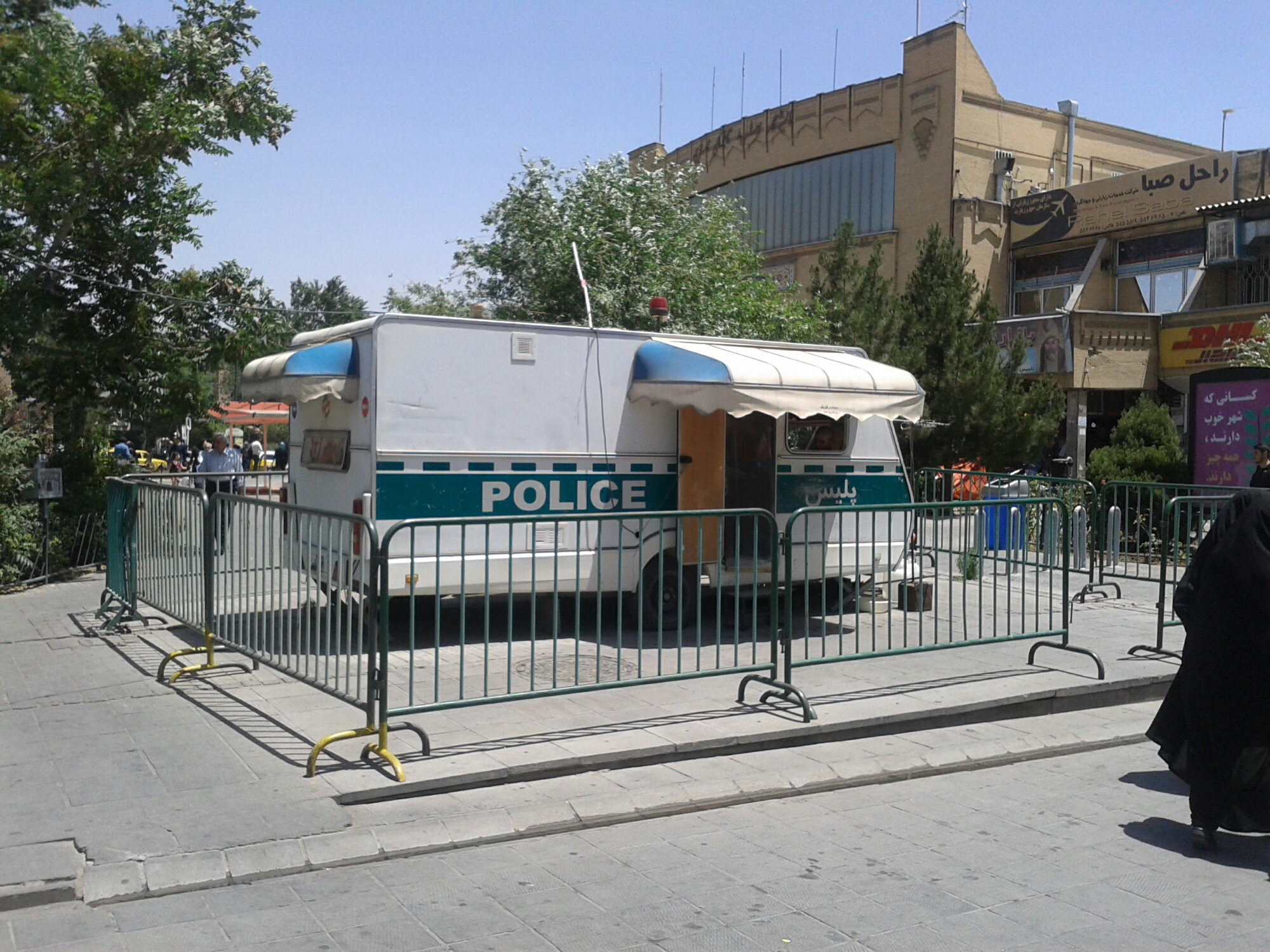 And people are overwhelmingly friendly. Countless times they just ask us where we are from, then if they can help us with anything. And always "welcome to our city".
Two guys just help us to find a bus to a park. We ask them how we can get a ticket. One of them then gives us a plastic card, that has a certain amount of money loaded, which we can use for the bus. He says, it is not important, he can buy another one. In the evening we eat at a 8 square meter fast food restaurant inside the bazaar. A guy in a suit is sitting next to us. He is member of the city council and invites us to the city council meeting he attends now. We decline. Just when we leave we realize he has paid our bill.
Should I go on? This happens all the time. And we have difficulties to handle this. It is impossible to escape their hospitality.
Now you might know, that I like analogies. So when I am embarrassed by all these open hearts, maybe they are embarrassed by all the open clothes we wear in Europe.
To put it in one sentence: Maybe we are showing skin and they are showing heart. And I don't want to judge this. It is a matter of taste.