When we are going uphill in the Caucasian mountains I always get reminded on this short film:
I feel like this guy with the horse carriage. It is just like we are one of the first people to discover this region, because people react on us in a very interested way. And I often take a quick view into the future and can imagine how this will all soon be like some parts of the alps. Right now they dig tunnels into the mountains to establish a railway connection between Batumi and Tbilisi. Also some approaches to create ski resorts can be seen. From what we have seen so far, however, all this doesn't seem to work.
Anyway, we decide to take an uphill road from Vardzia avoiding to go all the way back the same valley as the day before. We try to estimate the height of the mountain: 200m.
In the end it is 500m and we are pretty exhausted, because the road is bad. But the map promises a flat, but steady downhill to Ninozminda, which is our goal for today. Hmm, far from that. The road gets even worse. Mud is getting stuck between our tires and the fender and makes it impossible to move on. The mud-brake slows us down and we only arrive in Akhalkalaki in the early evening.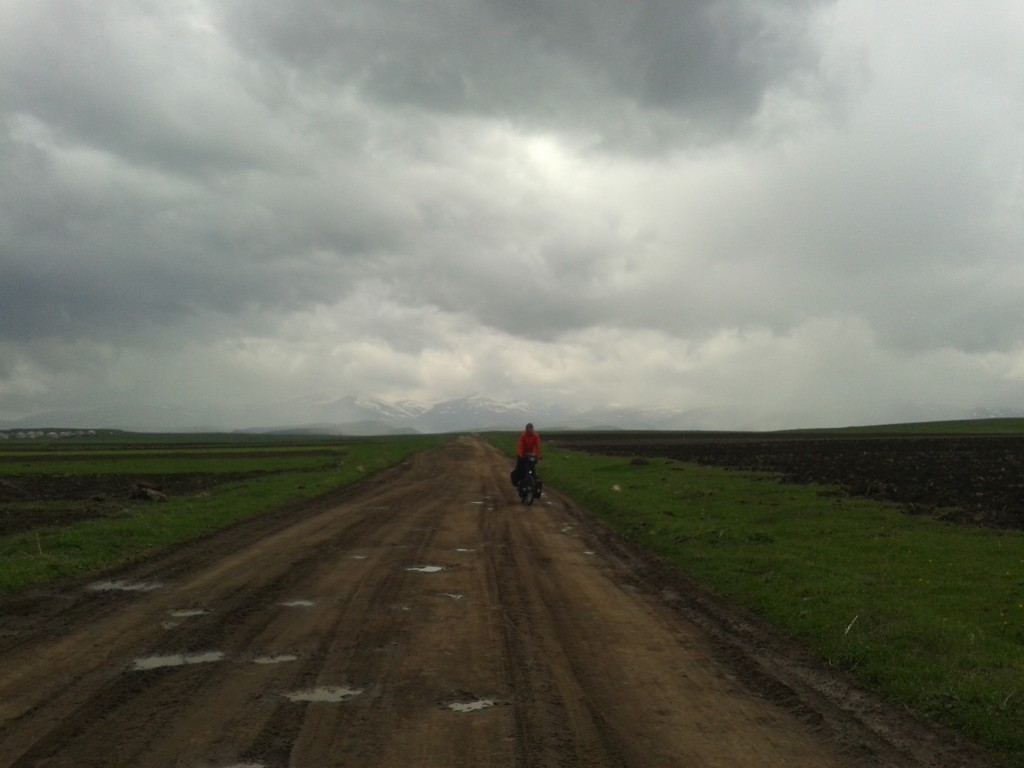 Akhalkalaki is full of casinos, banks and electronics shops. It actually has its charm, but doesn't really fit into the mountains. While we are looking for a place to stay, we meet four Czech hitchhikers looking for a bar. Luckily they saw a hotel sign just around the corner and our search is over.
Akhalkalaki will soon play a major role in our journey, but we don't know that at this point. We just get some money from the ATM, go buy some chocolate and take a shower.
The next day we move on to Ninozminda. The villages here are different than Khulo in the first valley south of Batumi. They look like in some wild west movies. I expect a saloon and a sheriff. In fact a lot of police with bullet proof vests is walking around trying to seem important. Go ahead! Make my day!
A funny situation is when we try to buy some vegetables. Apparently the shop is closed but the vegetables are still laid out on the street in front of it. An elderly lady tries to explain that the owner is not around. We just don't get it right away and so she just smiles, says a price and takes the money.
We are now on our way to the next pass. Actually our plan was to visit some lakes up in the mountains and we didn't really check the altitude in advance. But the road is very well paved and in the evening we find ourselves at around 2100m altitude at Lake Paravani surrounded by snow covered mountains 3500m high.
It is a bit windy up here and we have to cook inside the tent for the first time. Unfortunately it is too cold to swim in the lake.
The next day we cross the highest altitude so far at 2182m. Now we actually wanted to reach Tbilisi that day, but not only gets Cora a flat tire, but also the road is going up and down for kilometers until we finally roll downhill.
We pitch the tent 50km away from Tbilisi.
As you read this you might be a bit bored by the uphills and downhills and long roads. And we are as well. I mean not really bored, but we have spend 8 days straight in the mountains, often in the tent. The shopping opportunities are limited, so we didn't eat well. Bad roads and endless ups and downs exhaust us and we really want to reach Tbilisi. We already agreed to spend at least 4 days there.
So with our last energy we climb up another 500m uphill and finally the road leads to Tbilisi. Traffic increases from kilometer to kilometer leading into a concert of honks and squeaks and howling motors.
The good thing about Georgia is that you don't need to learn the language. You just need a horn. Honk to cheer on cyclists. Honk if the car in front of you doesn't move. Honk if you are happy. Honk if you are sad. And Tbilisi….I'd call it Honkey Kong.
So we arrive in Tbilisi, log in to the "Tbilisi loves you" wifi covering most of the city. Book our apartment via AirBNB on the spot and 30 minutes later we are in a spacious room belonging to an artist's studio, get some home made vodka and finally take a shower, wash our clothes and go out having dinner.
And in Tbilisi, actually for the first time on our tour, it is hot.
By the way, Tbilisi is one of my favourite cities so far and I decided not to show any pictures of it, because I couldn't grab the life of this city with pictures (and even the photographers of the postcards do a really bad job). And in the end it is a personal view. Cora's favorite city is still Belgrade.