After I had left Beijing and reached the plateau on around 1400m altitutude trees had gotten smaller and grass shorter. Around 300km to the Mongolian border I started to feel like I was about to leave the tigers and dragons behind and enter another kind of Monster. But the beast was still kinda tame.
There were big cities on Chinese side every 100 to 120 km and some smaller towns sometimes. When it finally got desert-like I was on a two lane highway with quite some traffic.
I cross the border to Mongolia and immediately feel like I already left Asia. The supermarket in the border town Zamiin Uud is full of German cheese, Turkish biscuits and more or less everything else is Russian. While I have lunch with Kris and Adela I realize, that they carry several 5 liter vessels of water. At least 20-30 liters. But they are all empty. Kris gives me a list. He took notes whenever there seemed to be an opportunity to get water on the way:
km 20: some buildings, maybe there is water
km 107: gas station
km 128: some yurts, they should have water
km 150: also some yurts
km 169: some yurts offer food
km 211: Sainshand, the next town
My idea is to cycle to Sainshand and then take the train. The reason for taking the train is the strange immigration policy of Mongolia: You can easily extend your stay, but you have to do so in Ulan Bator within the first 7 days after arrival. Ulan Bator is roughly 700 km away, though.
Enter Sandman
With my 10 liter water bag filled and two more bottles, I head out of Zamiin Uud and soon have to push, because there is no road any more, only sand. If Kris didn't mention the perfectly paved road, I would probably turn around now and take the train. After 3 km I reach the paved road. The wind is strong, the beast is unleashed. I enter the Gobi.
Hush little baby, don't say a word
And never mind that noise you heard
It's just the beasts under your bed
In your closet, in your head
It is already in the afternoon, but I hope to still make 80 km till sunset. No chance. The head wind is too strong and 13 kg of water and food supply for three days are also noticeable. It is absolutely quiet and I am surrounded by nothing. Endless plains, some smooth hills.
Sun is about to set, so I just cycle away from the road on the hard ground directly into the steppe and pitch the tent.
Sleep with one eye open
Gripping your pillow tight.
Exit light!
Enter night!
Grain of sand
We're off to never never land
Metallica – Enter sandman
The night is dark and quiet. The ground is plain and the temperature is pleasant. I get up early. It feels like waking up on a little boat in the middle of an ocean. I get back on the road and ready to set the sails. Damn it, still head wind. No sailing. I start the engine.
Once again the Guru works his way through the storm. Four hours for 50 km. Breathe in, breathe out, accept. Around me still nothing. Some yurts on the horizon look like other ships on this ocean of sand. The hills are like long stretched waves of a calm sea. Once in a while a truck passes from in front of me. The air blast pushes me back. I duck and dive through it like a surfer through the breaking waves.
In fact a gas station at km 107. A sign also says they offer lunch. But not today. I get some instant noodles, though, because I don't want to cook in the sun. It's 38°C and there is no shadow anywhere. They have a small kiosk, where you can buy instant noodles, cold drinks, cigarettes and I read "gefüllte Vollmilchschokolade". They have no place to wash your hands, but they have German chocolate raisins. Bizarre.

I continue after a long break and soon the gas station disappears behind some waves. I'm out in the wild again, alone with the beast.
The wind is still strong, but the sky is blue and the landscape is simple and relaxing. There is nothing to distract you. Even if you took a picture of every yurt and every road sign you would have just a handful. The water in the bag is making a sound like there is a creek behind me. I still have around 7 liters. Sainshand is another 104 km away. There is no traffic, so you can fool around pretty much.
The day is beautiful. I feel like in the Pamirs again. In general the Gobi is very much a Pamir Highway for beginners. Enough oxygen, quite stable weather, good road, little traffic. But still the endless plateau, the few yurts, clear sky, the remoteness, the silence and unfortunately also the strong wind.
When sun sets I enjoy the breeze while looking out of my tent floating like an abandoned boat on the Gobi. At the horizon there is a red glowing. What? Another gas crater? It's getting brighter. What the hell? Oh! My! God! It's the moon. It's incredibly huge and dark red and its edge is clear and sharp. The air must be absolutely dry.
A crow watched me pitch the tent and gave instructions. Now some lizards say hello, also a desert jerboa hops along and looks at me. I probably pitched the tent on her burrow. I give her some Spaghetti.
"Good night, everybody. You've been a wonderful audience, I'll be here all week. Be sure to tip your waitress."
All righty then. The next morning is calm. The wind is gone. Only 45 km to Sainshand. I take my time, two cups of delicious Vietnamese coffee and toast with German cheese. The only thing missing is someone to envy me. Well, maybe the jerboa.

The Gobi still gets dryer and dryer. In the distance I can see some huge dunes. The grass is dried out, bugs and lizards are sticking to the road after attempting to warm up on the asphalt. Again and again an awful smell makes me sick. Death is everywhere.
Talking about bad smell…I couldn't afford washing myself the last two days, even though I'd like to. Water is precious here. Who's the beast now, Gobi?
Two or three liters are left in the water bag. That's plenty as long as there is no head wind. It's so dry, that there aren't many horses, cows or sheep any more. However, some big bugs seem to like it. They probably eat dead horses. Apart from that, there is only me with one big water bag and another animal with two.
Apart from the Camels there is not much distraction, so I try to imagine what the Mongols must be like, since I rarely see one.
Mr. Khan (at the press conference): I am very pleased to announce that today we have completed the last part of the Gobi highway from Sainshand to the Chinese border. There is even one resting area half way, that offers enough room for a truck or two cars at once.

Mr. Wile E. Coyote (Fox News): But Mr. Khan, what if someone wants to take a piss on the other side of the road?

Pedestrian crossing – safety first

---

Mr. Khan: I need our two biggest trucks at the Chinese border as soon as possible!

HR: B…but…we have only one driver Mr. Khan.

Mr. Khan: I said ASAP!
I arrive in Sainshand at around 11am, have lunch and decide to stay a night at the hotel, which has a proper internet connection. I don't want to take the train. I like the beauty and the beast and today there was no wind, only beauty. It's a huge golf course you can cycle on. With dead horses and camels and stuff! So I check again the immigration policy. 7 business days. Since I entered on Friday, that actually means I can arrive in Ulan Bator next Sunday and still extend my stay on Monday. I also want to try to get a Russian visa in Ulan Bator. Fellow French cyclist Jerome got one via a travel agency after waiting for two weeks, two Spanish guys didn't get a visa. I try to find out why. Bad news: France and some other countries can still get a Russian visa in UB, but Germany is not on the list. My last chance is a Belgian diplomat who's number I got from Kris and Adela and maybe the travel agency can still arrange something once I am there.
Sainshand isn't really appealing, but it has everything you need. The supermarket is again on western level, clean and well organized. And they really like their kids. Kindergartens, playgrounds and other areas for kids are beautifully decorated.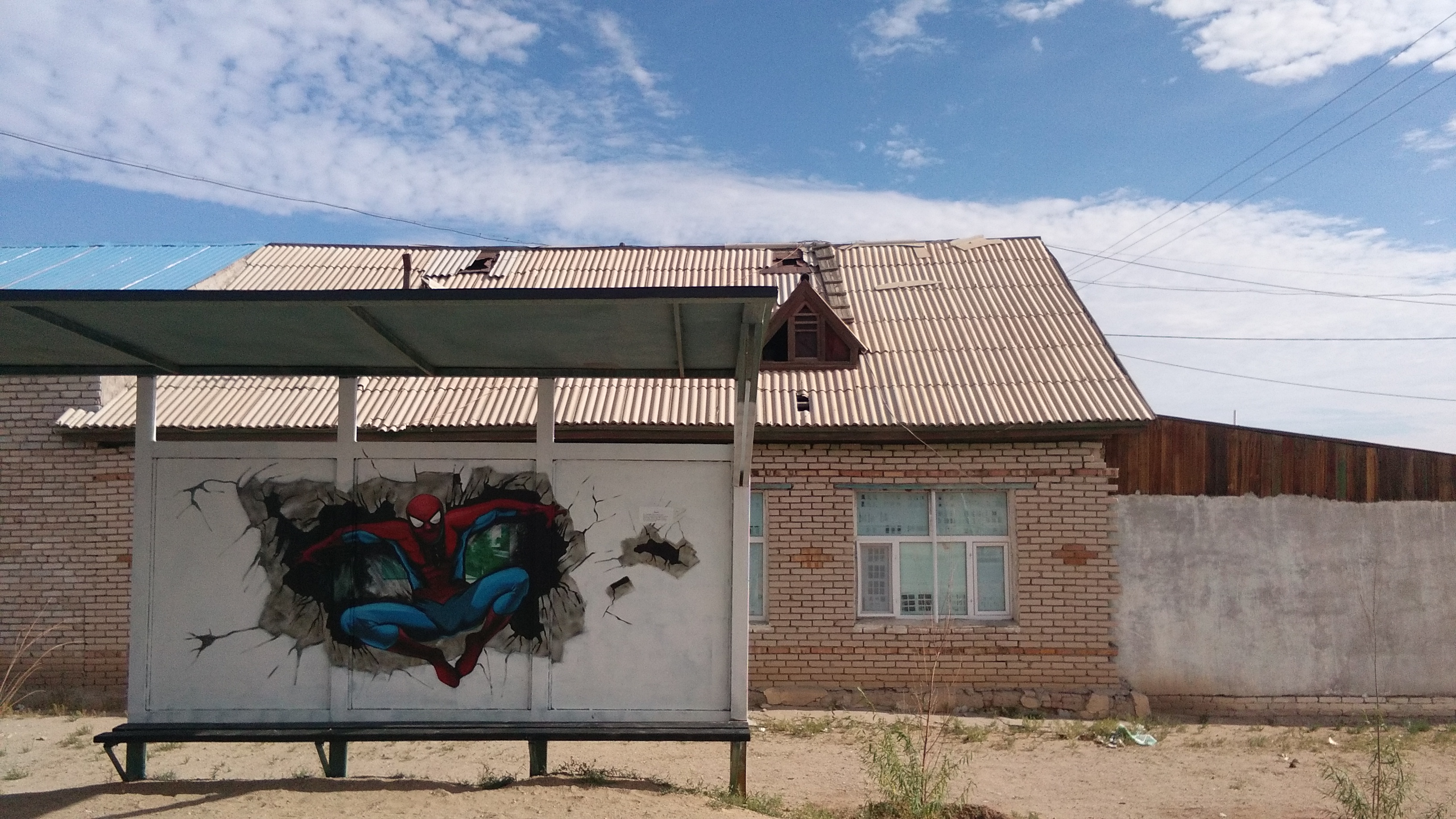 Again I am on the road. And what more can I say? I have said everything about the Gobi. But before we look through some nice pictures together, I have to tell you something that bothers me already for quite some time. I read in a cyclist blog, that riding a Brooks saddle almost feels like sitting on a couch. Yeah, maybe when your blog is sponsored by Brooks, because no! It doesn't. Anyway, here are the pictures.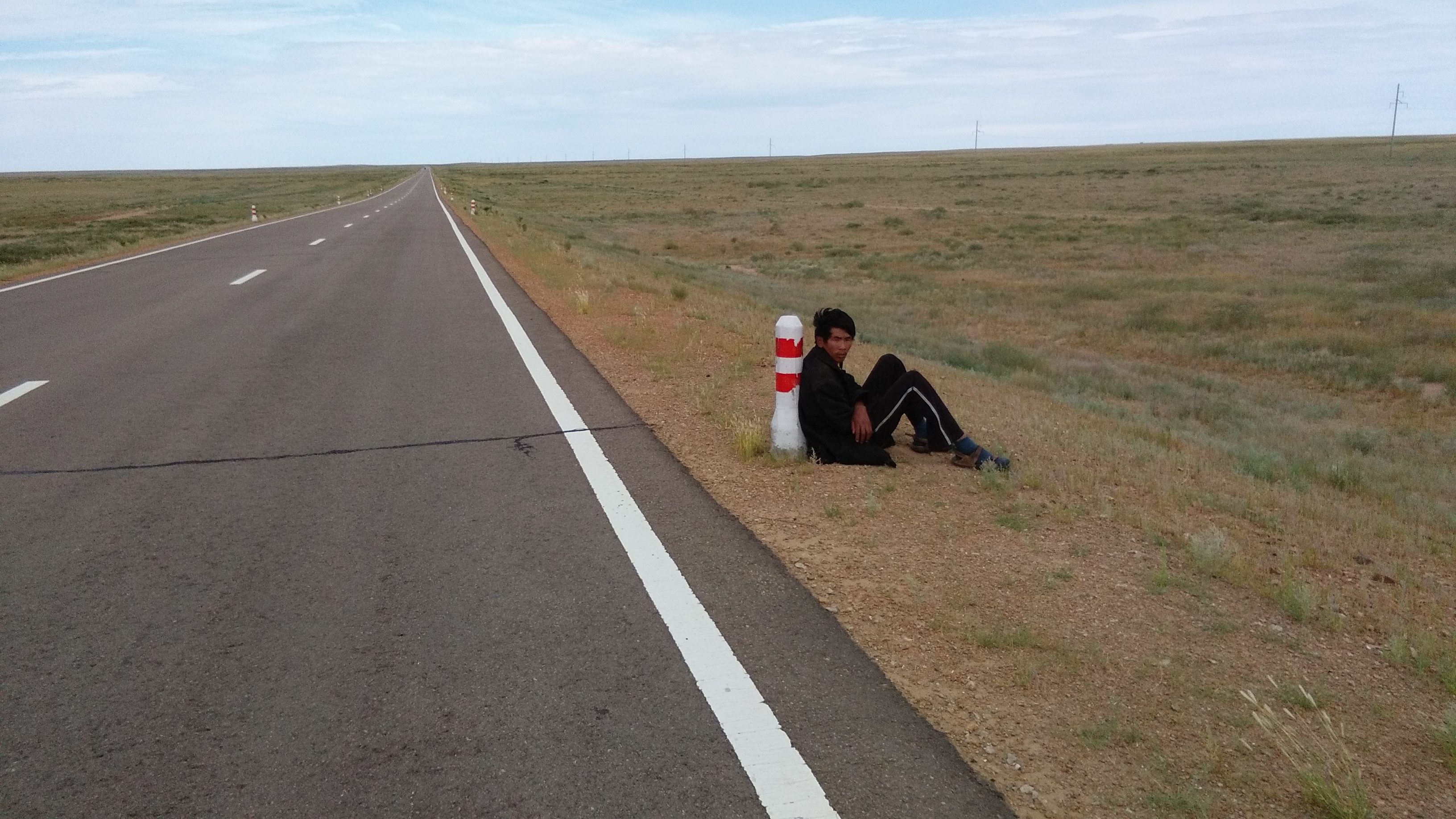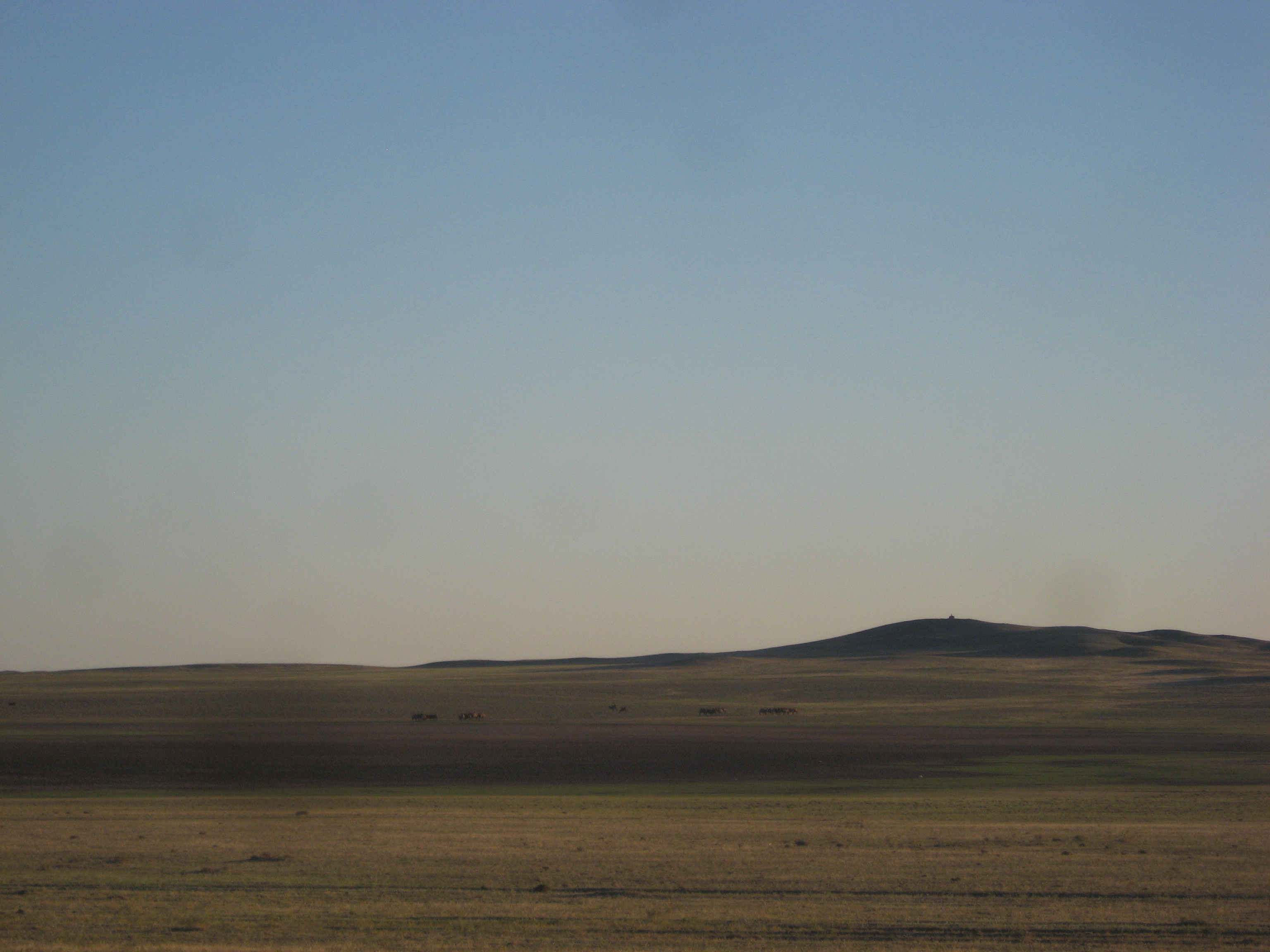 Chengis Khan

Ulan Bator is still 300 km away. I have now roughly cycled 800 km through desert or steppe. Before that were mountains. And in these mountains was The Great Wall Of China.

Here in the Gobi is nothing and still today Mongolia is mostly a country of nomads in yurts. It took me 7 days to make it that far and I would say with an average of more than 100 km a day I make more than a horse or a camel.

So the question is, how for God's sake was Chengis Khan able to convince some guys to conquer the world? "Hey stop making yoghurt, I have a better idea. Come with me! Let's rule China. It's only 1000 km away. Don't mind the gap – that's just a desert. Oh yeah, and they've build that silly wall. We will just crush everything." And he arrived strong enough to scare the hell out of them and even rule China. Then he just moved all the way west to Turkey.

I don't know, it's hard to comprehend.
After 130 km of nothingness, I reach Airag in the later afternoon. It is fascinating, because it shows how much of a nomadic people the Mongols are. The town is basically a few thousand yurts, each surrounded by a wooden fence. That's how it looks when nomads settle down for the first time in history. Some have started to build a house. I get some Mongol yoghurt ice cream and continue.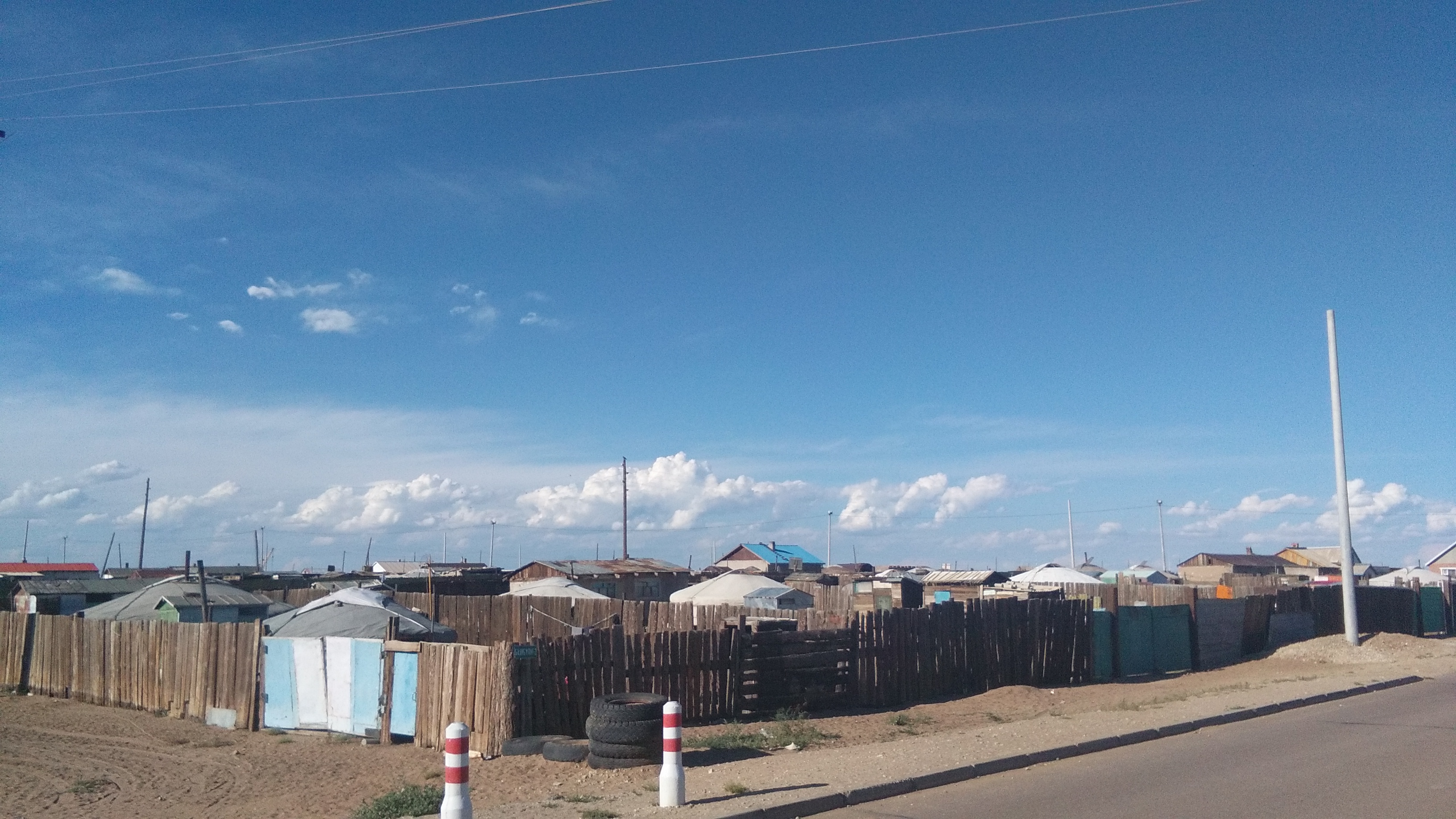 In the afternoon and evening again head wind. I pitch the tent behind a small hill, to get some shelter. Another day of beautiful void follows. The next town is Choir. I can already spot it from 35km away. It's painful because it seems like I don't get any closer. Only three kilometers to Choir I get a puncture in the rear tire. Bad when yo have no more water left. The air is slowly leaving the tube, while I push the pedals like a berserk. I barely make it to the gas station at the edge of town. That was lucky. After Choir, once again peaceful emptiness. But I think the grass starts to get a little bit greener. Yes, definitely.
The grass was greener
The light was brighter
The taste was sweeter
The nights of wonder
With friends surrounded
The dawn mist glowing
The water flowing
The endless river
Forever and ever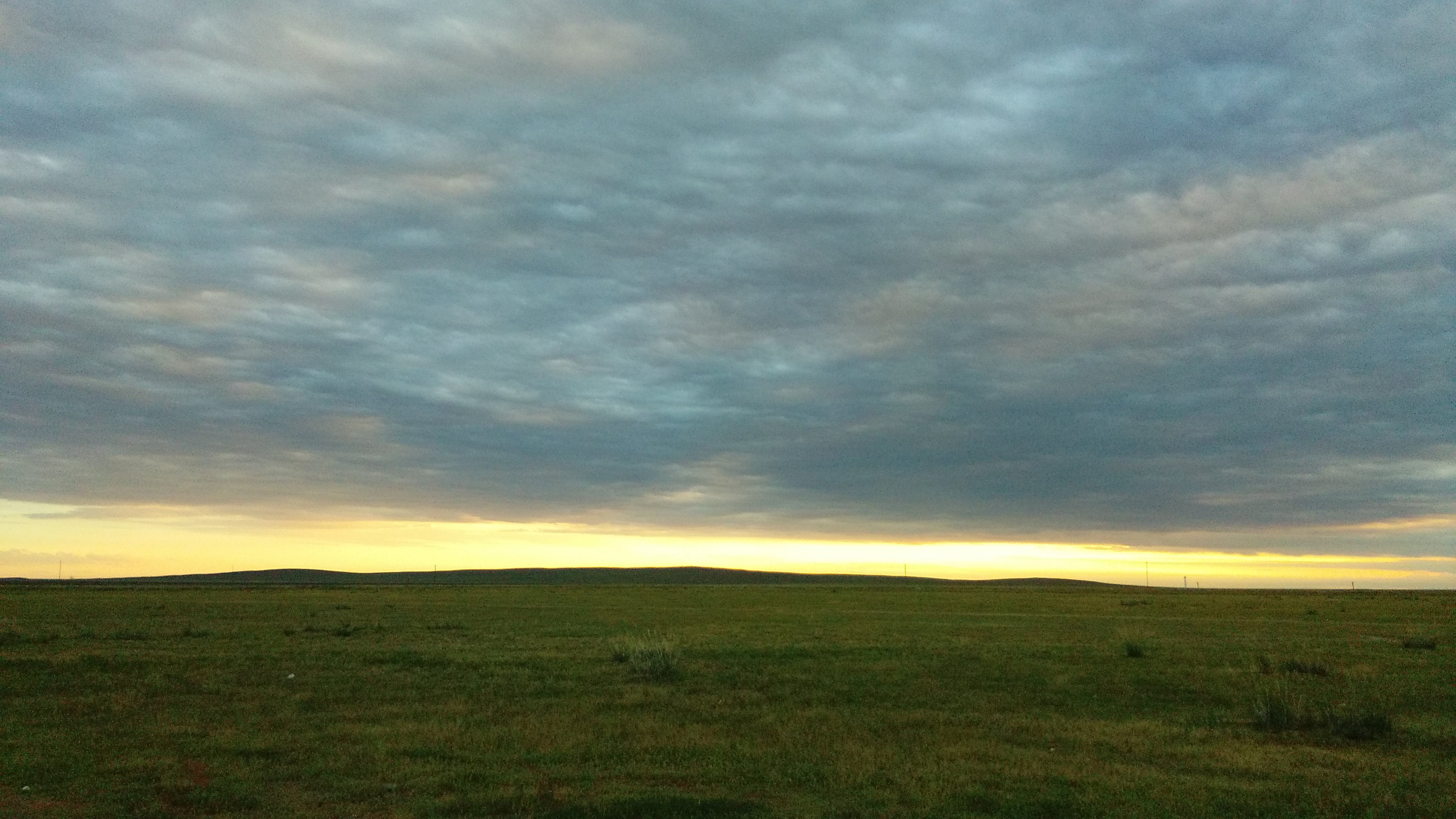 Soon after I pitch the tent a guy on a motorcycle comes down from the hill nearby where he lives in his yurt. He inspects the tent and is interested, where I am from. He asks if we can be friends on Facebook. It already feels like I have a closer connection to this guy than to most of my other Facebook friends. That's worth a "like". But it shows in times of Facebook and mobile networks, remoteness has become relative.
Wind gets stronger at night and hits the tent from the side. It also starts to rain. I wake up laying in cold water and have to get outside to check the tent. Leaving your tent at night is not often necessary, but is always a unique experience. Maybe a bit like jumping from a boat in the middle of the ocean at night. The wind has pushed the water between the outer and inner tent and finally inside. I rearrange the tent to make it face the wind. Additionally I notice a puncture in my insulating mattress. I'm laying on the ground without much insulation. At least the tent poles didn't break.
The next morning is surprisingly cold. My fingers even get a bit stiff. The wind is very strong, almost like a little storm, with some even stronger gusts. I have difficulties to pack the tent. Finally on the road I move with 10-12 km/h. I'm 200km from Ulan Bator, It will take me days to get there. I decide to hitch a ride for 70km. When we arrive I realize the wind is even stronger here in the mountains around Ulan Bator. I go 7-9 km/h with maximum effort. After another 10 km I try to hitch a ride again. It takes some time, but I finally make it to Ulan Bator. When I arrive it is 8°C. At the city gate all car tires get disinfected, because Mongolia is one of the last countries where the plague is still endemic.
The capital of Mongolia is unusual. It has a modern center, but still looks rather small. At least after all the mega cities I have seen lately. But the center is surrounded by thousands of colorful little huts and yurts. It looks like God has spilled his Lego bricks on the mountains around Ulan Bator. There are also some beautiful temples in the city. They remind me a lot on Tibetan temples.
I decide to stay 5 days and get an apartment on AirBNB. I need a break. When was the last time I actually settled down a few days? I'm not born a nomad like the Mongols. There is Mongolia's biggest department store right around the corner. The apartment even has an oven, so I make an apple pie from some apples I bought on the streets. However it gets burnt, because I am concentrating on the Crouching Tiger Hidden Dragon blog post. Still I can eat some remains.
A German I meet tells me it is not possible to get a Russian visa here. I try at the Russian travel agency anyway.
Me: I want a Russian tourist visa
Natasha: Where are you from?
Me: Germany.
Natasha: You have a resident permit in Mongolia?
Me: No.
Natasha: No chance!
Россия Я люблю тебя! Почему ты не любишь меня? That's it. No Russia for Germans. Блять! I'm not unprepared, though. Time for Plan B.
Tonight I will probably watch Ace Ventura and tomorrow I will head west into the endless plains of Mongolia again. The mattress is fixed, my stay in Mongolia extended. The sandals are at the bottom of the panniers, the beanie on top. Summer is over. Let's see what lies ahead.
Encumbered forever by desire and ambition
There's a hunger still unsatisfied
Our weary eyes still stray to the horizon
Though down this road we've been so many times

Pink Floyd – High Hopes