Back in Thailand we take a bus to Chantaburi, around 20 km away from the sea. We want to spend some days at the beach. After all, that's one thing Thailand is famous for.
We spend a night in Chantaburi. The next morning we cycle towards the Ocean. The region here is not very touristic and we cycle on small roads. A lot of crab and fish farms are everywhere. It is quiet here and we have a good time. Soon the Ocean gets visible and we reach the first beach.It is still early in the morning, but we decided to take it easy on our last few hundred kilometers to Bangkok. So we take a long break at the beach.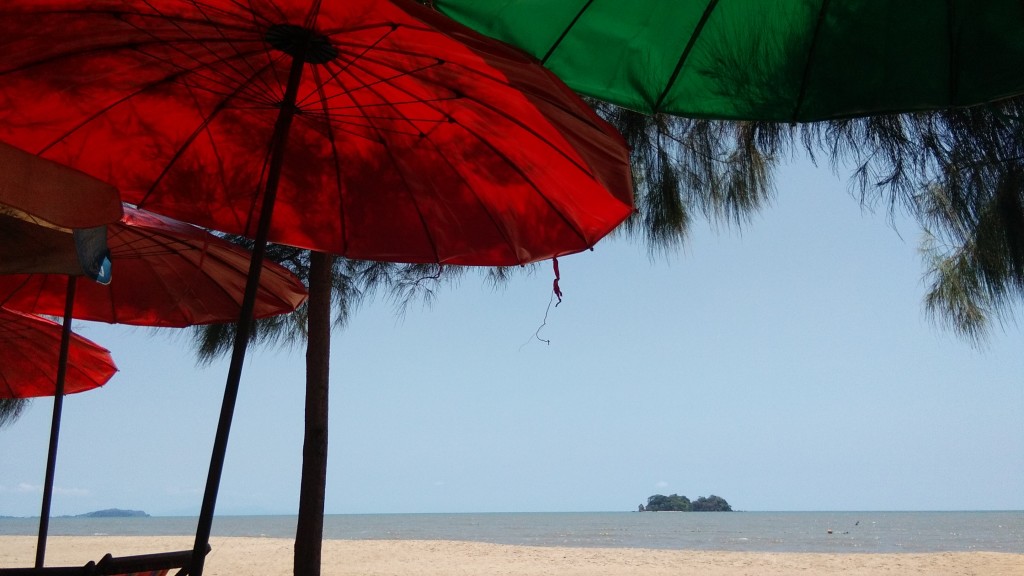 Later that day we cycle a few more kilometers to another beach and in the evening continue to a small guesthouse close to Chao Lao beach.

The days are long and we don't cycle too much. Sometimes only 15 km a day, sometimes 70. There is a bicycle lane on the road along the coast, so we see a lot of local cyclists, too. One evening we meet Klaus from Germany. He is a so called "Farang": A retired western man who lives part of his time in Thailand.
He invites us home. He has a beautiful house with swimming pool, where he lives with a Thai woman and her son. He also has a family in Germany and even invited his Thai "family" to Germany to meet his German family. We learn a lot about the life of a Farang, which is interesting, because it is something many people connect with Thailand.
We continue always along the coast. The closer we get to Bangkok and its "home beach" Pattaya, the more touristic it gets. Some impressions.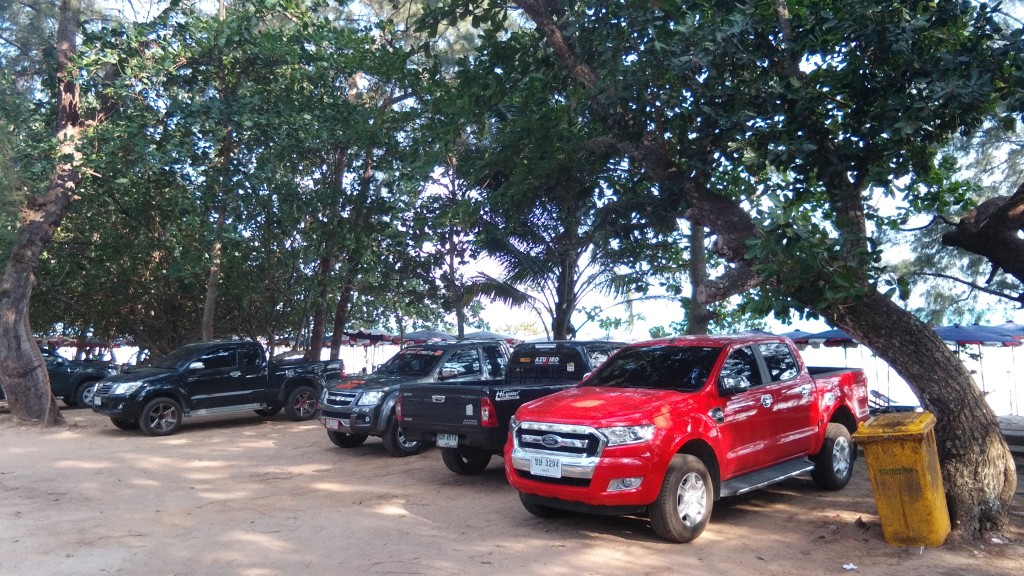 We want to explore a less touristic beach, which is inside a Navy base a little North West of Sattahip. We make it to the Ocean, but for the actual beach they charge an entry fee. Buses full of western tourists tell again the story of a conquered paradise. We don't want to see it.
Oh, think twice,
It's just another day for you, you and me in paradise
Just think about it
Just a kilometer away there is also a beach, but instead of white sand, some people came here to collect crabs and to fish. We stay there for a while. It is still inside the Navy base. Statues of Popeye, Brutus and Olivia are surrounding us. A 10 square meter cafe has tasty blueberry shakes.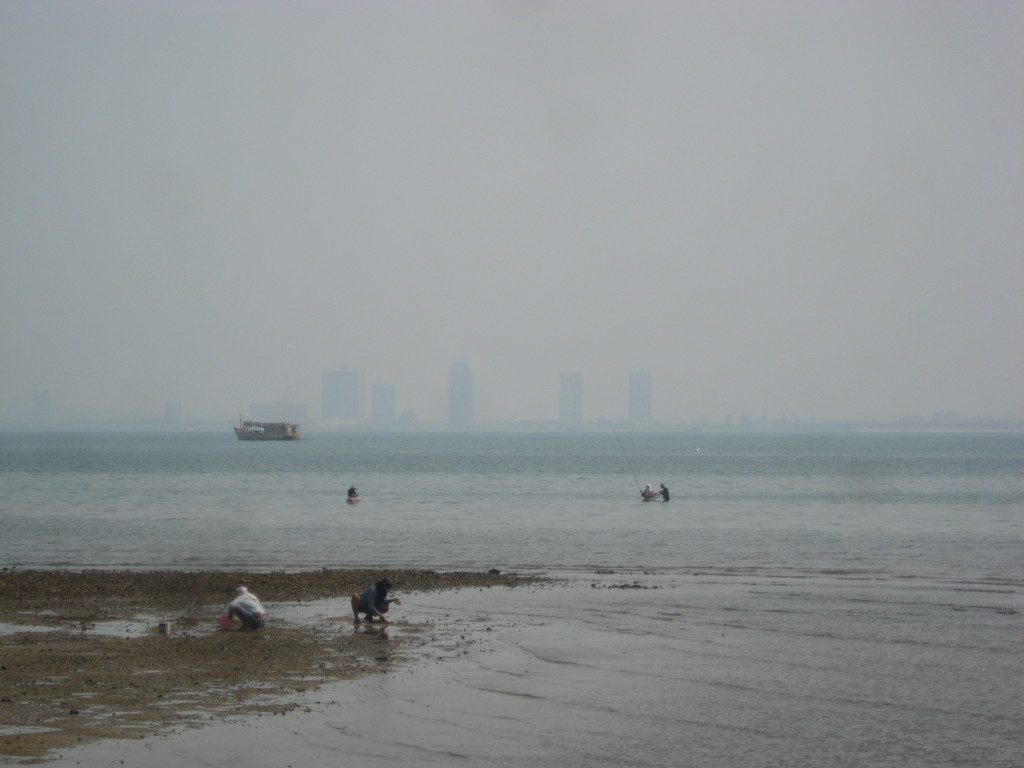 That's our last time on the beach. We stay on the Pattaya bypass road to avoid the hassle of Pattaya beach, which is one more touristic spring break fun park beach world Disneyland.
From now on we never leave the highway. A day before we arrive in Bangkok there is the Songkran festival. People celebrate the end of dry season by throwing water at each other. We arrive in Bang Saen dry, but when we leave we are completely soaked. It is great, they even have ice cold water in their buckets. A welcoming refreshment.
The next day Bangkok rises. The road is getting wider and wider. Soon another highway is on top of ours. Actually there is a motorway a few kilometers away. Then the one above us is the Expressway. You have to pay to use either of them. Then below the Expressway, there is the highway. And left and right of the highway, there is still a three lane road on which we are cycling most of the time. We are still 40 km away from Bangkok.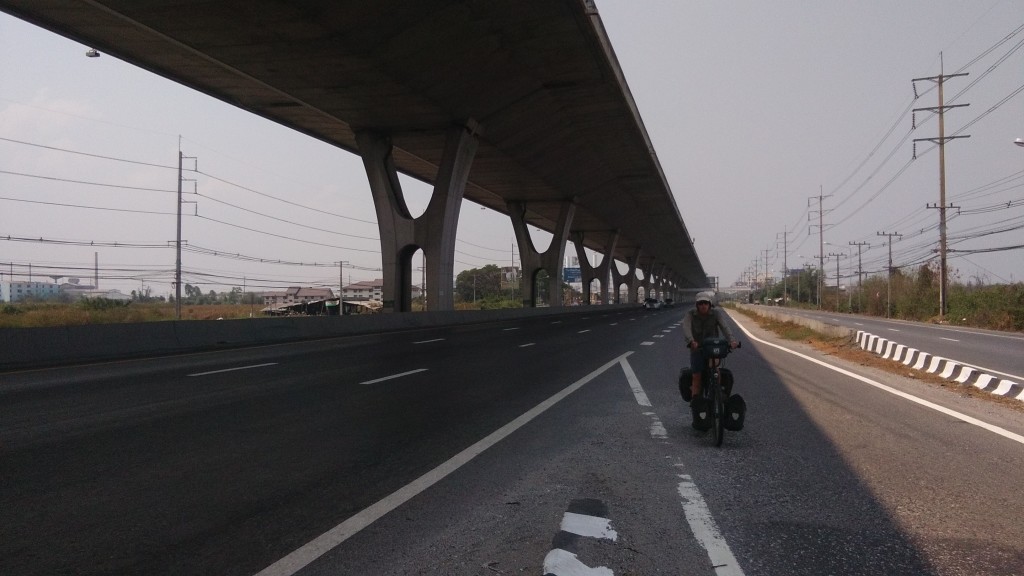 Entering Bangkok first feels like entering any other Thai city. Some markets, street kitchens, 7/11, Tesco Lotus, KFC, Starbucks etc. At dusk we have to cross a huge bridge, when finally the skyline gets visible.
We have reached our final destination in South East Asia. We got a room on AirBnB, just in the center of Bangkok, close to the skyscrapers, two minutes away from the Marriott hotel. The location is great, but unfortunately the room has no window and not even a table and chair and we wanted to write a lot of blog posts. So we decide to stay only 4 nights instead of 8 in this little prison cell. Anyway, we have a lot to do, and only return home to sleep.
Cora goes to the dentist, to get her teeth checked once a year. She also gets the DPT vaccines refreshed. My Therm-A-rest needs to be replaced, which is luckily possible in a small shop. We also send back a parcel with things we collected within the last year and even found a new USB battery charger at Pantip Plaza. The last evening – it is almost full moon – we spend in the Moon Bar which is on top of the Banyan Tree Hotel. It offers an extraordinary view over Bangkok 60 floors above ground. We only have the smartphone with us, better pictures of the bar can be found here.
The next day we move to another room we found on AirBnB, where we spend another 4 nights. It is a little bit outside Bangkok, but closer to the airport.
On the way, we cycle through other parts of Bangkok without skyscrapers, but with well equipped bicycle shops. We already ordered new Schwalbe Marathon Mondial tires a few weeks back and now only pick them up. There is also a certified Brooks dealer close to the bicycle shop, so I finally decide to buy a new saddle.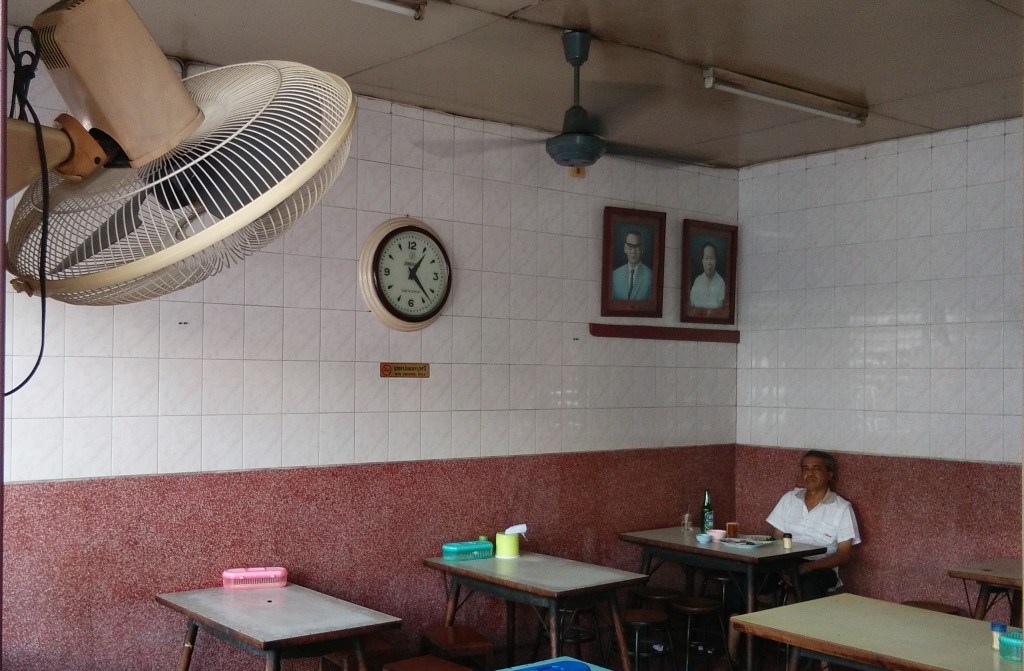 Right now I am sitting in our new room here in Pak Kret. In two days we will take the plane to Osaka. The room is well equipped and the host is perfectly friendly. We have a TV, a microwave, a fridge, an air condition and a water kettle. The 7/11 is just 5 meters from the door. On the other side of the road is the BigC food court, where we ate already four times within the last two days. That's Thailand and sitting in a room I can actually enjoy it. There have been times on our journey, when I wished for an internet connection or a supermarket. But right now, we have everything we need.
However, as travelers that's not what we want.