We are in Myanmar and that also means we are in South East Asia. The change is very well visible. The Burmese people have different faces, dress differently and they smile. But to be honest, Manipur already felt more like a part of South East Asia than a part of India.
The border town Tamu, however, is so much different from Moreh on Indian side. Only a few people on the streets. Hardly any honks. We see several schools, where pupils are sitting in the classroom. The doors are usually open, so we can hear them repeat what the teacher says like a choir.
The city has a more modern look than Moreh and hearing voices instead of horns makes it so much more a human place.
We stay at a small guesthouse. People told us, that Myanmar was very expensive. Actually the price is pretty OK. The standards are just way higher than in India.
People are supportive. The hotel staff brings us a bowl full of water to clean the bicycles. Did I mention, that they smile all the time? Another guy from a clothing store spends two hours helping us to find and activate a local SIM card. And everybody is smiling all the time. I think I mentioned that already.
The first evening we want to celebrate my birthday, which is actually tomorrow, but we will be on the road then and today we can also celebrate our successful border crossing to Myanmar. In India the restaurants and bars close after 7pm. Here it is quite the opposite. In the evening a lot of people cook in the street. We try a few different snacks, before we end up in a restaurant which has a barbecue grill outside.
The next day we leave Tamu and head south. The road is well paved. The landscape is plain with small villages alongside the road. Big trees provide some shade. Sometimes a river crosses. It is beautiful, peaceful, easy and people smile. Children shout "bye bye" everywhere. Almost no traffic. Others told us, that it is not allowed to pitch the tent in Myanmar, but it feels just perfect, so in the evening we ask at a very simple bamboo hut and pitch the tent just 100 meters next to them.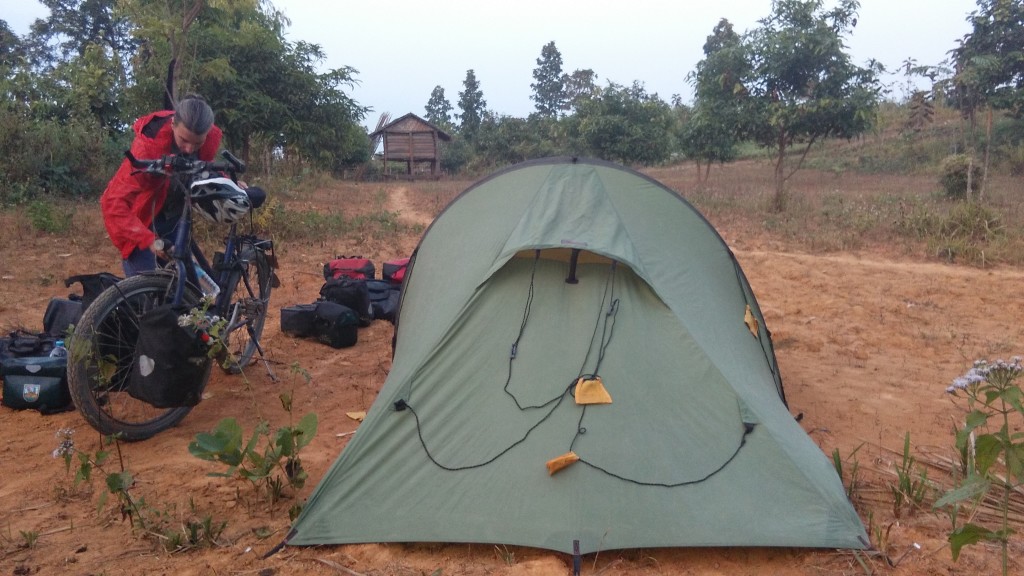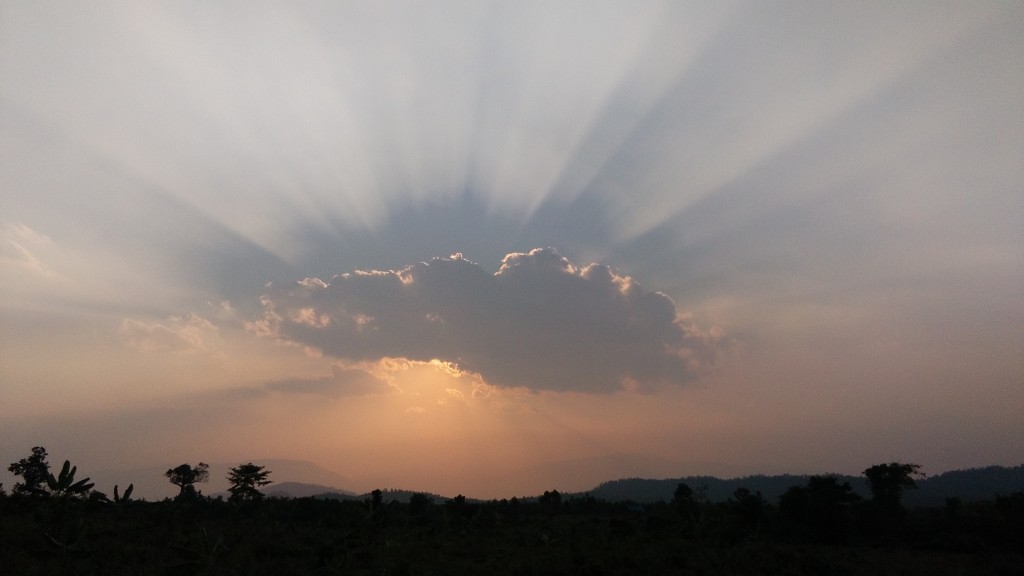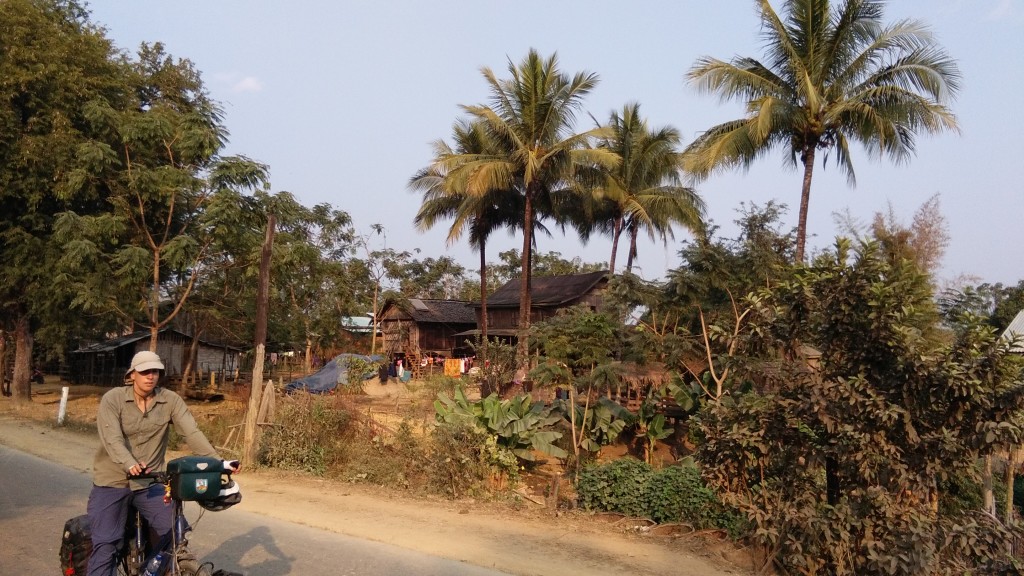 We continue to Kalewa. Actually we want to go east towards Mandalay, but the road ends in Kalewa. So we take another route via Monywa. The road soon becomes a dirt track, but the landscape is rewarding. We only pass small villages where we can usually eat something in one of the big road restaurants. And when it comes to eating, Myanmar even beats Nepal. We often get rice and several small bowls with vegetables or different meat. Just a lot of different things. And it is always "all you can eat". That's perfect for cyclists. Apparently you have to leave something in the bowls otherwise they get refilled again and again.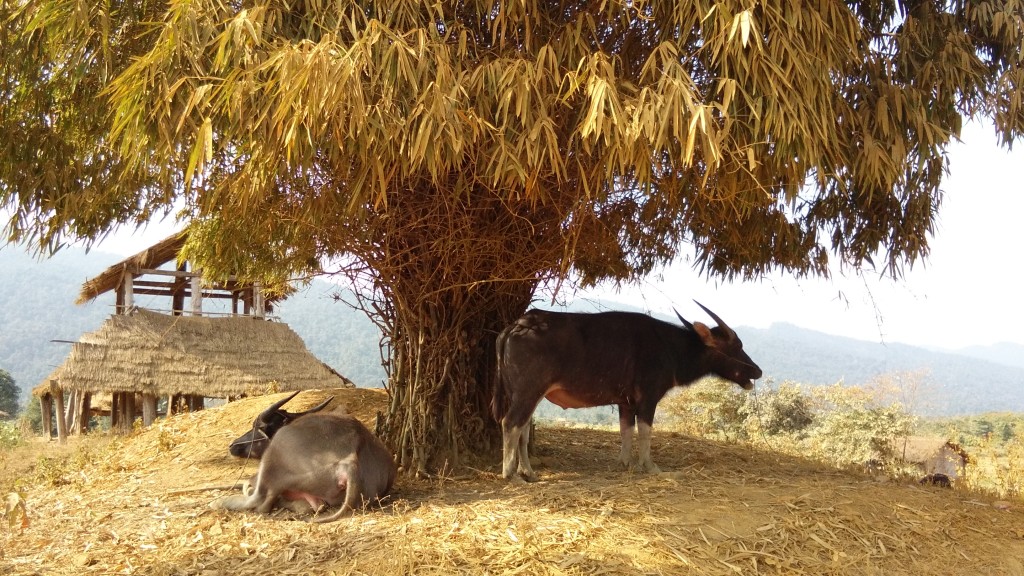 We arrive in Monywa and meet Jim, another cyclist from the Netherlands, who just arrived at the same hotel. We decide to cycle together towards Bagan.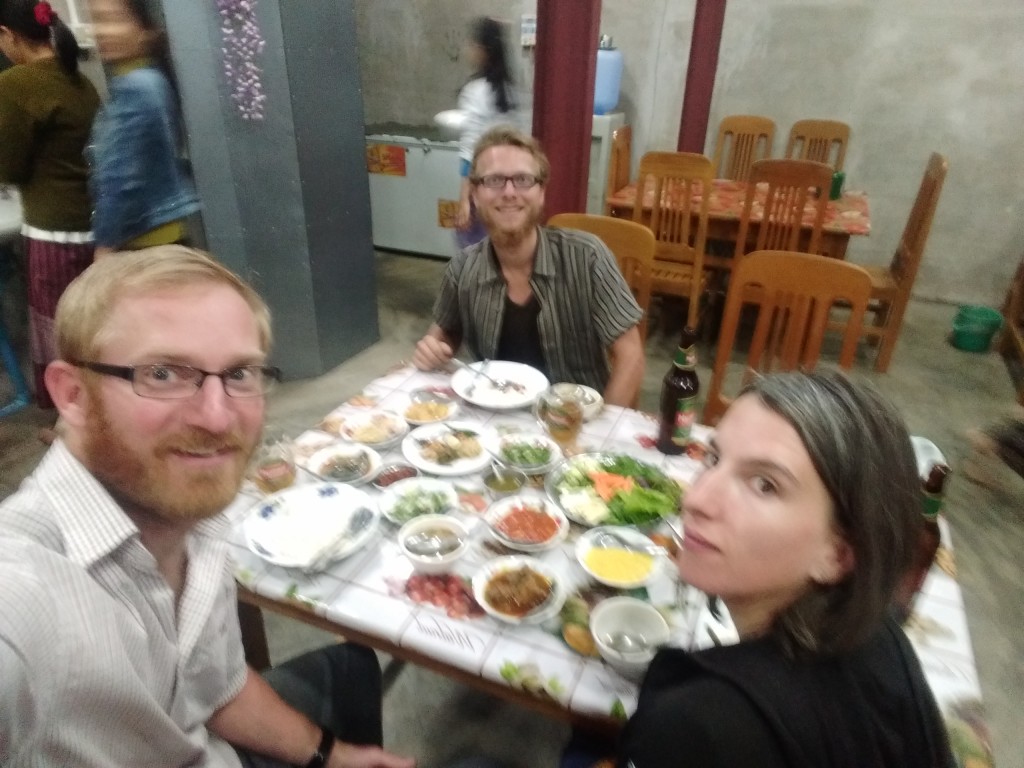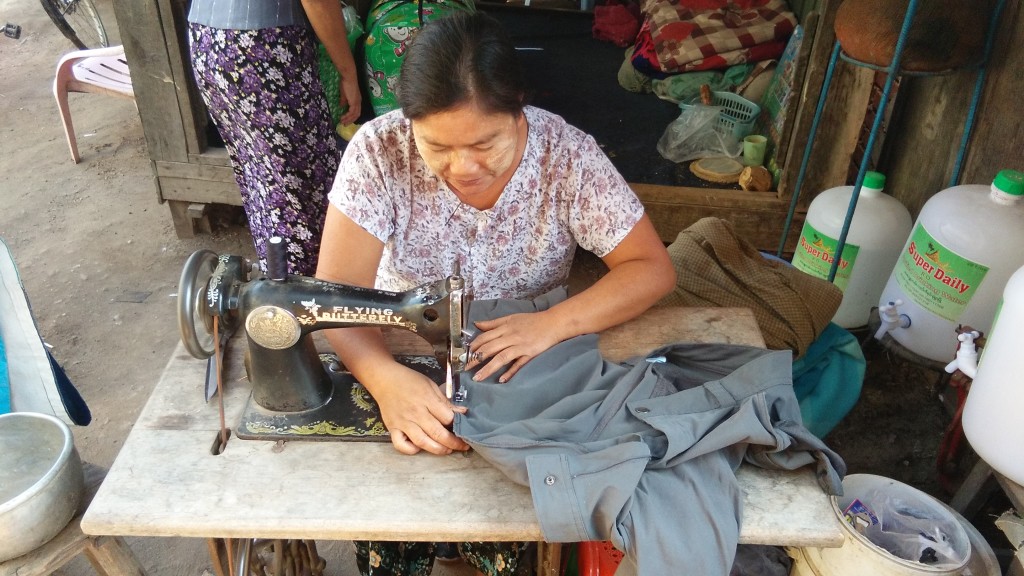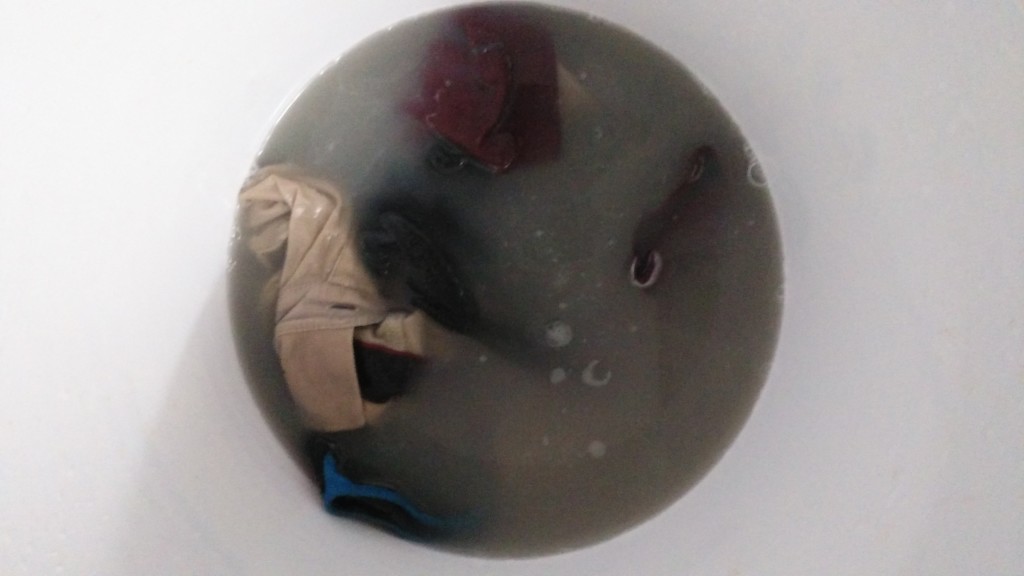 The landscape stays plain with lots of palm trees and big rivers that have almost no water. Signs of flood victims and huge bridges remind us, that rainy season will change this quickly in a few months.
We spend another night in the tent. The next day we approach Bagan in the early evening and decide to pitch the tent between the temples. Indeed, we manage to camp there undetected, which is probably the most extraordinary place for us to pitch the tent so far. Bagan is a relatively small area with more than 2000 temples of several centuries everywhere. Imagine all the nice beautiful old churches of Germany all placed on an area as big as Mannheim. That's pretty much what Bagan looks like.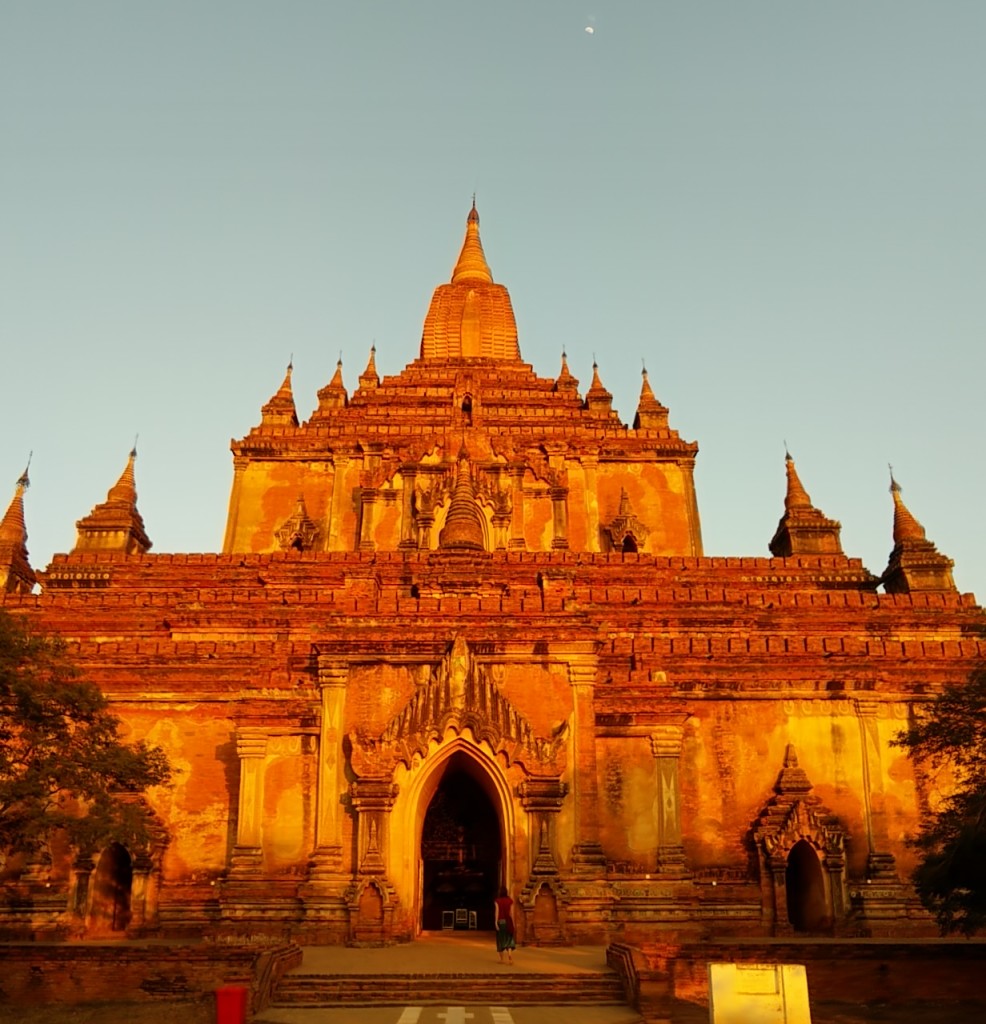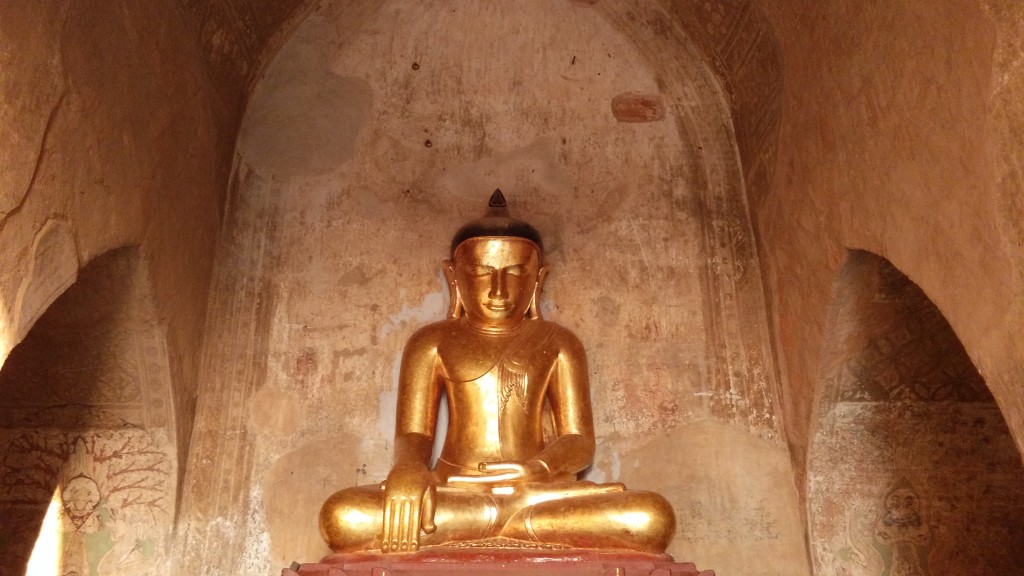 Bagan leaves us speechless. The only downside is that tourism starts to take over. But right now it is still rather authentic. Many tourists rent bicycles, horse carriages or e-scooters, which at least keeps Bagan a quiet place. And after all you are allowed to move inside the whole area where ever you want. There are only dirt tracks anyway. The area is too big to see many tourists. But at sunrise and sunset several spots are full of them.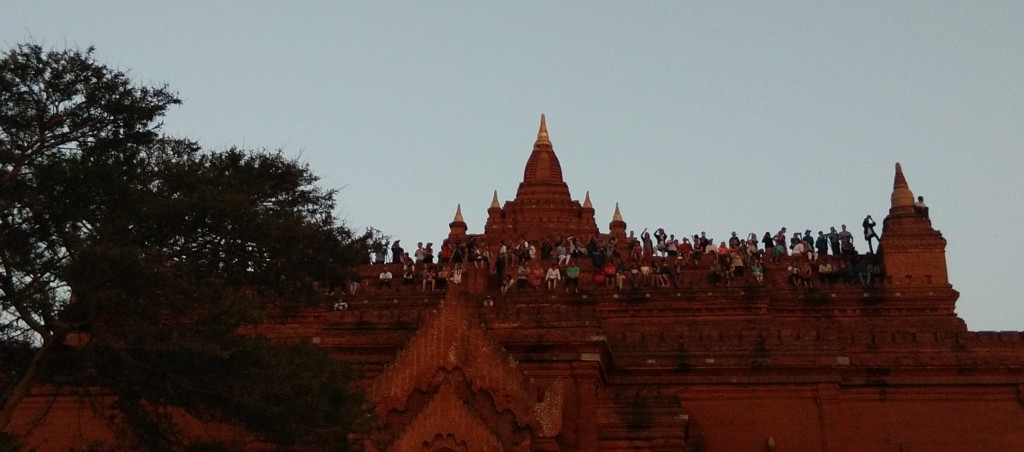 We decide to skip Mandalay and instead cycle towards Inle Lake. Jim accompanies us all the time, which is very funny, because we laugh a lot about our experiences in India. One night we want to pitch the tent at a beautiful lake close to Mount Popa, an old volcano.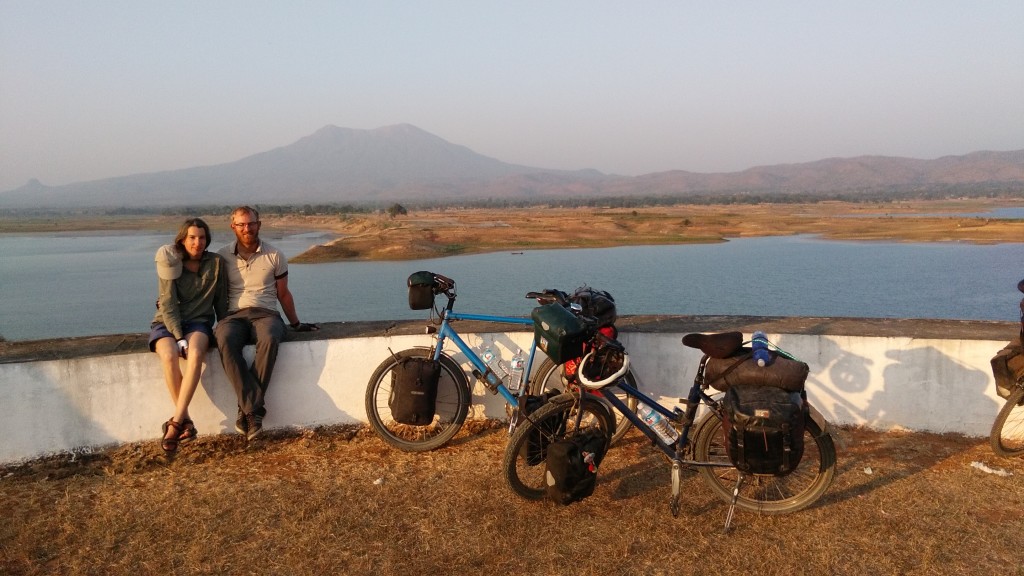 It is already dark and we have finished dinner, when suddenly a car approaches us. A lot of people step out. One of them is the immigration officer. He explains:
"If you want to stay here….

…you have no permission!"
Apparently some villagers were afraid of us and called the police. We heard about things like that in Myanmar. But the police are very friendly and polite. No dudes. I really didn't expect that in a country which has been ruled by dudes for the last 5 decades.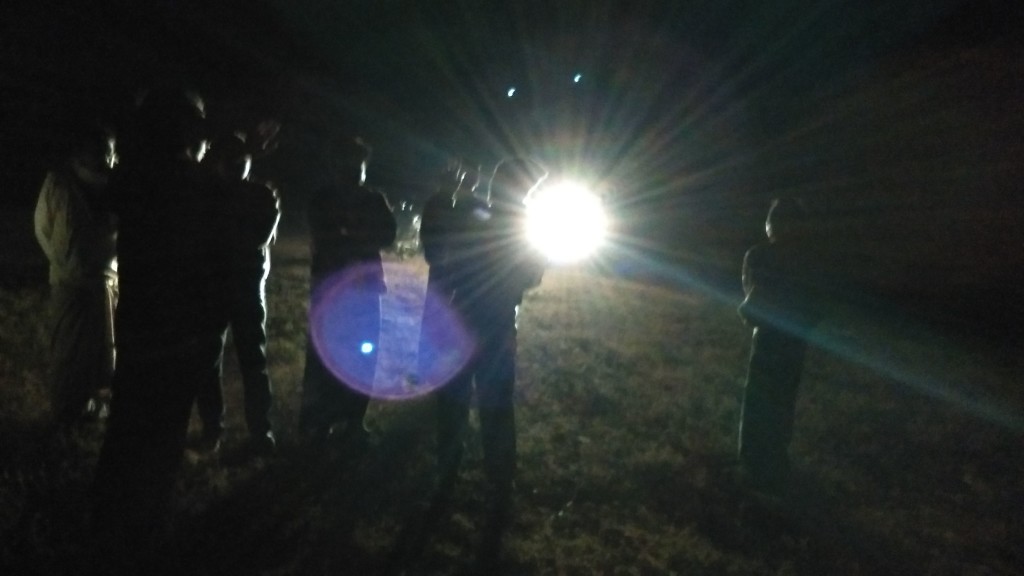 So more or less in the middle of the night we have to leave. They tell us to take the bus to the next hotel some 85 km away. Of course we don't. We cycle 2 km, then pitch the tent somewhere else.
The road to Inle Lake is still very good. It is a peaceful time we three spend together. One night we pitch the tent on an island in the river and get some groceries in a village nearby. We learned that it is always a good idea to talk to the villagers. As soon as they know us, there is no need to call the police.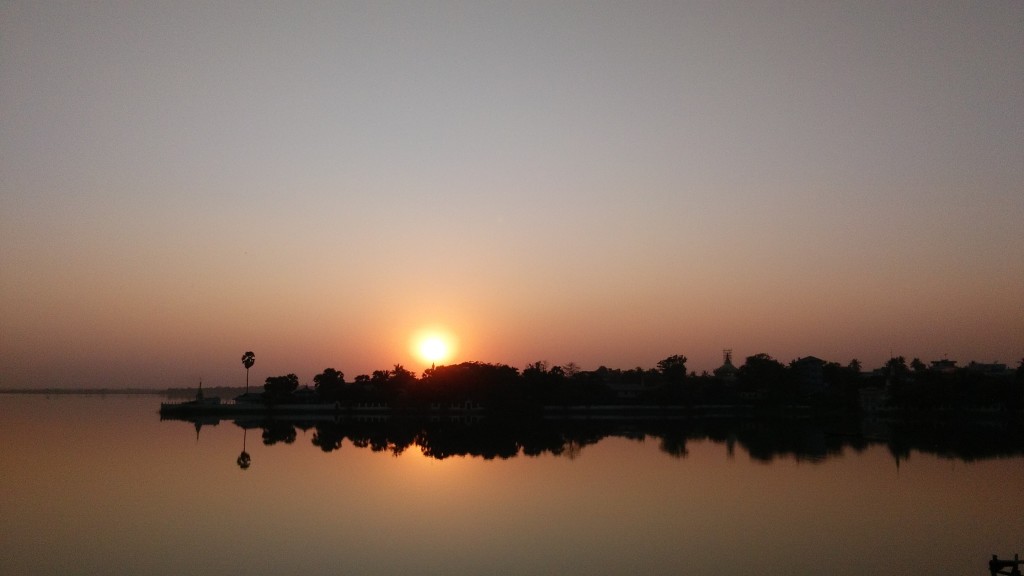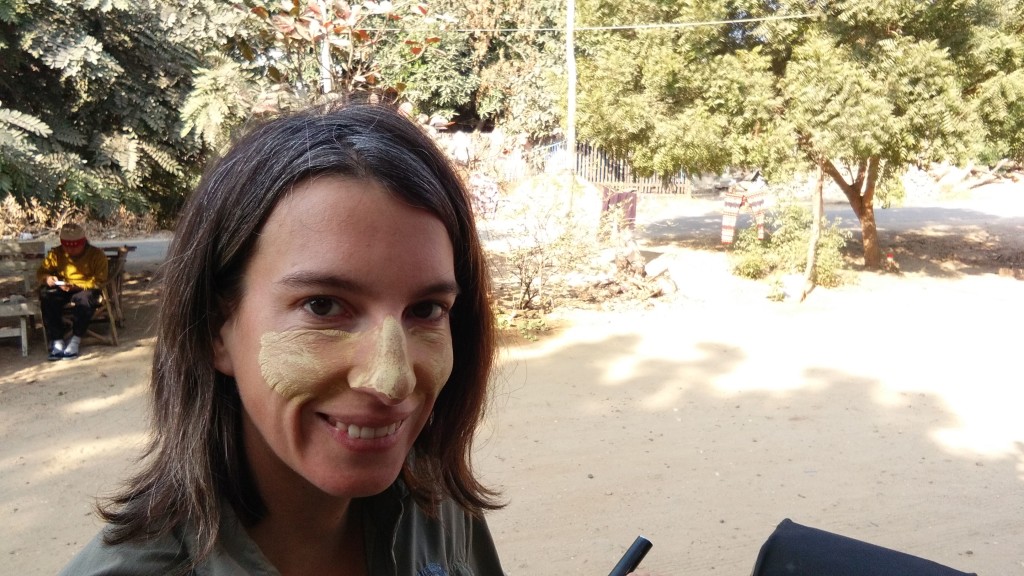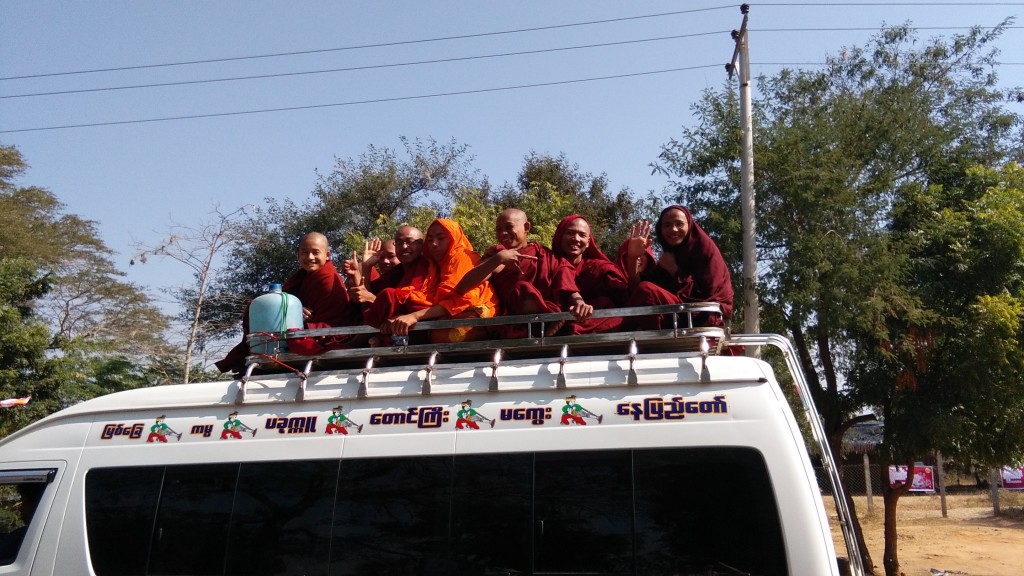 Buddhism

When you think about Buddhism you probably have someone like the Dalai Lama in mind. Myanmar is a very Buddhist country, with lots of temples, pagodas and stupas everywhere. And I have to admit the stupas look special and sacred. Sometimes a golden stupa is just place on a hill top in the middle of the forest. They have small bells on top which play a random melody when the wind blows.

But apart from that we got a very different impression of Buddhism. There are different types of monks. We once met one who was a pilgrim walking on the dirt road between Monywa and Kalewa for several days. He came pretty close to the Dalai Lama, with his endless, slightly childish smile and he was very talkative.

Others walk from restaurant to restaurant to get food every day. They do this in groups and are very polite and look clean and well dressed in their red robes. They say the same sentence at every shop, though, and when they do it sounds very monotone and bored.

Similar but rather annoying and intrusive are the loudspeaker monks. Every 20-30 km there is a big tent at the side of the road. Inside the tent sits a monk with a megaphone. Whenever a car passes by he says something – probably some blessing. On both sides of the road stand usually young men or women holding silver bowls. The drivers are supposed to through in some money. A bit like a toll booth. All good, but the loudspeakers are very loud and it goes on for hours. Really not what I expected from a religion that gets so much connected to and promoted with meditation.

Then you often also see monks driving big, modern cars listening to loud music and wearing sun glasses. There is nothing wrong with that, but looks strange for me.

Further south in Myanmar live militarized – according to media even radicalized – Buddhist monks. We heard them shooting with their rifles at night. Some of them want to kill Muslim citizens. So like with everything, there is also a dark side of the monk.

Om! Surprise!
Like Bagan, Inle Lake is another touristic place in Myanmar. We arrive very early in the morning, because we pitched the tent just 5 km outside Nyaung Shwe, a little town on the northern end of the lake. Now at dawn lots of tourists are taking boats to the very famous floating market, where you can buy souvenirs rather than vegetables nowadays. We just want a breakfast. For a cup of coffe, a croissant and a papaya juice I pay as much as we three together usually pay for an all-you-can-eat lunch in the remote areas of Myanmar. That's worth mentioning, because we often read that Myanmar is expensive. That's true for all tourists including backpackers who usually have to stay in touristic places. Especially in Myanmar, because unlike India, Myanmar doesn't have hotels in every village.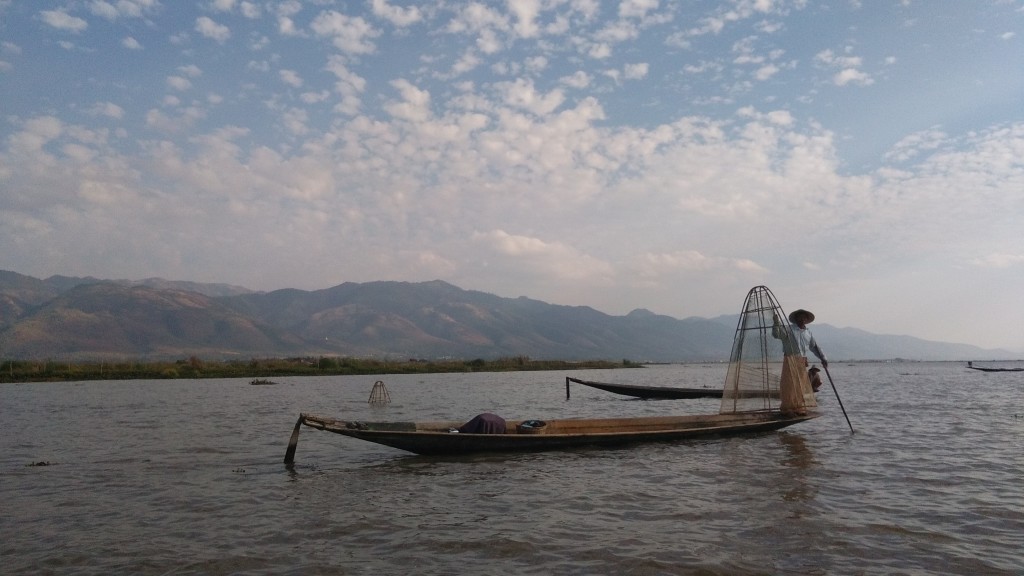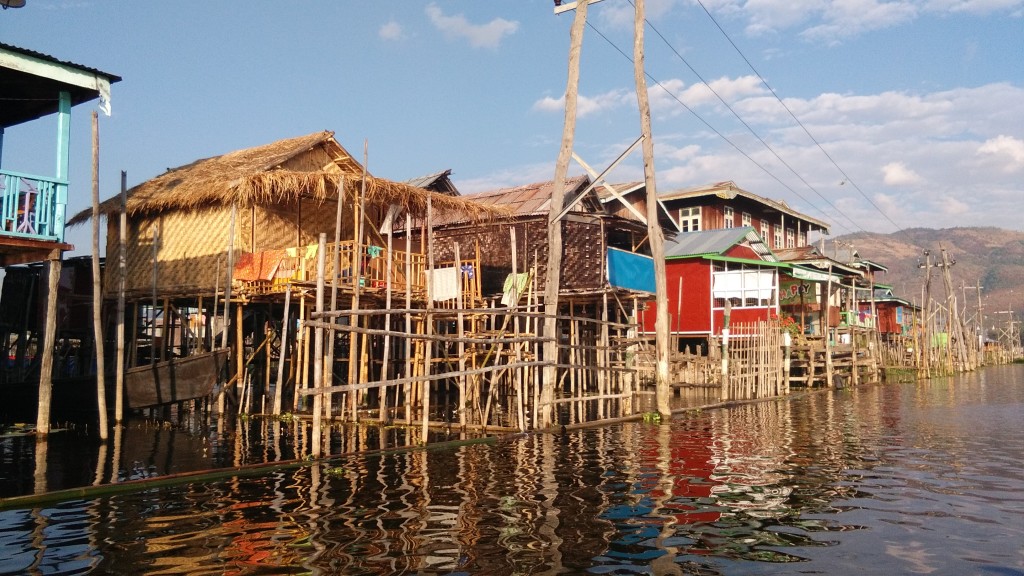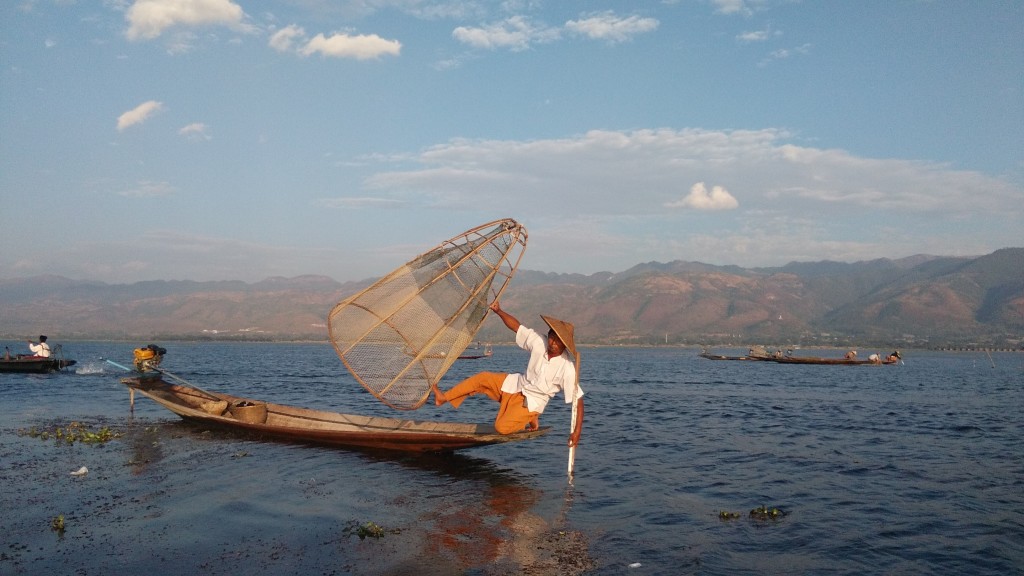 The unfulfilling prophecy

Myanmar is another one of these countries where we heard a lot about in advance. The violent Junta. A country lead by dudes for decades now in the process of opening up and becoming a democracy. Expensive! No camping! No chance to stay at local's homes! Keep your mouth shut! Don't do this, don't do that.

We have no idea what everybody is talking about. There are no dudes. We didn't meet a single one. The police telling us to leave a few days ago is nothing special. That might as well happen in Germany. Of course you can say, that the ongoing political change has also transformed the country rapidly within the last years – and indeed, that's what people keep telling us. But the Soviet Union broke apart 25 years ago and whole Central Asia doesn't seem to have changed lot since then. So how come Myanmar manages to change that quickly? I have no answer to that.

It is not allowed to pitch the tent anywhere or stay at peoples houses? Not really. We pitched the tent whenever we wanted and where ever we wanted. Even between the temples of Bagan. Nobody cares. I have no idea who could possibly care, since most of Myanmar is just almost not inhabited. We also got invited into private homes.

Myanmar is expensive? Not really. The visa was only 20 dollars. That's the cheapest so far. The permit was pretty expensive with 80 dollar per person, though. Basic guesthouses are between 8 and 15 dollars per person including breakfast. But that's OK for the standards you get. Food is very cheap as long as you are outside touristic places. Also the food is very good, unless you want to have non-local food. Don't order pizza "Africa"! Just don't do it!
Jim wants to stay at Inle Lake another night, so we continue without him. We soon escape the touristic hassle. It is getting quiet again and we enjoy the authentic, smiling faces of this country. It feels so warm, so inviting. We like it a lot.
The next morning our tent gets surrounded by approximately 20 people. Some approach us with slingshots. A woman has seen us and wasn't sure who we are. Waving at her didn't help. Now the whole village showed up to see what's up. Most of them stay 100 m away. The few with the slingshots come close but start to laugh as soon as we say "Mingalaba", which means "hello". Then they leave and tell the others the good news. But it already shows, that there is some tension here.
Soon it starts to rain heavily. Unfortunately the road is no longer paved. The pretty good dirt track becomes a mud hole. My bicycle starts to move uncontrollably for 30 m and doesn't slow down as if I had no brakes. Finally I slip and hit the ground. The panniers break loose and roll around. That hurt!
Anyway, we have to continue. We try to push the bicycles, but it is almost impossible. My knee hurts badly and the tires soon are so full of mud, that the wheels don't turn any more. Then there is a stall beside the road. Inside some soldiers. One of them – Mosa – wants to help us. He pushes the bicycle while carrying the rifle on his back. After around one km we arrive in a little village. One bamboo hut is already prepared for us. We get invited to stay a night, since the rain won't stop soon and even the cars cannot take us any further. Climate Change, they say. Rain in January is unusual.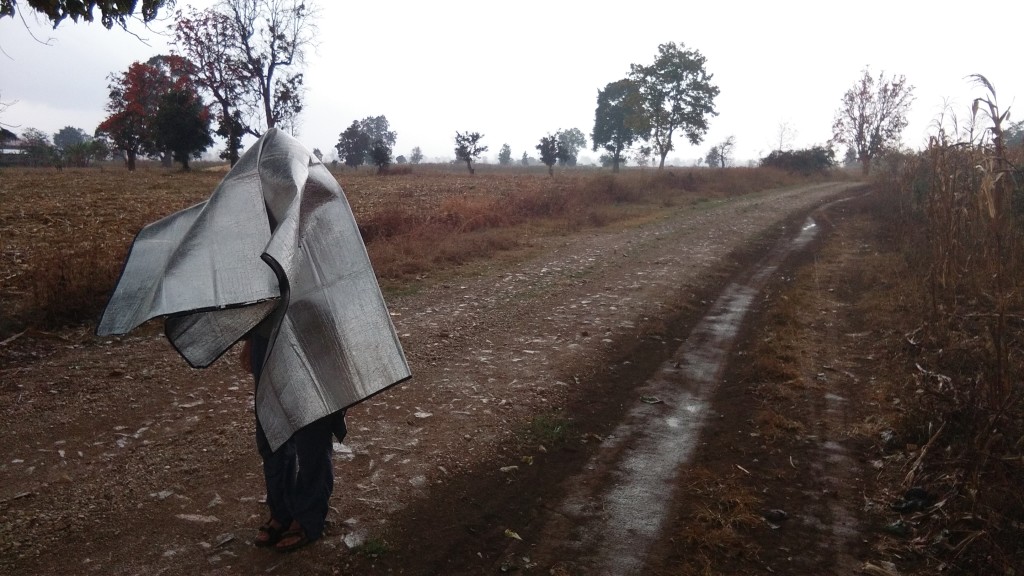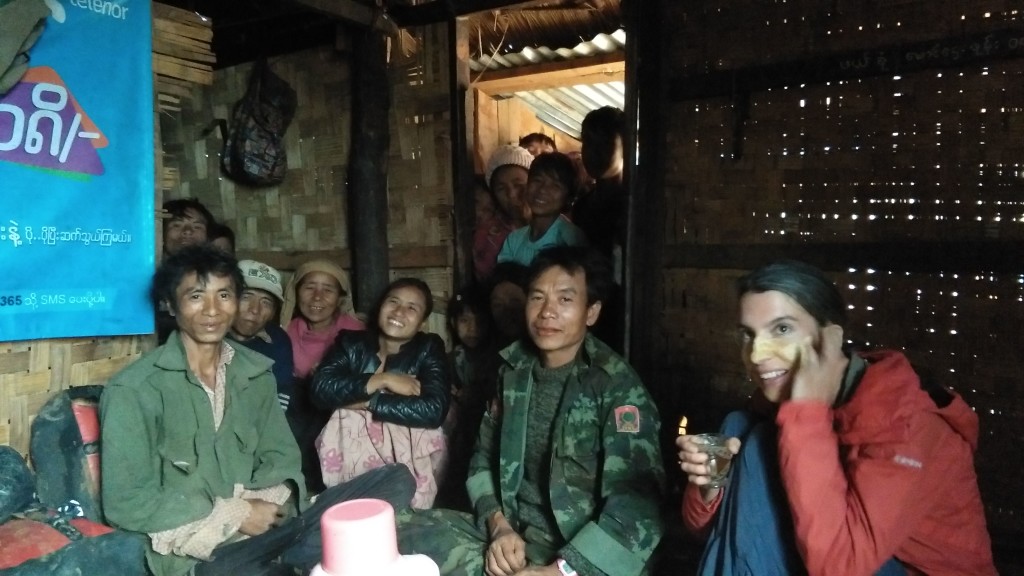 The night in the bamboo hut is very cozy. Only separated by a bamboo wall the family sleeps in the other room. They talk till late in the evening which makes us feel very much at home. Later in the night it gets cold and it is heavily raining all the time. We hear thunder and also something that sounds like a weapon shooting.
Briefing the next morning: The shooting came from the neighboring village. Some Buddhist monks seem to be nervous. Mosa already prepared some paper sheets he wants to hand out to explain the situation. Anyway, the two villages are friends he says. Even though the village we are staying in is Christian and the other one Buddhist. Apparently the monks only dislike Muslims.
The road is bad for another 3 km they say. It is so muddy not even a car can take us this short distance. And my knee got swollen overnight and hurts. I cannot walk let alone push a bicycle. Mosa tells us, that his fellow Kayin soldiers from the other side of the lake will come. Indeed, an hour later a boat arrives. The whole village starts to carry our bags down to the lake. Everything happens very quickly. The next moment we sit in a boat with our bicycles. The villagers tell us that we don't have to pay anything for the boat ride. We wave good-bye and leave.
Crossing the lake takes roughly half an hour. I feel strange. The last 24 hours were very special in so many ways. This unexpected visit in a small village left a trace. Things like this don't happen every day. Everybody was involved, friendly, smiling. Also the community itself seemed calm, sincere, working together. The Christian religion had a deep and special meaning for them, even though they weren't praying once. But a picture of the missionary who brought them Christianity was hanging on the wall. They seemed very thankful for his present to them. As if it brought some relief. I tried to find an image for this:
ISOcial 9001 certified

Every day we see many ads of cement and concrete companies. Usually there is "ISO9001 certified" written in big letters. I don't know when was the last time I saw a cement ad in Germany. We care more about the architect or the insulation. And ISO9001 is not worth mentioning. It's not a quality standard, it's the default.

But here it is important, because Myanmar is a country that just recently started to change from living in bamboo huts to living in real houses.

I think with faith it is similar. More and more people in Germany don't really care about religion nowadays. Like with the ISO9001 certificate they just take certain moral values for granted. And in Germany these values are usually based on Christianity. On top of that we discuss much more complex social problems.

During out stay in the Kayin village I realized Christianity gives them a moral fundament, which holds the whole community together. Like the cement holds together their houses. They are thankful for the cement and are proud it is ISO9001 certified. And they are thankful for their moral fundament and are proud it is Christianity certified.

In a way Christianity is their social cement. The house they build with it is their community. I know they used to build houses of bamboo. We couldn't find out, what their society was made of before Christianity arrived. But something in their eyes told us it was frightening.

I never before experienced faith in such a profound way.
We take a car to Loikaw and stay there three nights. My knee doesn't get much better. The owner of the guesthouse is a woman. She gives me Wick Vaporub and tells me to rub it on my knee by moving my right hand clockwise. I do as told. Indeed, I soon feel much better: No more coughing and I can finally breathe freely again.
Anyway, I need a professional diagnosis, so I ask Google. The result is serious and equally shocking: Inner meniscus bucket-handle tear or bone cancer and only 5 days to live. Shit! Being a real man I only get sweaty eyes and decide to confront a human doctor the next day. We arrive at a doctor-for-everything. The 30square meter building itself is made of concrete, but the waiting room is outside under a bamboo roof. Around 20 people are waiting. They take me inside the house. There is another guy, who's bleeding. His pointer is ripped off and lays besides him in a metal bowl.
The doc does some tests with my knee and then asks if I allow him to puncture my knee. Yeah, why not? He takes a needle and sucks 45ml of light red liquid out of my knee joint. "Red is not good" he says, "Some damage, but it is not dark red, so probably only bruises". He says Mr. Meniscus should be fine, too. B-But what about the bone cancer and will I live to see Elon Musk driving a Tesla on Mars? Google said…and they have this new algorithm, you know?
I lost the thread. The next day we take a bus to Rangon.
The Long Kiss Good Night

We enter the bus at 2:30pm. The first hour we see and hear the speech of a Buddhist monk on a big flat screen in the bus. After that we hear loud music, usually Burmese covers of famous ABBA songs. After that some traditional Burmese music with karaoke subtitles. One person in the bus starts to sing. It is now around 8pm, so we already endured 5 hours of "entertainment" almost nobody in the bus wants to listen to. Then suddenly a pause.

DVD change.

Now we watch a movie. And it is not a random movie. It is a movie in which women are played by men. And of course they play the roles of the most annoying women on the planet ever. It is two hours of constant hysterical screaming.

Finally after 10pm no more entertainment. We are now on the road for 7 hours. From Loikaw to Rangon is only 482km, though. So we should arrive soon, right?

Wrong! Because we take the route via Meiktila and Naypyidaw. That is like going from Kassel to Munich via Hamburg and Berlin. We just went 7 hours in the wrong direction. Nobody entered or left the bus during that time.

Anyway, time to sleep now. It is a long distance bus, so there is plenty of leg space. Unfortunately the average South East Asian customer is around 30cm shorter than me. My swollen knee and me are so unbelievably happy.

We are in a tropical region, so I decided to wear a T-shirt. That wasn't clever. Air condition is set to 10°C. I feel like going to Ischgl over the weekend. Where is the Glühwein? Everybody is wearing a beanie and thick jackets. Nobody complains to the driver. You can't even turn of the ice cold air stream that is blowing directly into your face from above. We tell the driver, twice. Then it stops. I bet there are "bus shops" in Myanmar where you can buy beanies, gloves, winter jackets and scarfs.

Next time we wake up a monk is sitting in the aisle next to our seats. Actually it is not only one. This is on purpose, there are seats that can be placed in the aisle. He is sleeping or meditating. Not sure about that. At least nobody is sitting on the roof. Would be much warmer, though.

Anyway the aisle is blocked now more or less completely in case you need to go to the toilet. Luckily there is no toilet on the bus. Why a toilet? It is only a 16 hours bus ride.

At around 3am in the night the lamp over my head falls down and hits me so hard that I start bleeding from my forehead.

Eventually we get thrown out in Rangon. Or actually not! The bus terminal is at the airport, 20 km outside downtown Rangon. So now after 16 hours with no sleep and a swollen knee we cycle 20 km to the hotel and arrive there at 9am. Check-in is only possible after 2pm. Yeah! Sure! Whatever! So we block the small lobby with all of our panniers. I am reading online newspapers via the guesthouse' wifi and Cora is sleeping across all remaining chairs. An hour later we can check in…
We never wanted to visit Rangon. We wanted to continue cycling down south directly to the border crossing to Thailand. But I am not able to cycle. I can barely bend or stretch my knee. The doctor said I need to rest for three or four weeks.
There was no direct bus to the border so we had to go to Rangon first. We visit the huge golden Pagoda, probably the most famous monument in Myanmar.
The next day we take another overnight bus to the border town, have breakfast and then cross over to Thailand.
Myanmar was special in many ways. It helped us to reduce the social stress after turbulent times in India. It was surprisingly easy to travel. Not only was it possible to camp, but also standards of living were higher in general. We never met any dudes and didn't see much evidence of a former military government. People are amazingly generous and hospitable, maybe comparable to Armenia. In the rural areas people were really happy to see us. Like Iran, Myanmar was pretty isolated for a long time. Tourism starts to flourish rapidly now. We probably already arrived here a bit late. Five years ago places like Bagan must have been even more breathtaking.
On February 1st, when we left Myanmar, the Burmese parliament had its first parliamentary session after more than 50 years of military government.
From time to time we saw banners showing Aung San Suu Kyi, the nobel peace price winner and now democratic leader of Myanmar. But we didn't hear much about her or about politics in general. After all the people of Myanmar smile a lot. Maybe even more than they talk. I like that a lot. Revolution here seems quiet, almost like a whisper.
Don't you know
They're talkin' 'bout a revolution
It sounds like a whisper…

Finally the tables are starting to turn
Talkin' 'bout a revolution….