Leaving Uzbekistan isn't a child's play. Of course it could be, but we are in Central Asia and things must be difficult. When you enter the country you fill in a form and declare all money you take into Uzbekistan. All currencies. You get a copy of this form and need to present it when you leave the country. If you carry more money with you than when you entered, they just keep the additional amount.
We wanted to make sure that we never again run out of money like in Turkmenistan and therefore had withdrawn several hundred dollars in Uzbekistan. That means we now have to smuggle our own money out of Uzbekistan. We hide it well in our bags and move into the hall where they check your luggage.
The Uzbek border police is the most thorough, when it comes to checking luggage. We have to open all bags and everything is removed. The guy working at the check point today likes his job a lot. He gets close to the hidden money, but suddenly loses interest in this particular bag. I take a deep breath. Cora is also lucky. We and our dollars make it out of Uzbekistan.
The Tajiks just want to see the passports and let us in. That's it. Nice dudes.
The border to Tajikistan is not only marked by border guards and a barrier gate, though. Tajikistan is mountainous, so immediately after the border we enter a long valley which will lead us directly to the capital Dushanbe.
However, not today. We only cycle for a few more kilometers, maybe half the way to Dushanbe. The road has small villages on both sides and we cross several little rivers and creeks. Eventually there is water again after weeks of dry desert-like landscapes.
In the evening we are looking for a place to pitch the tent and finally find a basketball court right behind a school building. There is a guy in a suit standing around and we ask him if it is ok to camp here. He is ok with it. But not only ok, he soon starts to bring a hammer for the tent nails, because the ground is quite hard. As he realizes we are preparing dinner, he brings a watermelon. But of course also a table, two chairs a plate and a knife, so we can cut the watermelon open. It is getting dark, so he is gone for a few minutes just to return with a 30m long cable. He then installs a light bulb on the basket pole, so we have light during dinner.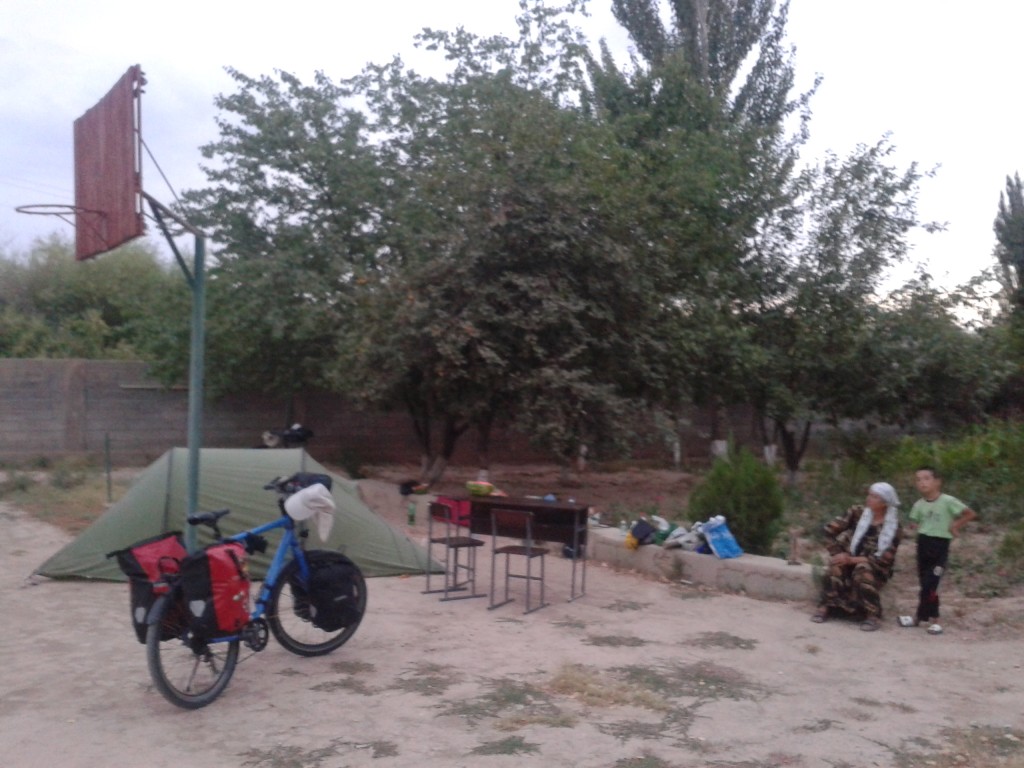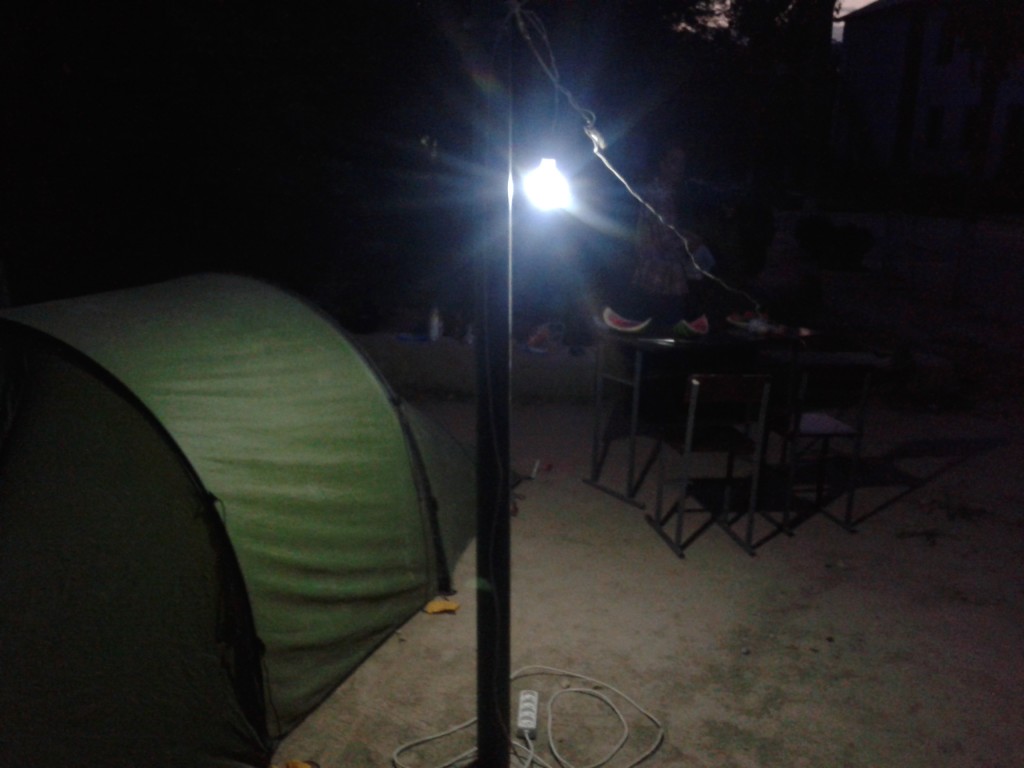 During all this time he doesn't say a word. Then he is gone again for half an hour. He returns with a bag full of groceries for breakfast. Also some toilet paper and wet tissues. Smart guy!
A day in Central Asia wouldn't be complete without a dude showing up. So even on the basketball court a police officer checks our passports, before we can go to sleep. Officially registered by the local police we sleep safe and tight.
The next morning the suit-guy shows up again. He waves us good bye after he had bought some bottled water for us, even though there was a little creek around. Smart guy!
We now cycle to Dushanbe and arrive around noon already. We visit only one tourist attraction: The highest flag pole in the world.
Wait, what?! Wasn't the highest flag pole in the world already in Ashgabat? Apparently not. Meanwhile Tajikistan has build an even higher one. I assume there is a dude competition going on….But honestly I am impressed. I like the smooth movement of such a huge piece of tissue in the wind. Where else can you see something like that?
After that, we don't have any plans for Dushanbe. We want to relax and regain our physical fitness after weeks of being sick. Cora is getting better from day to day and after three weeks of severe diarrhea I finally feel also better in Dushanbe. Our trip will soon lead into the mountains, so we need to fully recover quickly.
Another point on the todo list is to get more dollars. We will go above 4500m altitude, so chances are that one of us gets altitude sickness. Also we might quit cycling due to unforeseen weather conditions. Or we get sick again high up in the mountains. We have a health insurance which even covers flying us back home to Germany. But they will probably not send a helicopter up in the mountains because we have some diarrhea. Long story short: We need to take a lot of money with us, because in case we have to return to a city or a hospital we have to pay the driver cash and going with a 4WD in Tajikistan is expensive. Usually a dollar per kilometer. Per person. And per bicycle.
I need a dollar dollar, a dollar is what I need
hey hey
Well I need a dollar dollar, a dollar is what I need
hey hey
And I said I need dollar dollar, a dollar is what I need
And if I share with you my story would you share your dollar with me
Luckily there are endless ATMs in Dushanbe, where you can even withdraw dollars. Theoretically.
In reality the ATMs all run out of dollars. You can only withdraw Tajik Somoni. After trying at least 30 different ATMs and several bank counters we give up. But we can finally exchange our Iranian Rial in a small office inside a 5 star hotel.
We stay at a so called homestay. A private home we share with a couple and three other tourists. The next day we even get dollars at an ATM. Apparently after the weekend the ATMs have been filled again.
We feel ready to leave Dushanbe and head into the mountains. Our first pass will be Sagirdasht Pass, 3252m high. If that works well, we should be prepared for the legend…