I admit, I could have written more about Tbilisi. I liked the basement bars which they have a lot there. Also the canyon and a waterfall right next to old town you wouldn't expect there. Another part was very modern with huge buildings of probably famous architects, since they had this bionic look. Some houses were leaning heavily. Others had big holes in them, with brick stones moving apart. Altogether it was a versatile city.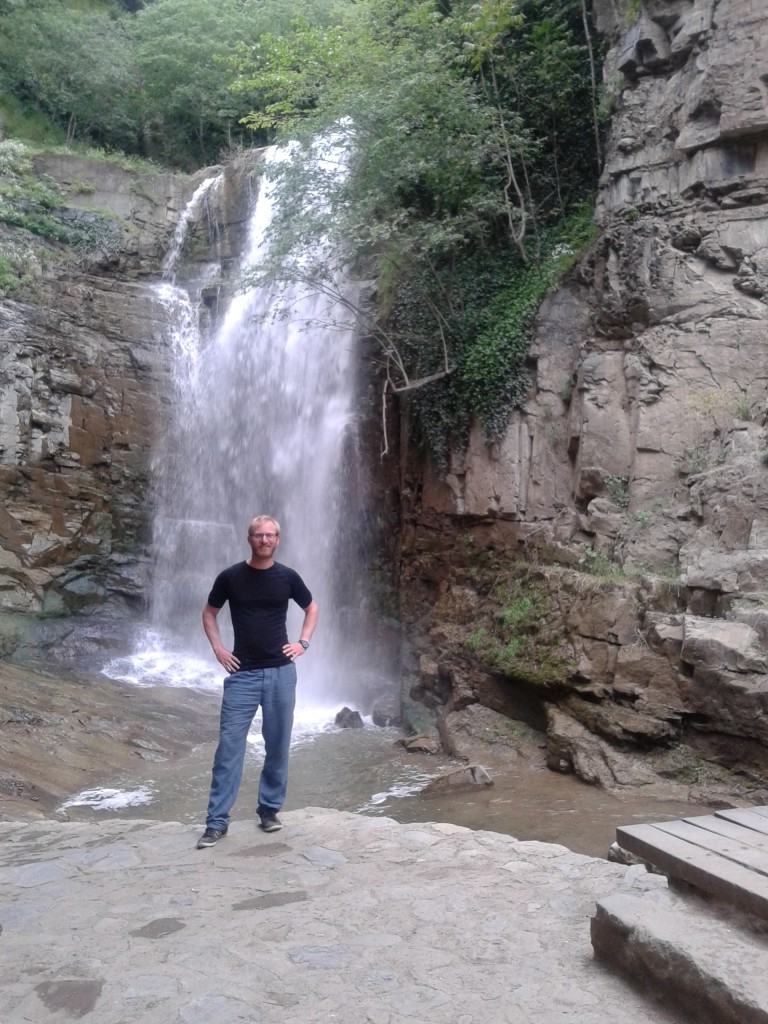 One part of the city, however, was really touristic, but we only discovered it on the last night. And the Georgians there were very rude. We never experienced such grumpy staff in restaurants and shops anywhere else. Not even in Vienna. Also in several stores they started to make up prices. At one point I just asked for my money back at the cashier and left, because I didn't want to pay 7 Euro for a beer and two yogurts.
Anyway, It is a great city with lot of traffic and it is very noisy, but we had a quiet room at an artist's studio in a beautiful backyard.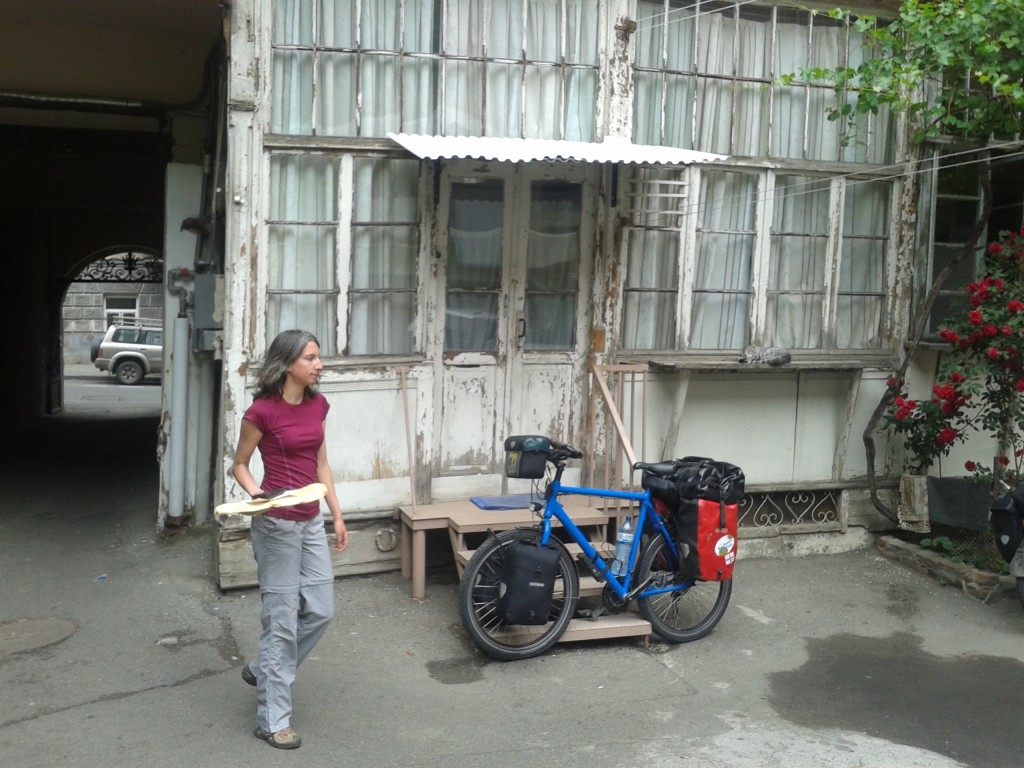 We leave Tbilisi after spending four nights there. Tbilisi is on a low altitude around 400m. So it stays hot and it isn't very mountainous towards the Armenian border. Actually it is one of those routes, where I can think about waste and other topics. Apparently we aren't the only ones who have too much time on hand to spend on dark thoughts. In fact we meet several suicidal animals along the road. First we meet Michelangelo the baby turtle, who is trying to cross the road. We take him, tell him this is just puberty and that he needs to calm down. Things are going to change – in his case slowly. Then we hand him over to a friendly family.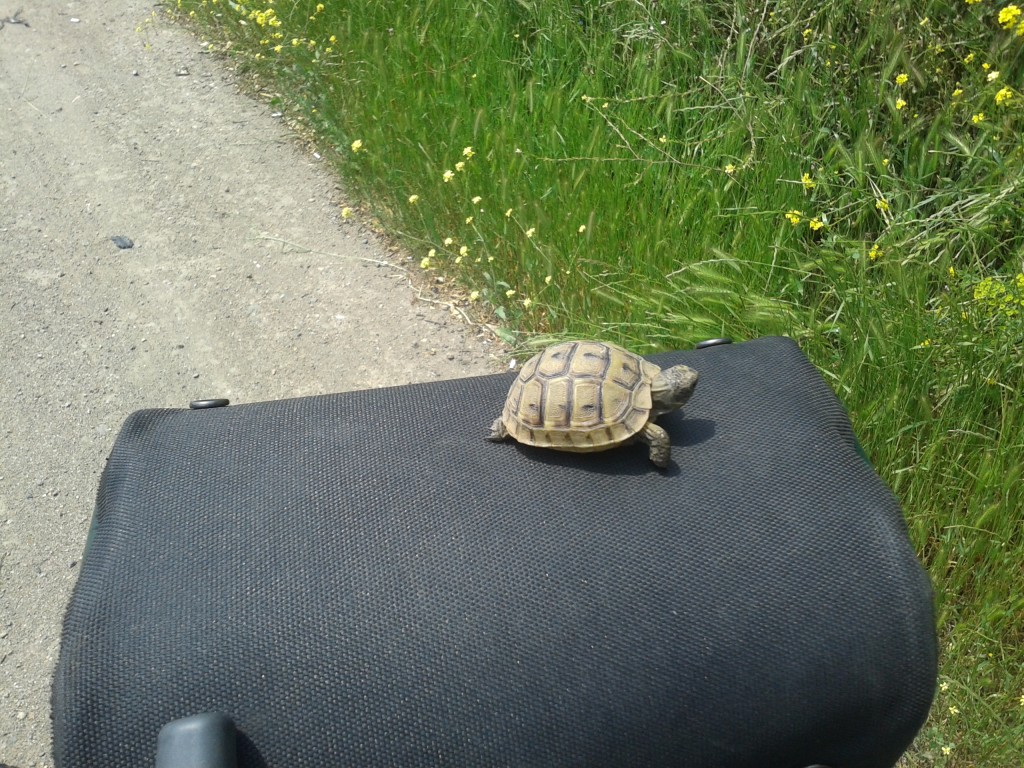 While we are having lunch a few kilometers later, Sonic the hedgehog has a major life crisis. He starts running across the street and suddenly stops half way. He says he has enough. He is tired of hurting others. So I take him to the other side of the street, because he refused to move any further. We tell him: "no pain no gain". So his spikes my actually turn the life of others for a better. While we are eating he crosses the street two more times. He says, he doesn't want to die any more, but instead face his fears and now likes the thrill of crossing the streets several times a day. No risk, no fun.
Later we move away from the road to find a place to pitch the tent at a river. We sit there for a while and locals on bicycles pass by. While we are pitching the tent a really friendly guy directly approaches us and offers us to stay at his house. We decline, mostly because we aren't sure if he wants money. My gut tells me that this guy is OK, but my brain is saying he is not.
Actually this happens quite often and is definitely a heritage of how I grew up living in Germany. Even during our planning phase at home, we often heard to be careful when people are offering something. While this might be true in some cases, I would say in most cases it is not. We should more often listen to the hedgehog: Our own fears are often what we have to fear most, but at the same time, light our way.
And all the roads we have to walk are winding.
And all the lights that lead us there are blinding.
So this guy is standing besides us on his bicycle and doesn't stop smiling and we pretend not to understand what he is trying to tell us. Finally he leaves and actually now I feel bad for pretending not to understand. A few minutes later, another younger man approaches us. He also tries to invite us home. He doesn't say much as soon as he realizes we don't understand (or pretend not to). But again he is very friendly and just keeps standing next to us and he manages to not make this situation feel awkward. Then on the nearby road a black BMW appears and slows down. The young man gets a bit nervous. The BMW approaches us and a suspicious guy looking like he escaped from an Italian mafia movie steps out followed by another guy and two girls. The young man standing next to us talks to them and still seems to be nervous. Suddenly one of the girls explains in English, that the young man just wants to invite us home for free and that he is worried about us. Because at night right at the place where we wanted to pitch the tent, snakes, jackals and wolves have been seen.
So, yeah. That's how you can get the wrong idea about a situation. We follow the young man home, just to find the other guy who approached us earlier, who is his father. We spend the night at a very hospitable Armenian family living in Georgia. More and more family members join in and we eat and drink and learn a lot of new Russian words.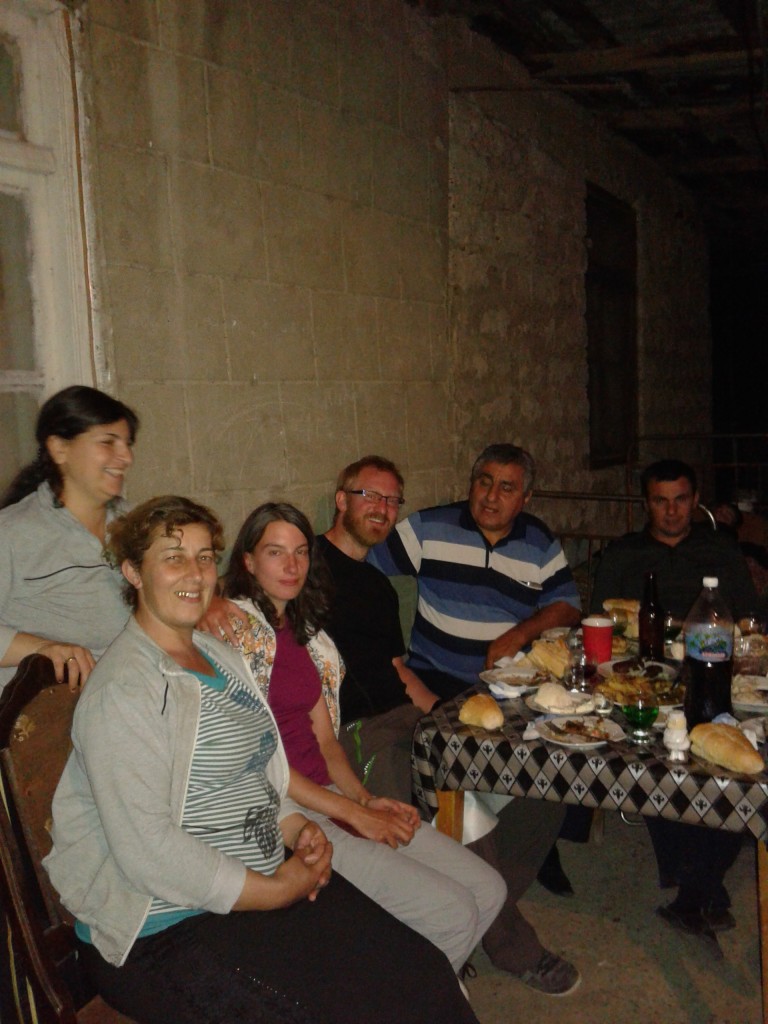 Спасибо Артчр и Артуш.
Thanks Artush and Arthur for not giving up to convince us. That was probably one of the best evenings we had since we started. You were all so open-hearted and we had a lot of fun even after running out of Russian words.
With arms wide open
Under the sunlight
Welcome to this place
I'll show you everything
When we leave, we get a bottle of home made schnapps made of grapes growing on their porch. But we also get an idea of the Armenian hospitality.
So we are prepared to cross the border to Armenia. On the last kilometers ambition kicks in. I want to be able to write my name in Georgian letters. I remember several letters from the signs when entering and leaving villages. But W and F are still missing. And I'm still not sure how the ice cone letter is pronounces. If you don't know what the ice cone letter is, just have a look at the Georgian alphabet and you will recognize it. In the border town Sadakhlo I finally find the F on a vodka bottle in a duty free shop. Now I`m ready to let go. Bye bye Georgia. I loved to read you. ვოლფგანგ.
Now of course, if you cross borders like us – slowly – you don't feel the difference between countries right away. But Armenia again has a new alphabet and of course another currency. So that's the obvious. But I have this feeling, that the cars are getting even more soviet than in Georgia.
Somehow it often reminds me of some pictures of Cuba I have seen somewhere. They have really old school cars and of course these really old yellow buses you see everywhere now.
And they definitely overload their cars. You wouldn't believe those people put on top of their cars. Couches, other cars and probably the whole living room furniture. There was this one car with stuff piled up on top of it more than doubling its height. It looked like in some cartoon. And when the road made a little turn the car seems to just flip over. But no reason to slow down.
The trucks seem to be overloaded as well. At least that explains why we are going uphill faster than them. One truck just comes to a halt almost at the top of a hill, where we just have a break. Then he starts to roll backwards. We expect to witness a major disaster. What happens next to me seems like he tries to push-start the engine while rolling backwards. I'm not sure if this is possible, but I have never before seen a tractor unit jump up and down like that. The driver looked quite relaxed as if this was a well known procedure.
Soon after crossing the border the road leads into a canyon. What I really like here are the little huts where they offer shashlik. You see the smoke coming up and you know you can get a shashlik there. Also of course people invite you a lot. We get sausages, sweets and a whole lunch at several occasions. I think it is no coincidence. Armenia is in fact really hospitable. Also a lot of people just approach us and ask if we need any help.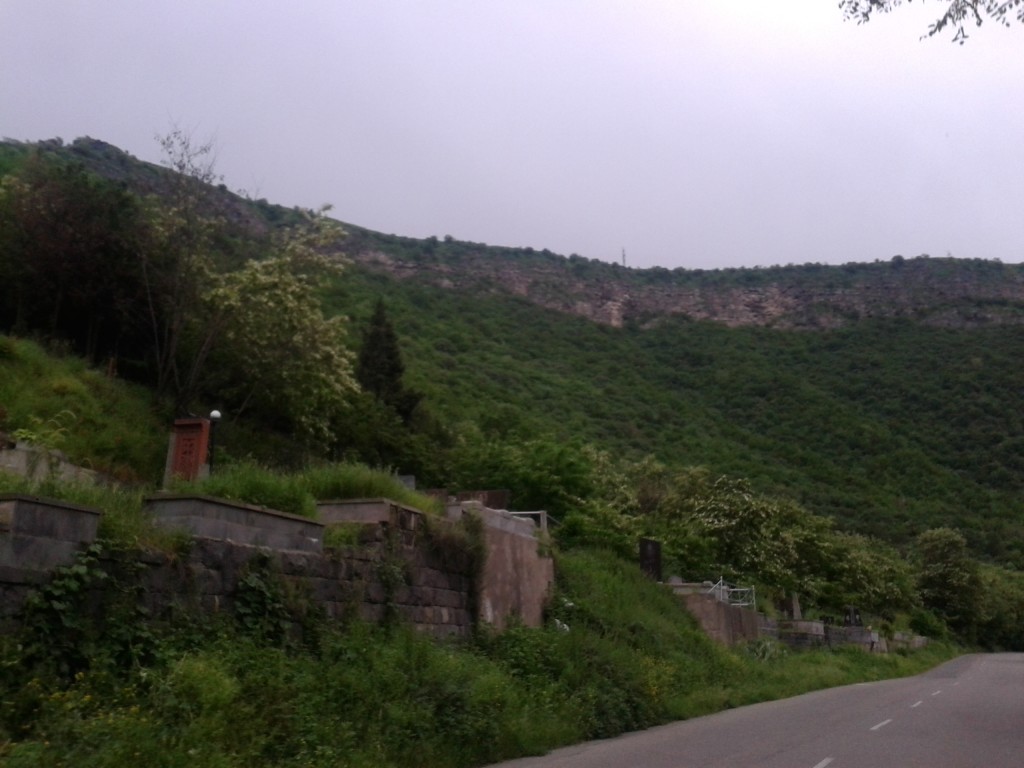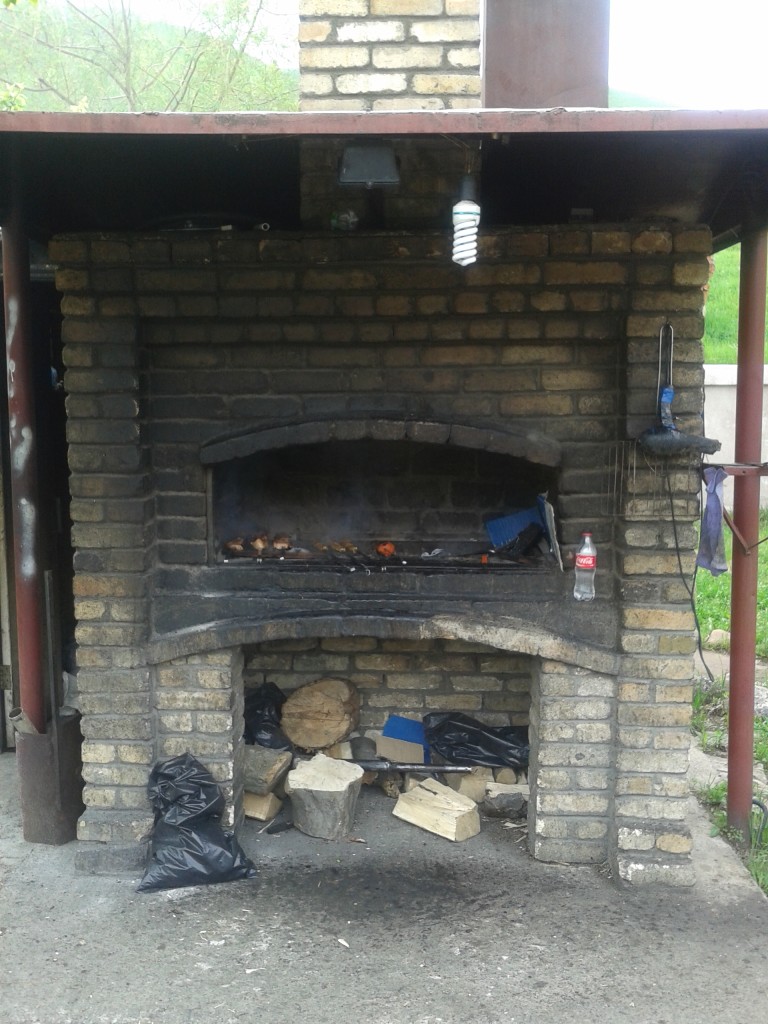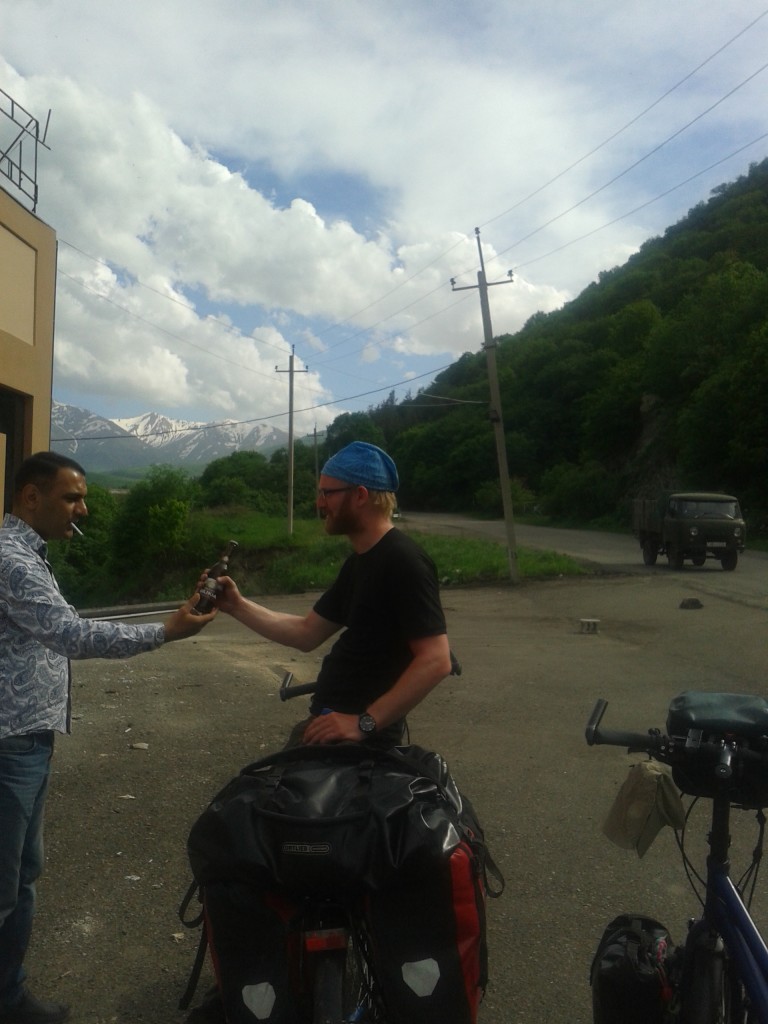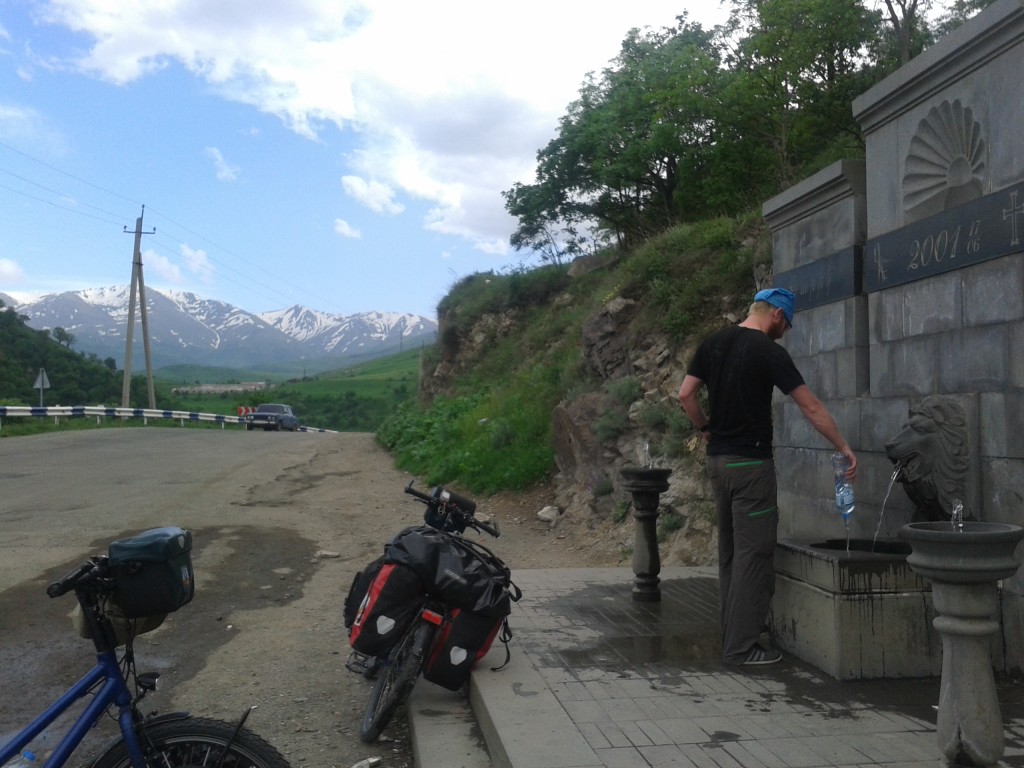 Just a few kilometers before Yerevan, Robert a German cyclist is overtaking. He recommends a hostel where we spend the first night. In the evening we have dinner together with him and his wife and daughter.
The next day we move to a little house in the middle of Yerevan. Actually this part of the city seems like a village embedded in the capital. With narrow roads and stairs. In the house we stay lives Victoria, she is Armenian. And two Germans, who just happened to stay in Yerevan, after they came across this city, while travelling the world. One is a cyclist, the other one a backpacker. While I am writing this post I am sitting on the porch of the house and Columbus, the puppy, lies peacefully on the ground in front of me.
Earlier we prepared some Armenian dish with the help of Victoria. There is also a home made swimming pool on the porch, which I will definitely try out tomorrow. The first day in Yerevan we spend a lot of time at the Iranian embassy to get our visa and then moved from the hostel to the new place. Today we tried to get dollars for Iran and wandered through the city. It is another great city and I have to admit, that I have only heard about it when we started to plan our tour.
And it is really hot. But right now it is almost midnight and it is pleasant to sit outside.