It is different to visit a city on your own or visiting a friend there. In Sofia we visited my former room mate Ventzi from when I lived in Heidelberg and I think we had a great experience.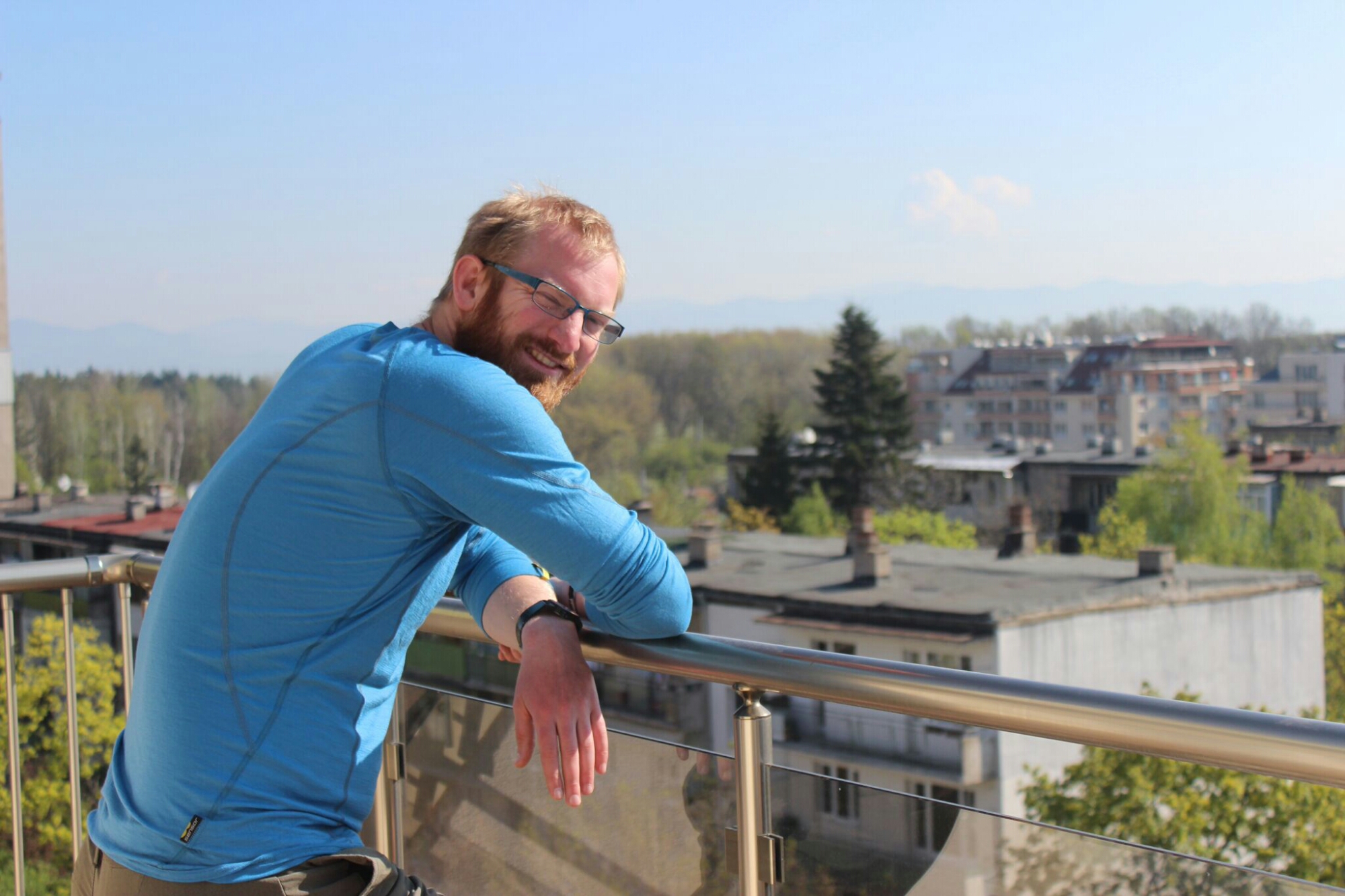 If you visit a city on your own, people like us just wander around. We are both no big fans of tourist guides. I mean they sometimes add some useful knowledge, but following them gives you only a very touristic view of a city.
Now with a local friend as a guide you have the best of both worlds.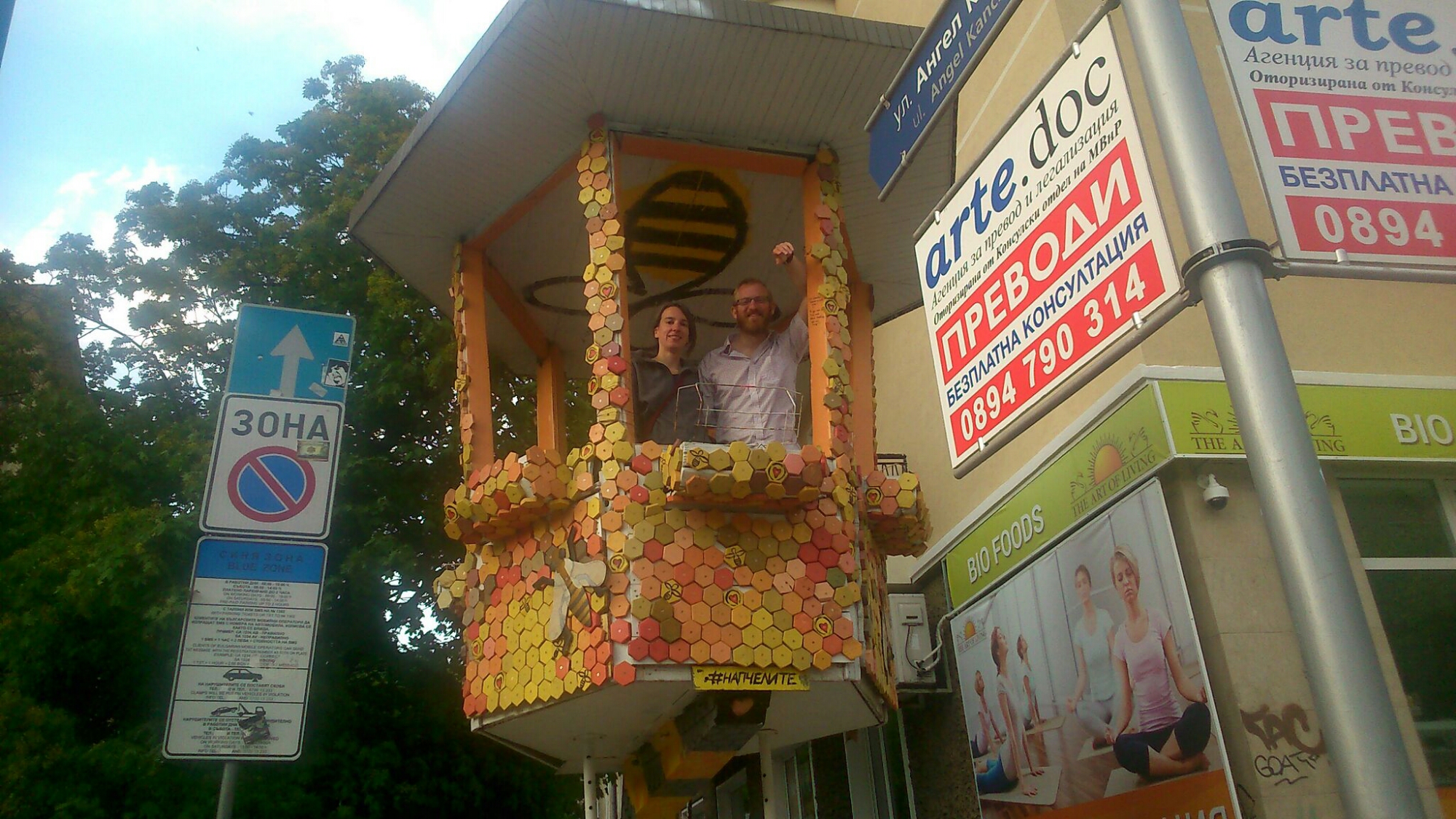 We arrive at night at the main station which is almost totally dark, because at the moment it is only a big construction side. The GPS leads us to Ventzi on a very well marked cycle route. "That's the only cycle route in all of Bulgaria" Ventzi said. He isn't joking.
We have a big list of things to do and buy in Sofia, since we haven't been to a bigger city for some time. "No problem", says Ventzi, "I know a good place for that". So we go to the black market in Sofia. People get nervous, however, when the only blonde guy in town enters the market. As a German tourist I leave the market with new sandals and Cora got new shoes, too. We also need some cords and other stuff. We get everything easily and cheap. I'm absolutely sure, if we just walked around another corner we could buy a rocket launcher and some cruise missiles. And at the exit of the market we could get a receipt for some noodles and tomato sauce worth 2 million dollars. Because that's exactly what is going on here. They actually sell receipts there so you can set your rocket launcher off against tax liability, without being the new war lord. I'm exaggerating…..hopefully. But honestly, they are selling fake receipts.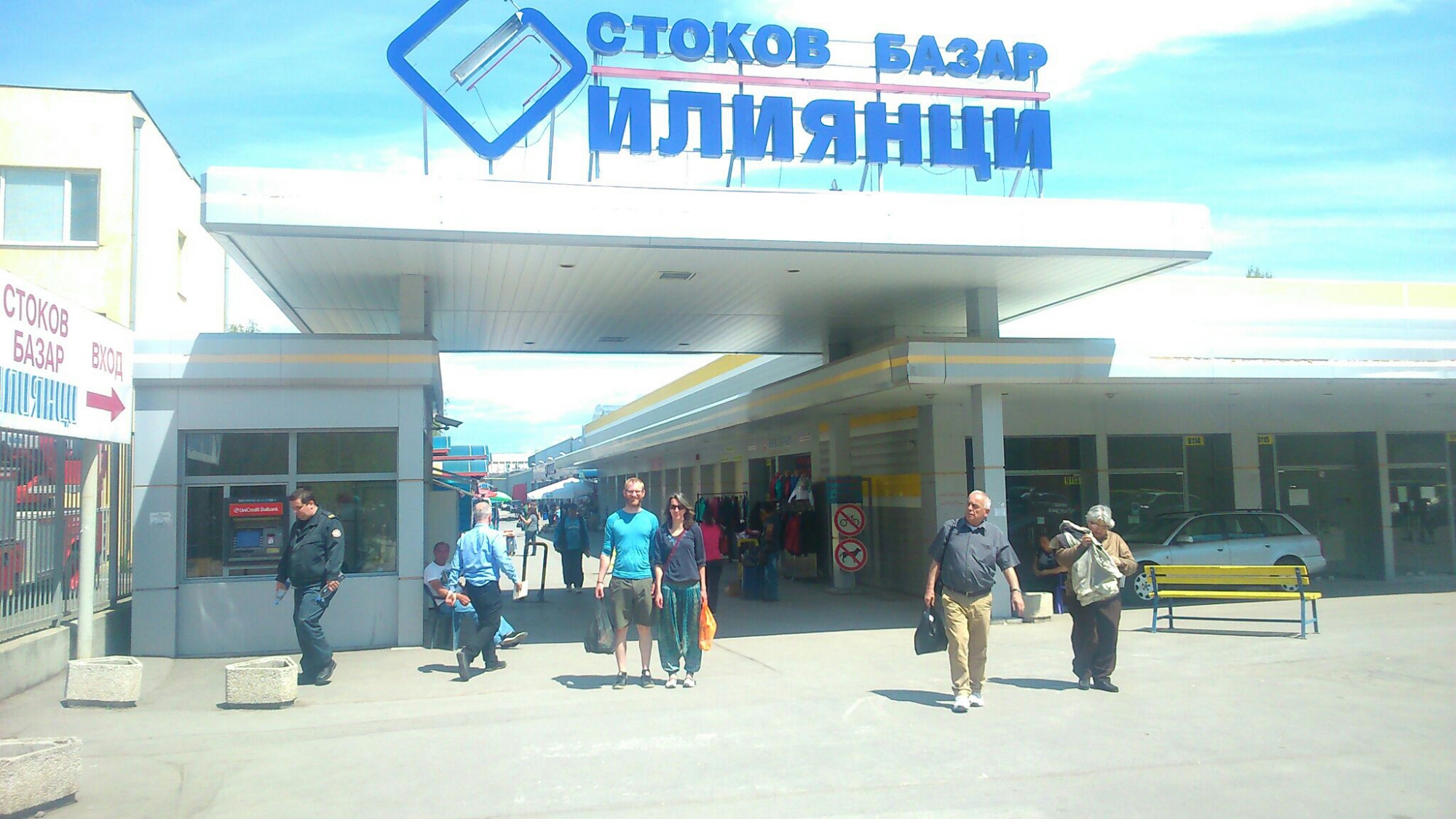 Ventzi shows us nice places to eat and introducs us to Banitza and Bosa. Banitza is something we have missed so far. It is a cheese filled flaky pastry. Sometimes they also fill it with spinach or ham. Bosa on the other hand is a soy drink we saw the other night in a supermarket and were wondering what it tasted like. Now we know. From the picture on the bottle it seems to be primarily a children's drink. It is sweet and I think one liter feeds you for a day.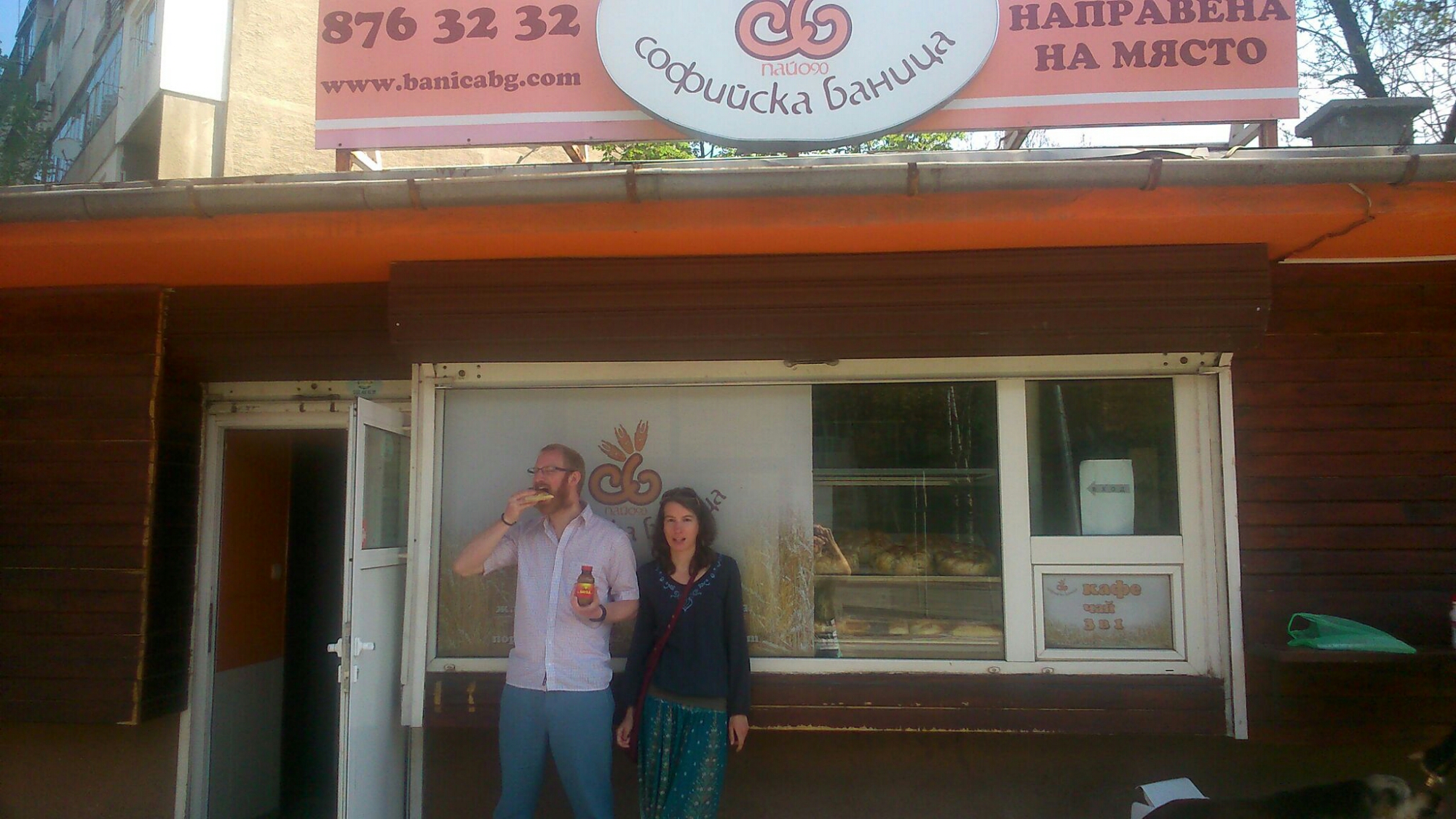 Now since then we actually eat Banitza everyday. For breakfast, for lunch and for dinner. You get it everywhere, it is just a few cents and is delicious.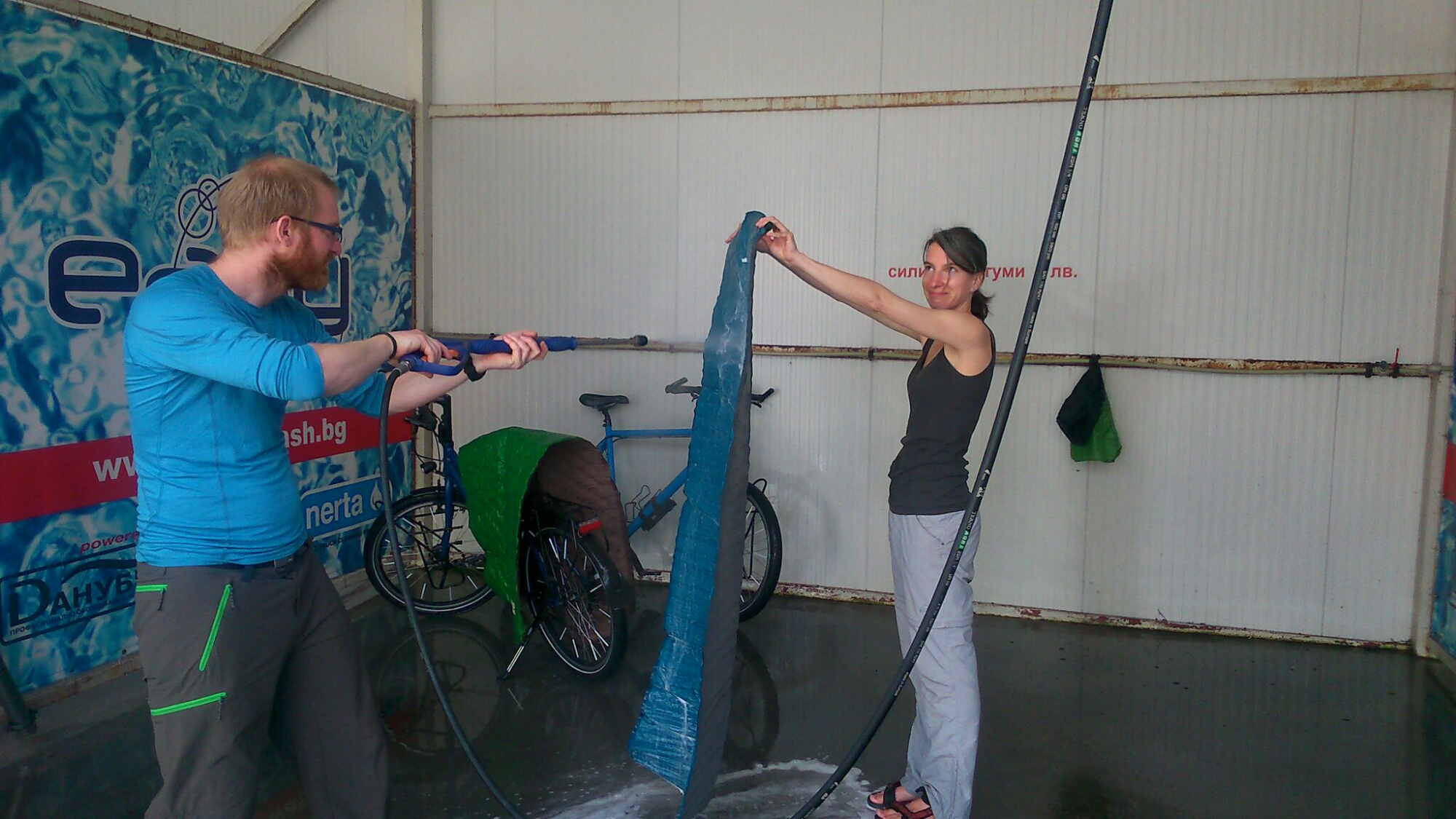 Sofia itself is a great and diverse city. A lot of unfinished buildings along with high apartment complexes – we call them Plattenbau in German – which need some renovation. Then big parks with lots of cafes. Here some soviet style monuments, there a modern bureau complex. A lot of construction work everywhere. And once in a while you look down a long street just to see the snow covered mountains that almost surround Sofia and are really close. The last houses of Sofia actually reach into the mountains.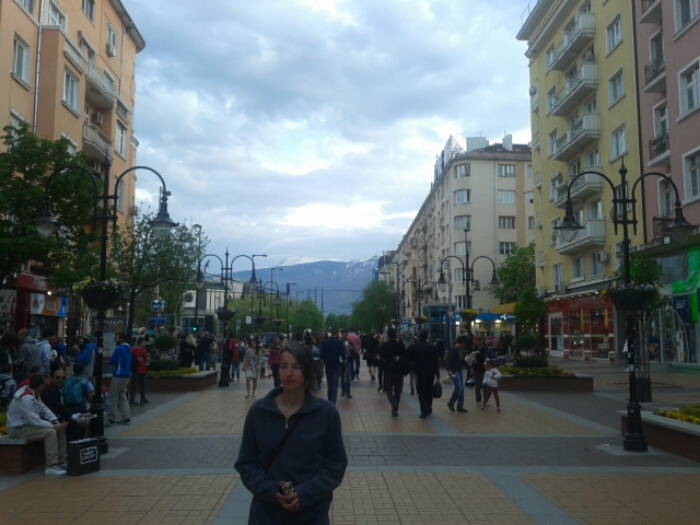 From Ventzi's apartment we have a 360° view over Sofia and the surrounding mountains and sun all day. The only thing missing in Sofia is a big river….or maybe we are just too used to the Danube.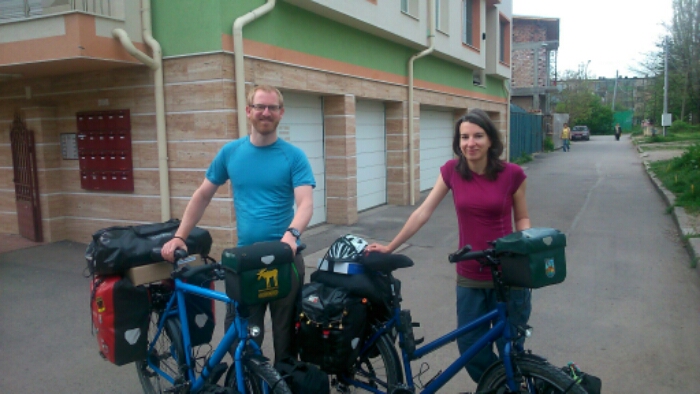 We leave Sofia early on April 28th, go to the post office, buy some Banitza and drive to the main station. Two overly supportive guys help us carry our bicycles and buy the tickets. We don't want there support, but they show their official id from the main station. Then they still want money. We pay them way too much, and shout at them afterwards, because they still don't leave. From now on every friendly guy is suspicious to us – unfortunately, since most still just want to help.
Something about Bulgaria we both don't understand: You go to the post office in the capital….nobody speaks a word English. You go to the main station in the capital and the service staff doesn't speak any English. BUT: You go to a small shop only selling milk, cheese and yogurt…old lady speaks English. The guy mowing grass on the highway speaks perfect English. Even the alcoholic in front of the corner shop speaks basic English. So, if you are ever lost in Bulgaria, ask those people for help. It is even free of charge.
The train is crowded and much more uncomfortable than the one from Vidin to Sofia, which was almost empty and had enough room for the bikes. By the way: Travelling by train in Bulgaria is really cheap. Taking the bicycle with you only costs 1 Euro more.
Slightly pissed we arrive in Русе (<- That`s cyrillic. It actually reads "Ruse"). The next day we set a new record by cycling 125.1 km from Ruse to Silistra. The reason for that is the "Danube-cycling-route" actually is far away from the Danube. We constantly drive on a highway-like road. Suddenly after 15 or 20 kilometers we see a sign no bicycles. Are you kidding me? There is no other road, no crossing, just this one road nothing else. Where are we supposed to go? All the way back? After consulting the grass mowing guy we continue. Just minutes later a police car passes us. Then the wind blows, a chicken crosses the street and far away you here some dogs bark. You got it: Nobody cares here! We even saw cyclists driving the wrong way on a highway. Now tell me again, what is the land of the free and home of the brave?
Anyway, from Silistra to Dobritch same conditions. We make 95km. I just mention this, because it really shows how well we are already trained. We were tired those two days, but far away from being exhausted. In Serbia we could only make 50 to 60 km a day since the trails were bad. Now on paved roads the bikes show their full potential.
And now? Yes, I'm sitting here with a beautiful view over the black sea and we have blue sky. We arrived here on May 1st and will stay here until May 7th when our ferry to Georgia departs. Yesterday I swam in the sea and we eat tasty fish in small restaurants in the middle of some little forests. The coast here consists mostly of 100-200m high cliffs with little bays. In one of those we found a little camping place with some apartments and our private beach.

That was the first part of our journey. Read about the facts in the next post. We feel good and well prepared for the next countries. The second part of this journey will lead us through the Caucasian mountains, Iran, the Central Asian countries and will end at the airport in Almaty (Kazakhstan). Let's see what happens. Stay tuned.