Right now I am sitting on the bottom of the train between Sofia and Ruse typing on my new external keyboard. I just completed the post about Belgrade, since I couldn't finish it when we were still there.
Luckily this time I only have to recall the last 8 days and not a whole three weeks.
We leave Belgrade on April 20th, cross the bridge to the left side of the Danube and are out of the city and on the Danube dyke again. After these few days in Belgrade with its noisy traffic, we get much more relaxed with the dogs.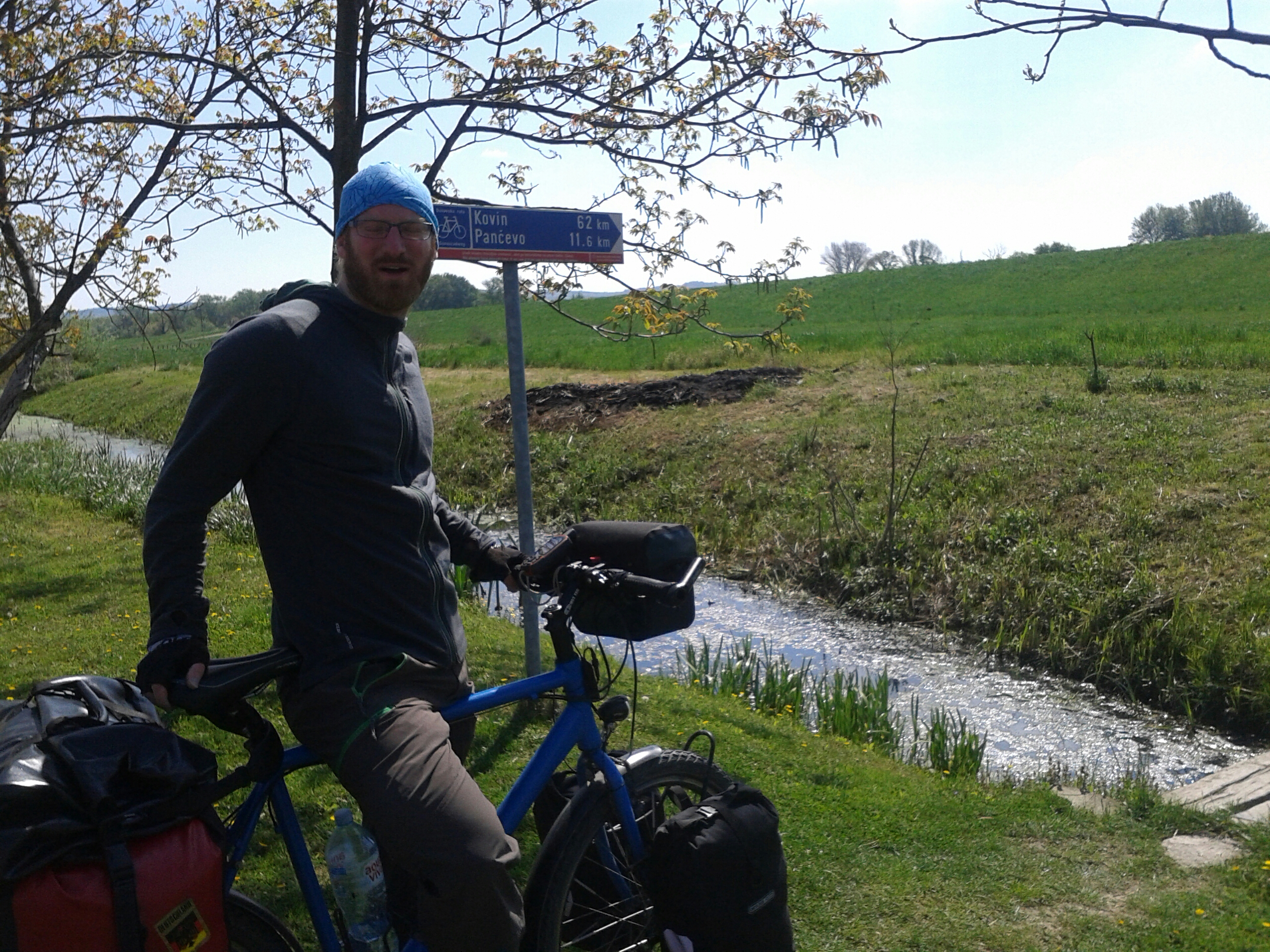 The Danube soon becomes very wide. It now has a width of over one kilometer. That gives us the impression of cycling along an ocean coast – with an island just a kilometer away.
Everything gets more touristic here. A lot of new buildings are being built and you see more frequent ROOMS signs.
While waiting for the ferry to cross the Danube we meet another German cyclist, Kurt, who is already retired and travels with his e-bike to Istanbul. After crossing the Danube he just puts his e-bike switch to "turbo" and he is gone, while we need to climb uphill slowly, because we are now entering the south western Carpathian mountains. Actually the first hills since the Schwäbische Alb in Germany.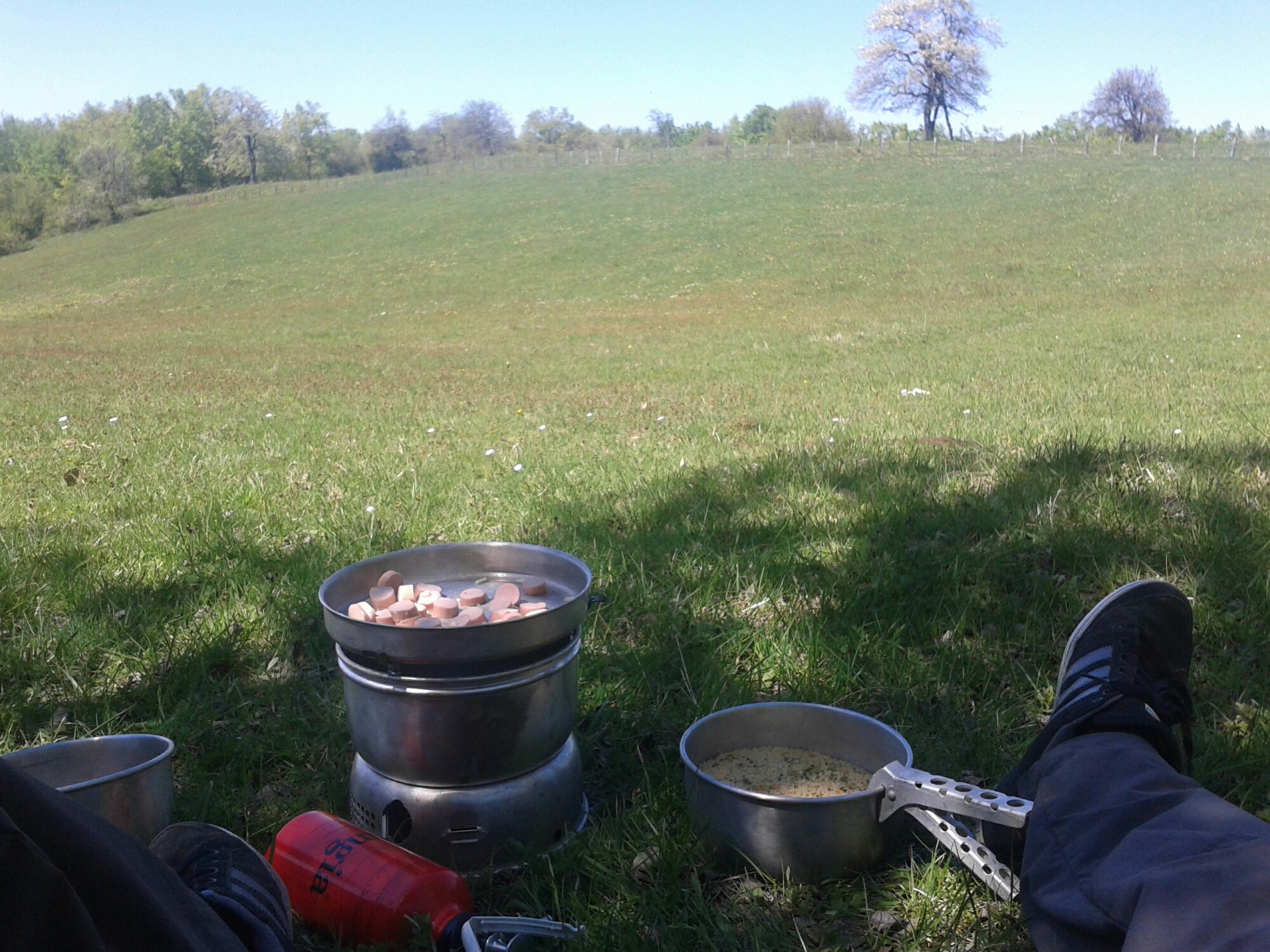 Side note

Typing on the floor of a Bulgarian train without (?) any shock absorbing, is too much for me. I have to quit here and finish later. I need some chocolate!
OK we are out of the train. Chocolate is gone. Back to Serbia:
Along the way we often see trees full of pictures of people who died. Also on some houses there is a picture of someone framed black. It is an unusual thing we see more often as we move further towards the Romanian border.
A more or less funny thing are the missing manhole covers. Apparently the metal they consist of is worth a bit and so they get stolen. You have to watch your step if you don't want to fall down 5m into darkness.
And of course the waste is something following us along the way. Not only do you get a plastic bag in every small shop, even if you only buy a postcard. But people put their waste everywhere. It is really too much.
Our last night in Serbia we spend just a few meters from the Danube and around 30km away from the border crossing at Negotin.
The next day we start early. We have to cycle back and forth and spend 2 hours until we finally can move on, because several mud slides have blocked the trail. Around noon we finally cross the border to Romania.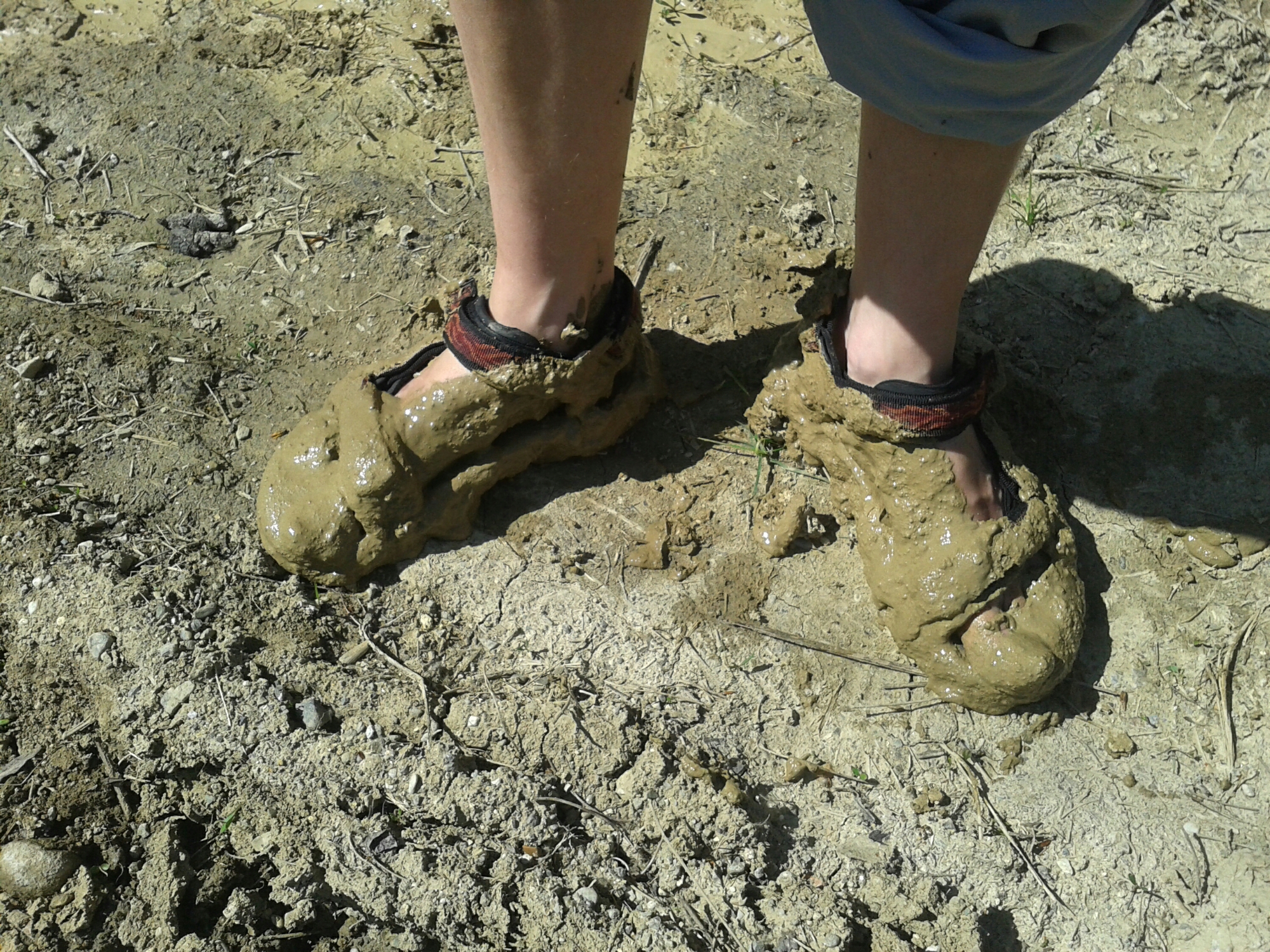 Expert's advice

If you want to cross the border from Serbia to Romania and the Serbian border police asks you "where you go?". Don't answer "Romania".
As soon as we enter Romania almost all cars are gone. There are horse carriages everywhere now. We drive through several small villages and eat some bread on a bench, when Cora asks a lady if we could wash the cucumber in her garden well. She tells us that her son works in Bristol. And her husband again tells us the same story. So we assume he moved to UK. Only half an hour later we enter another small village called Pristol, so…..yeah….I guess he has to tell a lot when he returns.
We have our first Romanian beer in a small pub at the main road. Some guys just finished work and drink beer together. Another two guys join, after they have parked their horse carriage in reverse. People are really polite and we feel good here.
The Danube is now a bit away from the road we are cycling on. However the landscape is more like a little canyon or a cliff, so the Danube once must have been huge here.
It is getting darker and we try to get closer to the river to pitch our tent. As we stand at one of the last side roads in a small village called Garla Mare, a guy asks us in German, if he can help. We explain our plan to pitch the tent somewhere around here. He offers to use the garden on the other side of the street. More and more people are gathering around us and are trying to help. An old man on his bicycle is eager to help us and tells us to follow him. He shows us a small trail down to the Danube. He says we just have to cross a puddle of mud and then can easily reach the Danube. We cycle down this very steep trail, but cannot cross the puddle. It is just too deep. The old man observes us all the time and as we are coming back he runs towards us to help us push the bicycles up the hill again. He almost gets a heart attack before another younger guy supports us. The old man then invites us to stay at his home. His wife is not amused but he insists. This guy just owns a really small farm, grows tomatoes in the garden and has some chicken and other little animals. He leads us to another house, where his children probably lived before they moved out of Romania, and he shows us a room with a bed. We can wash ourselves with the water hose in the garden and then he wants to show us his Televisor. His wife has only one grumpy facial expression until we talk about the past of Romania and I mention, that Ceaucesco and his wife were hung. For a few seconds she is laughing her ass off and he shouts "revolution!".
We then watch televisor with lot of Romanian folklore and "Romania au talent". Tired we eventually fall in our bed in this peaceful little village with its truly hospitable inhabitants. It will be the only night we spend in Romania, but I'm sure our host will chat about us for the next couple of days.
The next day we drink coffee with them and take a picture. It touches me when I think about it, because he got so nervous about the picture, as if it was something very formal.
We soon leave and then cycle to Calafat and finally cross the border to Bulgaria on a highway.
In Vidin, the first city on Bulgarian ground, everything changes again: In Serbia there were a lot of car brands like Yugo and Lada. In Romania we saw mostly horse carriages. Now here in Bulgaria people seem to like nice cars. We have lunch in Vidin and then take the train to Sofia, since we now have to leave the Danube and it would take too much time to cycle to Sofia and back.