We get up at 7am in Bajgiran. I take an immodium pill to make it through the day. The border opens at 8 o'clock.
Checkpoint One – Customs
Three guys are standing there smiling and wishing a good trip in some more or less understandable English. We stop to ask if they want to see our passports. "No" and "move on!".
We now move up to the actual border crossing.
Checkpoint Two – X-ray
We enter a big hall. All our bags are getting x-rayed. Some guys stand around looking at us. Others check the content of the bags of some Turkmen women on their way back to Turkmenistan. Not much talking here. This border crossing is on a silent hill. We leave the hall.
Checkpoint Three – Passport
There is a little stall. Two guys are sitting in it. Another guy is standing outside with a rifle in his hand. Everybody is smiling and friendly. We show our passports and get them back quickly. Just 5 meters away form the stall there is a big white metal gate. We walk through it and are now in….
Checkpoint Four – PASSPORT!!!!
Some guy is yelling at me. We are in Turkmenistan. His stress level is high as if the days were shorter in Turkmenistan. In fact we just lost another 30 minutes, because we entered a new time zone. This guy is grumpy, but as soon as he has our passports in hands he opens a book and calms down. Then he hand writes our names and passport numbers in the book. Without saying a word he hands the passports back to us.
A young soldier is standing around with a rifle. We pass him and enter a big hall.
Checkpoint Five – Temperatur
Inside the hall, several Turkmen women are waiting to cross the border. Also two soldiers are standing around. One of them points to a door. We go there. It is open, but nobody is there. We look at him. He is out of ideas. Another guy approaches us and takes us to his office behind another door. He takes our passports and hand writes name and number into a book. Then he directs us to lean over his desk. He points a tool towards our forehead to measure our body temperature. He then says "very good" and writes down the temperature in the book. He leads us out of his office to the other door again and rings a bell several times.
Checkpoint Six – Pay
A stressed lady runs across the hall towards the door and sits down behind her desk. We move in behind her. She tries to explain with gestures that I should leave the door open. I don't get it right away and she gets even more stressed. We then both have to pay 11 dollars. That's just the fee for entering Turkmenistan. Surprisingly we even get some change back in Turkmen Manat.
Checkpoint Seven – Turkmenification
We now stand in line with some Turkmen who get yelled at constantly by a dude behind a window. The Turkmen surrounding us are very polite, some even explain, that we come first, because we actually were here before them. All Turkmen are calm and do as they are told. However, they all look slightly scared. The dude behind the window suddenly turns to me and yells: "Mister, do you understand Russian?". He asks in English. I answer in Russian: "A little bit". He continues in English:
He: Passport!!
(I hand over the passport)
(He gives it back to me)
He: Go to kassa!!! PAY!!
Me (to Cora): Quick, give me the receipt.
He: GO TO KASSA!!!! GO TO KASSA!!! KASSA!!!
(I hand over the receipt)
He: 5 days?!!
Me: Yes, transit.
He: First night?
Me: Ashgabat
He: Hotel?
(I hesitate for a second)
He: HOTEL!!!!
(I knew this was coming, because we've read about it. They want to know the name of the hotel you are going to stay. I try to remember the name of a hotel…)
Me: Syat
(The Turkmen around me talked to each other trying to help me find the name of the hotel. I feel like in school, unprepared to answer a question, but with some friends around whispering the correct answer)
He: WHAT??
(OK, didn't work. There was another one. The most expensive mentioned in the Lonely Planet. I remember it was part of the Sofitel hotel chain)
Me: Sofitel
He: WHAT?!!!
Me: Sofitel
He: Go back to Iran!!
He then hands back the passport to me, yells at the next Turkmen and continues to check their passports.
Cora meanwhile got the Lonely Planet out of our bags. I move to the counter again. Then show him the name of the hotel: Syýahat.
I was close.
He: Second night? Derweza?
Me: Yes
He: Third night?
Me: Konye Urgenc
He: One. Two. Three. Uzbekistan. But you have five days…?
Me: We are on bicycle. One more night if we have a problem.
He: Bicycle?
Me: Yes
He puts a stamp on the Turkmen visa. Then yells at Cora. She doesn't have to explain everything again. He just asks her one question. She doesn't understand him. He puts another stamp on her visa and then with the most cynical smile says:
Welcome to Turkmenistan!
Checkpoint Eight – X-ray
The Turkmen of course cannot rely on the x-ray of the Iranian border control, so they x-ray everything again.
Checkpoint Nine – customs
Officer: No guns?
Me: no.
Office: No drugs?
Me: no.
Officer: Medicine? Pills?
We: Yes, some medicine.
Officer: Let me see.
They then have a look at all the headache and diarrhea pills and finally let us go.
Checkpoint Ten – Dog
A lazy dog is laying on the floor and a young soldier is standing awkwardly besides him. The dog doesn't move, when we pass him. The soldier just nods and we continue.
We leave the hall. The border crossing just took us a little bit more than an hour. Now a paved road in front of us, going downhill from 1650m to 300m directly into the center of Ashgabat. We roll down 30m, then a soldier is standing in our way: STOP!!
He tells us to move to the side of the road and wait for the marshrutka. Apparently the next 15km (half the way to Ashgabat) is military property. We are not allowed to cycle down. Our bikes get loaded into a marshrutka and we drive down the mountains.
Checkpoint Eleven – Passport!
The marshrutka stops, we have to pay a lot and want to leave. A dude yells at us. Another dude yells at us and runs towards us as if we try to escape a prison. A third dude yells at us. The two other dudes look at the third dude. The third dude has more duderinos on his shoulders. We move towards the Dudeness. The other dudes calm down again and turn away. Our Dudeness takes our passports and hand writes name and number into a book.
We then turn around and walk towards the barrier gate. A dude yells at us, because we have to go through his gate (for pedestrians). The dude at the barrier gate yells at us, because we have to go through his gate (for cars). Both dudes confuse each other. They look at the Dudeness. The Dudeness points at the barrier gate for cars. The pedestrian gate dude calms down again. The car gate dude opens the barrier. I'm close to asking: Dude, where is my car?
Maybe we are now in Turkmenistan.
Probably we are now in Turkmenistan.
It is most likely we are now in Turkmenistan.
I'm convinced we are now in Turkmenistan.
In fact: We are in Turkmenistan!
No more checkpoints. We drive down the road and roll into a city, which is again easy to describe in one word: White!
Ooh, baby (Ooh, baby)
It's making me crazy (It's making me crazy)
Every time I look around
Every time I look around (Everytime I look around)
Every time I look around
It's in my face
Every building is white. All facades are white marble. This was once an order by their former president – The Turkmenbashi.
Oh, I forgot….
Gentlemen, welcome to Turkmenistan!
The first rule of Turkmenistan is: You do not talk about the Turkmenbashi.
The second rule of Turkmenistan is: You do not talk about the Turkmenbashi.
The third rule of Turkmenistan is: If you are in Turkmenistan for the first time, you have to ask about the Turkmenbashi.
We visit the independence monument, the golden Turkmenbashi statue, the tallest flag pole in the world, the national museum, the Turkmenbashi Palace, another golden Turkmenbashi statue, the Lenin monument and the Great Patriotic War Memorial, which I wanted to visit just because of its name.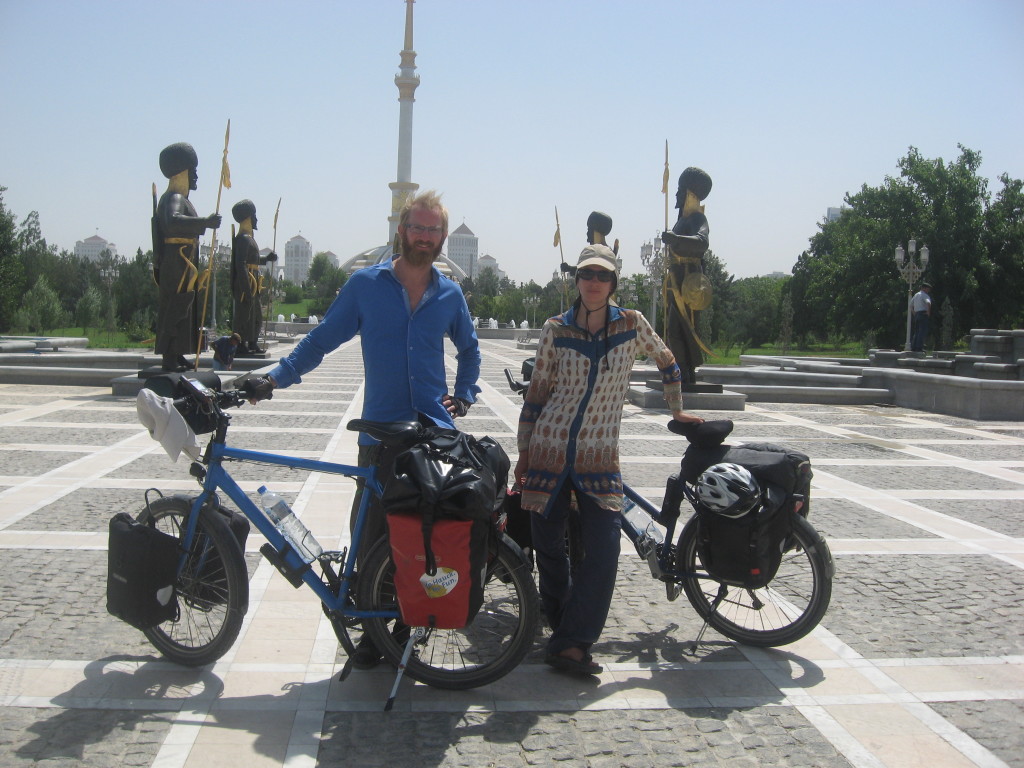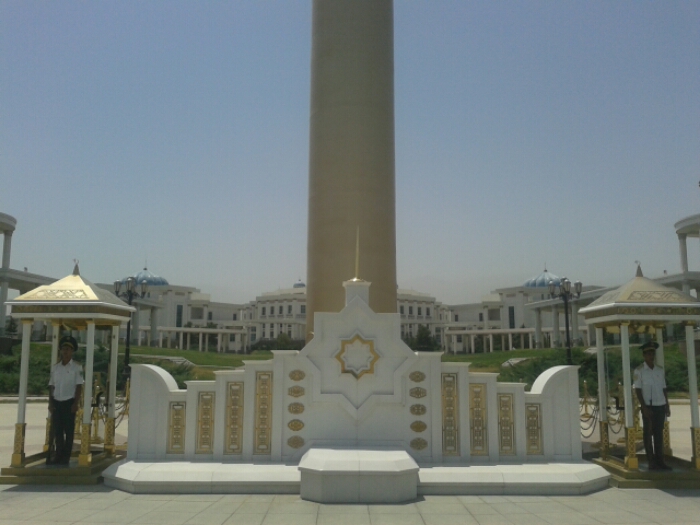 A lot of soldiers are standing around everywhere in the city. The younger ones are all scared and unable to answer the simplest question like: Is this street XYZ?
I have no idea why. However, at that time I don't know yet, that having a beard is not allowed in Turkmenistan. So maybe they don't want to be seen talking to a red bearded terrorist. I mean tourist. Sometimes we stop at an intersection and get yelled at by some police officers. Sometimes we take a turn into the wrong street and get yelled at by some police officers. Sometimes when I try to take a picture I get yelled at by some police officers. Especially around the Palace you are not allowed to stop let alone take pictures. And the yelling seems to be their way of doing things. They cannot stay calm and just explain the situation. They yell at you like you are a cat on the dinner table. It's funny. They even have a whistle to get your attention before yelling at you.
Ashgabat itself is a bizarre city. It is a mixture of Monaco and Dubai. It has a lot of artificial parks that already start many kilometers outside the city. They are constantly watered and gardeners try their best to make them beautiful. But still there are big gaps between the trees. Something is missing. It looks like some Lego trees standing on a grey carpet.
The city is also very clean. Thousands of workers tidy everything from morning to evening. Since Ashgabat has probably the highest density of water fountains this is a Sisyphean task. But in the end, everything is in fact clean.
Between the huge and imperial looking white buildings are big three or four lane streets, with only a few cars driving on them. Some parts of the city look like the street has been build first and then, starting in the center, one building after the other has been put close to the road. Between the buildings is often nothing but a wide gap.
The city has no center, at least we couldn't find one. Of course there is the parliament and the Palace, but there is no center for the people, with restaurants and cafes and shops. They have some huge shopping malls, though. And an even huger bazaar outside the city.
A lot of buildings are just bizarre works of modern architecture and of course they are all white.
We get some money at the only ATM in Turkmenistan that accepts Visa cards and then try to find a hotel. We know even the cheapest hotels are around 50$, but we only stay one night in Ashgabat. The other two nights in Turkmenistan we want to use the tent. In Ashgabat it is unfortunately not allowed to pitch the tent in parks like it is common in Iran. In Ashgabat you are actually not even allowed to be out in the streets after 11pm. We had tried to get a room via couchsurfing, but got rejected. There weren't many couchsurfing hosts in Ashgabat in the first place.
We ask at two hotels. Both are full. In the second the receptionist calls several other hotels. All full, except one. However, it is 75$ per night.
We decide to leave Ashgabat the same day and pitch the tent somewhere outside the city. But before that I want to drink at least one cold beer. Because during the last 40 days in Iran I couldn't drink a single beer. Even their alcohol free beer has hardly anything in common with a beer.
Luckily there is a small cafe just around the corner.
We drink a beer, eat a burger and discuss our options. I actually would like to stay in a hotel at least one night, because I feel ugly after several days in the tent.
After an hour a guy in a suit enters the cafe and takes a seat on the table next to us. His name is Tim, he speaks English very well and asks where we are from. We talk for a while and he is interested in our story. We ask him to do us a favor and call some more hotels, that are mentioned in the Lonely Planet. We finally find one, that has still a room for 60$ the night. Tim then asks: Do you really want to stay in a hotel?
Well, since you ask… Tim has to wait for a colleague he actually wanted to meet in the cafe. After that we drive a few kilometers to a big intersection, where Tim is already waiting for us. We move inside one of those 12 story buildings. Of course it is a white building. White marble. Tim lives together with his wife Marina in a large flat. We can take a shower, wash our clothes, charge our batteries and have dinner together. We talk about Ashgabat and Turkmenistan and feel soon like at home. I remember the third rule of Turkmenistan and try to start a conversation about the Turkmenbashi. But Tim is aware of rule one and two of Turkmenistan: You do not talk about the Turkmenbashi.
Already at this point we are happy that we have met Tim. He and Marina are such friendly people and we didn't expect to actually stay at someones home in Ashgabat. It is just not a city where you'd expect something like this to happen. And we are on transit and being in a hurry makes it even more difficult to get in touch with locals. We planned to rush through the country and just make sure we make it out of it in time.
We sleep well in a quiet room with air condition inside a marble white building. We have found a friend in Ashgabat, who makes us feel much more comfortable in a country with an interesting Wikipedia article. And we no longer feel like on transit, disconnected from the country and its people.
Thanks Tim and Marina. That was just great!