During the last weeks I always had difficulties to describe a city with a few words. Most cities or parts of them can be described as beautiful, vivid, full of life. But what is unique for a city? When we arrived in Batumi I easily found a good word that fits well: Colorful.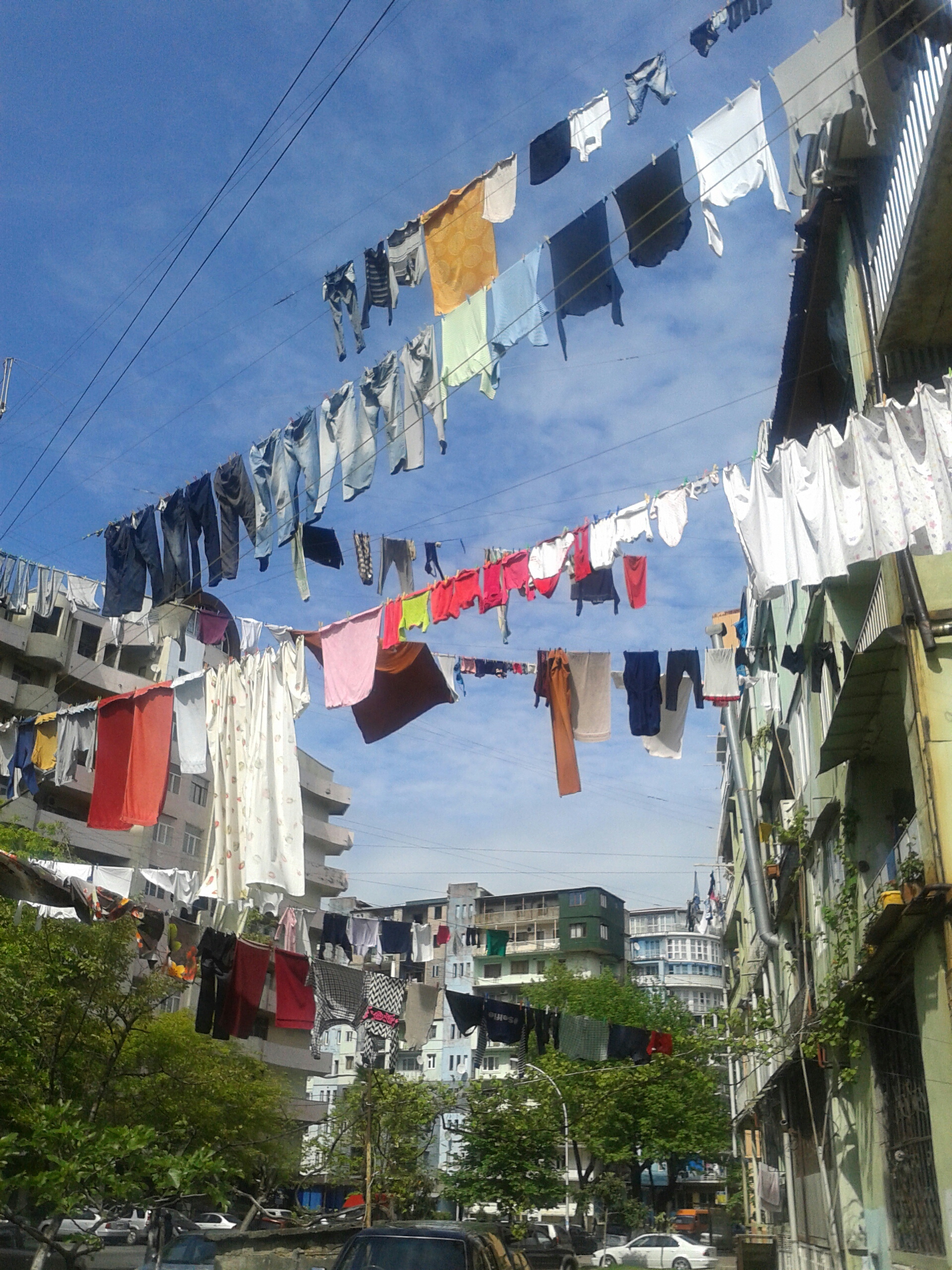 Not only is the city itself colorful – for instance the facades are all in different pastel colors. But also colorful laundry is hanging above you in the streets and trees are blooming in blue, white or purple.
Batumi is also very touristic and for the first time we use the Lonely Planet to get accommodation, which makes it even more touristic. Because the path of the righteous traveler is beset on all sides by the inequities of the package tourist and the tyranny of tourist guides. So we meet 5 backpackers and one Polish cyclist on his way to China. All by just staying at one Lonely Planet recommended guesthouse. In our first 8 weeks we only met two travelers.
Don't get me wrong, it was an interesting evening with great people. But following the tourist guide always leads you to tourists and not to the people. Anyway, from time to time having a conversation with other travelers is good. Especially when they speak English well and have been to countries we will visit soon.
After we checked in at the guest house we just want to change the last Bulgarian notes we have left. There are change offices everywhere, however, they do not change Лев. It takes us roughly 3 hours to finally find a bank capable of doing us the favor. At the same time they have a major power failure in most of Batumi. This not only means you can't get a cold beer any more, but also that a lot of shops run their diesel generators which give the city its very special vibes.
We only stay one night in Batumi and leave early towards Khulo. Already on the way along the main road into the valley south of Batumi everything is a little bit different. Other trees, other birds, other roads and of course the Georgian letters. No more Latin, no more Cyrillic. Now it gets really funny.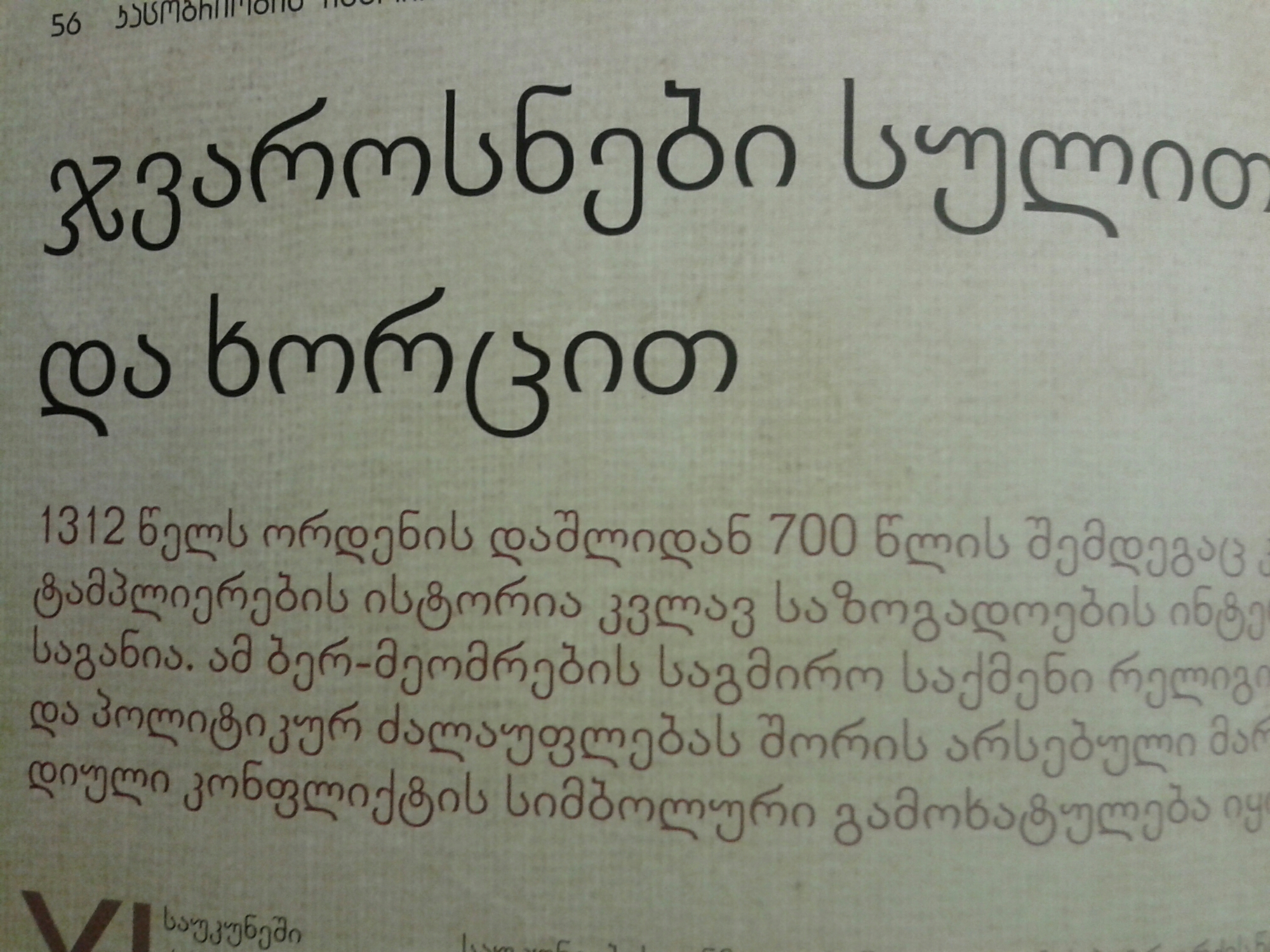 We move up the valley towards Khulo always accompanied by Acharistskali river. Other than the Danube it is now getting smaller and smaller from hour to hour.The mountains are covered in dense fog, which makes the forest look even fresher, like a rain forest.
Only a few kilometers before we finally arrive in Khulo the probably most dangerous incident so far happens. We hear a loud cracking noise and see a big rock falling down just 100m in front of us. For the next kilometers we feel uncomfortable on the road.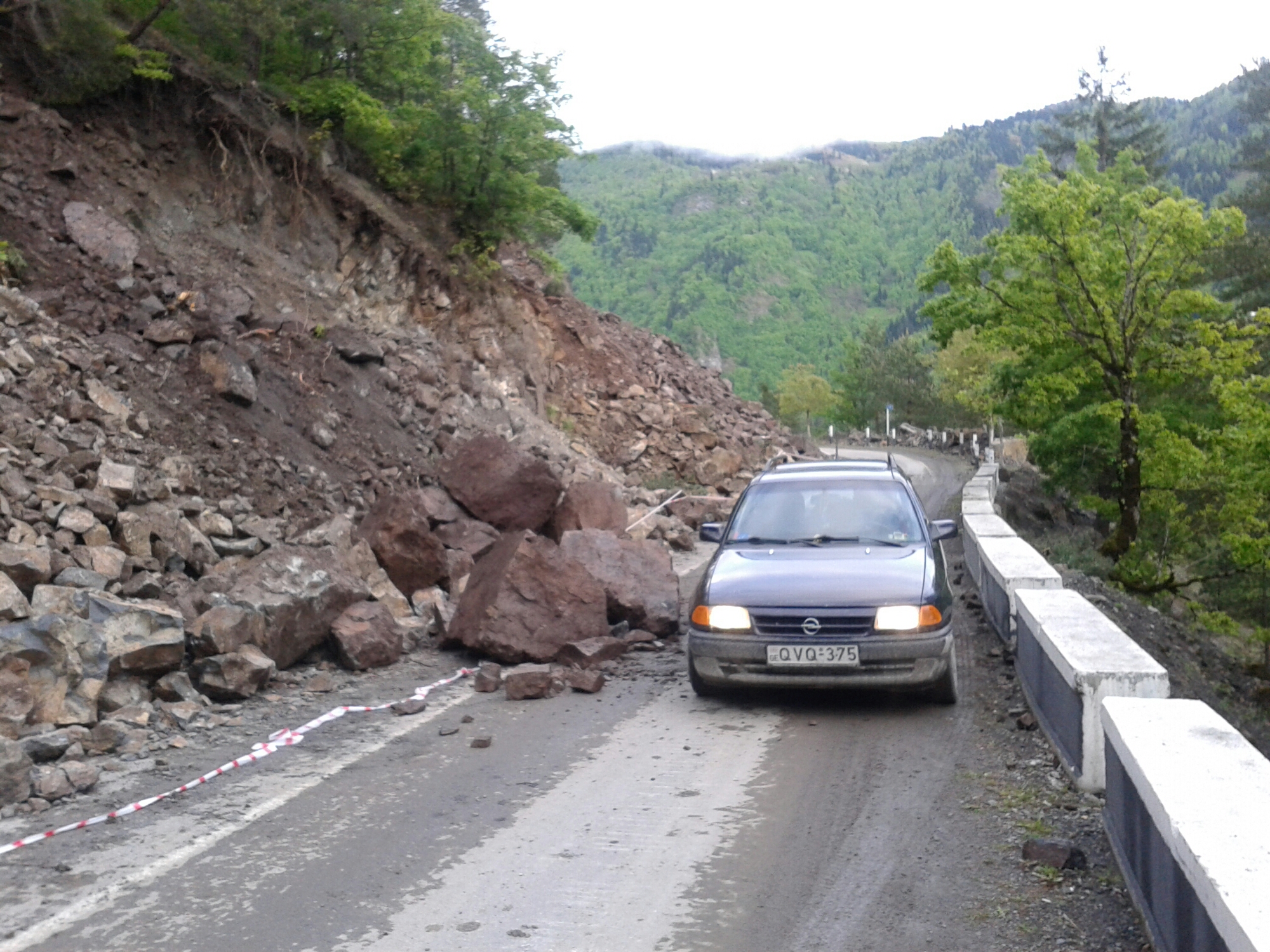 Khulo is a little town even with a hotel. However, we decide to try something we have been told works in Georgia very well and is in fact quite common: Just ask people and stay at their homes. They often offer this already but have no signs on their houses. We easily find a place to stay. Since the family already had dinner, they only offer us coffee and fruits we have never eaten before. Their youngest son Erekle then leads us to a small restaurant serving delicious regional cuisine. One dish is similar to cheese fondue. The other looks like sliced Maultauschen, but tastes more like some pasta.
Back at the family's house we soon fall asleep, while their fireplace dries our shoes and clothes over night.
The next day we start while it is still raining and from Khulo on, the road is really bad.
A black dog is following us most of the time. He is not barking at us, but enthusiastic and only barks away the cows standing in our way. We really like this dog. He is a friendly companion.
The villages now often have mosques instead of churches. One village has a church, another has a mosque. Some have both. See, that's how it is done!
Actually we want to cross the pass at 2025m that day, but the road and weather conditions are too bad. At around 3pm we decide to stay a night at the last village Danisparauli on roughly 1500m. We ask in a school. One of the pupils then leads us to his home. His grandma is sitting at the fireplace cutting potatoes. 15 minutes later we get served several dishes. I'd say, probably the best we have eaten so far. Traditional food, prepared by the grandma and mother and served by his sister. And there was no end. We eat until we are full. They still bring more. Great! We are really hungry.
Later we get coffee and home made bread with home made cheese and home made jam and other home made stuff I don't have a name for. I could stay there forever. The neighbor comes over to watch a daily soap with the mother of the house. They both seem to be keen on knowing what happens in this episode. I grew up with two older sisters, so of course I already knew nothing would happen.
Then the weather forecast: Still bad weather for some more days.
Apart from being wet and a bit cold all day, the bad weather again is actually a bless. When the sun comes out only for a few minutes it already gets pretty warm.
Despite the forecast told us, it doesn't rain the next day and we have a slow but steady uphill on bad road, with dense fog and lots of snow.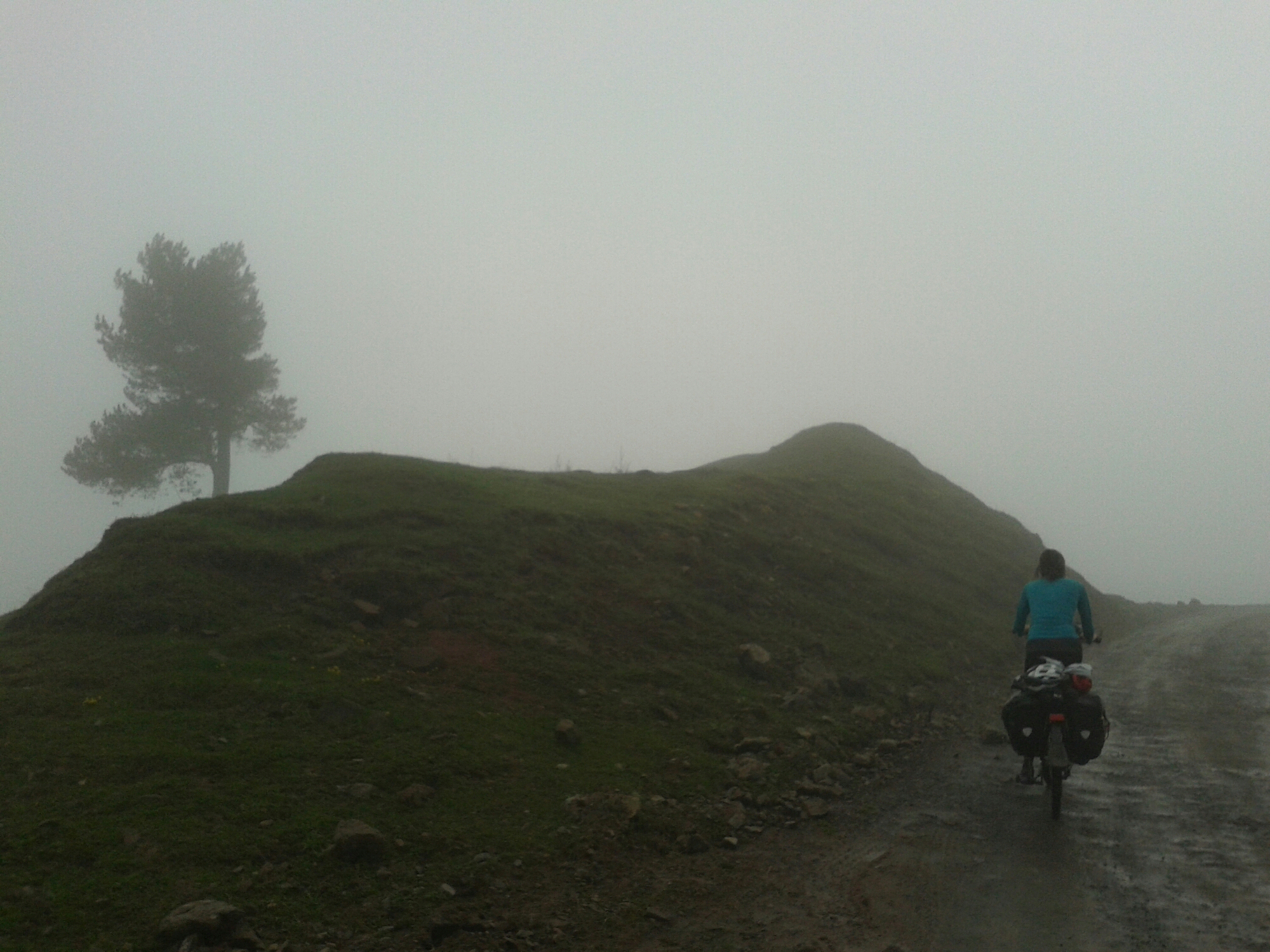 Above 1500m altitude the honking rate increases rapidly to almost 100%. People can't believe we are actually crossing the pass with our bicycles.
'Cause baby, there ain't no mountain high enough
Ain't no valley low enough
Ain't no river wide enough
To keep me from getting to you, baby
Some parts of the road are so bad we have to push. But then, out of dense fog and without any lights on, there is a Nissan Micra approaching us from behind, fully packed with 4 people and bags for two weeks holiday, almost breaking the rear axis. You wouldn't believe it. Any sane European car driver would never go this route without a 4×4 vehicle. But here in Georgia they show us what our cars are capable of. Because Georgia actually is the nursing home of used cars from Germany. You read "Klimatechnik Müller" and "Sanitär Mayer" all the time. I'm pretty sure my old Golf 4 is still driving around somewhere here in Georgia having fun in the mountains.
Just a kilometer before we reach the top of the pass a 4×4 Sprinter appears behind us. A couple from Berlin bouncing their way up the mountains, after they couldn't cross a pass north of Batumi. They wait for us at the top with their preheated living space, offering us tea and coffee. Thanks Anke and Andreas! That was just great!
And as if God himself is watching us, soon after we cross the pass sun comes out. And we start an almost endless downhill.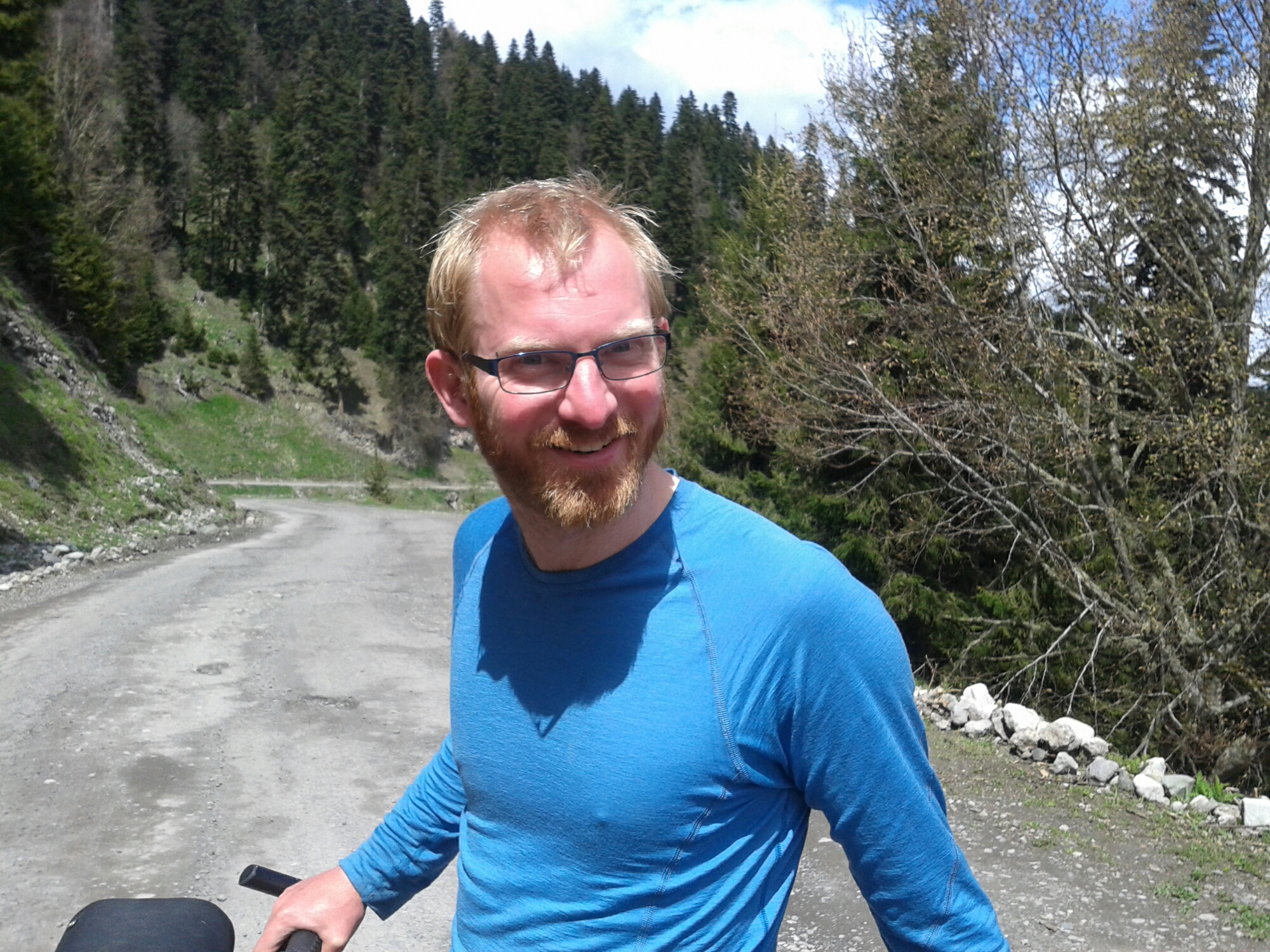 We soon meet Yashar, a cyclist from Azerbaijan, who is currently on his way to Morocco. From there he wants to go all the way to Cape Town. He is also passing Germany, entering it in Passau. So if one of our southern German friends wants to host an Azeri cyclist, who has to tell a lot, just let us know.
Due to the heavy rain of the last days, rivers are brown and strong and some flood the road.
Shortly before Adigeni we find a nice place to pitch the tent. A calf lost his mother, we celebrate reunion some minutes later, but get falsely accused of being the hijackers. That's why a SWAT team soon rushes in and some agents start to investigate. CSI Moo-ami.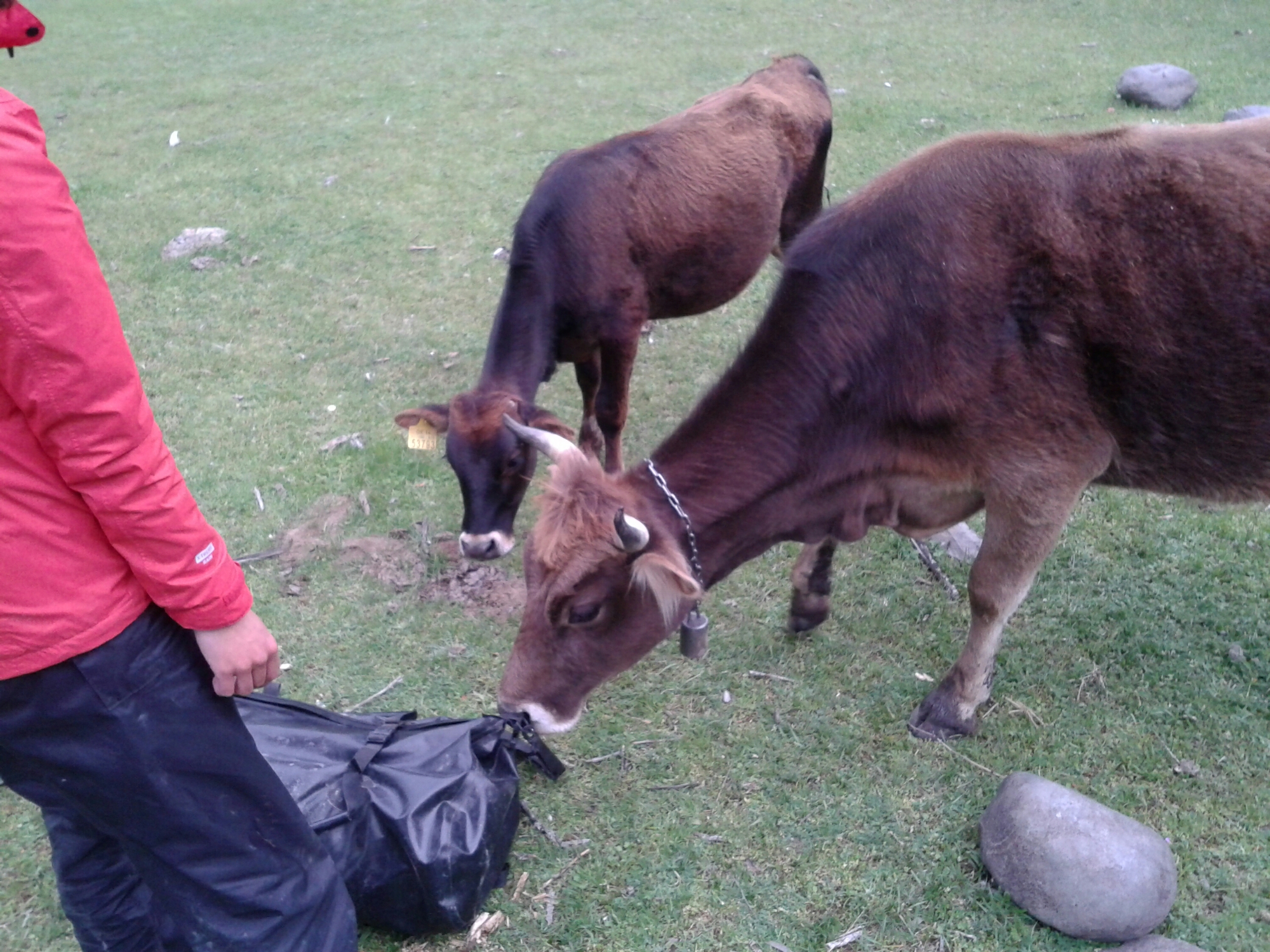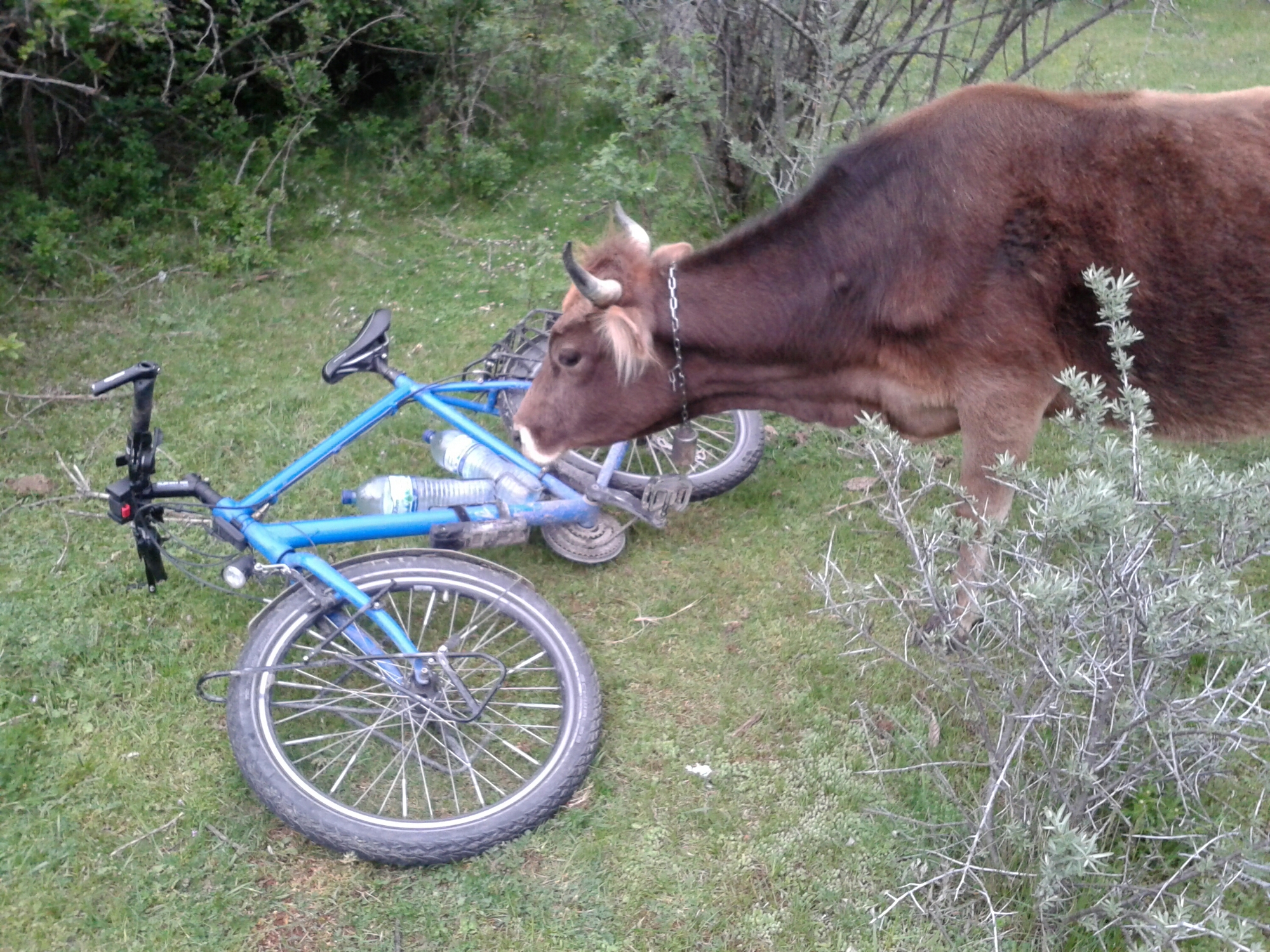 After they leave, we soon go to sleep….
That`s a good point to take a break, because this post is already going to be long.
Now, this is a story all about how
Our life got flipped-turned upside down
And I'd like to take a minute
Just sit right there
I'll tell you how we became cyclists and world travelairs…

When we talked to Anke and Andreas on 2025m altitude, they told us that they are still in their "fleeing phase", meaning that they haven't calmed down yet and are still trying to escape the work and life in Germany. We also heard several times, that cyclists are very stressed travelers. Some of them just can't take one day of a break and need to cycle every kilometer no matter how boring the landscape and how bad the road. And in fact we experience both aspects.
The fleeing phase for us ended in Batumi. After 2800 km on the bicycles and after crossing the Black Sea, we have come far enough to calm down.

The credo: No need to organize everything yourself. Good things come to those who wait. In fact, if you are standing in the middle of a village staring at your smartphone trying to get a mobile network connection to find a hotel via booking.com nobody will help you. The hardest part is to resist finding solutions and instead looking for opportunities. Or as some hitchhikers guide to the galaxy proposes: Don't panic!

We now often stop earlier in the afternoon to pitch the tent and have time to properly cook on the camping burner and to wash ourselves in the rivers. Also talking to people along the road and buying things they offer on the side of the road gets more important to us. For instance we bought some roses an old man offered after his friend talked to us for a while. We put them on Cora's bicycle. When we stayed the first night at the family's house we now even had a present for them. For my part I want to buy more of these small things: Rings, watches, wristbands etc. And just give them away a few weeks later. For a split second I had the idea to give my wristband (which Cora once found on the streets in Regensburg) to one of the kids, but didn't do it. A day later I lost it while changing my rain clothes. What a shame!
We can't send back souvenirs, so I think the best way to go is carrying some of them for a while and then giving them away.
And the ambition? It is hard not to cycle a part of your route, that's for sure. It has something to do with your ego and the little facebook-guy inside of you who constantly tells you: But will they like it, if there are gaps in the track?
Honestly, you shouldn't underestimate this voice. The Swiss told us about guys in Turkmenistan, cycling 500km through desert, even after offering them to take their bikes in the car. It is all about ambition soon and we try to remember, that our ambition is to travel and not to cycle. If it was to cycle, the Tour de France would be the right place to be.
The next day is beautiful. Good weather, good roads, cycling along a river through rough, canyon-like valleys. Taking time to prepare lunch on the camping burner.
Not much more happens that day. We don't meet many people and we don't cycle far. But find a really nice spot for the tent. Again just meters away from the river.

The night is clear and we sit late at the bonfire. Mostly because a car drove down to the river next to us and didn't leave. They didn't see us, but at night you always get this strange feeling. Then a dog barked on the other side of the river and suddenly….I would say a wolf was howling. We are not sure, but I have never heard such a loud howling before. Anyway, it makes sense in this region and I want to believe that it was a wolf.
The next day we are ready to go, when we suddenly notice a flat tire on my rear wheel. We fix it and also replace the brake pads, which were gone beyond any recommended limit. The rainy weather sticks a lot of dirt to the wheels, which acts like sand paper.
Finally we start around noon aiming for Vardzia. Since we need 4bar air pressure in my back wheel, because of the heavy load, we are looking for a gas station. With the hand pump I can only fill the tire up to roughly 3 bar. We find a gas station after 10km, but they don't have compressed air.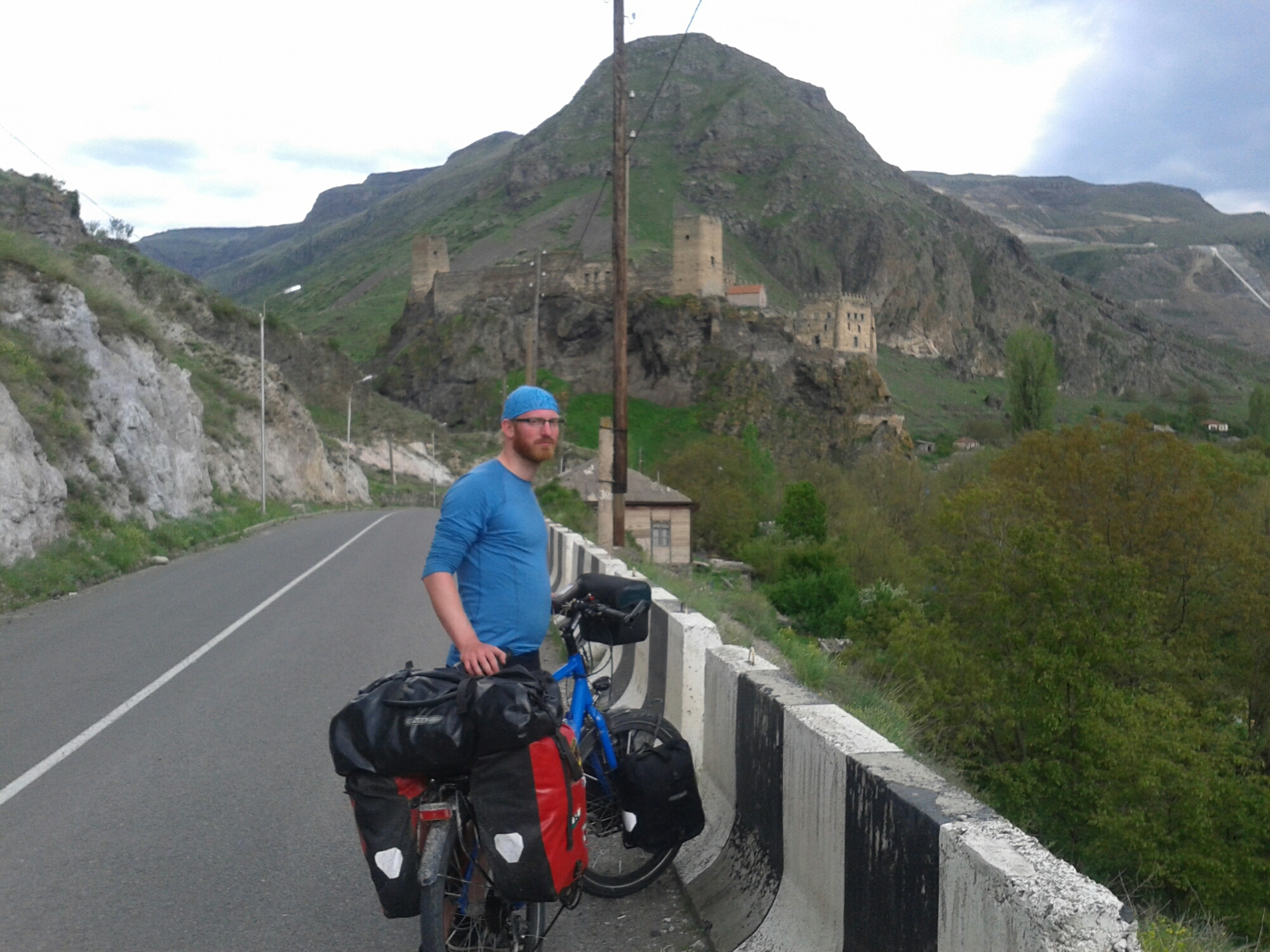 So I'm trying to get 4bar in manually, which takes pretty long. After that I want to wash my hands in a spring just a few meters away. Some guys in uniforms just arrived and are sitting on a bench next to the spring preparing a picnic. They invite us for lunch. They actually are from the customs at the Georgian-Armenian border and just finished work. I want to take a picture, but they say not with the uniform. I ask them to take their shirts of then….unfortunately they decline.
We drink vodka…to Georgia…to peace….to us…to family….to parents….to friendship…all while listening to Georgian music. We play LaBrassBanda, which they seem to like as well.
The beer is also good. And they have salad and white cheese and bread and chicken and plenty of that. They call another guy who brings sausage and more vodka. Thanks! But we have to leave.
I'm climbing on my bicycle. Cora mostly drank Coke. Cora is wise.
We cycle through deep valleys, passing castles and seeing more and more rectangular holes in the canyon walls around us.
The reason for that is simple. We are approaching Vardzia a whole city build into the mountain. Right, INTO the mountain, meaning that they actually dug a whole city into the rock. Not a single brick stone was used. All this happened in the 12th century under Queen Tamar.
We arrive in the early evening, pitch the tent, put everything in, lock it and hike upwards a few meters to Vardzia. Back then 2000 monks lived here. Now the last tourists are leaving to get their buses. So we are soon up there alone only accompanied by the muttering of some monks who still live there and pray in the church which is also completely dug into the rock.

I also shot a video walking deep inside the city. Unfortunately it is over 700 MB in size and would take around 6 hours to upload, because the internet connection here is very bad. I can only tell you, the city is dug roughly 50-100 meters deep into the rock. It is 13 stories high. And there are these rectangular holes in the whole valley which are connected to the city only by some narrow paths also dug into the steep canyon wall. If you are brave enough, this is probably a great hiking track.
We return to the tent almost at dusk. I took a long exposure picture of our tent in front of Vardzia. I'm so happy to visit Georgia today. I'm absolutely sure they will soon close the inner part of the city and ban camping.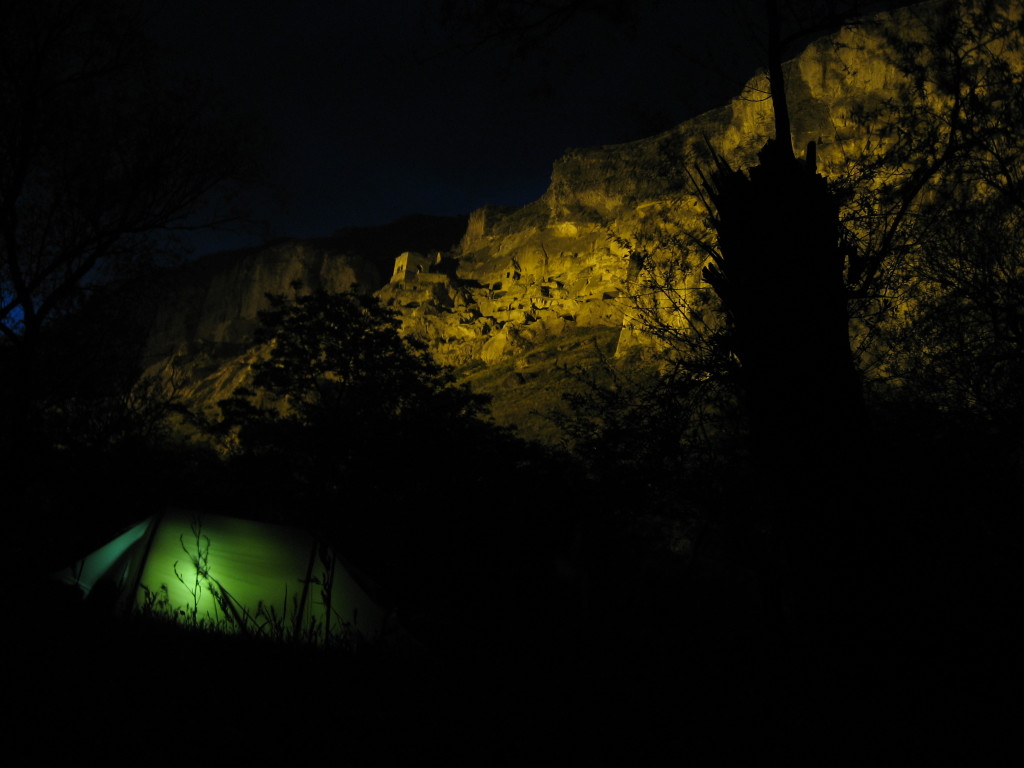 The last days were really exciting. We managed a major pass from 0 to 2025m altitude and it worked really well. We found an easy way to travel and got really in touch with the locals. Finally we visited Vardzia and I'm so glad, that we have never before seen any picture of it. For us this means to discover these places rather than visiting them. I`m sorry I spoiled that for you.